Zusammenfassung
Klinisches/methodisches Problem
Knochen- und Weichteiltumoren treten im Kindesalter häufig als Zufallsbefunde in Erscheinung. Meist handelt es sich hierbei um benigne Tumoren, so dass nichtspezialisierte Radiologen oft wenig Erfahrung mit der Abklärung und der Abgrenzung gegenüber malignen Entitäten haben. In der Diagnostik dieser skeletalen Tumoren werden verschiedene bildgebende Verfahren eingesetzt.
Radiologische Standardverfahren
Die bildgebenden Verfahren zur Abklärung von Knochen- und Weichteiltumoren im Kindesalter sind die Sonographie, Computertomographie (CT) und die Magnetresonanztomographie (MRT).
Methodische Innovationen
Es wird ein Algorithmus zur Dignitätsbestimmung von Knochen- und Weichteiltumoren im Kindesalter vorgeschlagen.
Leistungsfähigkeit
Durch den Einsatz der vorgestellten Algorithmen können bei Knochen- und Weichteiltumoren im Kindesalter in der Mehrzahl der Fälle weitere diagnostische Prozeduren wie Biopsien vermieden werden. Aggressive Knochenläsionen und unklare Weichteiltumoren werden der bioptischen Diagnosesicherung zugeführt.
Bewertung
Die vorgestellten Algorithmen beruhen auf den Vorschlägen der europäischen Fachgesellschaften und wurden von den Autoren für die Anwendung im Kindes- und Jugendalter adaptiert.
Empfehlung für die Praxis
Bei der Abklärung von Weichteiltumoren steht die Sonographie als diagnostisches Werkzeug an erster Stelle, abhängig von der sonographischen Weichenstellung ist die MRT die Technik der weitergehenden Abklärung. Die bioptische Sicherung der Diagnose in unklaren Fällen oder bei wahrscheinlicher Malignität sollte in einem kinderonkologischen Zentrum erfolgen.
Abstract
Clinical/methodological issue
Bone and soft tissue tumours are often incidental findings in children. Because they are usually benign tumours, nonspecialised radiologists generally have little experience in the diagnosis and differentiation from malignant tumours. Various imaging techniques are used in the diagnosis of skeletal tumours.
Standard radiological methods
Imaging techniques used to evaluate bone and soft tissue tumours include sonography, computed tomography (CT) and magnetic resonance imaging (MRI).
Methodological innovations
An algorithm to determine malignancy of bone and soft tissue tumours in children is proposed.
Performance
By using the presented algorithms, further diagnostic procedures such as biopsies can be avoided in the majority of children with bone and soft tissue tumours. Aggressive bone lesions and unclear soft tissue tumours are guided to biopsy to confirm diagnosis.
Achievements
The algorithms presented are based on the proposals of European professional societies and have been adapted by the authors for use in children and adolescents.
Practical recommendations
In the clarification of soft tissue tumours, sonography is the first diagnostic tool; depending on the sonographic findings, MRI is the technique for further clarification. Biopsy confirmation of the diagnosis in unclear cases or in cases of probable malignancy should be carried out in a paediatric oncology centre.
Access options
Buy single article
Instant access to the full article PDF.
US$ 39.95
Tax calculation will be finalised during checkout.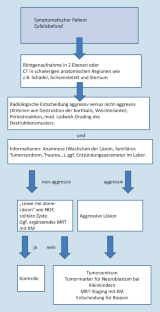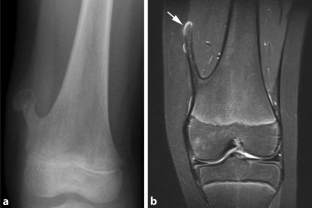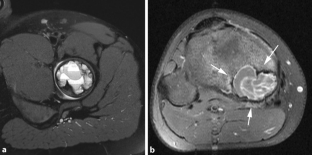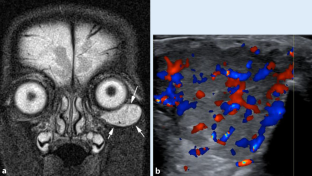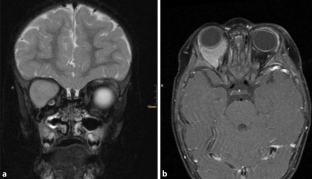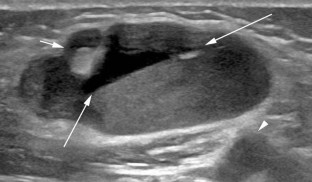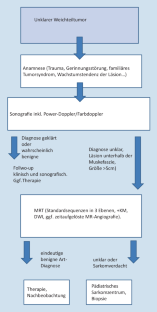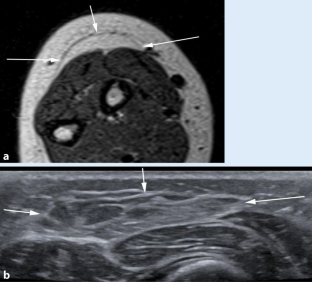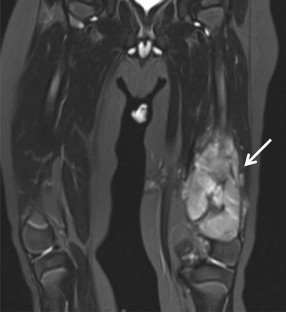 Literatur
1.

Lalam R et al (2017) ESSR consensus document for detection, characterization, and referral pathway for tumors and tumorlike lesions of bone. Semin Musculoskelet Radiol 21:630–647

2.

Kan JH, Kleinman PK (2010) Pediatric and adolescent musculoskeletal MRI. A case-based approach. Springer, New York

3.

Laor T, Jaramillo D (2009) MR imaging insights into skeletal maturation: What is normal? Radiology 250(1):28–38. https://doi.org/10.1148/radiol.2501071322

4.

Freyschmidt J, Ostertag H, Jundt G (2010) Knochentumoren mit Kiefertumoren. Klinik – Radiologie – Pathologie. Springer, Berlin, Heidelberg

5.

Uhl M, Herget GW, Baumhoer D (2021) Radiologische Diagnostik von Knochentumoren, 3. Aufl. Thieme, Stuttgart

6.

French J, Epelman M, Johnson CM, Stinson Z, Meyers AB (2020) MR imaging of osteoid osteoma: pearls and pitfalls. Semin Ultrasound CT MR 41(5):488–497. https://doi.org/10.1053/j.sult.2020.05.013

7.

McCarville MB, Chen JY, Coleman JL et al (2015) Distinguishing osteomyelitis from Ewing sarcoma on radiography and MRI. AJR Am J Roentgenol 205:640–651

8.

Klinikum Stuttgart (2021) COSS (Cooperative OsteoSarkom Studiengruppe). https://www.klinikum-stuttgart.de/kliniken-institute-zentren/paediatrie-5-onkologie-haematologie-und-immunologie/studienzentralen/coss. Zugegriffen: 01.03.2021

9.

Charité (2021) Informationsportal zu Krebs bei Kindern und Jugendlichen. www.kinderkrebsinfo.de. Zugegriffen: 01.03.2021

10.

Caracciolo JT, Temple HT, Letson GD, Kransdorf MJ (2016) A modified Lodwick-Madewell grading system for the evaluation of lytic bone lesions. AJR Am J Roentgenol 207:150–156

11.

Miller TT (2008) Bone tumors and tumor-like conditions: analysis with conventional radiography. Radiology 246(3):662–674. https://doi.org/10.1148/radiol.2463061038

12.

Merrow AC, Gupta A, Patel MN, Adams DM (2016) 2014 revised classification of vascular lesions from the international society for the study of vascular anomalies: radiologic-pathologic update. Radiographics 36:1494–1516

13.

International Society for the Study of Vascular Anomalies (2014) ISSVA classification of vascular anomalies. https://www.issva.org/classification. Zugegriffen: 01.03.2021

14.

Nöbauer-Huhmann I‑M (2014) Weichteiltumoren Bildgebungsstrategie in der lokalen Primärdiagnostik – Erscheinungsbild, Pearls und Pitfalls in der MRT. Radiologe 54:803–818

15.

Cooperative Weichteilsarkom Studiengruppe der GPOH (2019) CWS guidance. www.kinderkrebsinfo.de/e9031/e10591/e77084/e110986/index_ger.html. Zugegriffen: 01.03.2021

16.

Degnan AJ, Jelinek JS, Murphey MD (2020) Lipoblastoma: computed tomographic and magnetic resonance imaging features correlate with tumor behavior and pathology. Pediatr Radiol. https://doi.org/10.1007/s00247-020-04882-z

17.

Nöbauer-Huhmann I‑M et al (2015) Soft tissue tumors in adults: ESSR-approved guidelines for diagnostic imaging. Semin Muscoloskelet Radiol 19:475–482

18.

Navarro O, Laffan E, Ngan B‑Y (2009) Pediatric soft-tissue tumors and pseudotumors: MR imaging features with pathologic correlation. Part I. Radiographics 29:887–906

19.

Laffan EE, Ngan BY, Navarro OM (2009) Pediatric soft-tissue tumors and pseudotumors: MR imaging features with pathologic correlation: part 2. Tumors of fibroblastic/myofibroblastic, so-called fibrohistiocytic, muscular, lymphomatous, neurogenic, hair matrix, and uncertain origin. Radiographics 29(4):e36. https://doi.org/10.1148/rg.e36

20.

Inarejos Clemente EJ, Navallas M, Barber Martínez de la Torre I, Suñol M, Munuera Del Cerro J, Torner F, Garraus M, Navarro OM (2020) MRI of rhabdomyosarcoma and other soft-tissue sarcomas in children. Radiographics 40(3):791–814. https://doi.org/10.1148/rg.2020190119

21.

Ilivitzki A, Sokolovski B, Assalia A, Benbarak A, Postovsky S, Glozman L, Ben-Arush M (2021) ltrasound-guided core biopsy for tissue diagnosis in pediatric oncology: 16-year experience with 597 biopsies. AJR Am J Roentgenol. https://doi.org/10.2214/AJR.20.23196

22.

Schäfer JF, Granata C, von Kalle T, Kyncl M, Littooij AS, Di Paolo PL, Sefic Pasic I, Nievelstein RAJ (2020) Whole-body magnetic resonance imaging in pediatric oncology—recommendations by the Oncology Task Force of the ESPR. Pediatr Radiol 50(8):1162–1174. https://doi.org/10.1007/s00247-020-04683-4
Ethics declarations
Interessenkonflikt
M. Uhl, G. Herget, S. Hettmer und T. von Kalle geben an, dass kein Interessenkonflikt besteht.
Für diesen Beitrag wurden von den Autoren keine Studien an Menschen oder Tieren durchgeführt. Für die aufgeführten Studien gelten die jeweils dort angegebenen ethischen Richtlinien.
About this article
Cite this article
Uhl, M., Herget, G., Hettmer, S. et al. Knochen- und Weichteiltumoren im Kindesalter. Radiologe 61, 649–657 (2021). https://doi.org/10.1007/s00117-021-00859-7
Accepted:

Published:

Issue Date:
Schlüsselwörter
Skeletale Tumoren

Rhabdomyosarkom

Osteosarkom

Knochenbiopsie

Weichteilbiopsie
Keywords
Skeletal tumors

Rhabdomyosarcoma

Osteosarcoma

Bone biopsy

Soft tissue biopsy