Zusammenfassung
Bei etwa 20 % der Patienten mit einer akuten Pankreatitis entwickeln sich im Verlauf Komplikationen, die eine Operation oder Intervention notwendig machen. Die Radiologie ist dabei sowohl für die Bildgebung (Verlauf der Verhalte, Detektion einer Superinfektion sowie von Komplikationen, Evaluation der Nekrosen) als auch in der Behandlung der vaskulären und nichtvaskulären Komplikationen von zentraler Bedeutung. Bei der Behandlung einer schweren oder nekrotisierenden Pankreatitis sollte ein multidisziplinäres Stufenkonzept zum Einsatz kommen mit initial möglichst minimal-invasiven Therapien wie endoskopische oder perkutane Drainagen. Durch die Applikation von ausreichend vielen und kaliberstarken Drainagen und unter strikter Spültherapie mit Umpositionierung der Drainagen können die pankreatischen und peripankreatischen Verhalte oftmals erfolgreich ohne die Notwendigkeit eines späteren chirurgischen Débridements behandelt werden. Die arteriellen Komplikationen betreffen 1–10 % aller Patienten mit einer Pankreatitis, dabei handelt es sich überwiegend um rupturierte Pseudoaneurysmata, welche die gefährlichsten Blutungskomplikationen der Pankreatitis darstellen und mittels Blutungsembolisation und/oder endovaskulärer Stentgraftapplikation mit einer hohen technischen Erfolgsrate behandelt werden können.
Abstract
Approximately 20% of patients with acute pancreatitis develop complications that require surgical or radiological intervention. Radiology plays a central role, not only for imaging (course of the disease, detection of superinfection and their related complications, and development of necrosis) but also for the treatment of vascular and nonvascular complications. In the treatment of severe or necrotizing pancreatitis, a multidisciplinary staged approach with minimally invasive therapies such as endoscopic or percutaneous drainage should be used. Applying a sufficient number of drains of sufficient size, strict irrigation therapy under computed tomographic (CT) control and repositioning of the drains can successfully treat pancreatic and peripancreatic necrosis often without the need for subsequent surgical debridement. Arterial complications affect 1–10% of all patients with pancreatitis, most of which are ruptured pseudoaneurysms, which represent the most dangerous bleeding complication of pancreatitis and can be treated with a high technical success rate through embolization and/or use of an endovascular stent–graft.
Access options
Buy single article
Instant access to the full article PDF.
US$ 39.95
Tax calculation will be finalised during checkout.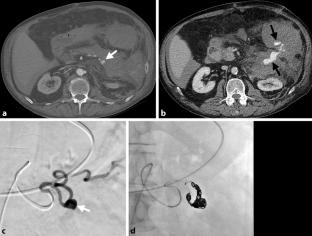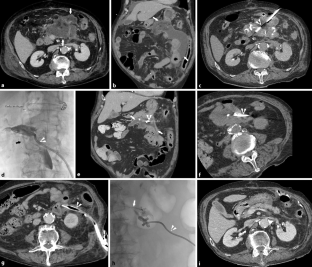 Literatur
1.

Popa CC, Badiu DC, Rusu OC, Grigorean VT, Neagu SI, Strugaru CR (2016) Mortality prognostic factors in acute pancreatitis. J Med Life 9(4):413–418

2.

Bugiantella W, Rondelli F, Boni M, Stella P, Polistena A, Sanguinetti A et al (2016) Necrotizing pancreatitis: A review of the interventions. Int J Surg 28(Suppl 1):S163–71

3.

Banks PA, Bollen TL, Dervenis C, Gooszen HG, Johnson CD, Sarr MG et al (2013) Classification of acute pancreatitis—2012: revision of the Atlanta classification and definitions by international consensus. Gut 62(1):102–111

4.

Lee PJ, Papachristou GI (2020) Management of severe acute pancreatitis. Curr Treat Options Gastroenterol. https://doi.org/10.1007/s11938-020-00322-x

5.

Evans RP, Mourad MM, Pall G, Fisher SG, Pancreatitis BSR (2017) Preventing catastrophic haemorrhage. World J Gastroenterol 23(30):5460–5468

6.

Mallick IH, Winslet MC (2004) Vascular complications of pancreatitis. JOP 5(5):328–337

7.

Verde F, Fishman EK, Johnson PT (2015) Arterial pseudoaneurysms complicating pancreatitis: literature review. J Comput Assist Tomogr 39(1):7–12

8.

Owlia MB, Mehrpoor G (2012) Behcet's disease: new concepts in cardiovascular involvements and future direction for treatment. ISRN Pharmacol 2012:760484

9.

Stampfl U, Sommer CM, Bellemann N, Weitz J, Bockler D, Richter GM et al (2012) The use of balloon-expandable stent grafts for the management of acute arterial bleeding. J Vasc Interv Radiol 23(3):331–337

10.

Wilson WR, Bower TC, Creager MA, Amin-Hanjani S, O'Gara PT, Lockhart PB et al (2016) Vascular graft infections, mycotic aneurysms, and endovascular infections: a scientific statement from the American heart association. Circulation 134(20):e412–e60

11.

Stampfl U, Hackert T, Sommer CM, Klauss M, Bellemann N, Siebert S et al (2012) Superselective embolization for the management of postpancreatectomy hemorrhage: a single-center experience in 25 patients. J Vasc Interv Radiol 23(4):504–510

12.

Schenker MP, Duszak R Jr., Soulen MC, Smith KP, Baum RA, Cope C et al (2001) Upper gastrointestinal hemorrhage and transcatheter embolotherapy: clinical and technical factors impacting success and survival. J Vasc Interv Radiol 12(11):1263–1271

13.

Shin JH (2012) Recent update of embolization of upper gastrointestinal tract bleeding. Korean J Radiol 13(Suppl 1):S31–9

14.

Kickuth R, Hoppe H, Saar B, Inderbitzin D, Triller J, Raessler S et al (2016) Superselective transcatheter arterial embolization in patients with acute peripancreatic bleeding complications: review of 44 cases. Abdom Radiol 41(9):1782–1792

15.

Nicholson AA, Patel J, McPherson S, Shaw DR, Kessel D (2006) Endovascular treatment of visceral aneurysms associated with pancreatitis and a suggested classification with therapeutic implications. J Vasc Interv Radiol 17(8):1279–1285

16.

Dutra S, Gomes FV, Bilhim T, Coimbra E (2017) Endovascular treatment of a gastroduodenal artery pseudoaneurysm rupture after a car accident. Acta Med Port 30(9):658–661

17.

Hoffmeister A, Mayerle J, Dathe K, Mossner J, Lerch MM, Mitglieder der Leitlinienkommission. (2012) Method report to the S3 guideline chronic pancreatitis: definition, etiology, diagnostics and conservative, interventional endoscopic and surgical therapy of the chronic pancreatitis. Z Gastroenterol 50(11):1225–1236

18.

Chronic Pancreatitis German Society of Digestive and Metabolic Diseases (DGVS), Hoffmeister A, Mayerle J, Beglinger C, Buchler MW et al (2012) S3-Consensus guidelines on definition, etiology, diagnosis and medical, endoscopic and surgical management of chronic pancreatitis German Society of Digestive and Metabolic Diseases (DGVS). Z Gastroenterol 50(11):1176–1224

19.

Sinonquel P, Laleman W, Wilmer A (2021) Advances in acute pancreatitis. Curr Opin Crit Care 27(2):193–200. https://doi.org/10.1097/MCC.0000000000000806. PMID: 33464002

20.

Trikudanathan G, Wolbrink DRJ, van Santvoort HC, Mallery S, Freeman M, Besselink MG (2019) Current concepts in severe acute and Necrotizing Pancreatitis: an evidence-based approach. Gastroenterology 156(7):1994–2007 (e3)

21.

van Dijk SM, Hallensleben NDL, van Santvoort HC, Fockens P, van Goor H, Bruno MJ et al (2017) Acute pancreatitis: recent advances through randomised trials. Gut 66(11):2024–2032

22.

Thoeni RF (2012) The revised Atlanta classification of acute pancreatitis: its importance for the radiologist and its effect on treatment. Radiology 262(3):751–764

23.

Leppaniemi A, Tolonen M, Tarasconi A, Segovia-Lohse H, Gamberini E, Kirkpatrick AW et al (2019) WSES guidelines for the management of severe acute pancreatitis. World J Emerg Surg 2019(14):27

24.

Working Group IAP/APA Acute Pancreatitis Guidelines (2013) IAP/APA evidence-based guidelines for the management of acute pancreatitis. Pancreatology 13(4 Suppl 2):e1–15

25.

Baron TH, DiMaio CJ, Wang AY, Morgan KA (2020) American gastroenterological association clinical practice update: management of pancreatic necrosis. Gastroenterology 158(1):67–75 (e1)

26.

van Grinsven J, van Dijk SM, Dijkgraaf MG, Boermeester MA, Bollen TL, Bruno MJ et al (2019) Postponed or immediate drainage of infected necrotizing pancreatitis (POINTER trial): study protocol for a randomized controlled trial. Trials 20(1):239

27.

van Grinsven J, Timmerman P, van Lienden KP, Haveman JW, Boerma D, van Eijck CH et al (2017) Proactive versus standard percutaneous catheter drainage for infected necrotizing pancreatitis. Pancreas 46(4):518–523

28.

Beck WC, Bhutani MS, Raju GS, Nealon WH (2012) Surgical management of late sequelae in survivors of an episode of acute necrotizing pancreatitis. J Am Coll Surg 214(4):682–688 (discussion 8–90)

29.

Nadkarni NA, Kotwal V, Sarr MG, Swaroop Vege S (2015) Disconnected pancreatic duct syndrome: endoscopic stent or surgeon's knife? Pancreas 44(1):16–22

30.

Becker JM, Pemberton JH, DiMagno EP, Ilstrup DM, McIlrath DC, Dozois RR (1984) Prognostic factors in pancreatic abscess. Surgery 96(3):455–461

31.

Carter CR, McKay CJ, Imrie CW (2000) Percutaneous necrosectomy and sinus tract endoscopy in the management of infected pancreatic necrosis: an initial experience. Ann Surg 232(2):175–180

32.

Eickhoff RM, Steinbusch J, Seppelt P, Kroh A, Junge K, Klink CD et al (2017) Video-assisted retroperitoneal debridement : Minimally invasive treatment and long-term results for necrotizing pancreatitis. Chirurg 88(9):785–791

33.

Sorrentino L, Chiara O, Mutignani M, Sammartano F, Brioschi P, Cimbanassi S (2017) Combined totally mini-invasive approach in necrotizing pancreatitis: a case report and systematic literature review. World J Emerg Surg 12:16

34.

van Santvoort HC, Besselink MG, Bollen TL, Buskens E, van Ramshorst B, Gooszen HG et al (2007) Case-matched comparison of the retroperitoneal approach with laparotomy for necrotizing pancreatitis. World J Surg 31(8):1635–1642

35.

Mier J, Leon EL, Castillo A, Robledo F, Blanco R (1997) Early versus late necrosectomy in severe necrotizing pancreatitis. Am J Surg 173(2):71–75

36.

Adams DB, Harvey TS, Anderson MC (1990) Percutaneous catheter drainage of infected pancreatic and peripancreatic fluid collections. Arch Surg 125(12):1554–1557

37.

Freeny PC, Hauptmann E, Althaus SJ, Traverso LW, Sinanan M (1998) Percutaneous CT-guided catheter drainage of infected acute necrotizing pancreatitis: techniques and results. AJR Am J Roentgenol 170(4):969–975

38.

van Sonnenberg E, Wittich GR, Chon KS, D'Agostino HB, Casola G, Easter D et al (1997) Percutaneous radiologic drainage of pancreatic abscesses. AJR Am J Roentgenol 168(4):979–984

39.

van Baal MC, van Santvoort HC, Bollen TL, Bakker OJ, Besselink MG, Gooszen HG et al (2011) Systematic review of percutaneous catheter drainage as primary treatment for necrotizing pancreatitis. Br J Surg 98(1):18–27

40.

Baudin G, Chassang M, Gelsi E, Novellas S, Bernardin G, Hebuterne X et al (2012) CT-guided percutaneous catheter drainage of acute infectious necrotizing pancreatitis: assessment of effectiveness and safety. AJR Am J Roentgenol 199(1):192–199

41.

Baril NB, Ralls PW, Wren SM, Selby RR, Radin R, Parekh D et al (2000) Does an infected peripancreatic fluid collection or abscess mandate operation? Ann Surg 231(3):361–367

42.

Fotoohi M, D'Agostino HB, Wollman B, Chon K, Shahrokni S, van Sonnenberg E (1999) Persistent pancreatocutaneous fistula after percutaneous drainage of pancreatic fluid collections: role of cause and severity of pancreatitis. Radiology 213(2):573–578

43.

Varadarajulu S, Bang JY, Sutton BS, Trevino JM, Christein JD, Wilcox CM (2013) Equal efficacy of endoscopic and surgical cystogastrostomy for pancreatic pseudocyst drainage in a randomized trial. Gastroenterology 145(3):583–590 (e1)

44.

Mallick B, Dhaka N, Gupta P, Gulati A, Malik S, Sinha SK et al (2018) An audit of percutaneous drainage for acute necrotic collections and walled off necrosis in patients with acute pancreatitis. Pancreatology 18(7):727–733
Ethics declarations
Interessenkonflikt
K. Dubasz, M. Misbahuddin, C. Graeb und B. Radeleff geben an, dass kein Interessenkonflikt besteht.
Für diesen Beitrag wurden von den Autoren keine Studien an Menschen oder Tieren durchgeführt. Für die aufgeführten Studien gelten die jeweils dort angegebenen ethischen Richtlinien.
About this article
Cite this article
Dubasz, K., Misbahuddin, M., Graeb, C. et al. Interventionen bei der Pankreatitis. Radiologe (2021). https://doi.org/10.1007/s00117-021-00856-w
Schlüsselwörter
Nekrotisierende Pankreatitis

Computertomographie

Drainage

Arterielle Blutung

Pseudoaneurysma
Keywords
Necrotizing pancreatitis

Computed tomography

Drainage

Arterial bleeding

Pseudoaneurysm