Zusammenfassung
Klinisches Problem
Bildgebend ist die Differenzierung einer interstitiellen ödematösen von einer nekrotisierenden Form der akuten Pankreatitis und ihren lokalen Komplikationen entscheidend für Therapiewahl und den Krankheitsverlauf.
Radiologische Standardverfahren
Patienten mit der Diagnose einer akuten Pankreatitis werden nach der revidierten Atlanta-Klassifikation von 2012 klinisch einem leichten, mittelschweren oder schweren Verlauf zugeordnet. Bildgebend sind die Computertomographie (CT) und die Magnetresonanztomographie (MRT) in der Diagnostik und Verlaufskontrolle der akuten Pankreatitis und ihrer Komplikationen etabliert.
Methodische Innovationen und Bewertung
Im Rahmen der revidierten Atlanta-Klassifikation erlauben CT und MRT die sichere Abgrenzung einer interstitiell-ödematösen von einer nekrotisierenden Pankreatitis. Diese Differenzierung geht einher mit der nomenklatorisch korrekten Einordnung der lokalen Früh- und Spätkomplikationen in der CT und MRT.
Empfehlung für die Praxis
Der folgende Beitrag adressiert anhand von Fallbespielen die entscheidenden bilddiagnostischen CT- und MRT-Kriterien für die korrekte Befundeinordnung und -beschreibung der akuten Pankreatitis und ihrer lokalen Komplikationen.
Abstract
Clinical problem
Imaging plays a major role to differentiate interstitial edematous from necrotic pancreatitis and to describe relevant local complications for proper patient management and decision-making in acute pancreatitis.
Standard radiological procedures
The revised Atlanta classification 2012 of acute pancreatitis divides patients into mild, moderately severe and severe groups. Computed tomography (CT) and magnetic resonance imaging (MRI) are well established for diagnosis and follow-up of acute pancreatitis and its complications
Methodological innovations and assessment
Based on the revised Atlanta classification, CT and MRI allow for adequate categorization of interstitial edematous and necrotic pancreatitis. Imaging and standardized reporting nomenclature enable confident differentiation of early and late complications in acute pancreatitis.
Recommendations
The aim of this review article is to present an image-rich overview of different morphologic characteristics of acute pancreatitis and associated local complications by CT or MRI using case examples.
Access options
Buy single article
Instant access to the full article PDF.
US$ 39.95
Tax calculation will be finalised during checkout.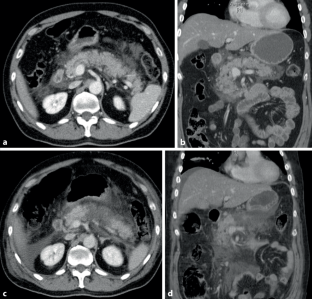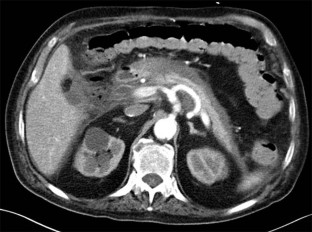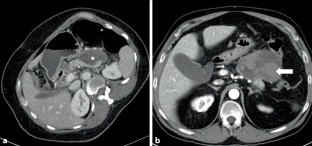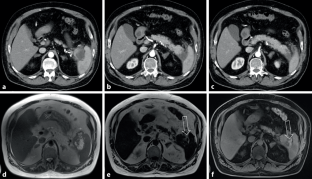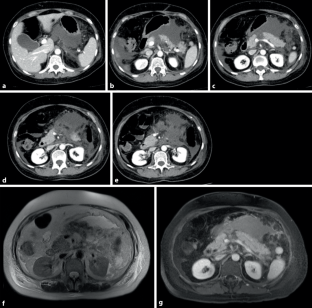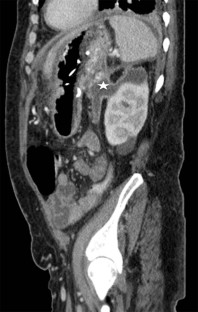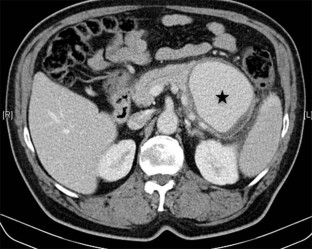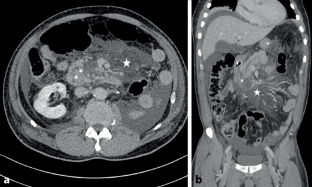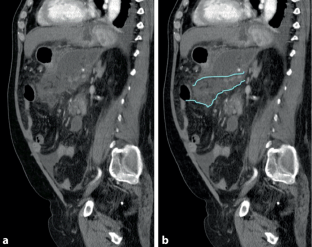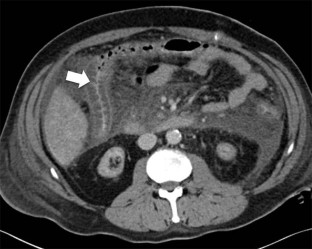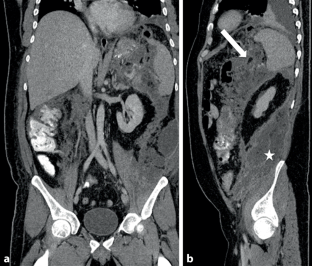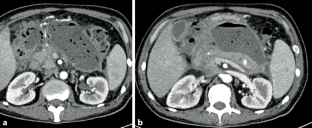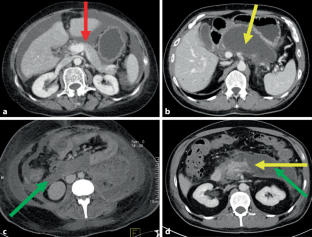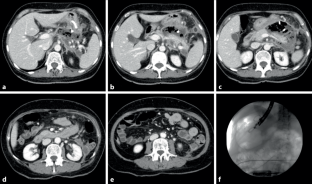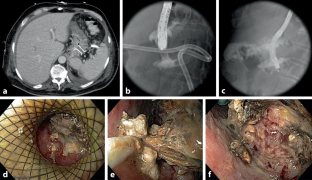 Literatur
1.

Banks PA, Bollen TL, Dervenis C, Gooszen HG, Johnson CD, Sarr MG, Tsiotos GG, Vege SS, Acute Pancreatitis Classification Working Group (2013) Classification of acute pancreatitis—2012: revision of the Atlanta classification and definitions by international consensus. Gut 62(23100216):102–111. https://doi.org/10.1136/gutjnl-2012-302779

2.

Zhao K, Adam SZ, Keswani RN, Horowitz JM, Miller FH (2015) Acute Pancreatitis: revised Atlanta classification and the role of cross-sectional imaging. AJR Am J Roentgenol 205(26102416):W32–W41. https://doi.org/10.2214/AJR.14.14056

3.

Murphy KP, O'Connor OJ, Maher MM (2014) Updated imaging nomenclature for acute pancreatitis. AJR Am J Roentgenol 203(25341160):W464–W469. https://doi.org/10.2214/AJR.13.12222

4.

Thoeni RF (2012) The revised Atlanta classification of acute pancreatitis: its importance for the radiologist and its effect on treatment. Radiology 262(22357880):751–764. https://doi.org/10.1148/radiol.11110947

5.

Schreyer AG, Seidensticker M, Mayerle J, Lerch M, Juchems M, Wessling J, Ringe K, Grenacher L (2021in) Deutschsprachige Terminologie der revidierten Atlanta Klassifikation bei akuter Pankreatitis: Glossar basierend auf der aktuellen S3-Leitlinie zur akuten, chronischen und Autoimmun-Pankreatitis Fortschr Roentgenstr. (in press)

6.

Phillip V, Steiner JM, Algül H (2014) Early phase of acute pancreatitis: assessment and management. World J Gastrointest Pathophysiol 5(3):158–168

7.

Sarathi Patra P, Das K, Bhattacharyya A, Ray S, Hembram J, Sanyal S, Dhali GK (2014) Natural resolution or intervention for fluid collections in acute severe pancreatitis. Br J Surg 101(25329330):1721–1728. https://doi.org/10.1002/bjs.9666

8.

Bollen TL (2016) Acute pancreatitis: international classification and nomenclature. Clin Radiol 71(26602933):121–133. https://doi.org/10.1016/j.crad.2015.09.013

9.

Xiao B, Xu HB, Jiang ZQ, Zhang J, Zhang XM (2019) Current concepts for the diagnosis of acute pancreatitis by multiparametric magnetic resonance imaging. Quant Imaging Med Surg 9(31929970):1973–1985. https://doi.org/10.21037/qims.2019.11.10

10.

Sun H, Zuo HD, Lin Q, Yang DD, Zhou T, Tang MY, Wáng YXJ, Zhang XM (2019) MR imaging for acute pancreatitis: the current status of clinical applications. Ann Transl Med 7:31355236. https://doi.org/10.21037/atm.2019.05.37

11.

Fischer TD, Gutman DS, Hughes SJ, Trevino JG, Behrns KE (2014) Disconnected pancreatic duct syndrome: disease classification and management strategies. J Am Coll Surg 219(25065360):704–712. https://doi.org/10.1016/j.jamcollsurg.2014.03.055

12.

Türkvatan A, Erden A, Türkoğlu MA, Seçil M, Yüce G (2015) Imaging of acute pancreatitis and its complications. Part 2: complications of acute pancreatitis. Diagn Interv Imaging 96(24703377):161–169. https://doi.org/10.1016/j.diii.2013.12.018

13.

Hollemans RA, Bakker OJ, Boermeester MA, Bollen TL, Bosscha K, Bruno MJ, Buskens E, Dejong CH, van Duijvendijk P, van Eijck CH, Fockens P, van Goor H, van Grevenstein WM, van der Harst E, Heisterkamp J, Hesselink EJ, Hofker S, Houdijk AP, Karsten T, Kruyt PM, van Laarhoven CJ, Laméris JS, van Leeuwen MS, Manusama ER, Molenaar IQ, Nieuwenhuijs VB, van Ramshorst B, Roos D, Rosman C, Schaapherder AF, van der Schelling GP, Timmer R, Verdonk RC, de Wit RJ, Gooszen HG, Besselink MG, van Santvoort HC, Dutch Pancreatitis Study Group. (2019) Superiority of step-up approach vs open Necrosectomy in long-term follow-up of patients with Necrotizing Pancreatitis. Gastroenterology

14.

van Brunschot S, van Grinsven J, van Santvoort HC, Bakker OJ, Besselink MG, Boermeester MA, Bollen TL, Bosscha K, Bouwense SA, Bruno MJ, Cappendijk VC, Consten EC, Dejong CH, van Eijck CH, Erkelens WG, van Goor H, van Grevenstein WMU, Haveman JW, Hofker SH, Jansen JM, Laméris JS, van Lienden KP, Meijssen MA, Mulder CJ, Nieuwenhuijs VB, Poley JW, Quispel R, de Ridder RJ, Römkens TE, Scheepers JJ, Schepers NJ, Schwartz MP, Seerden T, Spanier BWM, Straathof JWA, Strijker M, Timmer R, Venneman NG, Vleggaar FP, Voermans RP, Witteman BJ, Gooszen HG, Dijkgraaf MG, Fockens P, Dutch Pancreatitis Study Group (2018) Endoscopic or surgical step-up approach for infected necrotising pancreatitis: a multicentre randomised trial. Lancet 391:51–58. https://doi.org/10.1016/S0140-6736(17)32404-2

15.

Leppäniemi A, Tolonen M, Tarasconi A, Segovia-Lohse H, Gamberini E, Kirkpatrick AW, Ball CG et al (2019) 2019 WSES guidelines for the management of severe acute pancreatitis. World J Emerg Surg 14:27. https://doi.org/10.1186/s13017-019-0247-0
Ethics declarations
Interessenkonflikt
J. Wessling, U. Peitz, M. Hoffmann, A.G. Schreyer und L. Grenacher geben an, dass kein Interessenkonflikt besteht.
Für diesen Beitrag wurden von den Autoren keine Studien an Menschen oder Tieren durchgeführt. Für die aufgeführten Studien gelten die jeweils dort angegebenen ethischen Richtlinien.
About this article
Cite this article
Wessling, J., Peitz, U., Hoffmann, M. et al. Akute Pankreatitis. Radiologe 61, 532–540 (2021). https://doi.org/10.1007/s00117-021-00854-y
Accepted:

Published:

Issue Date:
Schlüsselwörter
Akute peripankreatische Flüssigkeitsansammlung

Akute Nekrose

Pseudozyste

Bewandete Nekrose

Komplikationen
Keywords
Acute peripancreatic fluid collection

Acute necrotic collection

Pseudocyst

Walled-off necrosis

Complications