Zusammenfassung
Klinisches/methodisches Problem
Diagnostik und klinische Relevanz eines Pankreas divisum.
Radiologische Standardverfahren
Ultraschall (US), Magnetresonanz-Cholangiopankreatikographie (MRCP), Magnetresonanztomographie (MRT), Computertomographie (CT), endoskopische retrograde Cholangiopankreatikographie (ERCP)
Leistungsfähigkeit
Das Pankreas divisum ist eine Anlagevariante, die bei ca. 10 % der Bevölkerung auftritt, davon werden ca. 5 % symptomatisch. In der Diagnostik ist die MRT mit MRCP inzwischen die Methode der Wahl.
Bewertung
Die MRT mit MRCP ist in der Diagnostik des Pankreas divisum mit der ERCP gleichwertig, hat dabei aber den Vorteil, dass diese Modalität nicht invasiv ist, gleichzeitig eine Umfelddiagnostik ermöglicht und es nahezu keine Kontraindikationen gibt.
Empfehlung für die Praxis
Es ist wichtig, die Anatomie des pankreatischen Gangsystems zu kennen und zu beachten, damit bei symptomatischen Patienten mögliche Interventionen rechtzeitig geplant werden können.
Abstract
Clinical/methodological issue
Diagnostic and clinical relevance of pancreas divisum.
Standard radiological methods
Ultrasonography (US), magnetic resonance cholangiopancreatography (MRCP), magnetic resonance imaging (MRI), computed tomography (CT), endoscopic retrograde cholangiopancreatography (ERCP).
Performance
Pancreas divisum is an anatomic variation of pancreatic duct system with an incidence in general population of about 10%. It can become symptomatic in approximately 5% of patients. MRI with MRCP is the method of choice to diagnose pancreas divisum.
Achievements
MRCP is equal to ERCP in diagnosing pancreas divisum in routine clinical practice as it is noninvasive, offers the possibility to evaluate the adjacent tissues and has almost no contraindications.
Practical recommendations
It is important to be familiar with the anatomy of the pancreatic duct system in order to plan interventional procedures for symptomatic patients in due time.
Access options
Buy single article
Instant access to the full article PDF.
US$ 39.95
Tax calculation will be finalised during checkout.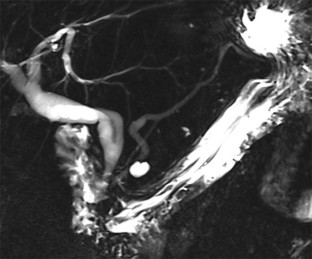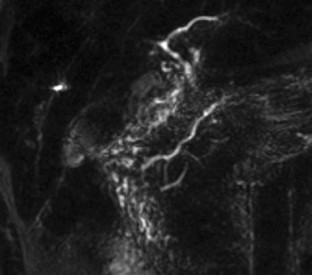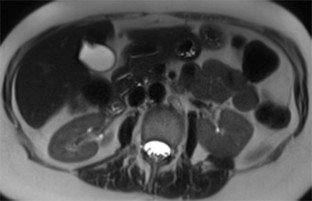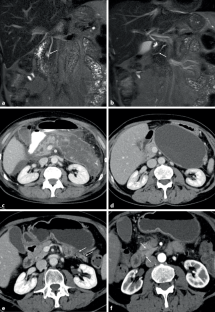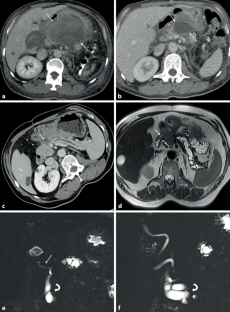 Literatur
1.

Lu Y, Xu B, Chen L, Bie LK, Gong B (2016) Endoscopic intervention through endoscopic retrograde cholangiopancreatography in the management of symptomatic pancreas divisum: a long-term follow-up study. Gut Liver 10(3):476–482

2.

Lehman GA, Sherman S (1998) Diagnosis and therapy of pancreas divisum. Gastrointest Endosc Clin N Am 8:55–77

3.

Kozu T, Suda K, Toki F (1995) Pancreatic development and anatomic variation. Gastrointest Endosc Clin N Am 5:1–30

4.

Sharma M, Pathak A, Rameshbabu CS, Rai P, Kirnake V, Shoukat A (2016) Imaging of pancreas divisum by linear-array endoscopic ultrasonography. Endosc Ultrasound 5(1):21–29

5.

Soto JA, Lucey BC, Stuhlfaut JW (2005) Pancreas di visum: depiction with multi-detector row CT. Radiology 235:503–508

6.

Bret PM, Reinhold C, Taourel P, Guibaud L, Atri M, Barkun AN (1996) Pancreas divisum: evaluation with MR cholangiopancreatography. Radiology 199:99–103

7.

Morgan DE, Logan K, Baron TH, Koehler RE, Smith JK (1999) Pancreas divisum: implications for di agnostic and therapeutic pancreatography. AJR 173:193–198

8.

Jinxing Yu, Turner MA, Fulcher AS, Halvorsen RA (2006) Am J Roentgenol 187(6):1544–1553

9.

Mortelé KJ, Rocha TC, Streeter JL, Taylor AJ (2006) Multimodality imaging of pancreatic and biliary congenital anomalies. Radiographics 26:715–731

10.

Sica GT, Braver J, Cooney MJ, Miller FH, Chai JL, Adams DF (1999) Comparison of endoscopic retrograde cholangiopancreatography with MR cholangiopancreatography in patients with pancreatitis. Radiology 210:605–610

11.

Manfredi R, Mucelli RP (2016) Secretin-enhanced MR Imaging of the Pancreas. Radiology 279(1):29–43

12.

Cavestro GM, Leandro G, Di Leo M, Zuppardo RA, Morrow OB, Notaristefano C, Rossi G, Testoni SG, Mazzoleni G, Alessandri M, Goni E, Singh SK, Giliberti A, Bianco M, Fanti L, Viale E, Arcidiacono PG, Mariani A, Petrone MC, Testoni PA (2015) A single-centre prospective, cohort study of the natural history of acute pancreatitis. Dig Liver Dis 47(3):205–210

13.

Gonoi W, Akai H, Hagiwara K, Akahane M, Hayashi N, Maeda E, Yoshikawa T, Tada M, Uno K, Ohtsu H, Koike K, Ohtomo K (2011) Pancreas divisum as a predisposing factor for chronic and recurrent idiopathic pancreatitis: initial in vivo survey. Gut 60(8):1103–1108

14.

Bernard JP, Sahel J, Giovannini M, Sahels H (1990) Pancreas divisum is a probable cause of acute pancreatitis: a report of 137 cases. Pancreas 5:248–254

15.

Takuma K, Kamisawa T, Tabata T, Egawa N, Igarashi Y (2010) Pancreatic diseases associated with pancreas divisum. Dig Surg 27:144–148

16.

Kamisawa T (2006) Endoscopic approach to the minor duodenal papilla: special emphasis on endoscopic management on pancreas divisum. Dig Endosc 18:252–255

17.

Adike A, El Kurdi B, Gaddam S, Kosiorek HE, Fukami N, Faigel DO, Collins JM, Ramirez FC (2017) Pancreatitis in Patients With Pancreas Divisum. Pancreas 46(10):80–81

18.

Foster BR, Jensen KK, Bakis G, Shaaban AM, Coakley FV (2016) Revised Atlanta classification for acute Pancreatitis: a pictorial essay. Radiographics 36(3):675–687

19.

Tirkes T, Shah ZK, Takahashi N, Grajo JR, Chang ST, Venkatesh SK, Conwell DL, Fogel EL, Park W, Topazian M, Yadav D, Dasyam AK, Consortium for the Study of Chronic Pancreatitis, Diabetes, and Pancreatic Cancer (2019) Reporting standards for chronic Pancreatitis by using CT, MRI, and MR cholangiopancreatography: the consortium for the study of chronic pancreatitis, diabetes, and pancreatic cancer. Radiology 290(1):207–215

20.

Wang DB, Yu J, Fulcher AS, Turner MA (2013) Pancreatitis in patients with pancreas divisum: imaging features at MRI and MRCP. World J Gastroenterol 19(30):4907–4916

21.

Okada J, Uesaka K, Morimoto T, Kodera Y, Torii A, Hirai T, Yasui K, Yamamura Y, Kato T, Kito T (1996) A case of pancreatic cancer of the dorsal pancreas associated with pancreas divisum. Jpn J Gastroenterol Surg 29:843–847

22.

Nishino T, Toki F, Oi I, Oyama H, Hatori T, Shiratori K (2006) Prevalence of pancreatic and biliary tract tumors in pancreas divisum. J Gastroenterol 41(11):1088–1093

23.

Traverso LW, Kozarek RA, Simpson T, Galagan KA (1993) Pancreatic duct obstruction as a potential etiology of pancreatic adenocarcinoma: a clue from pancreas divisum. Am J Gastroenterol 88:117–119

24.

Kamisawa T, Yoshiike M, Egawa N, Tsuruta K, Okamoto A, Funata N (2005) Pancreatic tumor associated with pancreas divisum. J Gastroenterol Hepatol 20:915–918
Ethics declarations
Interessenkonflikt
E. Khristenko, C. Tjaden und M. Klauß geben an, dass kein Interessenkonflikt besteht.
Für diesen Beitrag wurden von den Autoren keine Studien an Menschen oder Tieren durchgeführt. Für die aufgeführten Studien gelten die jeweils dort angegebenen ethischen Richtlinien.
About this article
Cite this article
Khristenko, E., Tjaden, C. & Klauß, M. Pankreas divisum und Pankreatitis. Radiologe (2021). https://doi.org/10.1007/s00117-021-00848-w
Schlüsselwörter
Pankreasgang

Pankreasganganlagevariante

Magnetresonanztomographie

Magnetresonanz-Cholangiopankreatikographie

Sekretin
Keywords
Pancreatic duct

Anatomic pancreatic duct variation

Magnetic resonance imaging

Magnetic resonance cholangiopancreatography

Secretin