Zusammenfassung
Hintergrund
Aktuell existiert keine S3-Leitlinie, die Statements zu Diagnostik und Therapie der akuten, chronischen und autoimmunen Pankreatitis in einer Leitlinie beinhaltet.
Ziel der Arbeit
In diesem Artikel werden die wichtigsten Empfehlungen aus der neuen, gemeinsamen "S3-Leitlinie Pankreatitis" vorgestellt.
Methode
Die Leitlinie wurde federführend organisiert durch die DGVS (Deutsche Gesellschaft für Verdauungs- und Stoffwechselkrankheiten). Nach einer onlinebasierten Delphi-Umfrage wurden die Statements auf einer 3‑tätgigen Konsensuskonferenz interdisziplinär diskutiert und anschließend konsentiert. Dabei wurde das Evidenzlevelschema in Version 2 des Oxford Centre for Evidence-based Medicine angewendet.
Ergebnisse
Die neue Deutsche "S3-Leitlinie Pankreatitis" führt erstmalig alle Entitäten der Pankreatitis, die akute, chronische und Autoimmunpankreatitis, in einer Leitlinie zusammen und beinhaltet eine Vielzahl an Neuerungen bezüglich Diagnostik und Therapie. Neben den evidenzbasierten Empfehlungen gelang es auch, ein deutschsprachiges Glossar der revidierten Atlanta-Klassifikation zur akuten Pankreatitis im Konsens zu verabschieden. Darüber hinaus wurden erstmals Protokollempfehlungen für die Durchführung der Computertomographie (CT) gegeben. Im vorliegenden Artikel werden die zentralen Inhalte und Neuerungen bezogen auf die radiologische Diagnostik der akuten, chronischen und autoimmunen Pankreatitis vorgestellt.
Diskussion
Zukünftig sollte jeder Radiologe Kenntnisse über die empfohlenen Zeitintervalle zur radiologischen Bildgebung bei der akuten Pankreatitis haben sowie die deutschen Begrifflichkeiten für die Befundung kennen und die zur Anwendung kommenden Klassifikationen mit den jeweiligen Morphologien zu den entsprechenden Stadien zuordnen können.
Abstract
Background
There is currently no S3 guideline that contains statements on the diagnosis and treatment of acute, chronic and autoimmune pancreatitis in a single guideline.
Objectives
This article presents the most relevant recommendations relating to radiological imaging from the new "S3 guideline for pancreatitis".
Materials and methods
The guideline was developed by the DGVS (German Society for Digestive and Metabolic Diseases). After an online-based Delphi survey, the statements were discussed by an interdisciplinary expert team at a 3-day consensus conference and then agreed upon. The level of evidence scheme (version 2) of the Oxford Centre for Evidence-based Medicine was used.
Results
The new German "S3 guideline pancreatitis" comprises for the first time all entities of pancreatitis, acute, chronic and autoimmune pancreatitis and contains a large number of innovations with regard to diagnostic imaging and therapy. In addition to the evidence-based recommendations for diagnosis and therapy, a German-language glossary of the revised Atlanta classification on acute pancreatitis was adopted by consensus of the interdisciplinary guideline expert team. Furthermore, protocol recommendations for the performance of computed tomography (CT) are provided for the first time. In this article we introduce the key recommendations and innovations in the field of diagnostic radiologic imaging for acute, chronic and autoimmune pancreatitis.
Conclusions
In the future, every radiologist should have deep knowledge of the recommended time intervals for radiological imaging in acute pancreatitis and know the German terms for the description of acute pancreatitis; furthermore they should be able to classify the morphologies to the appropriate stages.
Access options
Buy single article
Instant access to the full article PDF.
US$ 39.95
Tax calculation will be finalised during checkout.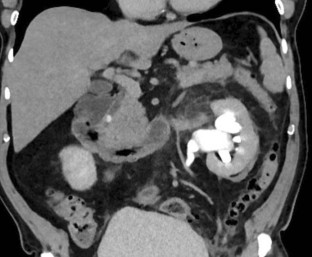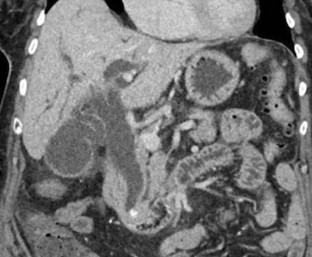 Literatur
1.

Hoffmeister A, Mayerle J, Beglinger C et al (2012) S3-Leitlinie Chronische Pankreatitis: Definition, Ätiologie, Diagnostik, konservative, interventionell endoskopische und operative Therapie der chronischen Pankreatitis. Leitlinie der Deutschen Gesellschaft für Verdauungs und Stoffwechselkrankheiten (DGVS). Z Gastroenterol 50:1176–1224

2.

Ockenga J, Löser C, Kraft M et al. (2014) S3-Leitlinie der Deutschen Gesellschaft für Ernährungsmedizin (DGEM) in Zusammenarbeit mit der GESKES, der AKE und der DGVS. Klinische Ernährung in der Gastroenterologie (Teil 2) – Pankreas Aktuel Ernahrungsmed 39: e43–e56

3.

Mayerle J et al (2021) S3-Leitlinie Pankreatitis. Z Gastroenterol im Druck

4.

Howick J, Chalmers I, Glasziou P, et al. (2011) The 2011 Oxford CEBM Evidence Levels of Evidence (Introductory Document). Oxford Centre for Evidence-Based Medicine. http://www.cebm.net/index.aspx?o=5653

5.

Banks PA, Bollen TL, Dervenis C et al (2013) Classification of acute pancreatitis—2012: revision of the Atlanta classification and definitions by international consensus. Gut 62:102–111

6.

Schreyer AG, Seidensticker M, Mayerle J et al (2021) Deutschsprachige Terminologie der revidierten Atlanta Klassifikation bei akuter Pankreatitis: Glossar basierend auf der aktuellen S3-Leitlinie zur akuten, chronischen und Autoimmun-Pankreatitis. Fortschr Roentgenstr. https://doi.org/10.1055/a-1388-8316

7.

Bradley EL, 3rd. (1993) A clinically based classification system for acute pancreatitis. Summary of the International Symposium on Acute Pancreatitis, Atlanta, Ga, September 11 through 13, 1992. Arch Surg 128: 586–590

8.

Schreyer AG, Jung M, Riemann JF et al (2014) S3-Leitlinie chronische Pankreatitis: Diagnostik, Klassifikation und Therapie für die Radiologie. Fortschr Roentgenstr 186:1002–1008

9.

Sarner M, Cotton PB (1984) Classification of pancreatitis. Gut 25:756–759

10.

Schreyer AG, Grenacher L, Juchems M (2016) Pankreatitis: ein Update. Radiologe 56:355–362

11.

Shimosegawa T et al. (2011) International consensus diagnostic criteria for autoimmune pancreatitis: guidelines of the International Association of Pancreatology. Pancreas 40, 352–358.

12.

Grenacher L (2016) Hepato-pankreatico-biliäre Erkrankungen bei IgG4-assoziierten Autoimmunerkrankungen. Radiologe 56:1052–1060

13.

Rehnitz C, Klauss M, Singer R et al (2011) Morphologic patterns of autoimmune pancreatitis in CT and MRI. Pancreatology 11:240–251

14.

Negrelli R et al (2015) Pancreatic duct abnormalities in focal autoimmune pancreatitis: MR/MRCP imaging findings. Eur Radiol 25:359–367

15.

Kim HJ, Kim YK, Jeong WK et al (2014) Pancreatic duct "Icicle sign" on MRI for distinguishing autoimmune pancreatitis from pancreatic ductal adenocarcinoma in the proximal pancreas. Eur Radiol 25:1551–1560

16.

Suzuki K, Itoh S, Nagasaka T et al (2010) CT findings in autoimmune pancreatitis: assessment using multiphase contrast-enhanced multisection CT. Clin Radiol 65:735–743

17.

Raina A, Yadav D, Krasinskas AM et al (2009) Evaluation and management of autoimmune pancreatitis: experience at a large US center. Am J Gastroenterol 104:2295–2306

18.

Helmberger T (2016) Autoimmune pancreatitis: An update. Der. Radiologe 56:363–370

19.

Furuhashi N et al (2015) Differentiation of focal-type autoimmune pancreatitis from pancreatic carcinoma: assessment by multiphase contrast-enhanced CT. Eur Radiol 25:1366–1374
Ethics declarations
Interessenkonflikt
L. Grenacher, M. Seidensticker, A. G. Schreyer, J. Wessling und J. Mayerle geben an, dass kein Interessenkonflikt besteht.
Für diesen Beitrag wurden von den Autoren keine Studien an Menschen oder Tieren durchgeführt. Für die aufgeführten Studien gelten die jeweils dort angegebenen ethischen Richtlinien.
About this article
Cite this article
Grenacher, L., Seidensticker, M., Schreyer, A.G. et al. Leitliniengerechte Diagnostik der Pankreatitis. Radiologe (2021). https://doi.org/10.1007/s00117-021-00847-x
Schlüsselwörter
Bildgebung

Pankreas

Autoimmunpankreatitis

Evidenzbasierte Medizin

Klassifikation
Keywords
Imaging

Pancreas

Autoimmune pancreatitis

Evidence-based medicine

Classification