Zusammenfassung
Hintergrund
Spezielle Brustkrebsfrüherkennungsprogramme in der Hochrisikosituation mittels Magnetresonanztomographie (MRT) der Mamma sind inzwischen in vielen Ländern fest etabliert. In Deutschland befindet sich ein solches Programm seit 2005 in der Routineversorgung.
Ziel der Arbeit
Die vorliegende Übersichtsarbeit fasst aktuelle Entwicklungen in der intensivierten Früherkennung mittels MRT in der Hochrisikosituation zusammen.
Material und Methoden
Erfahrungen mit der intensivierten Früherkennung in Deutschland über einen Zeitraum von inzwischen mehr als 10 Jahren sowie eine aktuelle Literatursuche bilden die Grundlage dieser Arbeit.
Ergebnisse
Die MRT der Mamma ist das mit Abstand sensitivste Verfahren zur Detektion von Brustkrebs und eine jährliche MRT der Mamma ist das Kernelement jeder Brustkrebsfrüherkennung in der Hochrisikosituation. Mehr als 90 % der in der intensivierten Früherkennung entdeckten Karzinome sind in der MRT nachweisbar, und mehr als 30 % der Karzinome werden primär nur in der MRT erkannt. Voraussetzung für eine effektive Früherkennung mittels MRT ist jedoch eine ausreichend hohe Brustkrebsinzidenz in der untersuchten Population. So liegt der positive Vorhersagewert der Früherkennung mit MRT bei BRCA1/2-negativen Frauen in der Altersgruppe zwischen 30 und 39 Jahren mit 2,9 % deutlich zu niedrig.
Diskussion
In der intensivierten Früherkennung ist die MRT der Mamma das primäre Untersuchungsverfahren, das bei Bedarf durch Mammographie und/oder Sonographie ergänzt wird. Bei Patientinnen mit familiärer Hochrisikokonstellation aber ohne nachgewiesene pathogene Mutation in einem der bekannten Risikogene sollte die intensivierte Früherkennung nicht bereits mit 30 Jahren beginnen, sondern erst, wenn das 10-Jahres Erkrankungsrisiko einen Schwellenwert von 5 % überschreitet.
Abstract
Background
Specialized breast cancer early detection programs with magnetic resonance imaging (MRI) in high-risk patients are by now well established in several countries. In Germany, such a program has been running as part of routine care since 2005.
Objectives
This review article will summarize current developments in high-risk screening with MRI.
Materials and methods
Experiences with the high-risk screening program in Germany over now more than 10 years as well as a review of the current literature will form the basis for this article.
Results
The MRI of the breast is by far the most sensitive imaging modality for the detection of breast cancer and represents the back bone of high-risk screening. More than 90% of cancers detected at high-risk screening are visible on the MRI and more than 30% of cancers are detected primarily by MRI alone. However, a prerequisite for effective screening with MRI is a sufficiently high breast cancer incidence in the screened population. This is demonstrated by the fact that the positive predictive value of screening with MRI in women without a BRCA1/2 mutation in the age group between 30 and 39 years is unacceptably low with 2.9%.
Conclusions
In high-risk screening, MRI is the primary imaging tool with mammography and/or ultrasound added as adjunct if necessary. In women with a strong family history of breast cancer but no proven pathogenic mutation in one of the known risk genes in the index patient in the family, the high-risk screening should not routinely start at age 30, but should be postponed until the 10-year breast cancer risk passes a threshold of 5%.
Access options
Buy single article
Instant access to the full article PDF.
US$ 39.95
Tax calculation will be finalised during checkout.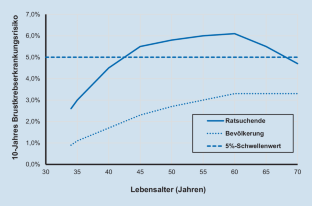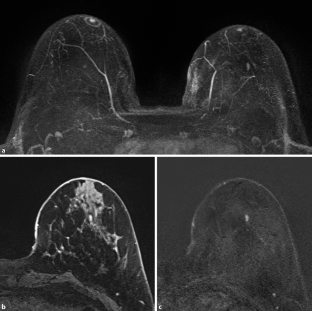 Literatur
1.

Bakker MF, de Lange SV, Pijnappel RM et al (2019) Supplemental MRI screening for women with extremely dense breast tissue. N Engl J Med 381:2091–2102

2.

Bick U (1997) Integriertes Früherkennungskonzept bei Frauen mit genetischer Prädisposition für Brustkrebs. Radiologe 37:591–596

3.

Bick U, Engel C, Krug B et al (2019) High-risk breast cancer surveillance with MRI: 10-year experience from the German consortium for hereditary breast and ovarian cancer. Breast Cancer Res Treat 175:217–228

4.

Deutsche Krebsgesellschaft (2020) Kennzahlenbogen FBREK. Anlage EB Version A1.1 vom 23.01.2020. https://www.onkozert.de/wordpress/wp-content/uploads/2020/01/eb_fbrek-A1-1_daten_200123.xlsx. Zugegriffen: 28. Okt. 2020

5.

Guindalini RSC, Zheng Y, Abe H et al (2019) Intensive surveillance with biannual dynamic contrast-enhanced magnetic resonance imaging downstages breast cancer in BRCA1 mutation carriers. Clin Cancer Res 25:1786–1794

6.

Heemskerk-Gerritsen BAM, Jager A, Koppert LB et al (2019) Survival after bilateral risk-reducing mastectomy in healthy BRCA1 and BRCA2 mutation carriers. Breast Cancer Res Treat 177:723–733

7.

Hermann N, Klil-Drori A, Angarita FA et al (2020) Screening women at high risk for breast cancer: one program fits all? Subgroup analysis of a large population high risk breast screening program. Breast Cancer Res Treat 184(3):763–770. https://doi.org/10.1007/s10549-020-05895-w

8.

Kuchenbaecker KB, Hopper JL, Barnes DR et al (2017) Risks of breast, ovarian, and contralateral breast cancer for BRCA1 and BRCA2 mutation carriers. JAMA 317:2402–2416

9.

Le-Petross HT, Whitman GJ, Atchley DP et al (2011) Effectiveness of alternating mammography and magnetic resonance imaging for screening women with deleterious BRCA mutations at high risk of breast cancer. Cancer 117:3900–3907

10.

Mann RM, Balleyguier C, Baltzer PA et al (2015) Breast MRI: EUSOBI recommendations for women's information. Eur Radiol 25:3669–3678

11.

Meindl A, Ditsch N, Kast K et al (2011) Hereditary breast and ovarian cancer: new genes, new treatments, new concepts. Dtsch Arztebl Int 108:323–330

12.

National Institute for Health and Care Excellence (2013) Familial breast cancer: classification, care and managing breast cancer and related risks in people with a family history of breast cancer. https://www.nice.org.uk/guidance/cg164. Zugegriffen: 8. Jan. 2021

13.

Nelson HD, Pappas M, Cantor A et al (2019) Risk assessment, genetic counseling, and genetic testing for BRCA-related cancer in women: updated evidence report and systematic review for the US preventive services task force. JAMA 322:666–685

14.

Obdeijn IM, Mann RM, Loo CCE et al (2020) The supplemental value of mammographic screening over breast MRI alone in BRCA2 mutation carriers. Breast Cancer Res Treat 181:581–588

15.

Othman E, Wang J, Sprague BL et al (2015) Comparison of false positive rates for screening breast magnetic resonance imaging (MRI) in high risk women performed on stacked versus alternating schedules. SpringerPlus 4:77

16.

Perry N, Broeders M, de Wolf C et al (2006) European guidelines for quality assurance in breast cancer screening and diagnosis. Office for Official Publications of the European Communities, Luxembourg

17.

Phi XA, Houssami N, Obdeijn IM et al (2015) Magnetic resonance imaging improves breast screening sensitivity in BRCA mutation carriers age 〉/= 50 years: evidence from an individual patient data meta-analysis. J Clin Oncol 33:349–356

18.

Phi XA, Saadatmand S, De Bock GH et al (2016) Contribution of mammography to MRI screening in BRCA mutation carriers by BRCA status and age: individual patient data meta-analysis. Br J Cancer 114:631–637

19.

Quante AS, Engel C, Kiechle M et al (2020) Umstrukturierung der Risikoberechnung für die intensivierte Früherkennung im Deutschen Konsortium für Brust- und Eierstockkrebs. Gynäkologe 53:259–264

20.

Rhiem K, Bücker-Nott H‑J, Hellmich M et al (2019) Benchmarking of a checklist for the identification of familial risk for breast and ovarian cancers in a prospective cohort. Breast J 25:455–460

21.

Riedl CC, Luft N, Bernhart C et al (2015) Triple-modality screening trial for familial breast cancer underlines the importance of magnetic resonance imaging and questions the role of mammography and ultrasound regardless of patient mutation status, age, and breast density. J Clin Oncol 33:1128–1135

22.

Saadatmand S, Geuzinge HA, Rutgers EJT et al (2019) MRI versus mammography for breast cancer screening in women with familial risk (FaMRIsc): a multicentre, randomised, controlled trial. Lancet Oncol 20:1136–1147

23.

Saadatmand S, Obdeijn IM, Rutgers EJ et al (2015) Survival benefit in women with BRCA1 mutation or familial risk in the MRI screening study (MRISC). Int J Cancer 137:1729–1738

24.

Sardanelli F, Podo F, Santoro F et al (2011) Multicenter surveillance of women at high genetic breast cancer risk using mammography, ultrasonography, and contrast-enhanced magnetic resonance imaging (the high breast cancer risk Italian 1 study): final results. Invest Radiol 46:94–105

25.

Saslow D, Boetes C, Burke W et al (2007) American cancer society guidelines for breast screening with MRI as an adjunct to mammography. CA Cancer J Clin 57:75–89

26.

Selamoglu A, Gilbert FJ (2020) Guidelines and recommendations on high-risk breast cancer screening all over the world: agreements and differences in. In: Sardanelli F, Podo F (Hrsg) Breast MRI for high-risk screening. Springer, Cham, S 251–267

27.

Vreemann S, Gubern-Merida A, Schlooz-Vries MS et al (2018) Influence of risk category and screening round on the performance of an MR imaging and mammography screening program in carriers of the BRCA mutation and other women at increased risk. Radiology 286:443–451

28.

Warner E (2018) Screening BRCA1 and BRCA2 mutation carriers for breast cancer. Cancers (Basel) 10:477

29.

Warner E, Causer PA, Wong JW et al (2011) Improvement in DCIS detection rates by MRI over time in a high-risk breast screening study. Breast J 17:9–17

30.

Warner E, Messersmith H, Causer P et al (2008) Systematic review: using magnetic resonance imaging to screen women at high risk for breast cancer. Ann Intern Med 148:671–679
Ethics declarations
Interessenkonflikt
U. Bick gibt an, dass kein Interessenkonflikt besteht.
Für diesen Beitrag wurden von den Autoren keine Studien an Menschen oder Tieren durchgeführt. Für die aufgeführten Studien gelten die jeweils dort angegebenen ethischen Richtlinien.
About this article
Cite this article
Bick, U. Intensivierte Früherkennung mittels Magnetresonanztomographie in der Hochrisikosituation. Radiologe 61, 150–158 (2021). https://doi.org/10.1007/s00117-020-00797-w
Accepted:

Published:

Issue Date:
Schlüsselwörter
Brustkrebs

Mammakarzinom

Mammographie

Sonographie

BRCA-Gen
Keywords
Breast cancer

Hereditary breast and ovarian cancer syndrome

Early detection of cancer

Ultrasonography

BRCA1 gene