Zusammenfassung
Hintergrund
Hybridbildgebungsverfahren wie die Positronen-Emissions-Tomographie/Computertomographie (PET/CT) oder die Positronen-Emissions-Tomographie/Magnetresonanztomographie (PET-MRT) nehmen einen immer größeren Stellenwert in der Diagnostik und Verlaufskontrolle von Tumorerkrankungen ein. Die richtige Indikationsstellung sowie die korrekte Interpretation der Befunde stellen sowohl den Radiologen und Nuklearmediziner als auch den Behandler vor neue Herausforderungen und bedingen eine enge Zusammenarbeit zwischen den einzelnen Disziplinen.
Ziel der Arbeit
Indikationen zur diagnostischen Hybridbildgebung werden aufgezeigt sowie ein Überblick über aktuelle theranostische Prinzipien aus Sicht des klinisch tätigen Therapeuten gegeben.
Material und Methoden
Die GBA(Gemeinsamer Bundesausschuss)-Richtlinien und Empfehlungen der entsprechenden S3-Leitlinien zum Einsatz der PET werden zusammengefasst sowie ein Überblick über innovative klinische Studien mit PET-basierten Therapiestrategien und Radioligandentherapien gegeben.
Ergebnisse
Die PET/CT bzw. PET/MRT ist bereits ein fester Bestandteil in der Diagnostik und Verlaufsbeurteilung einiger Tumorerkrankungen. Die Radioligandentherapie entwickelt sich gerade als eine weitere Säule in der personalisierten Therapie von Patienten mit Krebserkrankungen.
Schlussfolgerung
Bei korrekter Indikationsstellung und Durchführung kann die Hybridbildgebung die Qualität der Diagnostik von onkologischen Patienten verbessern und bei einigen Tumorerkrankungen sogar die Versorgungsqualität steigern. Eine enge Zusammenarbeit zwischen den einzelnen Disziplinen ist hierbei essenziell, um die bestmögliche Therapiestrategie für jeden Patienten zu planen und zu überwachen.
Abstract
Background
Positron-emission tomography/computed tomography (PET/CT) and positron-emission tomography/magnetic resonance imaging (PET/MRI) are hybrid medical imaging techniques that are becoming increasingly important in the diagnostic workup of cancer. Correct definition and interpretation of results are key challenges for both radiologists/specialists in nuclear medicine as well as for the treating clinician. Strong interdisciplinary communication is prerequisite to solve the upcoming complexity of retrieved information generated by hybrid imaging.
Objectives
Different indications for hybrid medical imaging and review of current theranostic principles from the perspective of clinicians/clinical oncologists.
Materials and methods
The GBA guidelines and recommendations retrieved from the corresponding German S3 guidelines for the use of PET imaging are summarized, followed by a review of innovative clinical trials that promote PET-based therapeutic strategies and radioligand therapies.
Results
Next generation PET/CT and PET/MRI imaging are being increasingly used for diagnostic purposes and follow-up staging in malignant tumors. Radioligand therapy may have the potential to be a further cornerstone in personalized antitumor therapy.
Conclusions
Careful implementation of hybrid medical imaging can clearly improve the quality of the diagnosis in cancer patients and even increase the quality of care for cancer patients. Close interdisciplinary collaboration is essential to optimize therapeutic strategies for each patient.
This is a preview of subscription content, log in to check access.
Access options
Buy single article
Instant access to the full article PDF.
US$ 39.95
Price includes VAT for USA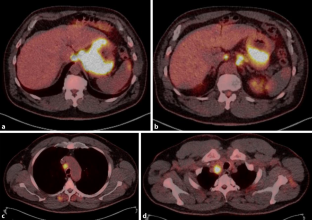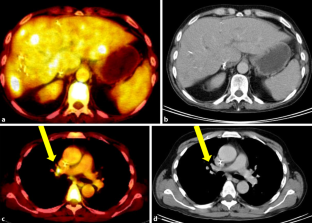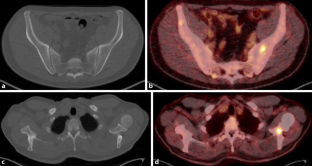 Literatur
1.

Ahmadzadehfar H, Albers P, Bockisch A, Boegemann M, Bohme C, Burchert W et al (2018) Lutetium-177-PSMA radioligand therapy: consensus within the framework of GKV-funded care between the university hospitals in Aachen, Bonn, Dusseldorf, Essen, and Cologne and the MDK Nordrhein. Urologe A 57(6):709–713

2.

Hillner BE, Siegel BA, Hanna L, Shields AF, Duan F, Gareen IF et al (2012) Impact of 18F-FDG PET used after initial treatment of cancer: comparison of the National Oncologic PET Registry 2006 and 2009 cohorts. J Nucl Med 53(5):831–837

3.

Fendler WP, Weber M, Iravani A, Hofman MS, Calais J, Czernin J et al (2019) Prostate-specific membrane antigen ligand positron emission tomography in men with nonmetastatic castration-resistant prostate cancer. Clin Cancer Res 25(24):7448–7454

4.

Eiber M, Herrmann K, Calais J, Hadaschik B, Giesel FL, Hartenbach M et al (2018) Prostate cancer molecular imaging standardized evaluation (PROMISE): proposed miTNM classification for the interpretation of PSMA-Ligand PET/CT. J Nucl Med 59(3):469–478

5.

Emmett L, Tang R, Nandurkar RH, Hruby G, Roach PJ, Watts JA et al (2019) 3‑year freedom from progression following (68)GaPSMA PET CT triaged management in men with biochemical recurrence post radical prostatectomy. Results of a prospective multi-center trial. J Nucl Med. https://doi.org/10.2967/jnumed.119.235028

6.

Subramaniam RM, Shields AF, Sachedina A, Hanna L, Duan F, Siegel BA et al (2016) Impact on patient management of [18F]-fluorodeoxyglucose-positron emission tomography (PET) used for cancer diagnosis: analysis of data from the national oncologic PET registry. Oncologist 21(9):1079–1084

7.

Burglin SA, Hess S, Hoilund-Carlsen PF, Gerke O (2017) 18F-FDG PET/CT for detection of the primary tumor in adults with extracervical metastases from cancer of unknown primary. Medicine (Baltimore) 96(16):e6713

8.

Ruhlmann V, Ruhlmann M, Bellendorf A, Grueneisen J, Sawicki LM, Grafe H et al (2016) Hybrid imaging for detection of carcinoma of unknown primary: a preliminary comparison trial of whole-body PET/MRI versus PET/CT. Eur J Radiol 85(11):1941–1947

9.

Derlin T, Grunwald V, Steinbach J, Wester HJ, Ross TL (2018) Molecular imaging in oncology using positron emission tomography. Dtsch Arztebl Int 115(11):175–181

10.

O JH, Lodge MA, Wahl RL (2016) Practical PERCIST: a simplified guide to PET response criteria in solid tumors 1.0. Radiology 280(2):576–584

11.

Lordick F, Ott K, Krause BJ, Weber WA, Becker K, Stein HJ et al (2007) PET to assess early metabolic response and to guide treatment of adenocarcinoma of the oesophagogastric junction: the MUNICON phase II trial. Lancet Oncol 8(9):797–805

12.

zum Buschenfelde CM, Herrmann K, Schuster T, Geinitz H, Langer R, Becker K et al (2011) (18)F-FDG PET-guided salvage neoadjuvant radiochemotherapy of adenocarcinoma of the esophagogastric junction: the MUNICON II trial. J Nucl Med 52(8):1189–1196

13.

Lorenzen S, Quante M, Rauscher I, Slotta-Huspenina J, Becker KF, Weichert W et al (2019) PET-directed combined modality therapy for gastroesophageal junction cancer: First results of the prospective MEMORI trial. J Clin Oncol 37(15 suppl):4018

14.

Antoch G, Kanja J, Bauer S, Kuehl H, Renzing-Koehler K, Schuette J et al (2004) Comparison of PET, CT, and dual-modality PET/CT imaging for monitoring of imatinib (STI571) therapy in patients with gastrointestinal stromal tumors. J Nucl Med 45(3):357–365

15.

Duhrsen U, Muller S, Hertenstein B, Thomssen H, Kotzerke J, Mesters R et al (2018) Positron emission tomography-guided therapy of aggressive non-Hodgkin lymphomas (PETAL): a multicenter, randomized phase III trial. J Clin Oncol 36(20):2024–2034

16.

Herrmann K, Buck AK, Schuster T, Abbrederis K, Blumel C, Santi I et al (2014) Week one FLT-PET response predicts complete remission to R‑CHOP and survival in DLBCL. Oncotarget 5(12):4050–4059

17.

Strosberg J, El-Haddad G, Wolin E, Hendifar A, Yao J, Chasen B et al (2017) Phase 3 trial of (177)Lu-dotatate for midgut neuroendocrine tumors. N Engl J Med 376(2):125–135

18.

Kratochwil C, Fendler WP, Eiber M, Baum R, Bozkurt MF, Czernin J et al (2019) EANM procedure guidelines for radionuclide therapy with (177)Lu-labelled PSMA-ligands ((177)Lu-PSMA-RLT). Eur J Nucl Med Mol Imaging 46(12):2536–2544
Ethics declarations
Interessenkonflikt
S. Kasper: Finanzielle Interessen: Beratungs- bzw. Gutachtertätigkeit: Amgen, AstraZeneca, Bayer, BMS, Lilly, Merck Serono, MSD, Roche, Sanofi Aventis, Servier, Janssen Pharmaceuticals; Referentenhonorare: Amgen, AstraZeneca, BMS, Lilly, Merck Serono, MSD, Sanofi Aventis, Servier, Roche; Finanzierung wissenschaftlicher Untersuchungen: Celgene, BMS, Lilly, Merck Serono, Roche, Servier; Reisekostenerstattung: Amgen, AstraZeneca, BMS, Lilly, Merck Serono, Roche, Sanofi Aventis, Servier; B. Hadaschik: Finanzielle Interessen: Referentenhonorar/Reisekostenerstattung als passiver Teilnehmer: AstraZeneca: Kostenerstattung Kongressreise | Bayer: Referentenhonorar | BMS: Kostenerstattung Kongressreise, Referentenhonorar | Curagita: Referentenhonorar | Janssen: Kostenerstattung, Kongressreisen und Referentenhonorar; Bezahlter Berater/interner Schulungsreferent/: Berater Lightpoint Medical Ltd | Berater Janssen; Nichtfinanzielle Interessen: Direktor, Klinik für Urologie, UK Essen | Mitgliedschaften: DGU, EAU, AUA, SIU, WUOF, S3-Leitlinie Prostatakarzinom, Arbeitskreis fokale und Mikrotherapie der DGU, Arbeitskreis Prävention der Nationalen Dekade gegen Krebs. und J.P. Radtke: Finanzielle Interessen: Referentenhonorar/Reisekostenerstattung: Beckelmann GmbH, Bender Gruppe, Saegeling Medizintechnik GmbH, Janssen Cilag GmbH, Siemens Healthineers, Philips, MedCom, Mitgliedschaften: DGU, EAU, AUA, SIU, Arbeitskreis fokale und Mikrotherapie der DGU und I. Virchow gibt an, dass kein Interessenkonflikt besteht.
Für diesen Beitrag wurden von den Autoren keine Studien an Menschen oder Tieren durchgeführt. Für die aufgeführten Studien gelten die jeweils dort angegebenen ethischen Richtlinien.
About this article
Cite this article
Kasper, S., Virchow, I., Hadaschik, B. et al. Was erwartet der Nichtradiologe vom Radiologen?. Radiologe (2020). https://doi.org/10.1007/s00117-020-00653-x
Schlüsselwörter
Positronen-Emissions-Tomographie

Theranostik

Prostataspezifisches Membranantigen

Metabolisches Ansprechen

Hybridbildgebung
Keywords
Positron-emission tomography

Theranostic

Prostate-specific membrane antigen

Metabolic response

Hybrid imaging