Zusammenfassung
Klinisches/methodisches Problem
Neurologische Symptome sind bei etwa 30 % der Patienten Anlass für die Vorstellung in der interdisziplinären Notaufnahme. Die Prognose hängt häufig von einer raschen diagnostischen Klärung und Behandlungseinleitung ab. Anforderungen an die Bildgebung sind eine schnelle Verfügbarkeit und hohe Aussagekraft.
Radiologische Standardverfahren
Die Magnetresonanztomographie (MRT) steht im Gegensatz zur Computertomographie (CT) in vielen Notaufnahmen überwiegend zu den Kernarbeitszeiten zur Verfügung. Neben logistischen und personellen Gründen sind die längere Untersuchungsdauer und hohe Voraussetzungen an Patientencompliance führende Hindernisse. In Bezug auf die Fragestellungen an die Akutbildgebung bietet die MRT in bestimmten Bereichen wie der Schlaganfalldiagnostik deutliche Vorteile gegenüber der CT.
Methodische Innovationen
In der Untersuchungsdauer und dem Umgang mit bewegungsunruhigen Patienten konnten in den vergangenen Jahren deutliche Fortschritte erzielt werden. Die in der neurologischen Notfalldiagnostik eingesetzten schnellen Sequenzen und Techniken zur Messzeitverkürzung werden in diesem Beitrag erläutert.
Leistungsfähigkeit
Die Empfehlung bestimmter Sequenzen hängt von den Hardware- und Software- Komponenten der MRT ab. In jedem Fall sollte, wenn möglich, die parallele Bildgebung zum Einsatz kommen.
Bewertung
In der neurologischen Notfalldiagnostik ist es wichtig, schnelle, aussagekräftige und bewegungsunempfindliche Sequenzen als Notfallstandard anzuwenden und in Abhängigkeit von Klinik und Befund ggf. durch zusätzliche Sequenzen zu ergänzen. Ein Notfallprotokoll mit klinischer Verdachtsdiagnose und empfohlenen schnellen Sequenzen und Techniken zur Messzeitverkürzung wird vorgestellt.
Abstract
Clinical/methodical issue
Neurological symptoms account for approximately 30% of emergency room (ER) visits. Clinical outcome often relies on a timely diagnosis and treatment initiation. Clinical imaging requirements are fast availability and high diagnostic value.
Standard radiological methods
Availability and quality of magnetic resonance imaging (MRI) in emergency rooms outside of core hours are limited compared to computed tomography (CT). Common reasons are infrastructural accessibility (hospitals using outpatient radiology centers), a lack of experienced and qualified staff and high patient compliance requirements. However, in a neurological emergency setting, MRI may show relevant advantages over CT in certain areas, such as diagnosis of stroke.
Methodological innovations
Advances in MRI technology have led to shorter exam times and robust motion reduction strategies. Common fast sequences and time reduction techniques for imaging of neurological emergencies are presented in this article.
Achievements
Recommendations for specific sequences or techniques depend on the institute's MRI hardware and software components. If available, parallel imaging is highly recommended for imaging of neurological emergencies.
Practical recommendations
Imaging of neurological emergencies requires fast, significant and motion insensitive standard acquisitions. Additional sequences should be acquired dependent on clinical and standard protocol imaging findings. An MRI emergency protocol is introduced for the most common neurologic emergencies including recommendations for fast MRI sequences and techniques for imaging time reduction.
This is a preview of subscription content, log in to check access.
Access options
Buy single article
Instant access to the full article PDF.
US$ 39.95
Price includes VAT for USA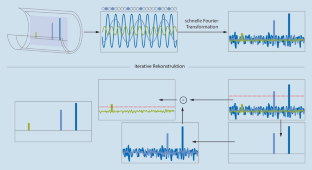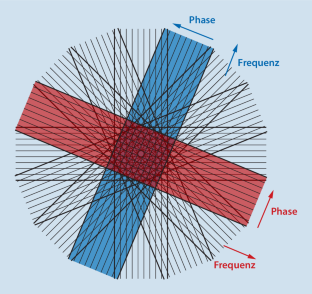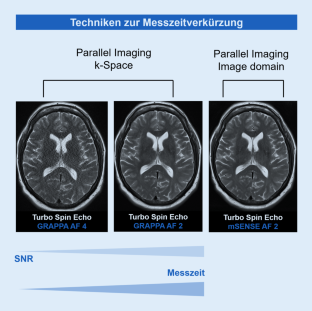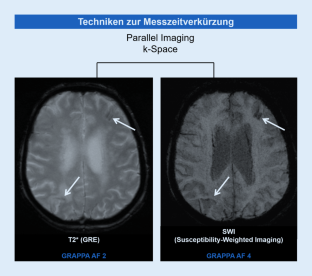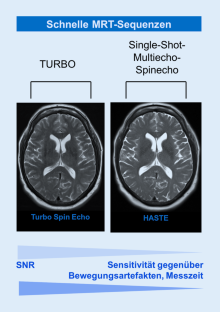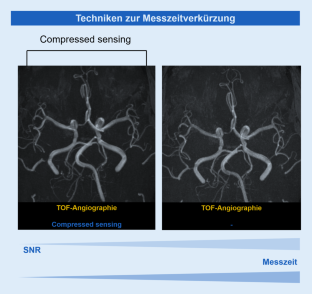 Literatur
1.

Deuschl G, Topka H, Heide W, Busse O (2009) Die Versorgung neurologischer Patienten in der Notaufnahme. Akt Neurol 36:433–436

2.

Wallesch C‑W, Janzen RWC, Busse O, Richter M (2007) Organisation der Notaufnahme an Krankenhäusern mit neurologischer Fachabteilung. Akt Neurol 34:416–421

3.

Ruchholtz S, Waydhas C, Lewan U, Piepenbrink K, Stolke D, Debatin J et al (2002) A multidisciplinary quality management system for the early treatment of severely injured patients: implementation and results in two trauma centers. Intensive Care Med 28:1395–1404

4.

Angerstein W (2008) Trends in x‑ray examination frequency—film utilization in diagnostic radiology. Fortschr Röntgenstr 180:503–504

5.

Ginde AA, Foianini A, Renner DM, Valley M, Camargo CA (2008) Availability and quality of computed tomography and magnetic resonance imaging equipment in U.S. emergency departments. Acad Emerg Med 15:780–783

6.

Demir MC, Akkas M (2019) Awareness of risks associated with the use of plain X‑Ray, computed tomography, and magnetic resonance imaging among emergency physicians and comparison with that of other physicians: a survey from Turkey. Med Sci Monit 25:6587–6597

7.

Juliusson G, Thorvaldsdottir B, Kristjansson JM, Hannesson P (2019) Diagnostic imaging trends in the emergency department: an extensive single-center experience. Acta Radiol Open 8:2058460119860404

8.

Selvarajan SK, Levin DC, Parker L (2019) The increasing use of emergency department imaging in the United States: is it appropriate? AJR Am J Roentgenol 213:W180–W184

9.

Hoffstetter P, Pawlik M, Stroszczynski C, Schreyer AG (2012) Gibt es Notfallindikationen für die MRT? Notfall Rettungsmed 15:516–520

10.

Ahmad R, Hu HH, Krishnamurthy R, Krishnamurthy R (2018) Reducing sedation for pediatric body MRI using accelerated and abbreviated imaging protocols. Pediatr Radiol 48:37–49

11.

Lindberg DM, Stence NV, Grubenhoff JA, Lewis T, Mirsky DM, Miller AL et al (2019) Feasibility and accuracy of fast MRI versus CT for traumatic brain injury in young children. Pediatrics 144:e20190419

12.

Provost C, Soudant M, Legrand L, Hassen BW, Xie Y, Soize S et al (2019) Magnetic resonance imaging or computed tomography before treatment in acute Ischemic stroke. Stroke 50:659–664

13.

Uhlenbrock D, Forsting M, Engelbrecht V (Hrsg) (2007) MRT und MRA des Kopfes: Indikationsstellung – Wahl der Untersuchungsparameter – Befundinterpretation, 2. Aufl. Thieme, Stuttgart (53 Tabellen)

14.

Vilela P, Rowley HA (2017) Brain ischemia: CT and MRI techniques in acute ischemic stroke. Eur J Radiol 96:162–172

15.

Powers WJ, Derdeyn CP, Biller J, Coffey CS, Hoh BL, Jauch EC et al (2015) 2015 American Heart Association/American Stroke Association Focused Update of the 2013 Guidelines for the Early Management of Patients With Acute Ischemic Stroke Regarding Endovascular Treatment: A Guideline for Healthcare Professionals From the American Heart Association/American Stroke Association. Stroke 46:3020–3035

16.

Muir KW, Buchan A, von Kummer R, Rother J, Baron J‑C (2006) Imaging of acute stroke. Lancet Neurol 5:755–768

17.

Chalela JA, Kidwell CS, Nentwich LM, Luby M, Butman JA, Demchuk AM et al (2007) Magnetic resonance imaging and computed tomography in emergency assessment of patients with suspected acute stroke: a prospective comparison. Lancet 369:293–298

18.

Köhrmann M, Schellinger PD (2009) Acute stroke triage to intravenous thrombolysis and other therapies with advanced CT or MR imaging: pro MR imaging. Radiology 251:627–633

19.

Thomalla G, Cheng B, Ebinger M, Hao Q, Tourdias T, Wu O et al (2011) DWI-FLAIR mismatch for the identification of patients with acute ischaemic stroke within 4·5 h of symptom onset (PRE-FLAIR): a multicentre observational study. Lancet Neurol 10:978–986

20.

Vilela P (2017) Acute stroke differential diagnosis: stroke mimics. Eur J Radiol 96:133–144

21.

Kidwell CS (2004) Comparison of MRI and CT for detection of acute Intracerebral hemorrhage. JAMA 292:1823

22.

Fiebach JB, Schellinger PD, Gass A, Kucinski T, Siebler M, Villringer A et al (2004) Stroke magnetic resonance imaging is accurate in hyperacute Intracerebral hemorrhage: a multicenter study on the validity of stroke imaging. Stroke 35:502–506

23.

Ma J, Zhang K, Wang Z, Chen G (2016) Progress of research on diffuse axonal injury after traumatic brain injury. Neural Plast 2016:9746313

24.

Bertrand A, Leclercq D, Martinez-Almoyna L, Girard N, Stahl J‑P, De-Broucker T (2017) MR imaging of adult acute infectious encephalitis. Med Mal Infect 47:195–205

25.

Curt A (2012) Querschnittlähmung, Neurotraumatologie und Erkrankungen von Wirbelsäule und Nervenwurzel. Leitlinien der DGN

26.

Hadizadeh DR, Gieseke J, Beck G, Geerts L, Kukuk GM, Boström A et al (2011) View-sharing in keyhole imaging: partially compressed central k‑space acquisition in time-resolved MRA at 3.0 T. Eur J Radiol 80:400–406

27.

Chen Z, Zhang J, Pang K (2005) Adaptive K‑space updating methods for dynamic MRI sequence estimation. Conf Proc IEEE Eng Med Biol Soc 7:7401–7404

28.

Elster AD, ELSTER LLC (2019) http://mriquestions.com/dynamic-ce-imaging.html. Zugegriffen: 05.02.2020

29.

Lustig M, Donoho D, Pauly JM (2007) Sparse MRI: The application of compressed sensing for rapid MR imaging. Magn Reson Med 58:1182–1195

30.

Griswold M (2011) Beschleunigte Magnet-Resonanz-Bildgebung im Rahmen der parallelen Akquisition von MRT-Daten

31.

Griswold MA, Jakob PM, Heidemann RM, Nittka M, Jellus V, Wang J et al (2002) Generalized autocalibrating partially parallel acquisitions (GRAPPA). Magn Reson Med 47:1202–1210

32.

Breuer FA, Blaimer M, Heidemann RM, Mueller MF, Griswold MA, Jacob PM (2005) Controlled aliasing in parallel imaging results in higher acceleration (CAIPIRINHA) for multi-slice imaging. Magn Reson Med 53:684–91

33.

Elster AD, ELSTER LLC (2019) http://mriquestions.com/propellerblade.html. Zugegriffen: 05.02.2020
Ethics declarations
Interessenkonflikt
K. J. Wenger und E. Hattingen geben an, dass kein Interessenkonflikt besteht.
Für diesen Beitrag wurden von den Autoren keine Studien an Menschen oder Tieren durchgeführt. Für die aufgeführten Studien gelten die jeweils dort angegebenen ethischen Richtlinien.
About this article
Cite this article
Wenger, K.J., Hattingen, E. Schnelle MRT-Sequenzen für die akute neurologische Abklärung. Radiologe (2020). https://doi.org/10.1007/s00117-020-00649-7
Schlüsselwörter
Neurologische Notfälle

Magnetresonanztomographie

Untersuchungsdauer

Parallele Bildgebung

Compressed sensing
Keywords
Neurological emergencies

Magnetic Resonance Imaging

Imaging time reduction

Parallel imaging

Compressed sensing