Unklare Beugehemmung im linken Hüftgelenk bei einem 35-jährigen Mann
Anamnese, klinischer Befund und Diagnostik
Ein 35-jähriger Mann berichtete im Rahmen einer ambulanten Vorstellung über eine bereits seit 2 Jahren zunehmende persistierende Beugehemmung der linken Hüfte. Der Patient spielte in seiner Freizeit Fußball. Ein Trauma in Zusammenhang mit der beginnenden Beschwerdesymptomatik war nicht erinnerlich. Bis auf einen gastroösophagealen Reflux bestanden keine Vorerkrankungen. Eine B‑Symptomatik wurde verneint.
Im linken Hüftgelenk zeigte sich eine eingeschränkte Flexion (<90°), wodurch vor allem das Sitzen erschwert war. Es ließ sich keine lokale Schmerzhaftigkeit eruieren. Die Hüfte stellte sich reizlos und ohne Schwellung dar.
Das Labor zeigte keine pathologischen Laborwerte, insbesondere keine Entzündungsparameter.
Es erfolgten eine konventionelle Röntgenuntersuchung, eine Magnetresonanztomographie (MRT) sowie eine Computertomographie (CT) der linken Hüfte (Abb.
1
,
2
,
3
und
4
).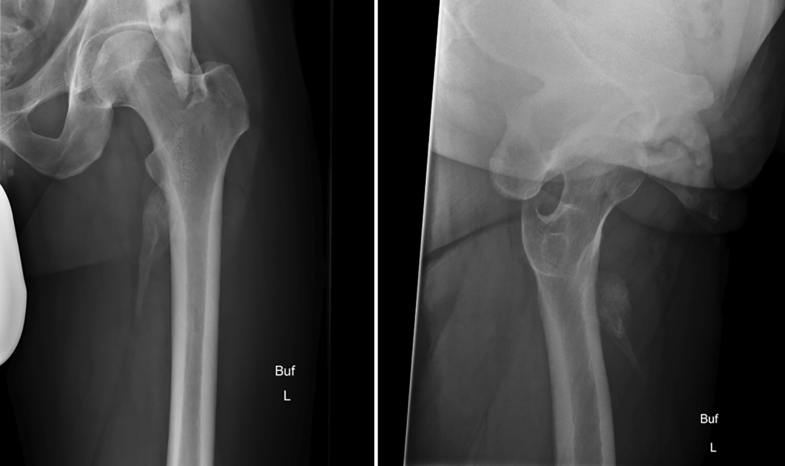 Unclear limitation in flexion of the left hip joint in a 35-year-old man
Notes
Einhaltung ethischer Richtlinien
Interessenkonflikt
C. Skusa, C.C. Harms und M.-A. Weber geben an, dass kein Interessenkonflikt besteht.
Für diesen Beitrag wurden von den Autoren keine Studien an Menschen oder Tieren durchgeführt. Für die aufgeführten Studien gelten die jeweils dort angegebenen ethischen Richtlinien. Für Bildmaterial oder anderweitige Angaben innerhalb des Manuskripts, über die Patienten zu identifizieren sind, liegt von ihnen und/oder ihren gesetzlichen Vertretern eine schriftliche Einwilligung vor.
Copyright information
© Springer Medizin Verlag GmbH, ein Teil von Springer Nature 2019