Zusammenfassung
Leistenschmerz bei Sportlern ist ein häufiges Problem und kann vor allem bei professionellen Athleten schwerwiegende Folgen haben. Die anatomische und funktionelle Komplexität der Leiste sowie die häufige Ausstrahlung aus anderen Regionen können differenzialdiagnostisch eine Herausforderung darstellen und bedürfen besonderer Aufmerksamkeit. Da es eine Vielzahl von unterschiedlichen Ursachen für den Leistenschmerz bei Sportlern gibt, ist eine fachübergreifende Abklärung von essenzieller Bedeutung. Bei den typischen orthopädischen Differenzialdiagnosen gilt es, vor allem Präarthrosen am Hüftgelenk zu erkennen, um irreversible Gelenkschäden zu vermeiden. Durch eine sorgfältige Anamnese mit Identifizierung des Schmerzcharakters, klinischer, sonographischer und radiologischer Untersuchung ist es meist möglich, die Beschwerden zu differenzieren. Für pathologische Befunde im Leistenbereich braucht es klare Begriffsbestimmungen der verschiedenen Krankheitsbilder. Die Sportlerleiste selbst ist keine Hernie, sondern ist durch ihren typischen Schmerzcharakter und sonographisch eindeutigen Nachweis einer messbaren Protrusion der Leistenkanalhinterwand als eigene Entität zu verstehen.
Abstract
Groin pain in athletes is a common problem and can have extensive consequences for professional athletes. The anatomical and functional complexity of the groin as well as radiating pain from remote anatomical regions can make the differential diagnosis a challenge and requires special attention. As there are a wide variety of possible causes for groin pain, a multidisciplinary approach is required. The treating orthopedic surgeon needs to pay special attention to pre-arthritic hip deformities to avoid irreversible damage of the hip joint. By a meticulous patient history and identification of the pain character, followed by clinical, sonographic and radiographic investigations, a differential diagnosis can usually be achieved. Besides typical orthopedic causes, pathological findings particularly in the area of the groin need to be considered, clarified and adequately treated; therefore, a clear terminology of the different diseases is necessary. Sportsmen's groin is not a hernia but should be perceived as a separate entity due to its typical pain character and detection of a measurable protrusion of the posterior wall of the inguinal canal by ultrasound.
Access options
Buy single article
Instant access to the full article PDF.
USD 39.95
Price excludes VAT (USA)
Tax calculation will be finalised during checkout.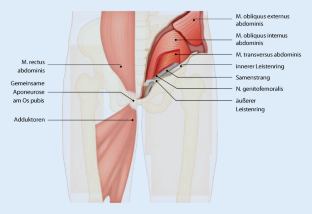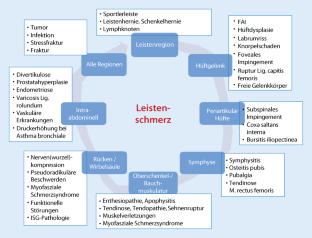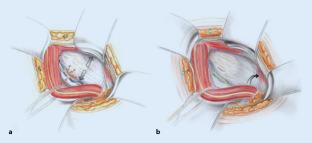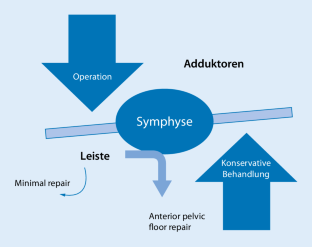 Literatur
Cabot J (1966) Osteopatica dinamica del pubis. In: Hanekopf G (Hrsg) Proceedings of the XVI World Congress of Sports Medicine. Deutscher Ärzte Verlag, Hannover, S 359–364

Ekstrand J, Gillquist J (1983) Soccer injuries and their mechanisms: a prospective study. Med Sci Sports Exerc 15(3):267–270

Emery CA, Meeuwisse WH, Powell JW (1999) Groin and abdominal strain injuries in the National Hockey League. Clin J Sport Med 9(3):151–156

Holmich P et al (1999) Effectiveness of active physical training as treatment for long-standing adductor-related groin pain in athletes: randomised trial. Lancet 353(9151):439–443

Anderson K, Strickland SM, Warren R (2001) Hip and groin injuries in athletes. Am J Sports Med 29(4):521–533

Best R, Nieß A, Striegel H (2010) Die "Weiche Leiste" als Differentialdiagnose chronischer Leistenbeschwerden beim Sportler. Dtsch Z Sportmed 61(2):33–39

Holmich P (2007) Long-standing groin pain in sportspeople falls in- to three primary patterns, a "clinical entity" approach: a prospective study of 207 patients. Br J Sports Med 41(4):247–252

Prather H et al (2013) Abnormal hip physical examination findings in asymptomatic female soccer athletes. Knee Surg Sports Traumatol Arthrosc. https://doi.org/10.1007/s00167-013-2713-7

Gerhardt MB et al (2012) The prevalence of radiographic hip abnormalities in elite soccer players. Am J Sports Med 40(3):584–588

Lovell G et al (2006) Osteitis pubis and assessment of bone marrow edema at the pubic symphysis with MRI in an elite junior male soccer squad. Clin J Sport Med 16(2):117–122

Paajanen H et al (2011) Laparoscopic surgery for chronic groin pain in athletes is more effective than non-operative treatment: a randomized clinical trial with magnetic resonance imaging of 60 patients with sportsman's hernia (athletic pubalgia). Surgery 150(1):99–107

Akita K et al (1999) Anatomic basis of chronic groin pain with special reference to sports hernia. Surg Radiol Anat 21(1):1–5

Bachul P et al (2013) Anatomic variability of groin innervation. Folia Morphol (Warsz) 72(3):267–270

Brannigan AE, Kerin MJ, McEntee GP (2000) Gilmore's groin repair in athletes. J Orthop Sports Phys Ther 30(6):329–332

Gilmore J (1998) Groin pain in the soccer athlete: fact, fiction, and treatment. Clin Sports Med 17(4):787–793

Gilmore OJ (1993) How long do patients convalesce after inguinal herniorrhaphy? Current principles and practice. Ann R Coll Surg Engl 75(3):216

Meyers WC et al (2000) Management of severe lower abdominal or inguinal pain in high-performance athletes. PAIN (Performing Athletes with Abdominal or Inguinal Neuro-muscular Pain Study Group). Am J Sports Med 28(1):2–8

Farber AJ, Wilckens JH (2007) Sports hernia: diagnosis and therapeutic approach. J Am Acad Orthop Surg 15(8):507–514

Nam A, Brody F (2008) Management and therapy for sports hernia. J Am Coll Surg 206(1):154–164

Harmon KG (2007) Evaluation of groin pain in athletes. Curr Sports Med Rep 6(6):354–361

Swan KG Jr, Wolcott M (2007) The athletic hernia: a systematic review. Clin Orthop Relat Res 455:78–87

Amato G et al (2013) Histological findings in direct inguinal hernia: investigating the histological changes of the herniated groin looking forward to ascertain the pathogenesis of hernia disease. Hernia 17(6):757–763

Muschaweck U, Berger LM (2010) Sportsmen's groin—diagnostic approach and treatment with the minimal repair technique: a single-center uncontrolled clinical review. Sports Health 2(3):216–221

Sheen AJ et al (2014) Treatment of the sportsman's groin': British hernia society's 2014 position statement based on the Manchester consensus conference. Br J Sports Med 48:1079–1087

Holt MA et al (1995) Treatment of osteitis pubis in athletes. Results of corticosteroid injections. Am J Sports Med 23(5):601–606

Ahumada LA et al (2005) Athletic pubalgia: definition and surgical treatment. Ann Plast Surg 55(4):393–396

Taylor DC et al (1991) Abdominal musculature abnormalities as a cause of groin pain in athletes. Inguinal hernias and pubalgia. Am J Sports Med 19(3):239–242

Lynch SA, Renstrom PA (1999) Groin injuries in sport: treatment strategies. Sports Med 28(2):137–144

Malycha P, Lovell G (1992) Inguinal surgery in athletes with chronic groin pain, the sportsman's hernia. Aust N Z J Surg 62(2):123–125
Ethics declarations
Interessenkonflikt
U. Muschaweck und A. Koch geben an, dass kein Interessenkonflikt besteht.
Dieser Beitrag beinhaltet keine von den Autoren durchgeführten Studien an Menschen oder Tieren.
About this article
Cite this article
Muschaweck, U., Koch, A. Sportlerleiste. Radiologe 59, 224–233 (2019). https://doi.org/10.1007/s00117-019-0499-4
Published:

Issue Date:

DOI: https://doi.org/10.1007/s00117-019-0499-4
Schlüsselwörter
Leistenschmerz

Athleten

Protrusion

Schmerz

Präarthrose
Keywords
Groin pain

Athletes

Protrusion

Pain

Prearthritis