Zusammenfassung
Ziel
Teleradiologische Untersuchungen wurden im Rahmen einer institutsinternen Effizienz- und Qualitätsanalyse mit den Fragestellungen analysiert, wie sich die Anzahl an durchgeführten teleradiologischen Untersuchungen im Beobachtungszeitraum entwickelt hat, welcher Art die Untersuchungen waren, wann die Untersuchungen im Wochen- und Tagesverlauf durchgeführt wurden, ob im Verlauf des Betrachtungszeitraums eine Veränderung der Befundzeiten zu verzeichnen war und ob ein Unterschied hinsichtlich der Befundzeiten zwischen den Campus der Charité bestand.
Material und Methoden
Es erfolgte eine retrospektive Analyse der nach teleradiologischen CT-Untersuchungen gefilterten Radiologieinformationssystem(RIS)-Datenbank der Charité der Jahre 2011–2013. Dabei wurden 10.200 teleradiologische Untersuchungen eingeschlossen und bzgl. Untersuchungszeitpunkt, Befundzeit, Art der Untersuchung und Campuszugehörigkeit ausgewertet.
Ergebnisse
Die Anzahl an durchgeführten teleradiologischen Untersuchungen nahm im Beobachtungszeitraum kontinuierlich zu. Dabei stellten die computertomographischen Untersuchungen des Kopfs mit knapp 86 % die mit Abstand am häufigsten durchgeführten Untersuchungen dar. Untersuchungsartübergreifend dauerte es im Schnitt 34 min bis zum geschriebenen Befund. Die Befundzeiten blieben im Beobachtungszeitraum nahezu unverändert.
Schlussfolgerung
Im Beobachtungszeitraum konnten insgesamt trotz der steigenden Untersuchungszahlen nahezu gleich gebliebene Befundzeiten nachgewiesen werden, was auf eine sinnvolle Eingliederung der Teleradiologie in den radiologischen Workflow und auf eine Effizienzsteigerung hindeutet.
Abstract
Aims
The teleradiological examinations performed at the Charité were analyzed for the purpose of internal quality and efficiency control. Data included the type and number of examinations performed, the time of day and week the examination was performed and the differences in teleradiologist report turnaround times.
Material and methods
A retrospective analysis of the radiology information system (RIS) database of all teleradiological computed tomography examinations performed at the Charité from 2011 through 2013 was carried out. The search retrieved 10,200 teleradiological examinations which were included in the analysis. The records were analyzed for the time of the day and week the examination was performed, the interval between examination and time of reporting, the type of teleradiological examination and the campus in which they were performed.
Results
The number of teleradiological examinations performed increased continuously during the observation period. Computed tomography of the head was the most frequently performed type of examination with 86 %. Taking all forms of examination into consideration it took an average of 34 min until a report was written. Over the 3-year observation period the times remained virtually unaltered.
Conclusion
During the 3-year observation period nearly constant report times could be observed in spite of the increased numbers of examinations. This indicates an efficiency enhancement and rational integration of teleradiology into the radiological workflow.
Access options
Buy single article
Instant access to the full article PDF.
US$ 39.95
Tax calculation will be finalised during checkout.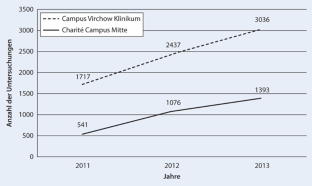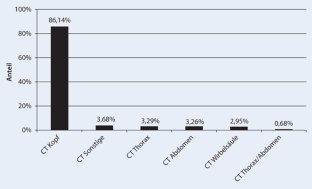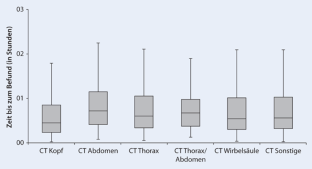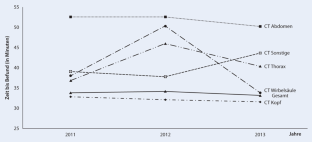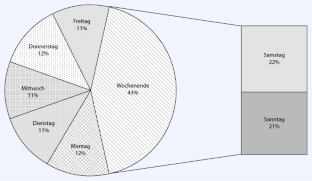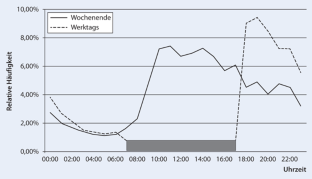 Literatur
1.

Barneveld Binkhuysen FH (1998) Socioeconomic trends in radiology. Eur Radiol 8:323–325

2.

Prescher S, Deckwart O, Koehler K et al (2014) Will telemonitoring be adopted by patients with chronic heart failure? Dtsch Med Wochenschr 139:829–834

3.

Boland GWL (2009) The impact of teleradiology in the United States over the last decade: driving consolidation and commoditization of radiologists and radiology services. Clin Radiol 64:457–462

4.

Fitzgerald R (2008) Medical regulation in the telemedicine era. Lancet 372:1795–1796

5.

Thrall JH (2007) Teleradiology part I. History and clinical applications 1. Radiology 243:613–617

6.

Kangarloo H, Valdez JA, Yao L et al (2000) Improving the quality of care through routine teleradiology consultation. Acad Radiol 7:149–155

7.

Ebbert TL, Meghea C, Iturbe S et al (2007) The state of teleradiology in 2003 and changes since 1999. AJR Am J Roentgenol 188:103–112

8.

Walz M, Brill C, Bolte R et al (2000) Teleradiology requirements and aims in Germany and Europe: status at the beginning of 2000. Eur Radiol 10:1472–1482

9.

Rosenberg C, Langner S, Rosenberg B et al (2011) Medical and legal aspects of teleradiology in Germany. Fortschr Röntgenstr 183:804–811

10.

Bundesministerium der Justiz (2003) Verordnung zum Schutz vor Schäden durch Röntgenstrahlen (Röntgenverordnung – RöV) in der Fassung der Bekanntmachung vom 30.04.2003. BGBl I

11.

Lundberg N, Wintell M, Lindsköld L (2010) The future progress of teleradiology – an empirical study in Sweden. Eur J Radiol 73:10–19

12.

Pechet TCM, Girard G, Walsh B (2010) The value teleradiology represents for Europe: a study of lessons learned in the U.S. Eur J Radiol 73:36–39

13.

Mariani C, Tronchi A, Oncini L et al (2006) Analysis of the X-ray work flow in two diagnostic imaging departments with and without a RIS/PACS system. J Digit Imaging 19:18–28

14.

Hains IM, Georgiou A, Westbrook JI (2012) The impact of PACS on clinician work practices in the intensive care unit: a systematic review of the literature. J Am Med Inform Assoc 19:506–513

15.

Lepanto L, Paré G, Aubry D et al (2006) Impact of PACS on dictation turnaround time and productivity. J Digit Imaging 19:92–97

16.

Lepanto L, Paré G, Gauvin A (2006) Impact of PACS deployment strategy on dictation turnaround time of chest radiographs. Acad Radiol 13:447–452

17.

Rosenberg C, Kroos K, Rosenberg B et al (2013) Teleradiology from the provider's perspective-cost analysis for a mid-size university hospital. Eur Radiol 23:2197–2205

18.

Plathow C, Walz M, Essig M et al (2005) Teleradiologie: Betriebswirtschaftliche Analyse von CT-Untersuchungen eines kleineren Krankenhauses. Fortschr Röntgenstr 177:1016–1026

19.

Steinbrook R (2014) The age of teleradiology. N Engl J Med 357:5–7

20.

Walz M, Bolte R, Lehmann KJ et al (1991) Economic analysis of teleradiology applications with KAMEDIN. Stud Health Technol Inform 64:208–216

21.

Albrecht L, Busse R, Tepe H et al (2013) Turnaround time for reporting results of radiological examinations in intensive care unit patients: an internal quality control. Radiologe 53:810–816

22.

Pinto dos Santos D, Hempel J-M, Kloeckner R et al (2014) Teleradiology – update 2014. Radiologe 54:487–490

23.

Shah CJ, Sullivan JR, Gonyo MB et al (2013) Practice policy and quality initiatives – using lean principles to improve screening mammography workflow. Radiographics 33:1505–1517

24.

Kruskal JB, Reedy A, Pascal L et al (2012) Quality initiatives lean approach to improving performance and efficiency in a radiology. Radiographics 32:573–587

25.

Jimmerson C, Weber D, Sobek DK (2005) Reducing waste and errors: piloting lean principles at Intermountain Healthcare. Jt Comm J Qual Patient Saf 31:249–257

26.

Boland GWL, Halpern EF, Gazelle GS (2010) Radiologist report turnaround time: impact of pay-for-performance measures. AJR Am J Roentgenol 195:707–711

27.

Krishnaraj A, Lee JKT, Laws S et al (2010) Voice recognition software: effect on radiology report turnaround time at an academic medical center. AJR Am J Roentgenol 195:194–197

28.

Glaser C, Trumm C, Nissen-Meyer S et al (2005) Speech recognition: impact on workflow and report availability. Radiologe 45:735–742

29.

Trumm CG, Glaser C, Paasche V et al (2006) Impact of a PACS/RIS-integrated speech recognition system on radiology reporting time and report availability. Fortschr Röntgenstr 178:400–409

30.

Brenner S, Zeng Z, Liu Y et al (2010) Modeling and analysis of the emergency department at University of Kentucky Chandler Hospital using simulations. J Emerg Nurs 36:303–310

31.

Kämmerer M, Bethge OT, Antoch G (2014) Innovative teleradiology network. Concept and experience report. Radiologe 54:359–362

32.

Weisser G, Walz M (2007) Basics of German teleradiology. Radiologe 47:267–278
Einhaltung ethischer Richtlinien
Interessenkonflikt. T. Seithe, R. Busse, M. Rief, R. Doyscher, L. Albrecht, H. Rathke, M. Jonczyk, R. Poschmann, H. Tepe, B. Hamm, M. de Bucourt geben an, dass kein Interessenkonflikt besteht. Dieser Beitrag beinhaltet keine Studien an Menschen oder Tieren.
About this article
Cite this article
de Bucourt, M., Seithe, T., Busse, R. et al. Teleradiologische Prozess- und Untersuchungszeiten. Radiologe 55, 409–416 (2015). https://doi.org/10.1007/s00117-015-2858-0
Schlüsselwörter
Workflowanalyse

Qualitätsmanagement

Teleradiologie

Ressourcenbelegung

Zeiteinteilung
Keywords
Workflow analysis

Quality management

Teleradiology

Time management

Ressource allocation