Zusammenfassung
Ziel
Radiologische Untersuchungen bei Patienten von Intensivstationen (ITS) wurden im Sinne einer institutsinternen Qualitätskontrolle mit dem Ziel analysiert, welcher Modalität die Untersuchungen waren, wann die Untersuchungen im Tagesverlauf stattfanden und ob im Verlauf des Untersuchungszeitraums bzgl. Befunderstellung und -freigabe eine Verkürzung der "report turnaround time" zu verzeichnen waren.
Material und Methoden
Es erfolgte eine retrospektive Analyse der nach Intensivstationen gefilterten RIS-Datenbank aller radiologischen Untersuchungen eines großen deutschen Universitätsklinikums der Jahre 2009–2011. Dabei wurden 75.169 radiologische ITS-Untersuchungen eingeschlossen und bzgl. Untersuchungszeitpunkt, Befundungs- und Freigabezeit sowie nach Art der Untersuchung (konventionelles Röntgen, Ultraschall, Computertomographie [CT], Magnetresonanztomographie [MRT], Angiographie und nuklearmedizinische Untersuchungen) ausgewertet.
Ergebnisse
Modalitätsübergreifend dauerte es im Durchschnitt 52 min bis zum geschriebenen Befund und rund 7 h bis zur endgültigen Befundfreigabe. Die kürzeste "report turnaround time" fand sich beim Ultraschall, beim konventionellen Röntgen und der CT. Die Dreijahresentwicklung der Befund- und Freigabezeiten zeigte eine Tendenz zu insgesamt kürzeren Zeiten: bei der Befundzeit v. a. beim konventionellen Röntgen, beim MRT und der Sonographie (Verbesserung um 24, 17 bzw. 15 min), bei der Freigabezeit v. a. beim CT, konventionellen Röntgen und der Angiographie (Verbesserung um 6,67, 5,08 bzw. 0,78 h).
Schlussfolgerung
Im Verlauf der betrachteten 3 Jahre konnte insgesamt trotz Erhöhung der Gesamtfallzahlen eine Verkürzung der Befund- und Freigabezeiten nachgewiesen werden.
Abstract
Aims
The radiological examinations performed in intensive care units (ICUs) were analyzed for the purpose of internal quality control. Data included the type of examination performed, the time of day the examination was performed and the differences in radiologist report turnaround times.
Material and methods
A retrospective analysis of the radiology information system (RIS) database of all radiological examinations performed in the ICU of a large German hospital from 2009 through 2011 was carried out. The search retrieved 75,169 examinations performed in ICU patients which were included in the analysis. The records were analyzed for type of radiological examination performed, i.e. conventional X-ray, ultrasound, computed tomography (CT), magnetic resonance imaging (MRI), angiography and nuclear medicine examinations, time of day the examination was performed and the interval between examination and time of reporting and release of the final report.
Results
Cross-modality it took on average 52 min until a report was written and approximately 7 h before the final report was released. Turnaround times were shortest for ultrasound, conventional X-ray and CT. Over the 3-year observation period there was an overall tendency toward shorter turnaround times whereby improvement in time until reporting was most marked for conventional X-ray, MRI and ultrasound (reduction of 24, 17, and 15 min, respectively). The time until release of the final report improved most markedly for CT, conventional X-ray and angiography (improvement of approximately 6.67, 5.08 and 0.78 h, respectively).
Conclusions
During the 3-year observation period a reduction in turnaround times for reporting results and release of finalized reports could be observed, despite an increase in the total number of cases.
Access options
Buy single article
Instant access to the full article PDF.
US$ 39.95
Tax calculation will be finalised during checkout.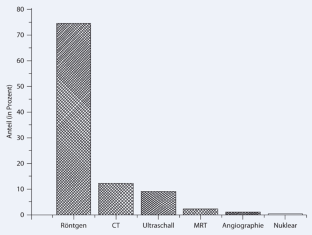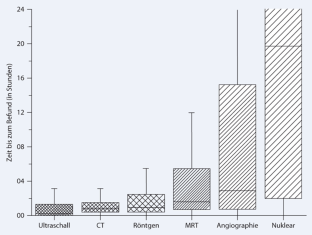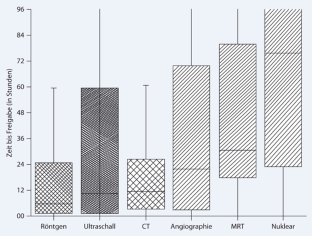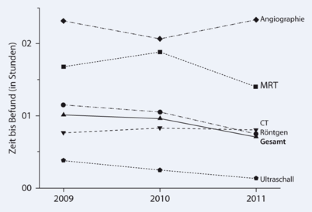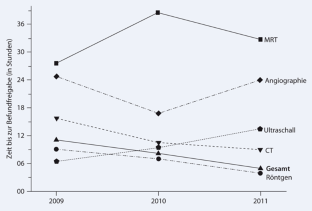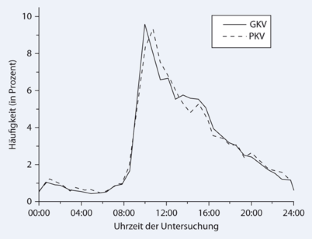 Literatur
1.

Voigt LP, Pastores SM, Raoof ND et al (2009) Review of a large clinical series: intrahospital transport of critically ill patients: outcomes, timing, and patterns. J Intensive Care Med 24(2):108–115

2.

Choudhury D, Ahmed Z (2006) Drug-associated renal dysfunction and injury. Nat Clin Pract Nephrol 2(2):80–91

3.

Clermont G, Acker CG, Angus DC et al (2002) Renal failure in the ICU: comparison of the impact of acute renal failure and end-stage renal disease on ICU outcomes. Kidney Int 62(3):986–996

4.

Lepanto L, Pare G, Aubry D et al (2006) Impact of PACS on dictation turnaround time and productivity. J Digit Imaging 19(1):92–97

5.

Lepanto L, Pare G, Gauvin A (2006) Impact of PACS deployment strategy on dictation turnaround time of chest radiographs. Acad Radiol 13(4):447–452

6.

Mariani C, Tronchi A, Oncini L et al (2006) Analysis of the X-ray work flow in two diagnostic imaging departments with and without a RIS/PACS system. J Digit Imaging 19(Suppl 1):18–28

7.

Hains IM, Georgiou A, Westbrook JI (2012) The impact of PACS on clinician work practices in the intensive care unit: a systematic review of the literature. J Am Med Inform Assoc 19(4):506–513

8.

Huber J, Mielck A (2010) Morbidity and healthcare differences between insured in the statutory ("GKV") and private health insurance ("PKV") in Germany. Review of empirical studies. Bundesgesundheitsbl Gesundheitsforsch Gesundheitssch 53(9):925–938

9.

Lungen M, Stollenwerk B, Messner P et al (2008) Waiting times for elective treatments according to insurance status: a randomized empirical study in Germany. Int J Equity Health 7:1

10.

Kuchinke BA, Sauerland D, Wubker A (2009) The influence of insurance status on waiting times in German acute care hospitals: an empirical analysis of new data. Int J Equity Health 8:44

11.

Schwierz C, Wubker A, Kuchinke BA (2011) Discrimination in waiting times by insurance type and financial soundness of German acute care hospitals. Eur J Health Econ 12(5):405–416

12.

Rieger HJ (2005) Refusal to treat public health insurance patients because of general practice budget exhaustion – decision of the Dusseldorf Social Court 21 July 2004. Dtsch Med Wochenschr 130(6):297–298

13.

Boland GW, Halpern EF, Gazelle GS (2010) Radiologist report turnaround time: impact of pay-for-performance measures. AJR Am J Roentgenol 195(3):707–711

14.

Krishnaraj A, Lee JK, Laws SA, Crawford TJ (2010) Voice recognition software: effect on radiology report turnaround time at an academic medical center. AJR Am J Roentgenol 195(1):194–197

15.

Glaser C, Trumm C, Nissen-Meyer S et al (2005) Speech recognition: impact on workflow and report availability. Radiologe 45(8):735–742

16.

Trumm CG, Glaser C, Paasche V et al (2006) Impact of a PACS/RIS-integrated speech recognition system on radiology reporting time and report availability. Rofo 178(4):400–409

17.

Halsted MJ, Froehle CM (2008) Design, implementation, and assessment of a radiology workflow management system. AJR Am J Roentgenol 191(2):321–327
Einhaltung der ethischen Richtlinien
Interessenkonflikt. L. Albrecht, R. Busse, H. Tepe, R. Poschmann, U. Teichgräber, B. Hamm, M. de Bucourt geben an, dass kein Interessenkonflikt besteht. Dieser Beitrag beinhaltet keine Studien an Menschen oder Tieren.
About this article
Cite this article
Albrecht, L., Busse, R., Tepe, H. et al. Radiologische "report turnaround times" und Untersuchungszeitpunkte bei Patienten auf Intensivstationen. Radiologe 53, 810–816 (2013). https://doi.org/10.1007/s00117-013-2537-y
Schlüsselwörter
Workflowanalyse

Qualitätsmanagement

Qualitätssicherung

Zeiteinteilung

Ressourcenbelegung
Keywords
Workflow analysis

Quality management

Quality assurance

Time management

Ressource allocation