Zusammenfassung
Für die Diagnose der Osteoporose hat die Radiologie mit ihren vielfältigen bildgebenden Verfahren eine zentrale Bedeutung. Angefangen mit der "dual energy X-ray absorptiometry" (DXA), die die einzige von der World Health Organization (WHO) anerkannte Referenzmethode ist, über die Projektionsradiographie zur Frakturklassifikation bis zu den neueren Methoden der trabekulären Strukturanalyse stellt die radiologische Begutachtung wichtige Weichen für das Management von Osteoporosepatienten. Im Folgenden werden ein Überblick über die gängigen Verfahren und ein Einblick in neue diagnostische Ansätze gegeben.
Abstract
Having at their disposal a wide range of imaging techniques, radiologists play a crucial role in the diagnostic evaluation of patients with osteoporosis. The radiological tests range from dual energy X-ray absorptiometry (DXA), which is the only reference method accepted by the WHO, to conventional radiographs for fracture characterization, to more recent techniques for analyzing trabecular structure, and the findings are decisive in initiating correct management of osteoporosis patients. This review provides an overview of established radiological techniques and an outline of new diagnostic approaches.
This is a preview of subscription content,
to check access.
Access this article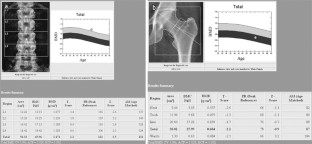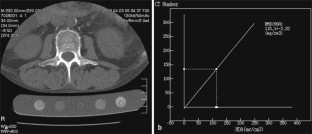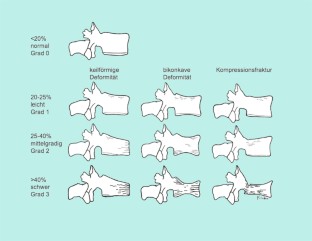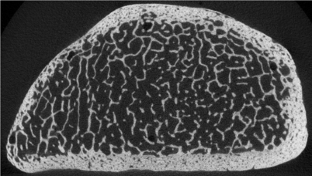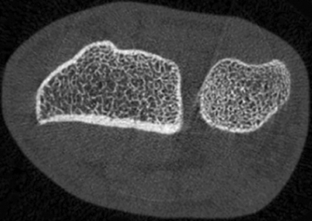 Literatur
Adams JE (2009) Quantitative computed tomography. Eur J Radiol Volume 71:415–424

Bergot C, Laval-Jeantet AM, Hutchinson K et al (2001) A comparison of spinal quantitative computed tomography with dual energy X-ray absorptiometry in European women with vertebral and nonvertebral fractures. Calcif Tissue Int 68:74–82

Delmas PD, Genant HK, Crans GG et al (2003) Severity of prevalent vertebral fractures and the risk of subsequent vertebral and nonvertebral fractures: results from the MORE trial. Bone 33:522–532

Delmas PD, Langerijt L van de, Watts NB et al (2005) Underdiagnosis of vertebral fractures is a worldwide problem: the IMPACT study. J Bone Miner Res 20:557–563

Fechtenbaum J, Cropet C, Kolta S et al (2005) The severity of vertebral fractures and health-related quality of life in osteoporotic postmenopausal women. Osteoporos Int 16:2175–2179

Fink HA, Milavetz DL, Palermo L et al (2005) What proportion of incident radiographic vertebral deformities is clinically diagnosed and vice versa? J Bone Miner Res 20:1216–1222

Genant HK, Wu CY, Kuijk C van, Nevitt MC (1993) Vertebral fracture assessment using a semiquantitative technique. J Bone Miner Res 8:1137–1148

Grigoryan M, Guermazi A, Roemer FW et al (2003) Recognizing and reporting osteoporotic vertebral fractures. Eur Spine J 12:S104–S112

Haugeberg G (2008) Imaging of metabolic bone diseases. Best Pract Res Clin Rheumatol 22:1127–1139

Johnell O, Kanis JA (2006) An estimate of the worldwide prevalence and disability associated with osteoporotic fractures. Osteoporos Int 17:1726–1733

Kado DM, Duong T, Stone KL et al (2003) Incident vertebral fractures and mortality in older women: a prospective study. Osteoporos Int 14:589–594

Kanis JA, Borgstrom F, De Laet C et al (2005) Assessment of fracture risk. Osteoporos Int 16:581–589

Kanis JA, Burlet N, Cooper C et al (2008) European guidance for the diagnosis and management of osteoporosis in postmenopausal women. Osteoporos Int 19:399–428

Klotzbuecher CM, Ross PD, Landsman PB et al (2000) Patients with prior fractures have an increased risk of future fractures: a summary of the literature and statistical synthesis. J Bone Miner Res 15:721–739

Lachmann E, Whelan M (1936) The roentgen diagnosis of osteoporosis and its limitations. Radiology 26:165–177

NIH Consensus Development Panel on Osteoporosis Prevention, Diagnosis, and Therapy (2001) Osteoporosis prevention diagnosis and therapy. JAMA 285:785–795

Prevrhal S (2006) Absorptiometry. Radiologe 46:847–860

Riggs BL, Melton Iii LJ 3rd, Robb RA et al (2004) Population-based study of age and sex differences in bone volumetric density, size, geometry and structure at different skeletal sites. J Bone Miner Res 19:1945–1954

Sambrook P, Cooper C (2006) Osteoporosis. Lancet 367:2010–2018

Schuit SC, Klift M van der, Weel AE et al (2004) Fracture incidence and association with bone mineral density in elderly men and women: the Rotterdam Study. Bone 34:195–202
Interessenkonflikt
Der korrespondierende Autor gibt an, dass kein Interessenkonflikt besteht.
About this article
Cite this article
Issever, A., Link, T. Radiologische Diagnostik der Osteoporose. Radiologe 50, 471–481 (2010). https://doi.org/10.1007/s00117-010-1977-x
Published:

Issue Date:

DOI: https://doi.org/10.1007/s00117-010-1977-x
Schlüsselwörter
Keywords