Zusammenfassung
Durch den Einsatz moderner Multidetektor-Computertomographen (MDCT) mit schnellen Gantryrotationszeiten sind heute große Scanvolumina in hoher zeitlicher und mit hoher räumlicher Auflösung möglich. Die schnelle Bilddatenakquisition und -verarbeitung ermöglichen Mehrphasenprotokolle mit mehreren kurz aufeinander folgenden Scanserien innerhalb jeweils eines Atemanhalts und eine akzeptable Bildqualität bei unkooperativen Patienten. Diese führen zu dünnschichtigen Rohdaten mit isotropen Voxel im Submillimeterbereich, die mit verschiedenen Nachrekonstruktionsverfahren optimal visualisiert werden können.
Die urologische Notfalldiagnostik profitiert hier von der hervorragenden Darstellbarkeit akuter Gefäßpathologien in der arteriellen und venösen Vaskularisation der Nieren. Die renale Parenchymdarstellung und die präzise Abbildung der ableitenden Harnwege im nichttraumatischen Zusammenhang ermöglichen eine Darstellung inflammatorischer Prozesse und die Differenzierung verschiedener obstruierender oder posttherapeutischer Pathologien der ableitenden Harnwege und des kleinen Beckens. Die gewonnenen Befunde dienen der Therapieentscheidung und der Planung operativer und interventioneller Eingriffe.
Abstract
Today's modern multi-detector computer tomography (MDCT) with its fast gantry rotation enables scanning of large body volumes with high temporal and spatial resolution. The fast acquisition of data and subsequent data reconstruction enables multiphase protocols with short time gaps between consecutive scan series so that large numbers of scans within one respiratory pause are possible and even in cases of non-cooperative patients acceptable quality of image data is provided. The acquired thin-slice raw data with isotropic submillimeter voxels can be visualized with different reconstruction algorithms.
The aadvantages of imaging for diagnostics in urologic emergencies are the excellent visualization of acute arterial and venous pathologies, detailed assessment of renal parenchyma and the precise depiction of the urinary tract. In non-trauma settings this enables detailed visualization of inflammatory diseases and differentiation of obstructive or post-therapeutic pathologies along the upper and lower urinary tract. Based on these MDCT findings adequate therapy planning and planning of interventional or surgical procedures can be carried out.
This is a preview of subscription content,
to check access.
Access this article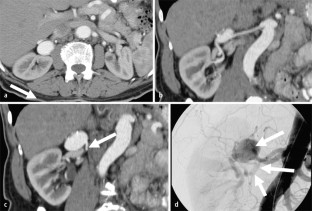 Literatur
Akbar SA, Mortele KJ, Baeyens K et al (2004) Multidetector CT urography: techniques, clinical applications, and pitfalls. Semin Ultrasound CT MR 25:41–54

Dobrilovic N, Bennett S, Smith C et al (2001) Traumatic renal artery dissection identified with dynamic helical computed tomography. J Vasc Surg 34:562–564

Foley WD (2002) Special focus session: multidetector CT. Abdominal visceral imaging. Radiographics 22:701–719

Foley WD (2003) Renal MDCT. Eur J Radiol 45 [suppl 1]:S73–S78

Heneghan JP, Dalrymple NC, Verga M et al (1997) Softtissue rim sign in the diagnosis of ureteral calculi with use of unenhanced helical CT. Radiology 202:709–711

Prokop M (2003) General principles of MDCT. Eur J Radiol 45 [suppl 1]:4–10

Kawashima A, LeRoy AJ (2003) Radiologic evaluation of patients with renal infections. Infect Dis Clin North Am 17:433–456

Kawashima A, Sandler CM, Ernst RD et al (2000) CT evaluation of renovascular disease. Radiographics 20:1321–1340

Kemper J, Regier M, Stork A et al (2006) Improved visualization of the urinary tract in multidetector CT urography (MDCTU): analysis of individual acquisition delay and opacification using furosemide and low-dose test images. J Comput Assist Tomogr 30:751–757

Kocakoc E, Bhatt S, Dogra VS (2005) Renal multidetektor row CT. Radiol Clin North Am 43:1021–1047

Lang EK, Glorioso L (1986) Management of urinomas by percutaneous drainage procedures. Radiol Clin North Am 24:551–559

Lockhart ME, Smith JK (2003) Technical considerations in renal CT. Radiol Clin North Am 41:863–875

McAninch JW, Santucci RA (2002) Genitourinary trauma. In: Walsh PC (ed) Campbell's urology. Saunders, Philadelphia, pp 3721–3727

Meindl T, Coppenrath E, Degenhart C et al (2007) MDCT urography: experience with a bi-phasic excretory phase examination protocol. Eur Radiol 17:2512–2518

Olcott EW, Sommer FG, Napel S (1997) Accuracy of detection and measurement of renal calculi: in vitro comparison of three-dimensional spiral CT, radiography, and nephrotomography. Radiology 204:19–25

Regine G, Stasolla A, Miele A (2007) Multidetector computed tomography of the renal arteries in vascular emergencies. Eur J Radiol 64:83–91

Smith RC, Rosenfield AT, Choe KA et al (1995) Acute flank pain: comparison of non-contrast-enhanced CT and intravenous urography. Radiology 194:789–794

Thornhill BA, Morehouse HT, Coleman P et al (1987) Prostatic abscess: CT and sonographic findings. AJR 148:899–900

Titton RL, Gervais DA, Hahn PF et al (2003) Urine leaks and urinomas: diagnosis and imaging-guided intervention. Radiographics 23:1133–1147

Urban BA, Ratner LE, Fishman EK (2001) Three-dimensional volume-rendered CT angiography of the renal arteries and veins: normal anatomy, variants, and clinical applications. Radiographics 21:373–386

Vaccaro JP, Brody JM (2000) MDCT Cystography in the evaluation of major bladder trauma. Radiographics 20:1373–1381

Zagoria RJ (2000) Imaging of small renal masses: a medical success story. AJR Am J Roentgenol 75:945–955
Interessenkonflikt
Der korrespondierende Autor gibt an, dass kein Interessenkonflikt besteht.
About this article
Cite this article
Scherr, M. Multidetektor-CT bei nichttraumatischen urologischen Notfällen. Radiologe 49, 516–522 (2009). https://doi.org/10.1007/s00117-008-1810-y
Published:

Issue Date:

DOI: https://doi.org/10.1007/s00117-008-1810-y
Schlüsselwörter
Keywords