Zusammenfassung
Erkrankungen der Aorta sind mit einer hohen Morbidität und Mortalität assoziiert und erfordern insbesondere im Akutfall eine effiziente und akkurate Diagnostik. Die Mehrschicht-Spiral-CT (MSCT) mit der Möglichkeit der hochauflösenden CT-Angiographie (CTA) ist zur Methode der Wahl bei der Diagnosestellung und Verlaufskontrolle erworbener Aortenerkrankungen geworden. Unter den Notfällen ist die Aortendissektion am häufigsten, bleibt aber in bis zu 38% der Fälle unentdeckt. Mit der MSCT gelingt der Nachweis mit einer Sensitivität und Spezifität von über 99%. Für die Detektion inflammatorischer Veränderungen zeigt die CT eine Sensitivität von 83%, eine Spezifität von ca. 100% und eine diagnostische Genauigkeit von ca. 94%. Dieser Artikel vermittelt den aktuellen Stand der Wissenschaft in der CT-Bildgebung erworbener Aortenerkrankungen.
Abstract
Aortic disease is associated with high morbidity and mortality and thus require an efficient and accurate diagnostic approach, especially in the acute setting. Multislice computed tomography (MSCT) with the option of high-resolution CT angiography (CTA) has emerged as the standard of reference in diagnosis and follow-up of patients with acquired aortic disease. Aortic dissection is the most common aortic emergency, but it remains undiscovered in up to 38% of cases. Sensitivity and specificity of MSCT in the assessment of aortic dissection are greater than 99%. The sensitivity of CT in the detection of inflammatory changes is 83%; its specificity is almost 100%; and its diagnostic accuracy is ca. 94%. This article outlines state-of-the-art principles in diagnostic CT imaging of acquired aortic disease.
Access options
Buy single article
Instant access to the full article PDF.
USD 39.95
Price excludes VAT (USA)
Tax calculation will be finalised during checkout.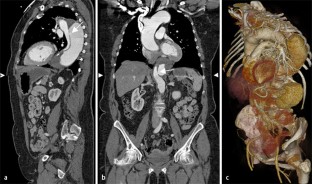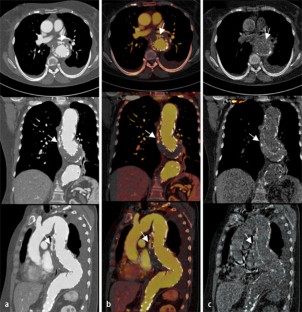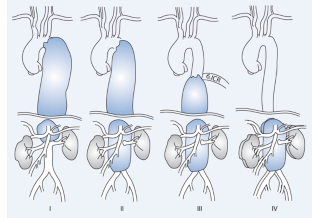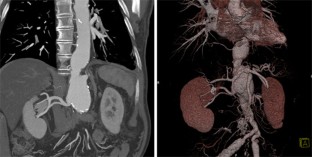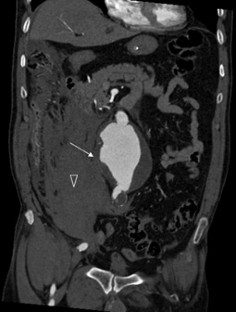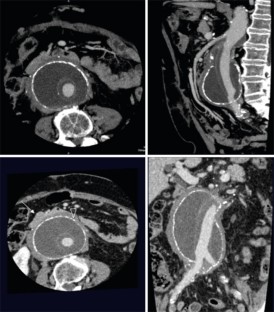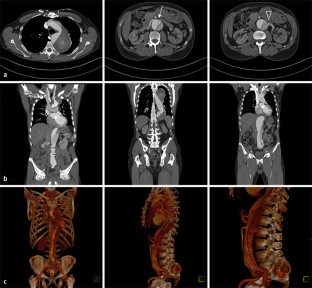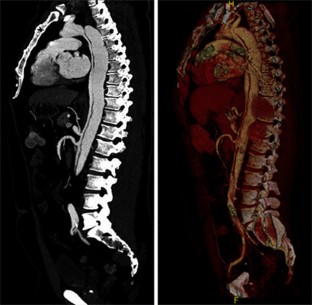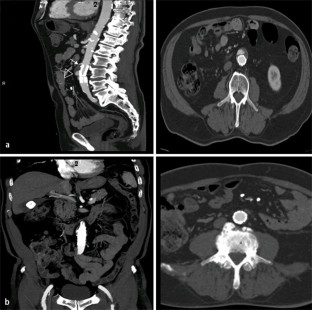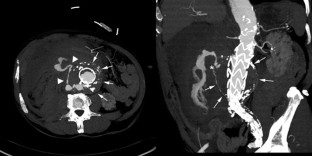 Literatur
Alkadhi H, Wildermuth S, Desbiolles L et al. (2004) Vascular emergencies of the thorax after blunt and iatrogenic trauma: multi-detector row CT and three-dimensional imaging. Radiographics 24: 1239–1255

Bahner ML, Bengel A, Brix G et al. (2005) Improved vascular opacification in cerebral computed tomography angiography with 80 kVp. Invest Radiol 40: 229–234

Cademartiri F, Nieman K, van der Lugt A et al. (2004) Intravenous contrast material administration at 16-detector row helical CT coronary angiography: test bolus versus bolus-tracking technique. Radiology 233: 817–823

Castaner E, Andreu M, Gallardo X et al. (2003) CT in nontraumatic acute thoracic aortic disease: typical and atypical features and complications. Radiographics 23 Spec No: S93–S110

Evangelista A, Mukherjee D, Mehta RH et al. (2005) Acute intramural hematoma of the aorta: a mystery in evolution. Circulation 111: 1063–1070

Fleischmann D (2003) Use of high concentration contrast media: principles and rationale-vascular district. Eur J Radiol 45 [suppl 1]: S88–S93

Hayter RG, Rhea JT, Small A et al. (2006) Suspected aortic dissection and other aortic disorders: multi-detector row CT in 373 cases in the emergency setting. Radiology 238: 841–852

Iezzi R, Cotroneo AR (2006) Endovascular repair of abdominal aortic aneurysms: CTA evaluation of contraindications. Abdom Imaging 31: 722–731

Iino M, Kuribayashi S, Imakita S et al. (2002) Sensitivity and specificity of CT in the diagnosis of inflammatory abdominal aortic aneurysms. J Comput Assist Tomogr 26: 1006–1012

Isselbacher EM (2005) Thoracic and abdominal aortic aneurysms. Circulation 111: 816–828

Johnson TR, Krauss B, Sedlmair M et al. (2007) Material differentiation by dual energy CT: initial experience. Eur Radiol 17: 1510–1517

Knollmann F, Schimpf K, Felix R (2004) [Iodine delivery rate of different concentrations of iodine-containing contrast agents with rapid injection]. Rofo Fortschr Geb Rontgenstr Neuen Bildgeb Verfahr 176: 880–884

Leurs LJ, Laheij RJ, Buth J (2005) What determines and are the consequences of surveillance intensity after endovascular abdominal aortic aneurysm repair? Ann Vasc Surg 19: 868–875

Luther BLP (2007) Kompaktwissen Gefäßchirurgie. Differenzierte Diagnostik und Therapie. Springer, Berlin Heidelberg New York

Nienaber CA, Eagle KA (2003) Aortic dissection: new frontiers in diagnosis and management, part II: therapeutic management and follow-up. Circulation 108: 772–778

Rakita D, Newatia A, Hines JJ et al. (2007) Spectrum of CT findings in rupture and impending rupture of abdominal aortic aneurysms. Radiographics 27: 497–507

Reimer P, Vosshenrich R, Landwehr P, Storck M (2007) [Imaging of aortic disease]. Radiologe 47: 443–460

Richter GM, Allenberg JR, Schumacher H et al. (2001) [Aortic dissection – when operative treatment, when endoluminal therapy?]. Radiologe 41: 660–667

Rubin GD, Kalra MK (2006) MDCT angiography of the thoracic aorta. In: Saini S, Rubin GD, Kalra MK (eds) MDCT: a practical approach. Springer, Berlin Heidelberg New York, p 111

Rubin GD (2003) CT angiography of the thoracic aorta. Semin Roentgenol 38: 115–134

Sandmann W, Pfeiffer T (2002) Die endovaskuläre Therapie des abdominalen Aortenaneurysmas: Aus der Sicht des Gefäßchirurgen. Dtsch Arztebl 17: A1160–A1167

Schumacher H, Böckler D, von Tengg-Kobligk H et al. (2005) Symptomatische Plaqueruptur und penetrierendes Ulkus im thorakoabdominellen Aortenabschnitt. Gefässchirurgie 10: 38

Shiga T, Wajima Z, Apfel CC et al. (2006) Diagnostic accuracy of transesophageal echocardiography, helical computed tomography, and magnetic resonance imaging for suspected thoracic aortic dissection: systematic review and meta-analysis. Arch Intern Med 166: 1350–1356

Singh K, Jacobsen BK, Solberg S et al. (2003) Intra- and interobserver variability in the measurements of abdominal aortic and common iliac artery diameter with computed tomography. The Tromso Study. Eur J Vasc Endovasc Surg 25: 399–407

Sundt TM (2007) Intramural hematoma and penetrating atherosclerotic ulcer of the aorta. Ann Thorac Surg 83: S835–S841; discussion S846–S850

Takahashi K, Stanford W (2005) Multidetector CT of the thoracic aorta. Int J Cardiovasc Imaging 21: 141–153

Tang T, Boyle JR, Dixon AK, Varty K (2005) Inflammatory abdominal aortic aneurysms. Eur J Vasc Endovasc Surg 29: 353–362

Tavora F, Burke A (2006) Review of isolated ascending aortitis: differential diagnosis, including syphilitic, Takayasu's and giant cell aortitis. Pathology 38: 302–308

Wallis F, Roditi GH, Redpath TW et al. (2000) Inflammatory abdominal aortic aneurysms: diagnosis with gadolinium enhanced T1-weighted imaging. Clin Radiol 55: 136–139

Wintersperger B, Jakobs T, Herzog P et al. (2005) Aorto-iliac multidetector-row CT angiography with low kV settings: improved vessel enhancement and simultaneous reduction of radiation dose. Eur Radiol 15: 334–341

Yamada I, Nakagawa T, Himeno Y et al. (1998) Takayasu arteritis: evaluation of the thoracic aorta with CT angiography. Radiology 209: 103–109

Yoshioka K, Niinuma H, Ehara S et al. (2006) MR angiography and CT angiography of the artery of Adamkiewicz: state of the art. Radiographics 26 [suppl 1]: S63–S73
Interessenkonflikt
Der korrespondierende Autor gibt an, dass kein Interessenkonflikt besteht.
About this article
Cite this article
Theisen, D., v.Tengg-Kobligk, H., Michaely, H. et al. CT Angiographie der Aorta. Radiologe 47, 982–992 (2007). https://doi.org/10.1007/s00117-007-1580-y
Published:

Issue Date:

DOI: https://doi.org/10.1007/s00117-007-1580-y
Schlüsselwörter
Mehrschicht-Spiral-CT (MSCT)

Erkrankungen der Aorta

Aneurysma

Dissektion
Keywords
Multisclice computed tomography (MSCT)

Aortic disease

Aneurysm

Dissection