Zusammenfassung
Die Lungenembolie stellt eine potenziell lebensbedrohliche akute Erkrankung dar, deren Prognose durch die frühzeitige Diagnostik und effektive gerinnungshemmende Therapie bestimmt wird. Die jährliche Inzidenz der Lungenembolie liegt zwischen 1,3–2,8/1000 Einwohner im Alter zwischen 65 und 89 Jahren. Die Mortalität einer akuten Lungenembolie erreicht etwa 17% innerhalb der ersten 3 Monate. Die akute Lungenembolie ist durch Erhöhung des pulmonalarteriellen Drucks mit Störung des Gasaustauschs und Anstieg des Drucks im rechten Herzen bis hin zur Rechtsherzdekompensation gekennzeichnet. Weitere Folgen sind Hypoxämie, Hyperventilation, Totraumventilation, Rechts-links-Shunt und Broncho- sowie auch Vasokonstriktion.
Anamnese und klinische Untersuchung sowie EKG-Diagnostik, Röntgen-Thorax, Laborbestimmung des D-Dimer und Blutgasanalyse sind Bestandteile der Basisdiagnostik und lassen die Diagnose Lungenembolie mit Wahrscheinlichkeit zu. Die transthorakale Echokardiographie erlaubt die prognostisch bedeutsame Beurteilung der rechtsventrikulären Belastung, und die Ultraschalluntersuchung der Beine kann die häufigste Lokalisation des Ursprungs der Thrombembolie nachweisen. Wichtigstes bildgebendes Verfahren zum Nachweis der Lungenembolie ist das Spiral-CT. Aufwändigere Untersuchungen – wie Perfusions- und Ventilationsszintigraphie bis hin zur invasiven Pulmonalisangiographie – können sich anschließen. Bei massiver Lungenembolie mit kardiogenem Schock stehen intensivmedizinisches Monitoring und kreislaufunterstützende Therapie ebenso im Vordergrund wie der Einsatz einer rekanalisierenden Therapie, in der Regel Thrombolyse. In besonders schweren Fällen kann auch ein chirurgisches oder kathetergestütztes Vorgehen indiziert sein. Der Akuttherapie folgt die Antikoagulation zur Rezidivprophylaxe.
Abstract
In the population the annual incidence of pulmonary embolism amounts to 1.3–2.8 per 1000 at the age of 65–89 years. Mortality reaches about 17% within the first 3 months. Acute pulmonary embolism is characterized by an increase in pulmonary arterial pressure and an impairment of the pulmonary gas exchange. Elevation of the right cardiac pressure up to right heart decompensation may follow. In addition, hypoxemia, hyperventilation, dead space ventilation, right to left shunting, bronchoconstriction, and vasoconstriction may occur.
Clinical examination, ECG, laboratory findings such as elevated D-dimer, blood gas analysis, ultrasound examination of the veins of the lower extremities, and transthoracic echocardiography are acutely available diagnostic methods of an emergency department.
In addition, extensive diagnostic procedures like pulmonary scintigraphy and pulmonary angiography may be required. The aim is to get a definite diagnosis as quickly as possible to direct therapy.
In acute pulmonary embolism with cardiac shock, monitoring and stabilization of the circulatory function as well as an appropriate anticoagulant therapy are essential. In some cases surgery or a local fibrinolytic intervention is indicated.
Access options
Buy single article
Instant access to the full article PDF.
USD 39.95
Price excludes VAT (USA)
Tax calculation will be finalised during checkout.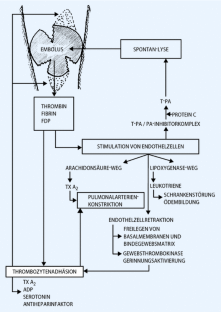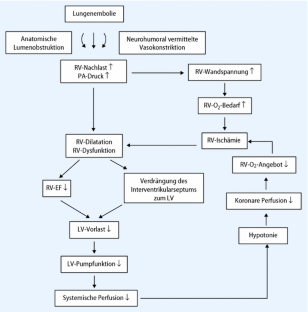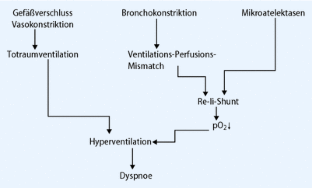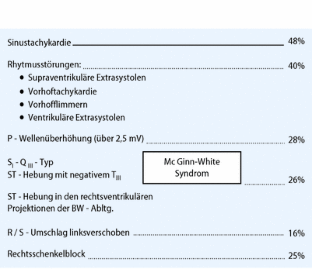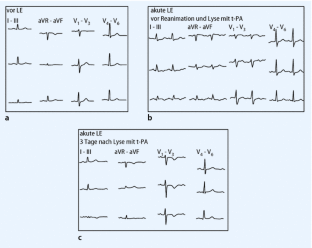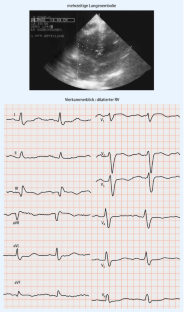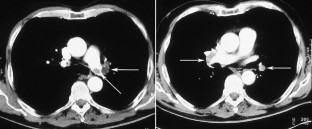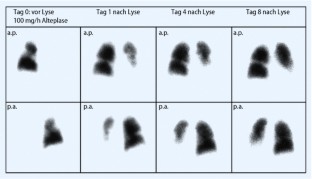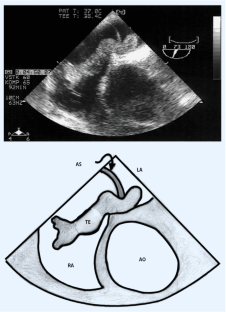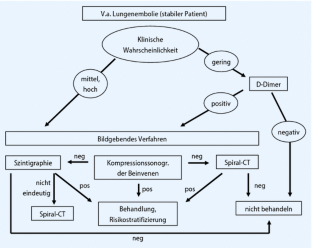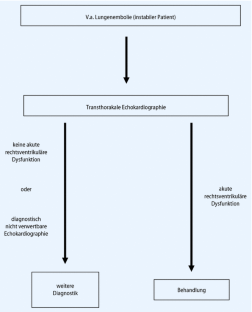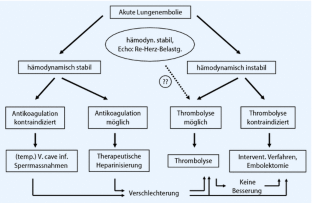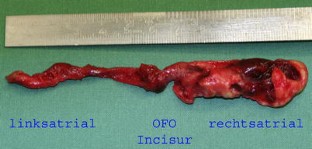 Literatur
Aklog L, Williams CS, Byrne JG, Goldhaber SZ (2002) Acute pulmonary embolectomy: a contemporary approach. Circulation 105: 1416–1419

Beuckelmann DJ (2006) Akutes Cor pulmonale und Lungenembolie. In: Erdmann E (Hrsg) Klinische Kardiologie. Springer, Berlin Heidelberg New York, S 485–486

Come PC (1992) Echocardiographic evaluation of pulmonary embolism and its response to therapeutic interventions. Chest 101: 151–162

Ferretti GR, Bosson JL, Buffaz PD et al. (1997) Acute pulmonary embolism: role of helical CT in 164 patients with intermediate probability at ventilation-perfusion scintigraphy and normal results at duplex US of the legs. Radiology 205: 453–458

Goldhaber SZ, Come PC, Lee RT et al. (1993) Alteplase versus heparin in acute pulmonary embolism: randomised trial assessing right-ventricular function and pulmonary perfusion. Lancet 341: 507–511

Goldhaber SZ, Visani L, De Rosa M (1999) Acute pulmonary embolism: clinical outcomes in the international cooperative pulmonary embolism registry (ICOPER) Lancet 353: 1386–1389

Horlander KT, Mannino DM, Leeper KV (2003) Pulmonary embolism mortality in the United States, 1979–1998: an analysis using multiple-cause mortality data. Arch Intern Med 163: 1711–1717

Hull R, Hirsh J, Jay R et al. (1982) Different intensities of oral anticoagulant therapy in the treatment of proximal-vein thrombosis. N Engl J Med 307: 1676–1681

Kasper W, Konstantinidis S, Geibel A et al. (1991) Management strategies and determinants of outcome in acute major pulmonary embolism: results of a multicenter registry. J Am Coll Cardiol 30: 1165–1171

Kniffin WD, Baron JA, Barrett J et al. (1994) The epidemiology of diagnosed pulmonary embolism and deep venous thrombosis is the elderly. Arch Intern Med 154: 861–866

Konstantinidis S, Geibel A, Kasper W et al. (1998) Patent foramen ovale is an important predictor of adverse outcome in patients with major pulmonary embolism. Circulation 97: 1946–1951

Mercat A, Diehl JL, Meyer G et al. (1999) Hemodynamic effects of fluid loading in acute massive pulmonary embolism. Crit Care Med 27: 540–544

Moser KM (1990) Venous thromboembolism. Am Rev Respir Dis 141: 235–249

Rubenstein I, Murray D, Hoffstein V (1988) Fatal pulmonary emboli in hospitalized patients. An autopsy study. Arch Intern Med 148: 1425–1426

Stein PD, Henry JW (1995) Prevalence and acute pulmonary embolism among patients in a general hospital and at autopsy. Chest 108: 978–981

Ten Wolde M, Söhne M, Quak E et al. (2004) Prognostic value of echocardiographically assessed right ventricular dysfunction in patients with pulmonary embolism. Arch Intern Med 164: 1685–1689

Torbicki A, van Beek EJR, Charbonnier B et al. (2000) Guidelines on diagnosis and management of acute pulmonary embolism. Eur Heart J 21: 1301–1336

Wan S, Quinlan DJ, Agnelli G, Eikelboom JW (2004) Thrombolysis compared with heparin for the initial treatment of pulmonary embolism. A meta-analysis of the randomized controlled trials. Circulation 110: 744–749

Weber DM, Phillips JH (1966) A reevaluation of electrocardiographic changes accompanying acute pulmonary embolism. Am J Med Sci 251: 381

Wilkens H (2007) Therapie der chronischen Thromboembolie. Pneumologe 4: 30–38

Worth H (2006) Lebensrettend: Adäquate Diagnostik und effektive gerinnungshemmende Therapie. Notfall Hausarztmed 32: 476–481

Worth H (2007) Gerinnungshemmende Therapie der Lungenembolie. Pneumologe 4: 24–29
Interessenkonflikt
Der korrespondierende Autor gibt an, dass kein Interessenkonflikt besteht.
About this article
Cite this article
Nowak, F., Halbfaß, P. & Hoffmann, E. Lungenembolie. Radiologe 47, 663–672 (2007). https://doi.org/10.1007/s00117-007-1535-3
Published:

Issue Date:

DOI: https://doi.org/10.1007/s00117-007-1535-3
Schlüsselwörter
Keywords