Zusammenfassung
Plattenepithelkarzinome und Adenokarzinome sind für die überwiegende Mehrheit der Ösophaguskarzinome verantwortlich. Die Prognose des Ösophaguskarzinoms ist weiterhin schlecht, da Frühsymptome fehlen und die Diagnose somit meist erst in fortgeschrittenen Stadien gestellt wird. Die bildgebende Diagnostik des Ösophaguskarzinoms hat im Wesentlichen 3 Aufgaben zu erfüllen: die exakte Bestimmung der lokalen Tumorausdehnung (T- und N-Stadium), den Ausschluss von Fernmetastasen (M-Stadium) sowie die frühe Beurteilung des Ansprechens auf eine neoadjuvante (Radio-)Chemotherapie (Responseevaluation). Die CT ist dem endoskopischen Ultraschall beim T- und N-Staging weiterhin unterlegen, spielt jedoch bei der Beurteilung einer Umgebungsinfiltration durch den Tumor (T4-Stadium) sowie beim Ausschluss von Fernmetastasen eine zentrale Rolle. Mithilfe der Multislice-CT (MSCT) erstellte Rekonstruktionen stellen oft die Beziehung des Tumors zu anatomischen Leitstrukturen, wie dem Tracheobronchialbaum oder dem Zwerchfell, anschaulicher dar als die axialen Quellbilder. Erste Versuche einer Therapiebeurteilung mittels CT-Volumetrie sind zwar vielversprechend, doch stellt die PET bzw. PET/CT mit dem Glukoseanalogon FDG derzeit die Methode der Wahl in der Responseevaluation dar.
Abstract
Squamous cell carcinomas and adenocarcinomas account for the majority of cases of esophageal cancer. Esophageal cancer often is diagnosed in advanced stages as clinical symptoms are lacking in early stages. The major aims of imaging in esophageal cancer are to determine local tumor extension (T and N staging), to rule out systemic disease (M staging), and to assess response to neoadjuvant therapy (response evaluation). CT is still inferior to endoscopic ultrasound in differentiating T stages and detecting regional lymph node metastases. However, it plays a central role in determining infiltration into adjacent organs (T4 stage) and in ruling out distant metastases. Multislice-CT (MSCT) offers the possibility of reconstructions, which often help to assess the relationship between tumor and anatomic landmarks like the tracheobronchial tree or the diaphragm. First results of CT volumetry for response evaluation are promising; however, PET and PET/CT with the glucose analogue FDG are the standard methods to evaluate response to neoadjuvant therapy.
Access options
Buy single article
Instant access to the full article PDF.
USD 39.95
Price excludes VAT (USA)
Tax calculation will be finalised during checkout.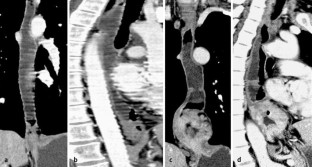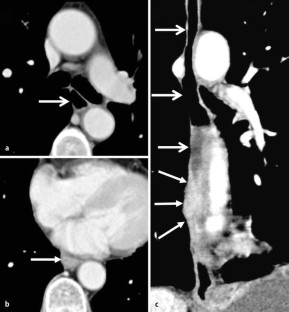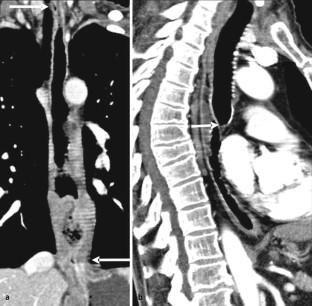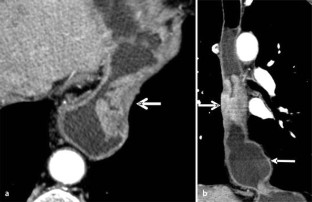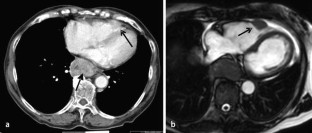 Literatur
Antoch G, Saoudi N, Kuehl H et al. (2004) Accuracy of whole-body dual-modality fluorine-18–2-fluoro-2-deoxy-D-glucose positron emission tomography and computed tomography (FDG-PET/CT) for tumor staging in solid tumors: comparison with CT and PET. J Clin Oncol 22: 4357–4368

Bareiss D, Stabenow R, Muller R et al. (2002) Aktuelle Epidemiologe des Ösophaguskarzinoms und des Kardiakarzinoms in Deutschland. Dtsch Med Wochenschr 127: 1367–1374

Bar-Shalom R, Yefremov N, Guralnik L et al. (2003) Clinical performance of PET/CT in evaluation of cancer: additional value for diagnostic imaging and patient management. J Nucl Med 44: 1200–1209

Beer AJ, Wieder HA, Lordick F et al. (2006) Adenocarcinomas of esophagogastric junction: multi-detector row CT to evaluate early response to neoadjuvant chemotherapy. Radiology 239: 472–480

Brown LM, Hoover R, Silverman D et al. (2001) Excess incidence of squamous cell esophageal cancer among US Black men: role of social class and other risk factors. Am J Epidemiol 153: 114–122

Brown WA, Thomas J, Gotley D et al. (2004) Use of oesophagogastroscopy to assess the response of oesophageal carcinoma to neoadjuvant therapy. Br J Surg 91: 199–204

Daly JM, Karnell LH, Menck HR (1996) National Cancer Data Base report on esophageal carcinoma. Cancer 78: 1820-1828

Enzinger PC, Mayer RJ (2003) Esophageal cancer. N Engl J Med 349: 2241–2252

Griffith JF, Chan AC, Chow LT et al. (1999) Assessing chemotherapy response of squamous cell oesophageal carcinoma with spiral CT. Br J Radiol 72: 678–684

Hordijk ML, Kok TC, Wilson JH, Mulder AH (1993) Assessment of response of esophageal carcinoma to induction chemotherapy. Endoscopy 25: 592–596

Jemal A, Siegel R, Ward E et al. (2006) Cancer statistics, 2006. CA Cancer J Clin 56: 106–130

Jones DR, Parker LA Jr, Detterbeck FC, Egan TM (1999) Inadequacy of computed tomography in assessing patients with esophageal carcinoma after induction chemoradiotherapy. Cancer 85: 1026–1032

Kato H, Kuwano H, Nakajima M et al. (2002) Comparison between positron emission tomography and computed tomography in the use of the assessment of esophageal carcinoma. Cancer 94: 921–928

Kim SH, Lee JM, Han JK et al. (2006) Three-dimensional MDCT imaging and CT esophagography for evaluation of esophageal tumors: preliminary study. Eur Radiol 16: 2418–2426

Kneist W, Schreckenberger M, Bartenstein P et al. (2004) Prospective evaluation of positron emission tomography in the preoperative staging of esophageal carcinoma. Arch Surg 139: 1043–1049

May A, Gunter E, Roth F et al. (2004) Accuracy of staging in early oesophageal cancer using high resolution endoscopy and high resolution endosonography: a comparative, prospective, and blinded trial. Gut 53: 634–640

Onbas O, Eroglu A, Kantarci M et al. (2006) Preoperative staging of esophageal carcinoma with multidetector CT and virtual endoscopy. Eur J Radiol 57: 90–95

Panebianco V, Grazhdani H, Iafrate F et al. (2006) 3D CT protocol in the assessment of the esophageal neoplastic lesions: can it improve TNM staging? Eur Radiol 16: 414–421

Picus D, Balfe DM, Koehler RE et al. (1983) Computed tomography in the staging of esophageal carcinoma. Radiology 146: 433–438

Plukker JT, van Westreenen HL (2006) Staging in oesophageal cancer. Best Pract Res Clin Gastroenterol 20: 877–891

Quint LE, Hepburn LM, Francis IR et al. (1995) Incidence and distribution of distant metastases from newly diagnosed esophageal carcinoma. Cancer 76: 1120–1125

Rösch T (1995) Endosonographic staging of gastric cancer: a review of literature results. Gastrointest Endosc Clin North Am 5: 549–557

Schuhmacher CP, Fink U, Becker K et al. (2001) Neoadjuvant therapy for patients with locally advanced gastric carcinoma with etoposide, doxorubicin, ans cisplatinum. Closing results after 5 years follow-up. Cancer 91: 918–927

Siewert JR, Stein HJ, Feith M et al. (2001) Histologic tumor type is an independent prognostic parameter in esophageal cancer: lessons from more than 1,000 consecutive resections at a single center in the Western world. Ann Surg 234: 360–367

Stein HJ, Fink U, Siewert JR (1994) Who benefits from combined modality treatment of esophageal carcinoma? Dis Esophagus 7: 156–161

Takashima S, Takeuchi N, Shiozaki H et al. (1991) Carcinoma of the esophagus: CT vs MR imaging in determining resectability. AJR Am J Roentgenol 156: 297–302

Taylor CR (1986) Carcinoma of the esophagus – current imaging options. Am J Gastroenterol 81: 1013–1020

Thompson WM (1997) Esophageal carcinoma. Abdom Imag 22: 138–142

Thompson WM, Halvorsen RA, Foster WL Jr et al. (1983) Computed tomography for staging esophageal and gastroesophageal cancer: reevaluation. AJR Am J Roentgenol 141: 951–958

Umeoka S, Koyama T, Togashi K et al. (2006) Esophageal cancer: evaluation with triple-phase dynamic CT-initial experience. Radiology 239: 777–783

Wayman J, Chakraverty S, Griffin SM et al. (2001) Evaluation of local invasion by oesophageal carcinoma: prospective study of prone computed tomography scanning. Postgrad Med J 177: 181–184

Weber WA, Ott K, Becker K et al. (2001) Prediction of response to preoperative chemotherapy in adenocarcinomas of the esophagogastric junction by metabolic imaging. J Clin Oncol 19: 3058–3065

Wieder HA, Beer AJ, Lordick F et al. (2005) Comparison of changes in tumor metabolic activity and tumor size during chemotherapy of adenocarcinomas of the esophagogastric junction. J Nucl Med 46: 2029–2034

Wieder HA, Brucher BL, Zimmermann F et al. (2004) Time course of tumor metabolic activity during chemoradiotherapy of esophageal squamous cell carcinoma and response to treatment. J Clin Oncol 22: 900–908

Wong K, Paulson EK, Nelson RC (2001) Breath-hold three-dimensional CT of the liver with multi-detector row helical CT. Radiology 219: 75–79

Yuan S, Yu Y, Chao KS et al. (2006) Additional value of PET/CT over PET in assessment of locoregional lymph nodes in thoracic esophageal squamous cell cancer. J Nucl Med 47: 1255–1259

Zuccaro G Jr, Rice TW, Goldblum J et al. (1999) Endoscopic ultrasound cannot determine suitability for esophagectomy after aggressive chemoradiotherapy for esophageal cancer. Am J Gastroenterol 94: 906–912
Interessenkonflikt
Es besteht kein Interessenkonflikt. Der korrespondierende Autor versichert, dass keine Verbindungen mit einer Firma, deren Produkt in dem Artikel genannt ist, oder einer Firma, die ein Konkurrenzprodukt vertreibt, bestehen. Die Präsentation des Themas ist unabhängig und die Darstellung der Inhalte produktneutral.
About this article
Cite this article
Holzapfel, K., Rummeny, E., Hannig, C. et al. Staging und Therapiebeurteilung des Ösophaguskarzinoms mittels MSCT. Radiologe 47, 101–109 (2007). https://doi.org/10.1007/s00117-006-1455-7
Issue Date:

DOI: https://doi.org/10.1007/s00117-006-1455-7
Schlüsselwörter
Ösophaguskarzinom

Multislice-CT (MSCT)

Staging

Therapiebeurteilung

FDG-PET
Keywords
Esophageal cancer

Multislice-CT (MSCT)

Staging

Response evaluation

FDG-PET