Access options
Buy single article
Instant access to the full article PDF.
US$ 39.95
Tax calculation will be finalised during checkout.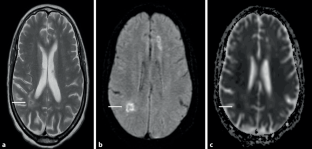 References
1.

Schmidt-Pogoda A, Minnerup J (2019) Rare causes of stroke—a frequent stroke etiology. Nervenarzt. https://doi.org/10.1007/s00115-019-00789-9

2.

Mishra A, Binu A, Abraham G, Vanjare H, George T, Iyadurai R (2018) Cerebrovascular injury following scorpion sting and snake envenomation: a case series. Can J Neurol Sci 45(6):669–674

3.

Mishra AK, Arvind VH, Muliyil D, Kuriakose CK, George AA, Karuppusami R et al (2018) Cerebrovascular injury in cryptococcal meningitis. Int J Stroke 13(1):57–65

4.

Bonavia L, Jackson J, Pui-Yee Law J, Yii M, Joshi D (2019) Brainstem stroke caused by left atrial cardiac papillary fibroelastoma: an increasingly recognized rare cause of stroke. Cardiovasc Pathol 40:65–67

5.

Sahu K, Mishra A, Lal A, Kranis M (2019) An interesting case of expressive aphasia: Enterococcus faecalis related infective endocarditis complicating as septic emboli. QJM. https://doi.org/10.1093/qjmed/hcz169

6.

Vanjare HA, Mannam P, Mishra AK, Karuppusami R, Carey RAB, Abraham AM et al (2018) Brain imaging in cases with positive serology for dengue with neurologic symptoms: a clinicoradiologic correlation. AJNR Am J Neuroradiol 39(4):699–703

7.

Thomas VV, George T, Mishra AK, Mannam P, Ramya I (2017) Lateral medullary syndrome after a scorpion sting. J Family Med Prim Care 6(1):155–157

8.

Mishra AK, Iyadurai R, George AA, Rajdurai E, Surekha V (2017) Etiological and clinicopathological study of secondary small vessel vasculitis in elderly: a case series of 12 patients. J Family Med Prim Care 6(1):106–109

9.

Mishra AK, Iyadurai R (2019) Prehospital and hospital delays for stroke patients treated with thrombolysis: access to health care facility—still a bottle neck in stroke care in developing nation. Australas Emerg Care. https://doi.org/10.1016/j.auec.2019.07.003

10.

Mishra AK, Aaron S, Abhilash K, Iyadurai R, Shaikh A, Lazarus E et al (2016) Simple telephone call a feasible, useful and acceptable method of following up patients with cerebrovascular accidents: prospective cohort study in south India. Int J Stroke 11(8):NP87–NP88

11.

Mishra AK, George AA, Sahu KK, Lal A, Kuriakose CK (2019) Letter to editor on "lacunar stroke in cryptococcal meningitis: clinical and radiographic features.". J Stroke Cerebrovasc Dis 28(6):1783–1784
Ethics declarations
Conflict of interest
A.K. Mishra, H. Vanjare, K.K. Sahu and A. Lal declare that they have no competing interests.
About this article
Cite this article
Mishra, A.K., Vanjare, H.A., Sahu, K.K. et al. Zeroing in on the cause of stroke. Nervenarzt 92, 375–378 (2021). https://doi.org/10.1007/s00115-021-01084-2
Accepted:

Published:

Issue Date: