Zusammenfassung
Kohortenstudien bieten die Möglichkeit, Behandlungs- und Präventionsansätze für psychische Krankheiten zu präzisieren, wenn sowohl genetische und Persönlichkeitseinflüsse als auch soziokulturelle und Umweltfaktoren sowie das Zusammenspiel dieser Wirkfaktoren berücksichtigt werden. Wir stellen Ansätze der Kohortenforschung vor, die sich diesem Ziel widmen und berichten von bisherigen Erfahrungen mit der IMAGEN-Kohortenstudie und den daraus resultierenden Weiterentwicklungen. Hierbei behandeln wir insbesondere neuartige Erhebungsinstrumente, die Umsetzung größerer klinischer und geografischer Reichweite sowie innovative Datenanalysen.
Abstract
Cohort studies provide the possibility to more precisely define treatment and preventive approaches to mental diseases, when genetic and personal influences as well as sociocultural and environmental factors and their interactions are taken into account. This article presents cohort research approaches, which are dedicated to this aim and reports the lessons learnt and achievements made in the IMAGEN cohort study and the resulting further developments. Specifically, we focus on novel assessment instruments, the implementation of larger clinical and geographic ranges and innovative forms of data analysis.
Access options
Buy single article
Instant access to the full article PDF.
US$ 39.95
Tax calculation will be finalised during checkout.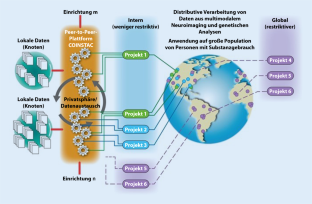 Literatur
1.

Castellanos-Ryan N, Struve M, Whelan R et al (2014) Neural and cognitive correlates of the common and specific variance across externalizing problems in young adolescence. Am J Psychiatry 171:1310–1319

2.

Chandola T, Ferrie J, Sacker A, Marmot M (2007) Social inequalities in self reported health in early old age: follow-up of prospective cohort study. BMJ 334:990

3.

Funk M, Drew N, Knapp M (2012) Mental health, poverty and development. J Public Mental Health 11:166–185. https://doi.org/10.1108/17465721211289356

4.

Garbusow M, Schad DJ, Sebold M et al (2016) Pavlovian-to-instrumental transfer effects in the nucleus accumbens relate to relapse in alcohol dependence. Addict Biol 21:719–731. https://doi.org/10.1111/adb.12243

5.

Haddad L, Schäfer A, Streit F et al (2015) Brain structure correlates of urban upbringing, an environmental risk factor for schizophrenia. SCHBUL 41:115–122

6.

Heinz A, Braus DF, Smolka MN et al (2005) Amygdala-prefrontal coupling depends on a genetic variation of the serotonin transporter. Nat Neurosci 8:20–21. https://doi.org/10.1038/nn1366

7.

Hibar DP, Stein JL, Renteria ME et al (2015) Common genetic variants influence human subcortical brain structures. Nature 520:224–229

8.

Jia T, Ing A, Quinlan EB et al (2020) Neurobehavioural characterisation and stratification of reinforcement-related behaviour. Nat Hum Behav 4:544–558. https://doi.org/10.1038/s41562-020-0846-5

9.

Jia T, Macare C, Desrivières S et al (2016) Neural basis of reward anticipation and its genetic determinants. Proc Natl Acad Sci 113:3879–3884

10.

Kessler RC, Angermeyer M, Anthony JC et al (2007) Lifetime prevalence and age-of-onset distributions of mental disorders in the World Health Organization's World Mental Health Survey Initiative. - 6:168–176

11.

Lambert KG, Nelson RJ, Jovanovic T, Cerdá M (2015) Brains in the city: Neurobiological effects of urbanization. Neurosci Biobehav Rev 58:107–122. https://doi.org/10.1016/j.neubiorev.2015.04.007

12.

Lim L, Radua J, Rubia K (2014) Gray matter abnormalities in childhood maltreatment: a voxel-wise meta-analysis. Am J Psychiatry 171:854–863

13.

Low NC, Dugas E, O'Loughlin E et al (2012) Common stressful life events and difficulties are associated with mental health symptoms and substance use in young adolescents. BMC Psychiatry 12:116. https://doi.org/10.1186/1471-244X-12-116

14.

Marmot M, Allen J, Bell R et al (2012) WHO European review of social determinants of health and the health divide. Lancet 380:1011–1029

15.

Pedersen CB, Mors O, Bertelsen A et al (2014) A comprehensive nationwide study of the incidence rate and lifetime risk for treated mental disorders. JAMA Psychiatry 71:573–581

16.

Plis SM, Sarwate AD, Wood D et al (2016) COINSTAC: a privacy enabled model and prototype for leveraging and processing decentralized brain imaging data. Front Neurosci. https://doi.org/10.3389/fnins.2016.00365

17.

Quinlan EB, Barker ED, Luo Q et al (2018) Peer victimization and its impact on adolescent brain development and psychopathology. Mol Psychiatry. https://doi.org/10.1038/s41380-018-0297-9

18.

Rapp MA, Kluge U, Penka S et al (2015) When local poverty is more important than your income: mental health in minorities in inner cities. World J Psychiatry 14:249–250. https://doi.org/10.1002/wps.20221

19.

Robert GH, Luo Q, Yu T et al (2020) Association of gray matter and personality development with increased drunkenness frequency during adolescence. JAMA Psychiatry 77:409–419. https://doi.org/10.1001/jamapsychiatry.2019.4063

20.

Roberts S, Arseneault L, Barratt B et al (2019) Exploration of NO2 and PM2.5 air pollution and mental health problems using high-resolution data in London-based children from a UK longitudinal cohort study. Psychiatry Res 272:8–17. https://doi.org/10.1016/j.psychres.2018.12.050

21.

Schaefer JD, Moffitt TE, Arseneault L et al (2018) Adolescent victimization and early-adult psychopathology: approaching causal inference using a longitudinal twin study to rule out noncausal explanations. Clin Psychol Sci 6:352–371

22.

Schlaepfer TE, Agren H, Monteleone P et al (2012) The hidden third: improving outcome in treatment-resistant depression. J Psychopharmacol 26:587–602

23.

Schnitzer S, Blüher S, Teti A et al (2020) Risk profiles for care dependency: cross-sectional findings of a population-based cohort study in Germany. J Aging Health 32:352–360

24.

Schumann G, Loth E, Banaschewski T et al (2010) The IMAGEN study: reinforcement-related behaviour in normal brain function and psychopathology. Mol Psychiatry 15:1128–1139. https://doi.org/10.1038/mp.2010.4

25.

Singham T, Viding E, Schoeler T et al (2017) Concurrent and longitudinal contribution of exposure to bullying in childhood to mental health: the role of vulnerability and resilience. JAMA Psychiatry 74:1112–1119

26.

Toro R, Poline J‑B, Huguet G et al (2015) Genomic architecture of human neuroanatomical diversity. Mol Psychiatry 20:1011–1016. https://doi.org/10.1038/mp.2014.99

27.

Whelan R, Watts R, Orr CA et al (2014) Neuropsychosocial profiles of current and future adolescent alcohol misusers. Nature 512:185–189. https://doi.org/10.1038/nature13402

28.

Wulder MA, Masek JG, Cohen WB et al (2012) Opening the archive: how free data has enabled the science and monitoring promise of landsat. Remote Sens Environ 122:2–10. https://doi.org/10.1016/j.rse.2012.01.010

29.

Xu J, Liu X, Ing A et al (2019) Satellite imaging of global Urbanicity relate to adolescent brain development and behavior. bioRxiv:781674. https://doi.org/10.1101/781674

30.

Yang J, Lee SH, Goddard ME, Visscher PM (2011) GCTA: a tool for genome-wide complex trait analysis. Am J Hum Genet 88:76–82. https://doi.org/10.1016/j.ajhg.2010.11.011

31.

United Nations Department of Economic and Social Affairs (2018) Revision of world urbanization prospects | multimedia library. https://www.un.org/development/desa/publications/2018-revision-of-world-urbanization-prospects.html. Zugegriffen: 27. Aug. 2020
Förderung
Diese Arbeit wurde aus folgenden Mitteln finanziert: dem IMAGEN-Projekt (Reinforcement-related behaviour in normal brain function and psychopathology; LSHM-CT-2007-037286) im 6. Rahmenprogramm der Europäischen Union (6FP), ERC Advanced Grant "STRATIFY" (Brain netword based stratification of reinforcement-related disorders; 695313) im Forschungs- und Innovationsprogramm Horizon 2020 der Europäischen Union, "c-VEDA" aus der Newton Förderung des Medical Research Council (MR/N000390/1), Bundesministerium für Bildung und Forschung (BMBF Fördernummern 01GS08152; 01EV0711; eMED SysAlc01ZX1311A; Forschungsnetz AERIAL 01EE1406A, 01EE1406B, PD-CAN 01EE1406I), der Deutsche Forschungsgemeinschaft (DFG Fördernummern SM 80/7‑2, SFB 940/2 und SFB TRR 265 [Addiction Research Consortium: Loosing and regaining control over drug intake – ReCoDe]), der Medical Research Foundation des Medical Research Council (MR/R00465X/1) und dem Human Brain Project (HBP SGA 2, 785907, HBP SGA 3, 945539). Weitere Unterstützung erfolgte durch die NIH-Konsortialförderung U54 EB020403, unterstützt von einer NIH-übergreifenden Allianz, der "Big Data and Knowledge Centers of Excellence".
Ethics declarations
Interessenkonflikt
und M. Rapp war Berater von Eli Lilly und Fa. Dr. W. Schwabe. Er hat von Phillips und Eli Lilly Vortragshonorare erhalten. G. Schumann, M. Tschorn und A. Heinz geben an, dass kein Interessenkonflikt besteht.
Alle beschriebenen Untersuchungen am Menschen oder an menschlichem Gewebe wurden mit Zustimmung der zuständigen Ethikkommission, im Einklang mit nationalem Recht sowie gemäß der Deklaration von Helsinki von 1975 (in der aktuellen, überarbeiteten Fassung) durchgeführt. Von allen beteiligten Patienten liegt eine Einverständniserklärung vor.
About this article
Cite this article
Schumann, G., Tschorn, M., Heinz, A. et al. Jenseits von IMAGEN: populationsneurowissenschaftliche Strategien für klinische und globale Kohorten in den STRATIFY- und GIGA-Konsortien. Nervenarzt 92, 234–242 (2021). https://doi.org/10.1007/s00115-020-01059-9
Accepted:

Published:

Issue Date:
Schlüsselwörter
Kohortenforschung

Personalisierte Medizin

Bildgebung

Genetik

Umweltfaktoren
Keywords
Cohort research

Precision medicine

Imaging

Genetics

Environmental factors