Zusammenfassung
Hintergrund
In Deutschland starben im Jahr 2018 im Durchschnitt 25 Personen pro Tag durch Suizid. Diese Rate ist seit den 1980er-Jahren stetig rückläufig und hat sich bisher halbiert. Eine absolute Suizidprävention gibt es jedoch nicht, auch unter optimalen, geschützten Bedingungen durch Therapie und Pflege ereignen sich ca. 5 % der erfolgreichen Suizide in psychiatrischen Einrichtungen. Trotz des hohen Bewusstseins um das Risiko potenziell gefährlicher Gegenstände fehlt es an einheitlichen, verschriftlichen Handlungsanweisungen.
Ziel
Ziel der Studie war die Evaluation zum Umgang mit potenziell kritischen Gegenständen auf Akutstationen im Rahmen der Behandlung suizidaler Patient*innen unter besonderer Berücksichtigung der Handhabung von Einmalrasierern.
Methode
Ein 10 Fragen umfassender Fragebogen zum Umgang mit potenziell kritischen Gegenständen auf geschlossenen/fakultativ offen geführten Intensiv‑/Akutstationen wurde entwickelt und an 100 psychiatrische Kliniken deutschlandweit versandt.
Ergebnisse und Diskussion
Die deutschlandweite Befragung erbrachte Rückmeldungen von 39 psychiatrischen Kliniken. Die Ergebnisse bestätigten ein breites kritisches Bewusstsein gegenüber potenziell gefährlichen Gegenständen. Der Umgang mit diesen Gegenständen erwies sich dabei jedoch als heterogen. Es gibt in den psychiatrischen Kliniken und Abteilungen eine seit Jahrzehnten gelebte Praxis der Kontrolle und Sicherung dieser Gegenstände, doch fehlt es an verschriftlichen Empfehlungen zum Umgang damit. Im Alltag wird der Umgang stationsintern, über die Stationsordnung und/oder mündlich vermittelt. Dies verdeutlicht eine fehlende einheitliche, deutschlandweite Regelung und weist damit auf das Fehlen entsprechender Empfehlungen, Leitlinien bzw. Handlungsanweisungen hin.
Abstract
Background
In Germany, an average of 25 people per day died by suicide in 2018. This rate has been declining steadily since the 1980s and has so far halved; however, there is no absolute prevention of suicide; even under optimal protected conditions through therapy and care, approximately 5% of successful suicides occur in psychiatric institutions. Despite the high level of awareness of the risk of potentially dangerous objects, there is a lack of uniform written instructions for action.
Objective
The aim of the study was to evaluate the handling of potentially critical objects in acute care units during the treatment of suicidal patients, with special emphasis on the handling of disposable razors.
Methods
A 10-item questionnaire on the handling of potentially critical items in closed/facultatively open intensive care/acute care units was developed and sent to 100 psychiatric hospitals throughout Germany.
Results and discussion
The nationwide survey provided feedback from 39 psychiatric hospitals throughout Germany. The results confirmed a broad critical awareness of potentially dangerous objects; however, the handling of these objects proved to be heterogeneous. Psychiatric clinics and departments have been practicing the control and securing of these objects for decades but there is a lack of written recommendations for handling them. In everyday life, the handling of these objects is taught within the ward, through the ward rules and/or orally. This illustrates a lack of uniform nationwide regulations or guidelines in Germany and thus the lack of corresponding written instructions for handling.
Access options
Buy single article
Instant access to the full article PDF.
US$ 39.95
Tax calculation will be finalised during checkout.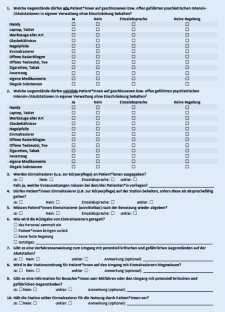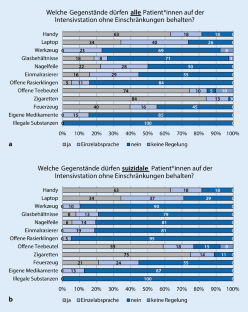 Literatur
1.

Ajdacic-Gross V, Weiss MG, Ring M, Hepp U, Bopp M, Gutzwiller F et al (2008) Methods of suicide: international suicide patterns derived from the WHO mortality database. Bull World Health Organ 86:726–732

2.

Briere J, Gil E (1998) Self-mutilation in clinical and general population samples: prevalence, correlates, ad functions. Am J Orthopsychiatry 68:609–620

3.

Deutsche Gesellschaft für Psychiatrie und Psychotherapie, Psychosomatik und Nervenheilkunde (2019) S2k-Leitlinie "Notfallpsychiatrie". https://www.awmf.org/uploads/tx_szleitlinien/038-023l_S2k_Notfallpsychiatrie_2019-05_1.pdf. Zugegriffen: 13.04.2019

4.

Deutsche Gesellschaft für Psychiatrie und Psychotherapie, Psychosomatik und Nervenheilkunde (2018) S3-Leitlinie "Verhinderung von Zwang: Prävention und Therapie aggressiven Verhaltens bei Erwachsenen". https://www.dgppn.de/_Resources/Persistent/154528053e2d1464d9788c0b2d298ee4a9d1cca3/S3%20LL%20Verhinderung%20von%20Zwang%20LANG%2BLITERATUR%20FINAL%2010.9.2018.pdf. Zugegriffen: 10.09.2018

5.

Gibbons RD, Hur K, Bhaumik DK, Man J (2005) The relationship between antidepressant medication use and rate of suicide. Arch Gen Psychiatry 62:165–172

6.

Gunnell DJ, Brooks J, Peters TJ (1996) Epidemiology and patterns of hospital use following parasuicide on the South West. J Epidemiol Community Health 50:24–29

7.

Herpertz S, Sass H, Favazza AR (1997) Impulsivity in self-mutilative behavior: psychometric and biological findings. J Psychiatr Res 31:451–165

8.

Ho AO (2014) Suicide: rationality and responsibility for life. Can J Psychiatry 59:141–147

9.

Hübner-Liebermann B, Spießl H, Cording C (2001) Patientensuizide in einer psychiatrischen Klinik. Psychiat Prax 28:330–334

10.

Joyce B, Wallbridge H (2003) Effects of suicidal behavior on a psychiatric unit nursing team. J Psychosoc Nurs Ment Health Serv 41:14–23

11.

Martelli C, Awad H, Hardy P (2010) In-patients suicide: epidemiology and prevention. Encephale 36(Suppl 2):D83–D91

12.

Mills PD, DeRosier JM, Ballot BA, Shepherd M, Bagian JP (2008) Inpatient suicide and suicide attempts in veterans affairs hospitals. Jt Comm J Qual Patient Saf 34:482–488

13.

Mills PD, Watts BV, Miller S, Kemp J, Knox K, DeRosier JM, Bagian JP (2010) A checklist to identify inpatient suicide hazards in veterans affairs hospitals. Jt Comm J Qual Patient Saf 36:87–93

14.

Petermann F, Nitkowski D (2008) Selbstverletzendes Verhalten. Erscheinungsformen, Risikofaktoren und Verlauf. Nervenarzt 79:1017–1022

15.

Statistisches Bundesamt Deutschland (2020) Suizide. https://www.destatis.de/DE/Themen/Gesellschaft-Umwelt/Gesundheit/Todesursachen/Tabellen/suizide.html. Zugegriffen: 25.06.2020

16.

Shepard DS, Gurewich D, Lwin AK, Reed GA, Silvermann MM (2016) Suicide and suicidal attempts in the United States: costs and policy implications. Suicide Life Threat Behav 46:352–362

17.

Videbeck SL (2011) Psychiatric mental health nursing, 5. Aufl. Wolters Kluwer Health, Lippincott Williams & Wilkins, Philadelphia, S 311

18.

Watts BV, Shiner B, Young-Xu Y, Mills PD (2017) Sustained effectiveness of the mental health environment of care checklist to decrease inpatient suicide. Psychiatr Serv 68:405–407

19.

Watts BV, Young-Xu Y, Mill PD, DeRosier JM, Kemp J, Shiner B, Duncan WE (2012) Examination of the effectiveness of the mental health environment of care checklist in reducing suicide on inpatient mental health units. Arch Gen Psychiatry 69:588–592

20.

Wiesner G (2004) Suizidmethoden – ein Vergleich zwischen Ost- und Westdeutschland. Epidemiologische, rechtsmedizinische und sozialmedizinische Aspekte. Bundesgesundheitsblatt Gesundheitsforschung Gesundheitsschutz 47:1095–1106

21.

Wolfersdorf M (1995) Der Kliniksuizid. In: Faust V (Hrsg) Psychiatrie. Gustav Fischer, Stuttgart, S 417–420

22.

Wolfersdorf M, Vogel R, Grebner M, Keller F, Purucker M, Wurst FM (2016) Suizid im psychiatrischen Krankenhaus. Ergebnisse, Risikofaktoren, therapeutische Maßnahmen. Nervenarzt 87:474–482
Ethics declarations
Interessenkonflikt
K. Ackermann, B. Ueberberg und H.J. Assion geben an, dass kein Interessenkonflikt besteht.
Für diesen Beitrag wurden von den Autoren keine Studien an Menschen oder Tieren durchgeführt. Für die aufgeführten Studien gelten die jeweils dort angegebenen ethischen Richtlinien.
About this article
Cite this article
Ackermann, K., Ueberberg, B. & Assion, H.J. Umgang mit potenziell kritischen Gegenständen in der Akutpsychiatrie (eine Studie der Bundesdirektorenkonferenz). Nervenarzt (2020). https://doi.org/10.1007/s00115-020-01040-6
Schlüsselwörter
Suizidalität

Suizidversuch

Einmalrasierer

Rasierklingen

Akutpsychiatrie
Keywords
Suicidality

Suicide attempt

Disposable razor

Razor blades

Acute psychiatry