Zusammenfassung
Hintergrund und Zielsetzung
Der Gesetzgeber hat den Gemeinsamen Bundesausschuss (G-BA) nach § 136a (2) SGB V beauftragt, verbindliche Mindestvorgaben für das für die Behandlung erforderliche therapeutische Personal in stationären psychiatrischen und psychosomatischen Einrichtungen festzulegen. Dies hat die Fachgesellschaften/-verbände veranlasst, eigene konzeptionelle Überlegungen zur zukünftigen Gestaltung der Personalbemessung zu entwickeln.
Methode
Durchführung regelmäßiger Expertenwerkshops, deren Ergebnisse systematisch dokumentiert und durch die Experten validiert wurden.
Ergebnisse
Die wesentlichen Elemente des Konzeptes sind: Ausgangspunkt für die Berechnung der Personalausstattung sind die Bedarfe aller in der Einrichtung behandelten Patienten. Der Behandlungsbedarf hat drei Dimensionen: (a) psychiatrisch-psychotherapeutischen/psychosomatisch psychotherapeutischen/kinder- und jugendpsychiatrischen-psychotherapeutischen, (b) somatischen und (c) psychosozialen Bedarf. Das entwickelte Modell unterscheidet Personalbedarfe, die in direktem Bezug zur Behandlung des einzelnen Patienten stehen, von solchen die durch das Behandlungssetting verursacht werden und solchen, die sich auf institutioneller Ebene ergeben. Unter Mindestpersonalbedarf ist das Personaltableau zu verstehen, welches u. a. benötigt wird, um (a) die multiprofessionelle, ärztlich geleitete Behandlung und die erforderlichen Versorgungsleistungen aller Patienten sicherzustellen, die von den verfügbaren Leitlinien oder von einem Expertenkonsens vorgegeben wird, sowie (b) den Schutz des Patienten selbst, der Mitpatienten und der Mitarbeitenden der Einrichtung vor Gefährdungen zu sichern.
Schlussfolgerungen
Das Modell berücksichtigt den medizinischen Fortschritt, im Sinne der evidenzbasierten Leitlinien, der veränderten Versorgungspraxis inklusive gesellschaftspolitischer Normen, die auf die Selbstbestimmung der Patienten ausgerichtet ist.
Abstract
Background and goal
According to § 136a (2) SGB V (volume V of the German Social Security Code) the German legislator instructed the Federal Joint Committee (G-BA) to specify binding minimum standards for the staff needed for the treatment in inpatient psychiatric and psychosomatic facilities. This induced the expert associations/organizations to develop their own conceptional approach as to the future organization of staffing.
Method
Organization of regular expert workshops, the results of which were systematically documented and validated by the experts.
Results
The essential elements of the concept are: the starting points for the calculation are the needs of all patients treated in the institution. The need for treatment has three dimensions: (a) psychiatric psychotherapeutic/psychosomatic psychotherapeutic/pediatric and adolescent psychiatric-psychotherapeutic, (b) somatic and (c) psychosocial needs. The model developed by the platform distinguishes between staff requirements being directly related to the treatment of the individual patient, staff requirements caused by the treatment setting and such staff requirements arising at an institutional level. Minimum staff requirement is understood as the staff structure which is, among others, needed to guarantee the multiprofessional, physician-led treatment and the required medical care services for all patients specified by the existing guidelines or an expert consensus as well as to ensure the protection of the patient, fellow patients and the employees working in the facility against hazards.
Conclusion
This model considers the medical progress within the meaning of the evidence-based guidelines and the modified healthcare practice including sociopolitical standards aimed at the patients' self-determination.
This is a preview of subscription content, log in to check access.
Access options
Buy single article
Instant access to the full article PDF.
US$ 39.95
Price includes VAT for USA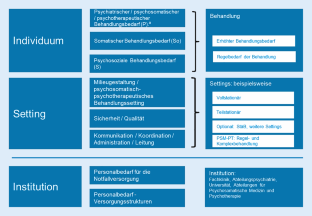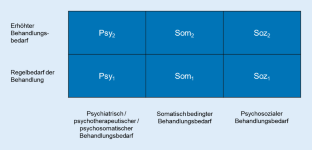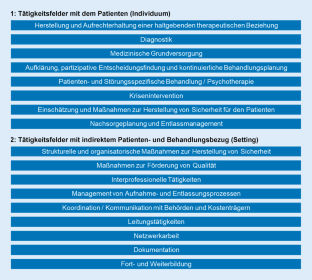 Notes
1.

Zur Definition des Personalmindestbedarfs siehe weiter unten in Einleitung und im Abschnitt Diskussion des Modells.

2.

Folgende Fachverbände haben in der Plattform zusammengefunden: ackpa, BÄK, BAG Kinder- und Jugendpsychiatrie, BAG-Psychiatrie, BDK, BFLK, DFPP, DGGPP, DGKJP, DGPM, DGPPN, LIPPs, VKD (Untergruppe psychiatrische Kliniken, s. Infobox).
Literatur
1.

PsychVVG (2016) Gesetz zur Weiterentwicklung der Versorgung und der Vergütung für psychiatrische und psychosomatische Leistungen. https://www.bgbl.de/xaver/bgbl/start.xav?start=%2F%2F*[%40attr_id%3D%27bgbl116s2986.pdf%27]#__bgbl__%2F%2F*%5B%40attr_id%3D%27bgbl116s2986.pdf%27%5D__1526632504494. Zugegriffen: 18. Mai 2018 (vom 19. Dezember 2016)

2.

Kunze H, Kaltenbach L, Kupfer K (Hrsg) (2010) Psychiatrie-Personalverordnung-Textausgabe mit Materialien und Erläuterungen für die Praxis, 6. Aufl. Kohlhammer, Stuttgart

3.

Heuft G, Senf W, Janssen P, Pontzen W, Streeck U (1993) Personalanhaltszahlen in psychotherapeutischen und psychosomatischen Krankenhäusern und Abteilungen der Regelversorgung. Psychother Psychosom Med Psychol 43:262–270

4.

Berger M, Wolff J, Normann C et al (2015) Leitliniengerechte psychiatrisch-psychotherapeutische Krankenhausbehandlung, Normative Personalermittlung am Beispiel der Depression. Nervenarzt. https://doi.org/10.1007/s00115-015-4310-0

5.

Trüg E, Albani C, Holzke M et al (2018) Medizinisch leistungsgerechte Personalbemessung in der Psychiatrie und Psychosomatik. https://www.zfp-web.de/fileadmin/Freigabe_ZfP_Suedwuerttemberg/Dokumente/Forschung/Erlaeuterungen_Schussenrieder_Tabelle.pdf. Zugegriffen: 19. Mai 2018

6.

Löhr M, Sauter D, Nienaber A, Ahrens R, Oppermann G, Heinz A, Schulz M (2015) Personalressourcen für psychiatrische Einrichtungen. Nervenarzt. https://doi.org/10.1007/s00115-015-4356-z

7.

Blume A, Brückner-Bozetti P, Steinert T (2018) Tätigkeiten ohne Patientenkontakt. Nervenarzt. https://doi.org/10.1007/s00115-018-0520-6

8.

Braun B, Brückner-Bozetti P, Lingenfelder M et al (2017) Rationierung in der stationären psychiatrischen Versorgung. Nervenarzt. https://doi.org/10.1007/s00115-017-0297-z

9.

Nienaber A, Heinz A, Rapp MA, Bermpohl F, Schulz M, Behrens J, Löhr M (2018) Einfluss der Personalbesetzung auf Konflikte auf psychiatrischen Stationen. Nervenarzt. https://doi.org/10.1007/s00115-018-0521-5

10.

Deutscher Qualifikationsrahmen (DQR). Im Internet: https://www.dqr.de/content/2315.php. Stand: 21. Mai 2018. Zugegriffen: 21. Mai 2018
Ethics declarations
Interessenkonflikt
I. Hauth, P. Brückner-Bozetti, G. Heuft, M. Kölch, M. Löhr, A. Richert und A. Deister geben an, dass kein Interessenkonflikt besteht.
Dieser Beitrag beinhaltet keine von den Autoren durchgeführten Studien an Menschen oder Tieren.
About this article
Cite this article
Hauth, I., Brückner-Bozetti, P., Heuft, G. et al. Personalausstattung in stationären psychiatrischen Einrichtungen. Nervenarzt 90, 285–292 (2019). https://doi.org/10.1007/s00115-018-0669-z
Schlüsselwörter
Psychiatrie

Psychosomatik

Personal

Personalbemessung

Medizinische Leitlinien
Keywords
Psychiatry

Psychosomatics

Staff

Staffing

Medical guidelines