Zusammenfassung
Die multiple Sklerose (MS) und die Neuromyelitis-optica-Spektrum-Erkrankungen (NMOSD) sind chronisch-entzündliche Erkrankungen des zentralen Nervensystems (ZNS), die mit multifokalen entzündlichen Läsionen im Gehirn, Rückenmark und Sehnerv einhergehen können. Beide Erkrankungen sind manchmal schwer von ZNS-Manifestationen einer systemisch-entzündlichen Erkrankung aus dem rheumatologischen Formenkreis wie einem systemischen Lupus erythematodes (SLE), einem Sjögren-Syndrom, autoinflammatorischen Syndromen oder einer Sarkoidose zu unterscheiden, da auch bei diesen Erkrankungen unter anderem Myelitiden oder N.-opticus-Neuritiden auftreten können. Andererseits können eine MS und eine NMOSD auch gemeinsam mit einer rheumatologischen Erkrankung auftreten. Insbesondere bei der NMOSD wird eine Koexistenz mit einem SLE oder Sjögren-Syndrom häufig beobachtet. Da die therapeutischen Prinzipien unterschiedlich sind, sollte eine differenzialdiagnostische Abgrenzung immer angestrebt werden. Zudem können sich unter bestimmten Therapien, beispielsweise nach Therapie mit einem Tumor-Nekrose-Faktor-Blocker, entzündliche ZNS-Erkrankungen entwickeln. Insofern sind interdisziplinäre Sprechstunden und die Nutzung von Synergieeffekten der beiden Fachrichtungen Neuroimmunologie und Rheumatologie nur zu unterstützen.
Abstract
Multiple sclerosis (MS) and neuromyelitis optica spectrum disorder (NMOSD) are chronic inflammatory diseases of the central nervous system (CNS). They may cause inflammation in the brain, spinal cord and optic nerve. Both conditions must be differentiated from CNS manifestations of other systemic autoimmune diseases such as systemic lupus erythematosus (SLE), Sjögren's syndrome, autoinflammtory diseases and sarcoidosis, since amongst others myelitis and optic nerve inflammation may also occur in these conditions. Nevertheless, coexistence of MS or NMOSD with rheumatic disorders such as SLE or Sjögren's syndrome has also been reported especially in NMOSD. Since the therapeutic approach is different it is important to determine a clear diagnosis. In addition some drugs used in rheumatic disease such as anti-tumor necrosis factor biologics may induce inflammatory disease of the CNS and should be avoided in MS. An interdisciplinary approach between neuroimmunology and rheumatology is important for optimal care and treatment in such patients.
This is a preview of subscription content,
to check access.
Access this article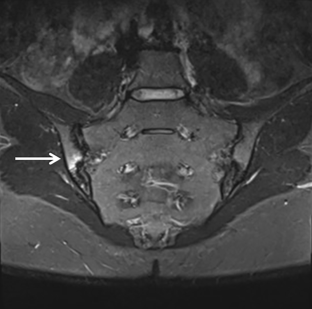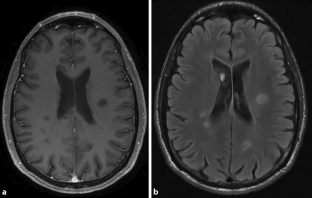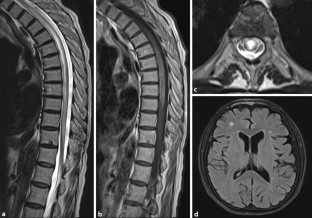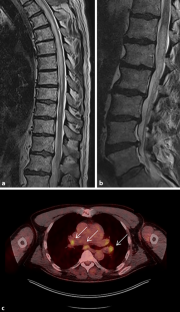 Literatur
Akman-Demir G, Gul A, Gurol E et al (2006) Inflammatory/demyelinating central nervous system involvement in familial Mediterranean fever (FMF): coincidence or association? J Neurol 253:928–934

Auriel E, Regev K, Korczyn AD (2014) Nonsteroidal anti-inflammatory drugs exposure and the central nervous system. Handb Clin Neurol 119:84

Bolat S, Berding G, Dengler R et al (2009) Fluorodeoxyglucose positron emission tomography (FDG-PET) is useful in the diagnosis of neurosarcoidosis. J Neurol Sci 287:257–159

Borchers AT, Leibushor N, Cheema GS et al (2011) Immune-mediated adverse effects of biologicals used in the treatment of rheumatic diseases. J Autoimmun 37:273–288

Charil A, Yousry TA, Rovaris M et al (2006) MRI and the diagnosis of multiple sclerosis: expanding the concept of "no better explanation". Lancet Neurol 5:841–852

Dobson R, Giovannoni G (2013) Autoimmune disease in people with multiple sclerosis and their relatives: a systematic review and meta-analysis. J Neurol 260:1272–1285

Fominykh V, Shevtsova T, Arzumanian N et al (2017) Coexistence of multiple sclerosis and ankylosing spondylitis: Report of four cases from Russia and review of the literature. J Clin Neurosci 44:230–233

Geraldes R, Ciccarelli O, Barkhof F et al (2018) The current role of MRI in differentiating multiple sclerosis from its imaging mimics. Nat Rev Neurol 14:199–213

Ginat DT, Dhillon G, Almast J (2011) Magnetic resonance imaging of neurosarcoidosis. J Clin Imaging Sci 1:15

González-Suárez I, Aguilar-Amat MJ, Trigueros M et al (2014) Leukoencephalopathy due to oral methotrexate. Cerebellum 13:178–183

Hottenrott T, Dersch R, Berger B et al (2018) The MRZ reaction helps to distinguish rheumatologic disorders with central nervous involvement from multiple sclerosis. Bmc Neurol 18(1):14. https://doi.org/10.1186/s12883-018-1018-3

Ibitoye RT, Wilkins A, Scolding NJ (2017) Neurosarcoidosis: a clinical approach to diagnosis and management. J Neurol 264:1023–1028

Iyer A, Elsone L, Appleton R, Jacob A (2014) A review of the current literature and a guide to the early diagnosis of autoimmune disorders associated with neuromyelitis optica. Autoimmunity 47:154–161

Jarius S, Ruprecht K, Wildemann B et al (2012) Contrasting disease patterns in seropositive and seronegative neuromyelitis optica: A multicentre study of 175 patients. J Neuroinflammation 9(1):14. https://doi.org/10.1186/1742-2094-9-14

Jarius S, Ruprecht K, Kleiter I et al (2016) MOG-IgG in NMO and related disorders: a multicenter study of 50 patients. Part 2: Epidemiology, clinical presentation, radiological and laboratory features, treatment responses, and long-term outcome. J Neuroinflammation 13(1):280. https://doi.org/10.1186/s12974-016-0718-0

Jurynczyk M, Messina S (2017) Woodhall MRet al Clinical presentation and prognosis in MOG-antibody disease: a UK study. Brain 140(12):3128–3138

Kümmerle-Deschner JB (2016) Autoinflammatory syndromes : Practical approach to diagnostics and therapy. Z Rheumatol 75:542–555

Kümpfel T, Hoffmann LA, Rübsamen H et al (2007) Late-onset tumor necrosis factor receptor-associated periodic syndrome in multiple sclerosis patients carrying the TNFRSF1A R92Q mutation. Arthritis Rheum 56(8):2774–2783. https://doi.org/10.1002/art.22795

Kümpfel T, Gerdes LA, Wacker T et al (2012) Familial Mediterranean fever-associated mutation pyrin E148Q as a potential risk factor for multiple sclerosis. Mult Scler 18:1229–1238

Kurne A, Isikay IC, Karlioguz K (2008) Clinically isolated syndrome: a challenging entity: multiple sclerosis or collagen tissue disorders: clues for differentiation. J Neurol 255:1625–1635

Langer-Gould A, Albers KB, Van Den Eeden SK, Nelson LM (2010) Autoimmune diseases prior to the diagnosis of multiple sclerosis: a population-based case-control study. Mult Scler 16(7):855–861. https://doi.org/10.1177/1352458510369146

Lee-Kirsch MA, Wolf C, Kretschmer S et al (2015) Type I interferonopathies – an expanding disease spectrum of immunodysregulation. Semin Immunopathol 37:349–357

Luger S, Harter PN, Mittelbronn M et al (2013) Brain stem infarction associated with familial Mediterranean fever and central nervous system vasculitis. Clin Exp Rheumatol 31:93–95

Mader S, Jeganathan V, Arinuma Y et al (2018) Understanding the antibody repertoire in neuropsychiatric systemic lupus Erythematosus and Neuromyelitis Optica spectrum disorder: do they share common targets? Arthritis Rheumatol 70:277–286

Maggi P, Absinta M, Grammatico M et al (2018) Central vein sign differentiates Multiple Sclerosis from central nervous system inflammatory vasculopathies. Ann Neurol 83:283–294

Mauro D, Barbagallo G, D'Angelo S et al (2017) Role of positron emission tomography for central nervous system involvement in systemic autoimmune diseases: status and perspectives. Curr Med Chem 24. https://doi.org/10.2174/0929867324666170523144402

McLean BN, Miller D, Thompson E (1995) Oligoclonal banding of IgG in CSF, blood-brain barrier function, and MRI findings in patients with sarcoidosis, systemic lupus erythematosus, and Behçet's disease involving the nervous system. J Neurol Neurosurg Psychiatr 58:548–554

Negrotto L, Tur C, Tintoré M et al (2015) Should we systematically test patients with clinically isolated syndrome for auto-antibodies? Mult Scler 21:1802–1810

Nielsen NM, Frisch M, Rostgaard K et al (2008) Autoimmune diseases in patients with multiple sclerosis and their first-degree relatives: a nationwide cohort study in Denmark. Mult Scler 14:823–829

Postal M, Lapa AT, Reis F et al (2017) Magnetic resonance imaging in neuropsychiatric systemic lupus erythematosus: current state of the art and novel approaches. Lupus 26:517–521

Schuh E, Lohse P, Ertl-Wagner B et al (2015) Expanding spectrum of neurologic manifestations in patients with NLRP3 low-penetrance mutations. Neurol Neuroimmunol Neuroinflamm 2:e109

Seze J de, Devos D, Castelnovo G et al (2001) The prevalence of Sjögren syndrome in patients with primary progressive multiple sclerosis. Neurology 23(57):1359–1363

Solomon AJ, Hills W, Chen Z et al (2013) Autoantibodies and Sjogren's Syndrome in multiple sclerosis, a reappraisal. PLoS ONE 8:e6

Solomon AJ, Bourdette DN, Cross AH et al (2016) The contemporary spectrum of multiple sclerosis misdiagnosis: A multicenter study. Neurology 87:1393–1399

Tan CS, Koralnik IJ (2010) Progressive multifocal leukoencephalopathy and other disorders caused by JC virus: clinical features and pathogenesis. Lancet Neurol 9:425–437

Theodoridou A, Settas L (2006) Demyelination in rheumatic diseases. J Neurol Neurosurg Psychiatr 77:290–295

Thompson A, Banwell BL, Barkhof F et al (2018) Diagnosis of multiple sclerosis: recommended 2017 revisions of the "McDonald" criteria. Lancet Neurol 17:162–173

Toussirot E, Pertuiset E, Martin A et al (2006) Association of rheumatoid arthritis with multiple sclerosis: report of 14 cases and discussion of its significance. J Rheumatol 33:1027–1028

Trebst C, Raab P, Voss EV et al (2011) Longitudinal extensive transverse myelitis – it's not all neuromyelitis optica. Nat Rev Neurol 7:688–698

Wildemann B, Rudofsky G Jr., Kress B et al (2007) The tumor necrosis factor-associated periodic syndrome, the brain, and tumor necrosis factor-alpha antagonists. Neurology 68:1742–1744

Wingerchuk DM, Banwell B, Bennett JL et al (2015) International Panel for NMO Diagnosis. Neurology 85:177–189
Danksagung
Frau Rebecca Gravert ist für die sekretarielle Unterstützung zu danken.
Förderung
Die Arbeiten von Frau Kümpfel und Frau Trebst im Bereich der Neuromyelitis-optica-Spektrum-Erkrankungen (NationNMO-Kohorte) werden derzeit im Rahmen der dritten Förderperiode des Kompetenznetzes Multiple Sklerose (KKNMS) vom Bundesministerium für Bildung und Forschung (BMBF) gefördert (FKZ 01GI1602B).
Ethics declarations
Interessenkonflikt
C. Trebst hat Honorare für Vorträge auf Fortbildungsveranstaltungen von Biogen Idec/GmbH, Genzyme GmbH und Novartis Pharmaceuticals erhalten. Dies hatte keinen Einfluss auf die vorliegende Arbeit. T. Kümpfel erhielt finanzielle Unterstützung für Reisen und Vortragstätigkeiten von Bayer Healthcare, Teva Pharma, Merck, Novartis Pharma, Sanofi-Aventis/Genzyme, CLB Behring, Roche Pharma und Biogen sowie Unterstützung für wissenschaftliche Projekte von Bayer-Schering AG, Novartis und Chugai Pharma. Dies hatte keinen Einfluss auf die vorliegende Arbeit.
Dieser Beitrag beinhaltet keine von den Autorinnen durchgeführten Studien an Menschen oder Tieren.
About this article
Cite this article
Trebst, C., Kümpfel, T. Neuroimmunologie und Rheumatologie: Schnittmengen und Differenzialdiagnosen. Nervenarzt 89, 1095–1105 (2018). https://doi.org/10.1007/s00115-018-0597-y
Published:

Issue Date:

DOI: https://doi.org/10.1007/s00115-018-0597-y
Schlüsselwörter
Keywords