Zusammenfassung
Hintergrund
Resilienz wird als die Aufrechterhaltung oder rasche Wiederherstellung der psychischen Gesundheit während und nach Stressorexposition verstanden. Aktuell ist unklar, welche Faktoren diejenigen Personen auszeichnen, die eine solche Reaktion nach Stress oder Traumatisierung zeigen.
Fragestellung
Gibt es Faktoren, die Resilienz verlässlich vorhersagen können?
Material und Methoden
Analyse und Zusammenfassung aktueller möglichst längsschnittlicher Arbeiten, die Prädiktoren von Resilienz berichten, mit Fokus auf psychosoziale und neurobiologische Prädiktoren.
Ergebnisse
Weniger als die Hälfte der Studien zu den psychosozialen und neurobiologischen Prädiktoren erfasste diese Prädiktoren von Resilienz tatsächlich vor Exposition mit dem traumatischen Ereignis. Die Studienlage zu den Prädiktoren ist uneinheitlich. Selbst signifikante Prädiktoren erklären meist nur einen relativ kleinen bis klinisch unerheblichen Anteil an Varianz der Resilienz.
Diskussion
Eine direkte Umsetzbarkeit der Ergebnisse in die Praxis und die Erarbeitung entsprechender Präventionsprogramme auf Basis signifikanter Prädiktoren sind noch verfrüht.
Abstract
Background
Resilience is a complex construct commonly defined as a dynamic process of maintenance or rapid restoration of mental health during and following exposure to stress and trauma. Resilient individuals show no or only minimal disruption in their overall functioning following trauma. Predictors of individual resilience are currently unclear.
Objective
Are there significant and reliable predictors of resilience?
Material and methods
Analysis and summary of recent studies on psychosocial and neurobiological resilience predictors derived from longitudinal studies.
Results
Less than half of the studies on psychosocial and neurobiological predictors reviewed indexed predictors for resilience prior to exposure to the traumatic event. The results are heterogeneous and often not replicated across studies. Even significant predictors often explain only a relatively small or clinically insignificant amount of variance in resilience.
Conclusion
The results are not yet ready for direct implementation into practice and the development of appropriate prevention programs on the basis of significant predictors.
This is a preview of subscription content, log in to check access.
Access options
Buy single article
Instant access to the full article PDF.
US$ 39.95
Price includes VAT for USA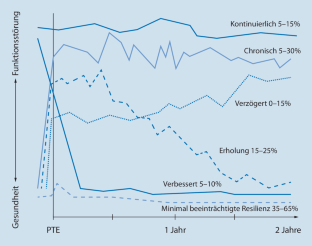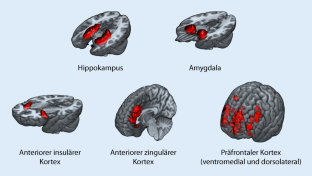 Literatur
1.

Bonanno GA (2004) Loss, trauma, and human resilience: have we underestimated the human capacity to thrive after extremely adverse events? Am Psychol 59:20–28

2.

Rutter M (2012) Resilience as a dynamic concept. Dev Psychopathol 24:335–344

3.

Masten AS (2001) Ordinary magic: resilience processes in development. Am Psychol 56(3):227–238

4.

Kalisch R, Müller M, Tüscher O (2015) A conceptual framework for the neurobiological study of resilience. Behav Brain Sci 38:e92

5.

Bonanno GA, Westphal M, Mancini AD (2011) Resilience to loss and potential trauma. Annu Rev Clin Psychol 7:511–535

6.

Bonanno GA, Diminich ED (2013) Annual research review: positive adjustment to adversity—trajectories of minimal-impact resilience and emergent resilience. J Child Psychol Psychiatry 54:378–401

7.

Kalisch R, Kleim B (2017) Is resilience predictable? Presentation at the 2nd International Resilience Meeting, Mainz

8.

Papa A, Bonanno GA (2008) Smiling in the face of adversity: the interpersonal and intrapersonal functions of smiling. Emotion 8(1):1–12

9.

Bonanno GA, Mancini AD, Horton JL, Powell TM, LeardMann CA, Boyko EJ, Smith TC (2012) Trajectories of trauma symptoms and resilience in deployed US military service members: prospective cohort study. Br J Psychiatry 200:317–323

10.

deRoon-Cassini TA, Mancini AD, Rusch MD, Bonanno GA (2010) Psychopathology and resilience following traumatic injury: a latent growth mixture model analysis. Rehabil Psychol 55(1):1–11

11.

Pargas RCM, Brennan PA, Hammen C, Le Brocque R (2010) Resilience to maternal depression in young adulthood. Dev Psychol 46(4):805–814

12.

Dyrbye LN, Power DV, Massie FS, Eacker A, Harper W, Thomas MR, Shanafeld TD (2010) Factors associated with resilience to and recovery from burnout: a prospective, multi-institutional study of US medical students. Med Educ 44:1016–1026. https://doi.org/10.1111/j.1365-2923.2010.03754.x

13.

Hobfoll SE, Palmieri PA, Johnson RJ, Canetti-Nisim D, Hall BJ, Galea S (2009) Trajectories of resilience, resistance, and distress during ongoing terrorism: the case of jews and arabs in Israel. J Consult Clin Psychol 77(1):138–148. https://doi.org/10.1037/a0014360

14.

Lowe SR, Galea S, Uddin M, Koenen KC (2014) Trajectories of posttraumatic stress among urban residents. Am J Community Psychol 53(1):159–172. https://doi.org/10.1007/s10464-014-9634-6

15.

Stroebe W, Zech E, Stroebe MS, Abakoumkin G (2005) Does social support help in bereavement? J Soc Clin Psychol 24(7):1030–1050

16.

Polusny MA, Erbes CR, Murdoch M, Arbisi PA, Thuras P, Rath MB (2011) Prospective risk factors for new-onset post-traumatic stress disorder in National Guard soldiers deployed to Iraq. Psychol Med 41(4):687–698

17.

Hou WK, Law CC, Ying J, Fu YT (2010) Resource loss, resource gain, and psychological resilience and dysfunctioning following cancer diagnosis: a growth mixture modeling approach. Health Psychol 29(5):484–495

18.

Brewin CR, Andrews B, Valentine JD (2000) Meta-analysis of risk factors for posttraumatic stress disorder in trauma-exposed adults. J Consult Clin Psychol 68:748–766

19.

Andersen SB, Karstoft KI, Bertelsen B, Madsen T (2014) Latent trajectories of trauma symptoms and resilience: the 3‑year longitudinal prospective USPER study of Danish veterans deployed in Afghanistan. J Clin Psychiatry 75(9):1001–1008

20.

Gupta S, Bonanno GA (2010) Self-enhancement as a buffer against potentially traumatic events: a prospective study. Psychol Trauma Theory Res Pract Policy 22(2):83–92

21.

Galatzer-Levy IR, Bonanno GA (2014) Optimism and death: predicting the course and consequences of depression trajectories in response to heart attack. Psychol Sci 25(12):2177–2188

22.

Lam WWT, Bonanno GA, Mancini AD, Ho S, Chan M, Hung WK, Fielding R (2010) Trajectories of psychological distress among Chinese woman diagnosed with breast cancer. Psychooncology 19:1044–1051. https://doi.org/10.1002/pon.1658

23.

Segovia F, Moore JL, Linnvill S, Hoyt RE, Hain RE (2013) Sleep and resilience: a longitudinal 37-year follow-up study of Vietnam repatriated prisoners of war. Mil Med 178(2):196–201

24.

Bonanno GA, Galea, S, Bucciarelli A, Vlahov D. (2007). What predicts psychological resilience after disaster? The role of demographics, resources, and life stress. J Consult Clin Psychol 75(5):671–682

25.

Manoliu A, Seifritz E, Kleim B (2018) Neurobiologische Korrelate von Resilienz nach Traumatisierung. In: Fiebach, Forstmeier S (Hrsg) Resilienz. Springer, Berlin Heidelberg

26.

Bolsinger J, Seifritz E, Kleim B & Manoliu A (under review). Neuroimaging Correlates of Resilience to Traumatic Events – A comprehensive Review.

27.

Koush Y, Meskaldji DE, Pichon S, Rey G, Rieger SW, Linden DE, Van De Ville D, Vuilleumier P, Scharnowski F (2017) Learning control over emotion networks through connectivity-based neurofeedback. Cereb Cortex 27(2):1193–1202

28.

Kalisch R, Baker DG, Basten U et al (2017) The resilience framework as a strategy to combat stress-related disorders. Nat Hum Behav 1:784–790

29.

van Rooij SJH, Stevens JS, Ely TD, Hinrichs R, Michopoulos V, Winters SJ, Ogbonmwan YE, Shin J, Nugent NR, Hudak LA, Rothbaum BO, Ressler KJ, Jovanovic T (2017) The role of the hippocampus in predicting future posttraumatic stress disorder symptoms in recently traumatized civilians. Biol Psychiatry. https://doi.org/10.1016/j.biopsych.2017.09.005

30.

Kunzler AM, Gilan DA, Kalisch R, Tüscher O, Lieb K (2018) Aktuelle Konzepte der Resilienzforschung. Nervenarzt. https://doi.org/10.1007/s00115-018-0529-x
Funding
B. Kleim und R. Kalisch erhalten Projektfinanzierung für das Projekt "Dynamore – Dynamic Modeling of Resilience" im Rahmen der Finanzhilfevereinbarung Nr. 777084 aus Mitteln des Forschungs- und Innovationsprogramms Horizont 2020 der Europäischen Union (PI: Prof. R. Kalisch).
Ethics declarations
Interessenkonflikt
B. Kleim und R. Kalisch geben an, dass kein Interessenkonflikt besteht.
Dieser Beitrag beinhaltet keine von den Autoren durchgeführten Studien an Menschen oder Tieren.
About this article
Cite this article
Kleim, B., Kalisch, R. Wer bleibt gesund? Zum Problem der Vorhersage von Resilienz. Nervenarzt 89, 754–758 (2018). https://doi.org/10.1007/s00115-018-0551-z
Schlüsselwörter
Resilienz

Prädiktoren

Stress

Trauma

Längsschnittstudien
Keywords
Resilience

Predictors

Stress

Trauma

Longitudinal studies