Zusammenfassung
Ayurveda ist ein Jahrtausende altes indisches Gesundheitssystem, welches im Wesentlichen aus einer bestimmten Ernährung, Ölaufgüssen vor allem im Kopfbereich, Einläufen, Heilpflanzen und Yoga besteht. Dahinter stehen naturheilkundliche und anthropologische Überzeugungen verbunden mit der hinduistischen Religion. Bis heute wird Ayurveda z. T. sehr erfolgreich in Indien angewandt; die westliche Medizin, speziell die Psychiatrie, hat dies bislang nur unzureichend wahrgenommen; eine Ausnahme bildet hier Scharfetter aus Zürich, der diesbezüglich bereits 1976 einen Übersichtsartikel verfasst hat. Dabei sind wahrscheinlich insbesondere die immunologischen Mechanismen bei psychotischen und affektiven Störungen durch die Anwendung ayurvedischer Methoden beeinflussbar. Jedoch ist die empirische Datenlage insbesondere bezüglich randomisierter kontrollierter Studien und Metaanalysen zu psychiatrischen Störungsbilder limitiert. Auch wenn Ayurveda stark individualisiert angewandt wird, sollte zur weiteren Evidenzbeurteilung dies rasch verbessert werden. Erste positive Erfahrungen im neuropsychiatrischen Gebiet liegen in Deutschland bereits vor.
Abstract
Ayurveda is a traditional Indian system of medicine that is more than 3000 years old, consisting mostly of a specific diet, oily infusions mainly in the area of the head, enemas, medicinal plants and yoga. It is based on a naturopathic and anthropological belief in association with the hinduistic religion. Ayurveda has been practiced very successfully in India but so far it has only been insufficiently appreciated by western medicine, especially psychiatry. An exception is Scharfetter from Zürich who wrote a review article on this topic in 1976. Nevertheless, it is probable that particularly the immunological mechanisms of psychotic and affective disorders can be influenced by the application of ayurvedic methods; however, the empirical data source, particularly with respect to randomized controlled trials and meta-analyses regarding psychiatric disorder symptoms is limited. Even if Ayurveda is applied in a highly individualized manner, this should be rapidly improved for further evidential assessment. First positive experiences in the neuropsychiatric field in Germany are already available.
Access options
Buy single article
Instant access to the full article PDF.
USD 39.95
Price excludes VAT (USA)
Tax calculation will be finalised during checkout.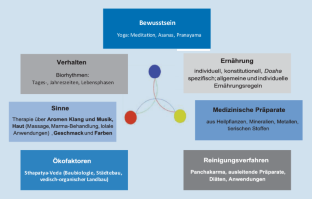 Literatur
Agarwal V, Abhijnhan A, Raviraj P (2007) Ayurvedic medicine für schiophenia. Cochrane Database Syst Rev. https://doi.org/10.1002/14651858.CD006867

Adams JB, Audhya T, Geis E et al (2018) Comprehensive nutritional and dietary intervention for autism spectrum disorder—a randomized, controlled 12-month trial. Nutrients 10(3):369

Baghai TC, Rupprecht R (2015) Dickdarmmikrobiom, Stressregulation, Inflammation und Psyche. Mikrobiota-Darm-Hirn-Achse. Neurol Psychiatr 16(9):30

Behere PB, Das A, Yadav R et al (2013) Ayurvedic concepts related to psychotherapy. Indian J Psychiatry 55(Suppl 2):S310–S314

Buffington SA, Di Prisco GV, Auchtung TA et al (2016) Microbial reconstitution reverses maternal diet-induced social and synaptic deficits in offspring. Cell 165(7):1762–1775

Cahn BR, Goodman MS, Peterson CT et al (2017) Yoga, meditation and mind-body health. Increased BDNF, cortisol awakening response, and altered inflammatory marker expression after a 3-month yoga and meditation retreat. Front Human Neurosci 11:315

Chandrasekhar K, Kapoor J, Anishetty S (2012) A prospective, randomized double-blind, placebo-controlled study of safety and efficacy of a high-concentration full-spectrum extract of ashwagandha root in reducing stress and anxiety in adults. Indian J Psychol Med 34(3):255–262

Chengappa KNR, Bowie CR, Schlicht PJ et al (2013) Randomized placebo-controlled adjunctive study of an extract of withania somnifera for cognitive dysfunction in bipolar disorder. J Clin Psychiatry 74(11):1076–1083

Crittin J‑P (2010) Ayurvedische Psychologie. Wege zum Selbst und das Energieprinzip im Ayurveda, 1. Aufl. Windpferd, Oberstdorf

Crittin J‑P (2013) Wachstum und Entwicklung. Ayurvedische Psychologie in der Praxis; das Erwachen der Urkraft Shakti, 1. Aufl. Windpferd, Oberstdorf

Dobos G, Tao I (2011) The model of Western integrative medicine. The role of Chinese medicine. Chin J Integr Med 17(1):11–20

Dwivedi KK, Paul M, Behere PB et al (1993) The concept of aging in ayurveda. Anc Sci Life 12(3-4):377–387

Frawley D (1998) Ayurveda and the mind. The healing of consciousness, 1. Aufl. Motilal Banarsidass, Delhi

Haghikia A, Linker RA (2018) Ernährung, Mikrobiom und Multiple Sklerose. Aktuelle Erkenntnisse aus der Grundlagenforschung und der Klinik [Nutrition, microbiome and multiple sclerosis: current knowledge from basic research and clinical practice]. Nervenarzt 89(4):463–471

Juckel G (2018) Ein Weg Ein Weg, sich "seelisch zu berühren" – Grundzüge einer pragmatischen Psychotherapie in der Psychiatrie (PPP): Annehmen, Zuwenden, Verstehen, Hilfreich-Sein. In: Juckel G, Hoffmann K, Walach H (Hrsg) Spiritualität in Psychiatrie und Psychotherapie. Pabst, Lengerich, S 307–332

Kessler C, Wischnewsky M, Michalsen A et al (2013) Ayurveda. Between religion, spirituality, and medicine. Evid Based Complementary Altern Med. https://doi.org/10.1155/2013/952432

Khambaty M, Parikh RM (2017) Cultural aspects of anxiety disorders in India. Dialogues Clin Neurosci 19(2):117–126

Lang C (2017) Translation and purification. Ayurvedic psychiatry, allopathic psychiatry, spirits and occult violence in Kerala, South India. Anthropol Med. https://doi.org/10.1080/13648470.2017.1285001

Manickam LSS (2013) Integrative change model in psychotherapy. Perspectives from Indian thought. Indian J Psychiatry 55(Suppl 2):S322–S328

Mason BL (2017) Feeding systems and the gut Microbiome. Gut-brain interactions with relevance to psychiatric conditions. Psychosomatics 58(6):574–580

Meister K, Juckel G (2017) A systematic review of mechanisms of change in body-oriented yoga in major depressive disorders. Pharmacopsychiatry. https://doi.org/10.1055/s-0043-111013

Müller-Oerlinghausen B, Berg C, Scherer P et al (2004) Wirkungen einer "Slow Stroke"-Massage als komplementäre Therapie bei stationären depressiven Patienten. Ergebnisse einer kontrollierten Studie (SeSeTra)1 (Effects of slow-stroke massage as complementary treatment of depressed hospitalized patients). Dtsch Med Wochenschr 129(24):1363–1368

Murthy ARV (2009) Rationale of ayurvedic psychiatry. Foundational concepts, traditional practices, and recent advances, Edition first. Jaikrishnadas ayurveda series, no. 157. Chaukhambha Orientalia, Varanasi

Pratte MA, Nanavati KB, Young V et al (2014) An alternative treatment for anxiety. A systematic review of human trial results reported for the Ayurvedic herb ashwagandha (Withania somnifera). J Altern Complement Med 20(12):901–908

Rao AV (2002) Mind in ayurveda. Indian J Psychiatry 44(3):201–211

Sarkar S, Mishra BR, Praharaj SK et al (2012) Add-on effect of Brahmi in the management of schizophrenia. J Ayurveda Integr Med 3(4):223–225

Scharfetter C (1976) Ayurveda. Schweiz Med Wochenschr 106(17):565–572

Schrott E, Ammon HPT (2012) Heilpflanzen der ayurvedischen und der westlichen Medizin. Eine Gegenüberstellung. Springer, Berlin

Schrott E, Schachinger W (Hrsg) (2005) Handbuch Ayurveda. Grundlagen und Anwendungen ; die traditionelle indische Heilweise umfassend und praxisnah erklärt. Haug, Stuttgart

Suchitra SP, Devika HS, Gangadhar BN et al (2010) Measuring the tridosha symptoms of unmāda (psychosis): a preliminary study. J Altern Complement Med 16(4):457–462

Thirthalli J, Zhou L, Kumar K et al (2016) Traditional, complementary, and alternative medicine approaches to mental health care and psychological wellbeing in India and China. Lancet 3(7):660–672

Westdeutsche Verlags- und Werbegesellschaft mbH & Co. KG (2018) Indischer Staatssekretär lobt Ayurveda-Standort Hattingen. http://www.augusta-kueche-d853604.html. http://www.lolakompass.de/Bochum/ratgeber/indischer-staatssekretaer-lobt-ayurveda-standort-hattingen-d695413.html. Zugegriffen: 20.03.2018
Ethics declarations
Interessenkonflikt
G. Juckel und K. Hoffmann geben an, dass kein Interessenkonflikt besteht.
Dieser Beitrag beinhaltet keine von den Autoren durchgeführten Studien an Menschen oder Tieren.
About this article
Cite this article
Juckel, G., Hoffmann, K. Indische Ayurveda-Medizin – eine sinnvolle Ergänzung psychiatrischer Behandlung?. Nervenarzt 89, 999–1008 (2018). https://doi.org/10.1007/s00115-018-0538-9
Published:

Issue Date:

DOI: https://doi.org/10.1007/s00115-018-0538-9
Schlüsselwörter
Ernährung

Yoga

Heilpflanzen

Depression

Schizophrenie
Keywords
Diet

Yoga

Medicinal plants

Depression

Schizophrenia