Zusammenfassung
Gegenstand und Ziel
Die Stroke-Angel-Initiative untersucht den Einsatz von Telemedizin zur Verbesserung der präklinischen Kommunikation zwischen Rettungsdienst und Stroke-Unit beim akuten Schlaganfall.
Material und Methoden
Stroke Angel ist ein technisches System zur telemedizinischen Voranmeldung eines Patienten mit Verdacht auf einen Schlaganfall durch den Rettungsdienst an eine Stroke-Unit. Im Rahmen einer Beobachtungsstudie untersucht das Team seit 2005 in den benachbarten Landkreisen Rhön-Grabfeld und Bad Kissingen die Effekte des Systems auf Door-to-Computertomographie-, Door-to-Needle-Zeit und Lyserate.
Ergebnisse
Das System unterstützt die Akutversorgung neurologischer Notfälle und wirkt als Katalysator für die Vernetzung medizinischer Versorgungseinrichtungen in der Region und für die Kommunikation zwischen Notärzten/Rettungsdienst und Klinikärzten. Durch die mobile Datenverarbeitung ist ein kontinuierlicher Verbesserungsprozess möglich, sodass innerklinische Prozesse beschleunigt und die Lyserate bei konstanter Mortalitätsrate erhöht werden konnte.
Schlussfolgerungen
Telemedizin ist bei der prähospitalen Schlaganfallversorgung anwendbar und führt durch die durchgängige Datenverarbeitung zu mehr Transparenz der Prozesse, wodurch innerklinische Abläufe einer Stroke-Unit verbessert werden können.
Abstract
Objective
The Stroke Angel initiative investigates the implementation of telemedicine for improvement of preclinical communication between emergency medical services (EMS) and stroke units in cases of acute stroke.
Material and methods
Stroke Angel is a technical system for the telemedical prenotification of patients in cases of suspected stroke at a stroke unit by the EMS. Within the framework of an observational study, the team has been investigating the effects of the system on door-to-computed tomography (CT) and door-to-needle times as well as the lysis rate in the neighboring regions of Rhön-Grabfeld and Bad Kissingen since 2005.
Results
The system supports the acute treatment of neurological emergencies and functions as a catalyst for the interlinking of medical institutions in the region as well as for communication between emergency physicians/EMS and hospital physicians. The use of a computer-based data collection enables a continuous improvement process leading to an acceleration of internal clinical procedures and an increase of the lysis rate with the mortality rate staying constant.
Conclusion
Telemedicine is applicable in the preclinical care of acute stroke and, thanks to the computer-based data collection, leads to an increase in process transparency, which helps to improve the internal clinical processes in and around a stroke unit.
Access options
Buy single article
Instant access to the full article PDF.
US$ 39.95
Tax calculation will be finalised during checkout.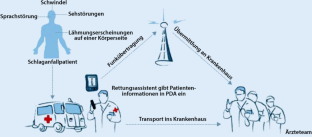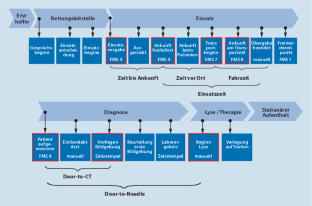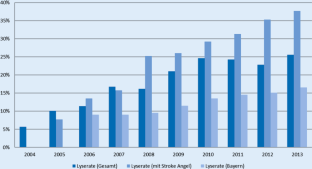 Literatur
1.

Audebert HJ et al (2007) Telemedizin in der akuten Schlaganfallversorgung. Eine Standortbestimmung. Dtsch Med Wochenschr 132:431–436

2.

Audebert HJ, Handschu R (2009) Telemedizin beim Schlaganfall. Nervenheilkunde 28:103–107

3.

http://www.baq-bayern.de/leistungsbereiche/851-schlaganfall/schlaganfall2. Zugegriffen: 01. Oktober 2016

4.

Görlitz R, Rashid A (2012) Datensicherheit und Datenschutz in der prä- und postklinischen Versorgungsphase. 57. Jahrestagung der Deutschen Gesellschaft für Medizinische Informatik, Biometrie und Epidemiologie (GMDS), Braunschweig, 16. - 20. Sep 2012.

5.

Handschu R et al (2004) Telemedizin in der Schlaganfallversorgung. Nervenheilkunde 23:400–405

6.

Hennes HJ, Heid F, Steiner Th (1999) Präklinisches Management des Patienten mit Schlaganfall. Anaesthesist 48(12):858–870

7.

Heuschmann PU et al (2003) Frequency of thrombolytic therapy in patients with acute ischemic stroke and the risk of in-hospital mortality: The German Stroke Registers Study Group. Stroke 34(5):1106–1113

8.

Heuschmann PU et al (2004) Predictors of in-hospital mortality in patients with acute ischemic stroke treated with thrombolytic therapy. JAMA 292:1831–1838

9.

Kniess T et al (2016) Prehospital Epilepsy Emergency Score (PEES) Zur präklinischen Differenzierung im Notfall zwischen Synkope und epileptischem Anfall. 89. Kongress der Deutschen Gesellschaft für Neurologie (DGN), Mannheim, 21. bis 24. Sep.

10.

Lay A (2002) Auswertung der Notarzteinsätze in Bayern auf dem DIVI-Protokoll als Basis für ein präklinisches Qualitätsmanagement. Inaugural-Dissertation der Medizinischen Fakultät der Bayerischen Julius-Maximilians-Universität zu Würzburg

11.

Meier F et al (2016) Zur Ökonomie ambulanter Notaufnahmepatienten. Notf Rettungsmed 19(3):33–40

12.

Orwat C et al (2010) Adopting pervasive computing for routine use in healthcare. IEEE Pervasive Comput 9(2):64–71

13.

http://www.percomed.de. Zugegriffen: 01. Oktober 2016

14.

Rascher A, Hiermann E, Griewing B, Soda H (2016) Elektronisches Stroke- und Lyseprotokoll – ein wichtiges Tool zur Optimierung der Schlaganfallversorgung. 89. Kongress der Deutschen Gesellschaft für Neurologie (DGN), Mannheim, 21. bis 24. Sep.

15.

Rashid A, Soda H, Hiermann E, Kippnich U, Griewing B (2016) Stroke angel: telemedicine prenotification improves door-to-CT and rate of systemic thrombolysis. European Stroke Conference, Vienna.

16.

Scholz KH et al (2008) Contact-to-balloon time and door-to-balloon time after initiation of a formalized data feedback in patients with acute ST-elevation myocardial infarction. Am J Cardiol 101(1):46–52

17.

Scholz KH et al (2008) Prozessentwicklung in der Herzinfarktversorgung Netzwerkbildung, Telemetrie und standardisiertes Qualitätsmanagement mit systematischer Ergebnisrückkopplung. Herz 33(2):102–109

18.

Sefrin P, Brandt M (2001) Das DIVI-Notarztprotokoll als Basis für ein Qualitätsmanagement im Rettungsdienst. Notarzt 17(1):67–70

19.

Sefrin P et al (2007) Akutversorgung des Patienten mit Schlaganfall. Vom Einsatzort bis zur "stroke unit". Anaesthesist 56:345–352

20.

Singer OC et al (2005) A simple 3‑item stroke scale: comparison with the National Institutes of Health Stroke Scale and prediction of middle cerebral artery occlusion. Stroke 36:773–776

21.

Soda H, Kippnich U, Kippnich M, Ziegler V, Griewing B, Rashid A (2015) Rettungshubschrauber im Flight for Stroke. Neurotransmitter 26(11): 28–34

22.

Soda H, Shammas L, Griewing B, Rashid A (2016) 4‑Item Stroke Scale (4iss) – prehospital notification scale for stroke patients. European Stroke Conference, Venice.

23.

Ziegler V et al (2008) Einsatz mobiler Computing-Systeme in der präklinischen Schlaganfallversorgung. Ergebnisse aus der Stroke Angel-Initiative im Rahmen des BMBF-Projekts PerCoMed. Anaesthesist 57:677–685

24.

Ziegler V, Griewing B, Rashid A (2010) Prähospitales Management des Schlaganfallpatienten – Skalen und Basisuntersuchung des neurologischen Patienten und präklinische Datenübertragung. Notfallmed Up2date 5:101–116

25.

Ziegler V et al (2012) Qualitätsmanagement in der akuten Schlaganfallversorgung: Wie kann man die präklinisch-klinische Schnittstelle beim Schlaganfall bewerten und verbessern? Aktuelle Neurol 39:192–200
Ethics declarations
Interessenkonflikt
H. Soda, V. Ziegler, L. Shammas, B. Griewing, U. Kippnich, M. Keidel und A. Rashid geben an, dass kein Interessenkonflikt besteht.
Dieser Beitrag beinhaltet keine von den Autoren durchgeführten Studien an Menschen oder Tieren.
About this article
Cite this article
Soda, H., Ziegler, V., Shammas, L. et al. Telemedizinische Voranmeldung in der akuten Schlaganfallversorgung. Nervenarzt 88, 120–129 (2017). https://doi.org/10.1007/s00115-016-0266-y
Schlüsselwörter
Hospitalitätsmortalität

Stroke-Unit

Notfallmanagement

Informationssysteme

Thrombolyse
Keywords
In-hospital mortality

Stroke unit

Emergency medicine

Information systems

Thrombolytic therapy