Zusammenfassung
Hintergrund
Der Faktor Zeit ist von kritischer Bedeutung in der Akutversorgung des Schlaganfalls. Mit der Etablierung der Thrombektomie gewinnt die erste Phase der Behandlung zusätzliche Komplexität und Interdisziplinarität. Crew-Ressource-Management (CRM) ist in nichtmedizinischen Bereichen mit geringer Fehlertoleranz wie der Luftfahrt weithin verbreitet und hat Eingang in die professionelle Reanimationsausbildung gefunden. Da in der Akutphase eines Schlaganfalls jede Minute zählt, bieten sich CRM und regelmäßiges Training des Behandlungsteams zur Verbesserung der Patientenversorgung in der Notaufnahme an.
Fragestellung
Wir untersuchten die Wirksamkeit eines nach CRM-Grundsätzen arbeitenden Stroke-Teams mit regelmäßigem Simulationstraining auf die Behandlungsqualität ("Door-to-needle"-Zeit und Thrombolyserate) sowie auf die Zufriedenheit und das Sicherheitsgefühl der Mitarbeiter in der Schlaganfallnotaufnahme.
Material und Methoden
Wir stellten ein verbindliches Stroke-Team aus 7 Personen auf, die im Fall eines per Kurzwahl ausgelösten Stroke-Alarms über einen Sammelruf simultan verständigt werden und konzipierten ein simulatorgestütztes Training aller neuen Stroke-Team-Mitarbeiter, das mittlerweile monatlich durchgeführt wird. Wir erhoben die Thrombolyserate und die "Door-to-needle"-Zeit aller konsekutiven Patienten vor und nach dieser Maßnahme. Die Arbeitszufriedenheit in der Schlaganfallnotaufnahme und die Akzeptanz des Simulationstrainings wurden per Fragebogen erfasst.
Ergebnisse
Die Reorganisation führte zu einer deutlichen Verbesserung der "Door-to-needle"-Zeiten auf im Mittel konstant unter 30 min und zu einem Gefühl größerer Sicherheit der Weiterbildungsassistenten mit <2 Jahren Berufserfahrung. Das Stroke-Team-Training wurde von den Teilnehmern sehr gut angenommen und der Nutzen insgesamt als sehr hoch bewertet.
Diskussion
Auch wenn sich aus unseren Daten methodisch bedingt kein positiver Einfluss auf das neurologische Behandlungsergebnis ableiten lässt, hatte die kombinierte Einführung eines CRM-basierten Stroke-Teams und Simulatortrainings positive Effekte auf den Behandlungsablauf und die Arbeitszufriedenheit in der Schlaganfallnotaufnahme.
Abstract
Background
Time is of critical importance in acute stroke management. The establishment of thrombectomy now adds to the complexity and interdisciplinarity of the initial phase. In non-medical high-fidelity situations, such as aviation, crew resource management (CRM) has proven to be highly efficient. It has therefore also been implemented in professional cardiovascular life support training. In a setting where every minute counts, CRM and regular training of the high-fidelity stroke team could offer ways to improve treatment of acute stroke patients.
Objectives
We evaluated the effects of a CRM-based stroke team with regular simulation training on the quality of care (e.g. door to needle time and thrombolysis rate) as well as on staff satisfaction and perceived patient safety in the emergency department of a tertiary care neurocenter.
Material and methods
We implemented a dedicated stroke team consisting of 7 persons who are notified by a collective call via speed dial and conceived a simulator-based team training for all new stroke team members which we conduct at monthly intervals. We recorded door to needle times of all consecutive patients, staff satisfaction in the emergency room and the acceptance of this new learning format.
Results
This approach led to a relevant and sustained reduction of the mean door to needle time to less than 30 min. It improved perceived patient safety in residents with professional experience of less than 2 years. There was a very high acceptance within the stroke team training and staff and its usefulness was judged to be very high.
Conclusion
Even though our data do not allow positive effects on patient outcomes to be inferred, the implementation of a CRM-based stroke team and simulator training has had multiple positive effects on the workflow and work satisfaction in the treatment of acute stroke patients.
Access options
Buy single article
Instant access to the full article PDF.
USD 39.95
Price excludes VAT (USA)
Tax calculation will be finalised during checkout.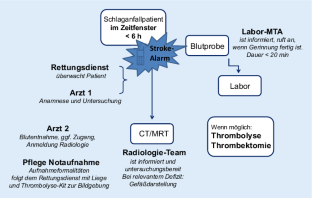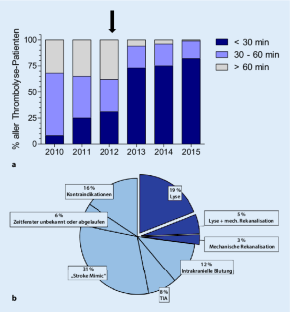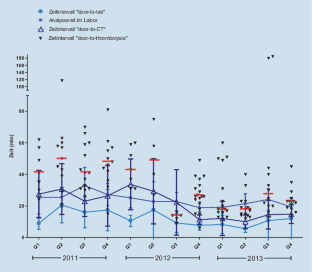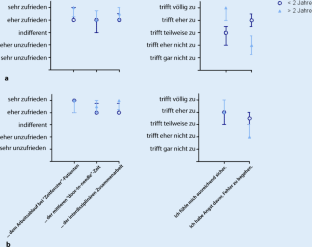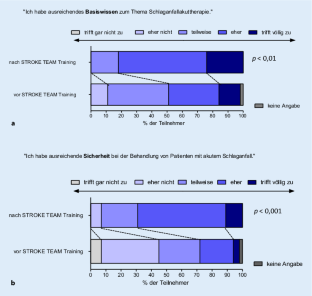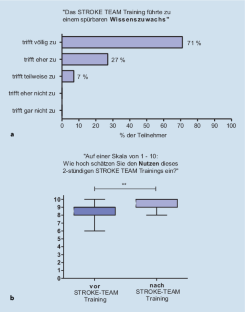 Literatur
American Heart Association (2011) Adavanced Cardiovascular Life Support Provider Manual

Barzallo Salazar MJ, Minkoff H, Bayya J, Gillett B, Onoriode H, Weedon J, Altshuler L, Fisher N (2014) Influence of surgeon behavior on trainee willingness to speak up: a randomized controlled trial. J Am Coll Surg 219:1001–1007

Cook DA, Hatala R, Brydges R, Zendejas B, Szostek JH, Wang AT, Erwin PJ, Hamstra SJ (2011) Technology-enhanced simulation for health professions education: a systematic review and meta-analysis. JAMA 306:978–988

Ebinger M, Winter B, Wendt M, Weber JE, Waldschmidt C, Rozanski M, Kunz A, Koch P, Kellner PA, Gierhake D, Villringer K, Fiebach JB, Grittner U, Hartmann A, Mackert BM, Endres M, Audebert HJ, STEMO Consortium (2014) Effect of the use of ambulance-based thrombolysis on time to thrombolysis in acute ischemic stroke: a randomized clinical trial. JAMA 311:1622–1631

Emberson J, Lees KR, Lyden P, Blackwell L, Albers G, Bluhmki E, Brott T, Cohen G, Davis S, Donnan G, Grotta J, Howard G, Kaste M, Koga M, Kummer R von, Lansberg M, Lindley RI, Murray G, Olivot JM, Parsons M, Tilley B, Toni D, Toyoda K, Wahlgren N, Wardlaw J, Whiteley W, Zoppo GJ del, Baigent C, Sandercock P, Hacke W, Stroke Thrombolysis Trialists' Collaborative Group (2014) Effect of treatment delay, age, and stroke severity on the effects of intravenous thrombolysis with alteplase for acute ischaemic stroke: a meta-analysis of individual patient data from randomised trials. Lancet 384:1929–1935

Flin R, Maran N (2004) Identifying and training non-technical skills for teams in acute medicine. Qual Saf Health Care 13(Suppl 1):80–84

IVENA ehealth Interdisziplinärer Versorgungskapazitäten-Nachweis. http://www.ivena.de/page.php?k1=main&k2=index. Zugegriffen: 20. Mai 2016

Jankouskas TS, Haidet KK, Hupcey JE, Kolanowski A, Murray WB (2011) Targeted crisis resource management training improves performance among randomized nursing and medical students. Simul Healthc 6:316–326

Köhrmann M, Schellinger PD, Breuer L, Dohrn M, Kuramatsu JB, Blinzler C, Schwab S, Huttner HB (2011) Avoiding in hospital delays and eliminating the three-hour effect in thrombolysis for stroke. Int J Stroke 6:493–497

Kuramatsu JB, Gerner ST, Schellinger PD, Glahn J, Endres M, Sobesky J, Flechsenhar J, Neugebauer H, Jüttler E, Grau A, Palm F, Röther J, Michels P, Hamann GF, Hüwel J, Hagemann G, Barber B, Terborg C, Trostdorf F, Bäzner H, Roth A, Wöhrle J, Keller M, Schwarz M, Reimann G, Volkmann J, Müllges W, Kraft P, Classen J, Hobohm C, Horn M, Milewski A, Reichmann H, Schneider H, Schimmel E, Fink GR, Dohmen C, Stetefeld H, Witte O, Günther A, Neumann-Haefelin T, Racs AE, Nueckel M, Erbguth F, Kloska SP, Dörfler A, Köhrmann M, Schwab S, Huttner HB (2015) Anticoagulant reversal, blood pressure levels, and anticoagulant resumption in patients with anticoagulation-related intracerebral hemorrhage. JAMA 313:824–836

Liebeskind DSJRNRGJTGLHLSJL, Investigators SWIFT (2015) Early arrival at the emergency department is associated with better collaterals, smaller established infarcts and better clinical outcomes with endovascular stroke therapy: SWIFT study. J Neurointerv Surg 8(6) doi:10.1136/neurintsurg-2015-011758

Meretoja A, Strbian D, Mustanoja S, Tatlisumak T, Lindsberg PJ, Kaste M (2012) Reducing in-hospital delay to 20 minutes in stroke thrombolysis. Neurology 79:306–313

Meretoja A, Weir L, Ugalde M, Yassi N, Yan B, Hand P, Truesdale M, Davis SM, Campbell BC (2013) Helsinki model cut stroke thrombolysis delays to 25 minutes in Melbourne in only 4 months. Neurology 81:1071–1076

Nimbalkar A, Patel D, Kungwani A, Phatak A, Vasa R, Nimbalkar S (2015) Randomized control trial of high fidelity vs low fidelity simulation for training undergraduate students in neonatal resuscitation. BMC Res Notes 8:636

Paige JT, Garbee DD, Brown KM, Rojas JD (2015) Using Simulation in Interprofessional Education. Surg Clin North Am 95:751–766

Sudikoff SN, Overly FL, Shapiro MJ (2009) High-fidelity medical simulation as a technique to improve pediatric residents' emergency airway management and teamwork: a pilot study. Pediatr Emerg Care 25:651–656

Walter S, Kostopoulos P, Haass A, Keller I, Lesmeister M, Schlechtriemen T, Roth C, Papanagiotou P, Grunwald I, Schumacher H, Helwig S, Viera J, Körner H, Alexandrou M, Yilmaz U, Ziegler K, Schmidt K, Dabew R, Kubulus D, Liu Y, Volk T, Kronfeld K, Ruckes C, Bertsch T, Reith W, Fassbender K (2012) Diagnosis and treatment of patients with stroke in a mobile stroke unit versus in hospital: a randomised controlled trial. Lancet Neurol 11:397–404
Ethics declarations
Interessenkonflikt
D. Tahtali, F. Bohmann, P. Rostek, B. Misselwitz, A. Reihs, F. Heringer, K. Jahnke, H. Steinmetz und W. Pfeilschifter geben an, dass kein Interessenkonflikt besteht. Diese Studie wurde finanziell unterstützt von Boehringer Ingelheim.
Dieser Beitrag beinhaltet keine von den Autoren durchgeführten Studien an Menschen oder Tieren.
Additional information
D. Tahtali und F. Bohmann haben zu gleichen Teilen zu der Arbeit beigetragen und teilen sich die Erstautorenschaft.
About this article
Cite this article
Tahtali, D., Bohmann, F., Rostek, P. et al. Crew-Ressource-Management und Simulatortraining in der akuten Schlaganfalltherapie. Nervenarzt 87, 1322–1331 (2016). https://doi.org/10.1007/s00115-016-0162-5
Published:

Issue Date:

DOI: https://doi.org/10.1007/s00115-016-0162-5
Schlüsselwörter
Keywords