Access options
Buy single article
Instant access to the full article PDF.
US$ 39.95
Tax calculation will be finalised during checkout.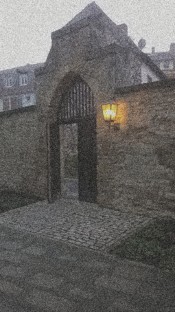 Literatur
1.

Afridi SK, Griffin NJ, Kaube H et al (2013) A randomized controlled trial of intranasal ketamine in migraine with prolonged aura. Neurology 80:642–647

2.

Ardila A, Sanchez E (1988) Neuropsychologic symptoms in the migraine syndrome. Cephalalgia 8:67–70

3.

Bessero AC, Plant GT (2014) Should 'Visual snow' and persistence of after-images be recognised as a new visual syndrome? J Neurol Neurosurg Psychiatry 85:1057–1058

4.

Bruen R, Peng SL, Perreault S et al (2013) Persistent migraine aura in an adolescent girl. J AAPOS 17:426–427

5.

Chen W-T, Lin Y-Y, Fuh J-L et al (2011) Sustained visual cortex hyperexcitability in migraine with persistent visual aura. Brain 134:2387–2395

6.

Almeida RF de, Leão IA, Gomes JB et al (2009) Migraine with persistent visual aura: response to furosemide. Clinics 64:375–376

7.

Fulton JT (2015) Visual snow-its perception and its cause. http://www.neuronresearch.net/vision/clinical/snowyvision.htm. Zugegriffen: 14. März 2015

8.

Headache Classification Committee of the International Headache Society (IHS) (2013) The international classification of headache disorders, 3rd edition (beta version). Cephalalgia 33:629–808

9.

Gale SD, Murphy GJ (2014) Distinct representation and distribution of visual information by specific cell types in mouse superficial superior colliculus. J Neurosci 34:13458–13471

10.

Hermle L, Simon M, Ruchsow M et al (2012) Halluzinogen-persisting perception disorder. Ther Adv Psychopharmakol 2:199–205

11.

Jäger HR, Griffin NJ, Goadsby PJ (2005) Diffusion- and perfusion-weighted MR imaging in persistent migrainous visual disturbances. Cephalalgia 25:323–332

12.

Jürgens TP, Schulte L, May A (2014) Migraine trait symptoms in migraine with and without aura. Neurology 82:1416–1424

13.

Lampl C, Katsarava Z, Diener H-C et al (2005) Lamotrigin reduces migraine aura and migraine attacks in patients with migraine with aura. J Neurol Neurosurg Psychiatry 76:1730–1732

14.

Liu GT, Schatz NJ, Galetta NJ et al (1995) Persistent positive visual phenomena in migraine. Neurology 45:664–668

15.

Mitchell J, Vierkant AD (1991) Delusions and hallucinations of cocaine abusers and paranoid schizophrenics: a comparative study. J Psychol 125:301–310

16.

Schankin CJ, Maniyar FH, Digre KB et al (2014) 'Visual Snow' – a disorder distinct from persistent migraine aura. Brain 137:1419–1428

17.

Schankin CJ, Maniyar FH et al (2012) Visual Snow: a new disease entity distinct from migraine aura. Neurology 78:S36.006 (Meeting Abstracts 1)

18.

Schankin CJ, Maniyar FH, Sprenger T et al (2014) The relation between migraine, typical migraine aura and "Visual Snow". Headache 54:957–966

19.

Simpson JC, Goadsby PJ, Prabhakar P (2013) Positive persistent visual symptoms (Visual Snow) presenting as a migraine variant in a 12-year-old girl. Pediatr Neurol 49:361–363
Einhaltung ethischer Richtlinien
Interessenkonflikt. U. Beyer und C. Gaul geben an, dass kein Interessenkonflikt besteht.
Dieser Beitrag beinhaltet keine Studien an Menschen oder Tieren.
About this article
Cite this article
Beyer, U., Gaul, C. "Visual snow". Nervenarzt 86, 1561–1565 (2015). https://doi.org/10.1007/s00115-015-4401-y