Zusammenfassung
In diesem Beitrag entwickeln wir eine phänomenologische Psychopathologie des abklingenden Wahns bei Personen mit Störungen aus dem schizophrenen Formenkreis. Vor dem Hintergrund einer historisch-kritischen Rezeption von Klaus Conrads (1905–1961) Beschreibungsrahmen der "beginnenden Schizophrenie" bezeichnen wir die Stadien des abklingenden Wahns im Zuge einer Einzelfallstudie mit den prozessualen Begriffen der Orthostrophe und der Entaktualisierung. Dieses Prozessmodell des abklingenden Wahns vergleichen wir mit der Erfahrung der doppelten Orientierung zur Realität als Form des anhaltenden Wahns. Es zeigt sich, dass Wahnideen nur dann abklingen, wenn sie nicht mehr durch spezifische Erfahrungen (Wahr- bzw. Wertnehmungen) unterstützt werden. Dabei kann ein schichtenweiser Abbau im Sinne eines rückläufigen Restitutionsprozesses beschrieben werden. Abschließend diskutieren wir beide Stadien des abklingenden Wahns (Entaktualisierung und Orthostrophe) und lange anhaltenden Wahns als Verlaufsformen des Wahns bei Personen mit schizophrenen Störungen und phasenspezifische Interventionsmöglichkeiten bei diesen drei Verlaufsformen mit Blick auf eine selbstbestimmte und verantwortliche Teilhabe in der Gemeinschaft.
Summary
In this article we develop a phenomenological psychopathology of receding delusions in persons with a diagnosis of schizophrenia. Drawing on Klaus Conrad's (1905–1961) descriptions of beginning schizophrenia and an in-depth single case study, we develop descriptions of the process of receding delusions as opposed to ongoing delusions in the manner of a double-orientation to reality. We distinguish two stages in this process of social recovery and term these stages deactualization and orthostrophy. We argue that delusional convictions lose importance and persuasive power if they are no longer supported by corresponding value apprehensions or perceptions and perception-like experiences (i.e. hallucinations). Consequently, we propose that the process of receding delusions proceeds in layers comparable to a regression of the process of upcoming delusions. Lastly we discuss both stages of receding delusions (deactualization and orthostrophy) and ongoing delusions (double-orientation to reality) as possible continuous manners of social recovery concerning delusional psychosis (diagnosis of schizophrenia) and argue for specific interventions according to these different continuous manners.
Access options
Buy single article
Instant access to the full article PDF.
USD 39.95
Price excludes VAT (USA)
Tax calculation will be finalised during checkout.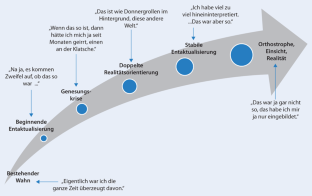 Notes
Der beteiligte Patient (Pseudonym Herr E.) erteilte nach Genesung eine informierte Einwilligung in die Nutzung und wortgetreue Zitierung der Mitschriften. Trotz des langen Verlaufs der Psychose über fast 10 Monate kann bei dem Patienten eine Cannabis-assoziierte Komponente in der Genese diskutiert werden. Entscheidend für die Kasuistik ist aber, dass weder eine affektive Störung noch eine Intelligenzminderung vorlag und auch keine schlichte Intoxikationspsychose, sondern rein psychopathologisch gesehen eine "Wahnpsychose aus dem schizophrenen Formenkreis". Die Wertigkeit der diagnostischen Einordnung nach ICD-10 soll hier ebenso wie ätiologische oder anderweitig klassifikatorische Fragen nicht diskutiert werden.

Jaspers ([33], S. 80 ff. u. S. 164) hielt Wahnideen für "falsche Realitätsurteile", nahm jedoch ursächlich "physische" oder "psychische" Prozesse an und hielt eine dementsprechend "primäre Wahnerfahrung" für die Erfahrungsgrundlage der "falschen Realitätsurteile" [6], während Gruhle [26] diese Denkstörung als "Beziehungssetzung ohne Anlass" charakterisierte und Schneider [61] die "Zweigliedrigkeit" der Wahnwahrnehmung hervorhob (mit korrekter Wahrnehmung, aber gestörter Wahrnehmungsinterpretation). Demgegenüber betonte Matussek [43, 44], dass die Wahnwahrnehmung nicht durch zu viel Glauben charakterisiert sei (wie etwa Kraepelin angenommen hatte), sondern erstens durch einen "pathologischen Glaubens- und Vertrauensverlust" in der zwischenmenschlichen Begegnung, zweitens durch eine Lockerung des natürlichen Wahrnehmungszusammenhanges und drittens durch die Bevorzugung von "Wesenseigenschaften" in der Wahrnehmungsverarbeitung (etwa wenn man im "Birkenweiß" die Bedeutung "Unschuld" erkenne).

Aktuelle biographische Studien zu Conrad liegen nicht vor (vgl. [51]), insbesondere sind seine Positionen während der Zeit des Nationalsozialismus noch nicht aufgearbeitet. In der Arbeit von 1958 klammerte er das militärische Milieu zwar nicht aus, da die "Uniformierung der Kranken auch die Psychosen uniformiert" ([14], S. 24), berücksichtigte es jedoch kaum inhaltlich und merkte lediglich in einer Fußnote an, dass ein Patient "schließlich der Euthanasiebewegung zum Opfer fiel" ([14], S. 47). Dies wirft nicht nur gravierende historische und professionsethische Fragen auf, sondern zeigt inhaltlich auch die unvollständig reflektierte Vorstruktur des Verstehens, mit der er den ihm anvertrauten Patienten in diesem Kontext begegnete.
Literatur
Amering M (2012) Recovery – reshaping scientific responsibilities. Recovery und seine Bedeutung für unsere wissenschaftliche Verantwortung. Psychiatr Danub 24(4):422–428

Appelbaum PS, Robbins PC, Vesselinov R (2004) Persistence and stability of delusions over time. Compr Psychiatry 45(5):317–324

Binswanger L (1994) Drei Formen missglückten Daseins. Verstiegenheit (1949). Verschrobenheit (1952). Manieriertheit (1955). In: Herzog M (Hrsg) Ausgewählte Werke, Bd 1. Asanger, Heidelberg, S 233–418

Blanchard JJ, Kring AM, Horan WP, Gur R (2010) Toward the next generation of negative symptom assessments: the collaboration to advance negative symptom assessment in schizophrenia. Schizophr Bull 37(2):291–299

Blankenburg W (1971) Der Verlust der natürlichen Selbstverständlichkeit – Ein Beitrag zur Psychopathologie symptomarmer Schizophrenien. Enke, Stuttgart

Brückner B (2009) Geschichtlichkeit und Aktualität der Theorie des Wahns in der Allgemeinen Psychopathologie von Karl Jaspers. J Philos Psychiatr 2(2). http://www.jfpp.org/jfpp-2-2009-03.html

Brückner B (2007) Delirium und Wahn – Geschichte, Selbstzeugnisse und Theorien von der Antike bis 1900, Bd I. Guido Pressler Verlag, Hürtgenwald

Brückner B (1996) Ideen zum Problem des Wahns. In: Heinze M, Kupke C, Pflanz S, Vogeley K (Hrsg) Psyche im Streit der Theorien. Königshausen + Neumann, Würzburg, S 123–145

Buck-Zerchin D-S (1990) Auf der Spur des Morgensterns. Psychose als Selbstfindung, 4. Aufl. Brücke, Fischer 2012, Neumünster

Cechnicki A, Bielańska A, Hanuszkiewicz I, Daren A (2013) The predictive validity of Expressed Emotions (EE) in schizophrenia. A 20-year prospective study. J Psychiatr Res 47(2):208–214

Chakraborty K, Basu D (2010) Insight in schizophrenia – a comprehensive update. German J Psychiatry 13(1):17–30

Conrad K (1940) Erbbiologischer Teil [Kap. Die erbliche Fallsucht]. In: Conrad K, Entres JL, Kehrer A, Meggendorfer F, Pohlisch K (Hrsg) Die erbliche Fallsucht. Der Erbveitstanz (Huntingtonsche Chorea). Der schwere Alkoholismus. (Handbuch der Erbkrankheiten, Bd 3), S 103–176

Conrad K (1941) Der Konstitutionstypus als genetisches Problem. Versuch einer genetischen Konstitutionslehre. Springer, Berlin

Conrad K (1958) Die beginnende Schizophrenie. Versuch einer Gestaltanalyse des Wahns, 4., unveränderte Aufl. Stuttgart 1971

Conrad K (1959) Bemerkungen zum psychopathologischen Problem des Beziehungswahns. Dtsch Med Wochenschr 84(8):303–308

Conrad K (1963) Schlußworte zur Diskussion über das Problem der "Abnormen Krise". In: Straus E, Zutt J (Hrsg) Die Wahnwelten. Akademische Verlagsgesellschaft, Frankfurt, S 312–315

Davidson L, Tondora J, Staehli Lawless M et al (2009) A practical guide to recovery-oriented practice. Oxford University Press, New York

Docherty JP, Kammer DP van, Siris SG, Marder SR (1978) Stages of onset of schizophrenic psvchosis. Am J Psychiatry 135(4):420–426

Emsley R, Chiliza B, Asmal L, Lehloenya K (2011) The concepts of remission and recovery in schizophrenia. Curr Opin Psychiatry 24(2):114–121

Engh JA, Friis S, Birkenaes AB et al (2010) Delusions are associated with poor cognitive insight in schizophrenia. Schizophr Bull 36(4):830–835

Fuchs T (2011) Psychiatry. In: Luft S, Overgaard S (Hrsg) Routledge companion to phenomenology. Routledge, London, S 611–622

Gadamer H-G (1974) Hermeneutik. In: Ritter J, Gründer K, Gabriel G (Hrsg) Historisches Wörterbuch der Philosophie. Schwabe, Basel, S 1061–1073

Geertz C (1973) The interpretation of cultures. Basic books, New York

Gilleen J, Greenwood K, David AS (2011) Domains of awareness in schizophrenia. Schizophr Bull 37(1):61–72

Glaser BG, Strauss AL (1967) The discovery of grounded theory. Strategies for qualitative research. Aldine, Chicago

Gruhle HW (1951) Über den Wahn. Nervenarzt 22(4):125–126

Hambrecht M, Häfner H (1993) "Trema, Apophänie, Apokalypse" – Ist Conrads Phasenmodell empirisch begründbar? Fortschr Neurol Psychiatr 61(12):418–423

Harrow MT, Jobe H (2010) How frequent is chronic multiyear delusional activity and recovery in schizophrenia: a 20-year multi-follow-up. Schizophr Bull 36:192–204

Held K (1995) Edmund Husserl. In: Höffe O (Hrsg) Klassiker der Philosophie, Bd 2. Beck, München, S 274–297

Husserl E (1950/2012) Gesammelte Werke, Bde.1–41: Husserliana. Martinus Nijhoff, Haag

Jäger M, Frasch K, Lang FU, Becker T (2012) Auflösung des Schizophreniebegriffes. Dimensionale Modelle oder Aufteilung in Subtypen? Nervenarzt 83(3):345–354

Jaspers K (1912) Die phänomenologische Forschungsrichtung in der Psychopathologie. In: Jaspers K (Hrsg) Gesammelte Schriften zur Psychopathologie. Springer 1963, Berlin, S 314–328

Jaspers K (1973) Allgemeine Psychopathologie (1913/1946), 4., völlig neu bearbeitete Aufl. Springer, Berlin

Johnson S, Sathyaseelan M, Charles H et al (2012) Insight, psychopathology, explanatory models and outcome of schizophrenia in India: a prospective 5-year cohort study. BMC Psychiatry 12(1):159

Jørgensen P (1994) Course and outcome in delusional beliefs. Psychopathology 27(1/2):89–99

Kahn E (1929) Über Wahnbildung. Arch Psychiatr Nervenkr 88(1):435–454

Kisker K-P, Wulff E (1973) Wahn. In: Machleidt W, Bauer M, Lamprecht F, Rose HK, Rohde-Dachser C (Hrsg) Psychiatrie, Psychosomatik, Psychotherapie. Thieme, Stuttgart, S 320–324

Klosterkötter J (2008) Indizierte Prävention schizophrener Erkrankungen. Dtsch Ärztebl 105(30):532–539

Kuhlenkampff C (1963) Schlußworte zur Diskussion über das Problem der yAbnormen Krise". In: Straus E, Zutt J (Hrsg) Die Wahnwelten. Akademische Verlagsgesellschaft, Frankfurt, S 316–320

Luft S (2008) Zur phänomenologischen Methode in Karl Jaspers' Allgemeine Psychopathologie. In: Rinofner-Kreidl S, Wiltsche HA (Hrsg) Karl Jaspers' Allgemeine Psychopathologie zwischen Wissenschaft, Philosophie und Praxis. Königshausen + Neumann, Würzburg, S 31–51

Luft S, Schlimme JE (2013) The phenomenology of intersubjectivity in Jaspers and Husserl: on the capacities and limits of empathy and communication in psychiatric praxis. Psychopathology 46(5):345–354

Mahler L (2014) Veränderungen der klinischen Praxis und der Stationsstrukturen. In: Mahler L, Jarchov-Jàdi I, Montag C, Gallinat J (Hrsg) Das Weddinger Modell. Resilienz- und Ressourcenorientierung im klinischen Kontext. Psychiatrie Verlag, Köln, S 66–118

Matussek P (1952) Untersuchungen über die Wahnwahrnehmung. I. Mitteilung. Veränderungen der Wahrnehmungswelt bei beginnendem, primären Wahn. Arch Psychiatr Z Neurol 189(1):279–319

Matussek P (1953) Untersuchungen über die Wahnwahrnehmung. II. Mitteilung: Die auf einem abnormen Vorrang von Wesenseigenschaften beruhenden Eigentümlichkeiten der Wahnwahrnehmung. Schweiz Arch Neurol Psychiatr 121(1/2):189–210

Mishara A (2010) Klaus Conrad (1905–1961): Delusional mood, psychosis, and beginning schizophrenia. Schizophr Bull 36(1):9–13

Moller MD, Zauszniewski JA (2011) Psychophenomenology of the post-psychotic adjustment process. Arch Psychiatr Nurs 25(4):253–268

Neisser C (1892) Erörterungen über die Paranoia vom klinischen Standpunkte. Centralbl Nervenheilkd Psychiatr 15(N.F. 3):1–20

Nixon G, Hagen B, Peters T (2010) Recovery from psychosis: a phenomenological inquiry. Int J Ment Health Addict 8(4):620–635

Oevermann U (2001) Die Struktur sozialer Deutungsmuster – Versuch einer Aktualisierung. Sozialer Sinn 3(1):35–81

Parnas J (2012) The core gestalt of schizophrenia. World Psychiatry 11(2):67–69

Ploog DW (1998) Klaus Conrad (1905–1961). In: Schliack H, Hippius H (Hrsg) Nervenärzte. Thieme, Biographien, S 75–85

Quee PJ, Meer L van der, Bruggeman R et al (2011) Insight in psychosis: relationship with neurocognition, social cognition and clinical symptoms depends on phase of illness. Schizophr Bull 37(1):29–37

Rinofner-Kreidl S (2003) Mediane Phänomenologie. Königshausen & Neumann, Würzburg

Rombach H (1993) Strukturanthropologie. Der menschliche Mensch. Alber, Freiburg/Breisgau

Schlimme JE (2009) Paranoid atmospheres: psychiatric knowledge and delusional realities. Philos Ethics Humanit Med 4:14

Schlimme JE (2012) Lived autonomy and chronic mental illness: a phenomenological approach. Theor Med Bioeth 33(6):387–404

Schlimme JE (2013) Depressive habituality and altered valuings – the phenomenology of depressed mental life. J Phenomenol Psychol 44(1):92–118

Schlimme JE (2013) Is acting on delusions autonomous? Philos Ethics Humanit Med 8:14

Schlimme JE (2014) Zu Binswangers Terminus der Verschrobenheit: Handlungsraum und gelebte Autonomie in der Schizophrenie. In: Fuchs T, Breyer T (Hrsg) Ludwig Binswanger. Alber, Freiburg/Breisgau (im Druck)

Schlimme JE, Schwartz MA (2013) In recovery from schizophrenia: regaining social cover, a phenomenological investigation. Psychopathology 46(2):102–110

Schneider K (1966) Klinische Psychopathologie, 7., verbesserte Aufl. Stuttgart

Schwartz MA, Wiggins OP, Spitzer M, Uehlein FA (1992) The phenomenology of schizophrenic delusions. In: Mundt C (Hrsg) Phenomenology, language, and schizophrenia. Springer, Heidelberg, S 305–319

Schwartz MA, Wiggins OP (2004) Phenomenological and hermeneutic models. understanding and interpretation in psychiatry. In: Radden J (Hrsg) The philosophy of psychiatry. Oxford University Press, New York, S 351–363

Stemberger G (2000) Gestalttheoretische Beiträge zur Psychopathologie. Gestalt Theory 22(1):27–46

Strauss GP, Harrow M, Grossman LS, Rosen C (2010) Periods of recovery in deficit syndrome Schizophrenia: a 20-year multi–follow-up longitudinal study. Schizophr Bull 36(4):788–799

Surguladze S, David A (1999) Insight and major mental illness: an update for clinicians. Advances in Psychiatric Treatment 5(3):163–170

Wiggins OP, Schwartz MA (1997) Edmund Husserl's influence in Karl Jaspers' phenomenology. Philosophy Psychiatry Psychology 4(1):15–36

Wiggins OP, Schwartz MA (2001) "The Delirious Illusion of Being in the World": toward a Phenomenology of Schizophrenia. In: Lohmar D, Brudzinska J (Hrsg) Founding psychoanalysis phenomenologically. Springer, Heidelberg, S 337–353

Wulff E (1995) Wahnsinnslogik. Von der Verstehbarkeit schizophrener Erfahrung. Psychiatrie Verlag, Bonn
Einhaltung ethischer Richtlinien
Interessenkonflikt. J.E. Schlimme und B. Brückner geben an, dass kein Interessenkonflikt besteht.
Alle im vorliegenden Manuskript beschriebenen Untersuchungen am Menschen wurden mit Zustimmung der zuständigen Ethikkommission, im Einklang mit nationalem Recht sowie gemäß der Deklaration von Helsinki von 1975 (in der aktuellen, überarbeiteten Fassung) durchgeführt. (Ethikkommission der Charité, Vorgangsnummer EA1/254/12 vom 22.11.2012.) Von allen beteiligten Patienten liegt eine Einverständniserklärung vor.
About this article
Cite this article
Schlimme, J., Brückner, B. Entaktualisierung und Orthostrophe. Nervenarzt 86, 872–883 (2015). https://doi.org/10.1007/s00115-015-4258-0
Published:

Issue Date:

DOI: https://doi.org/10.1007/s00115-015-4258-0
Schlüsselwörter
Schizophrenie

Wahn

Krankheitseinsicht

Remission

Recovery
Keywords
Schizophrenia

Delusion

Insight in psychosis

Remission

Recovery