Zusammenfassung
Hintergrund
Während einer Schwangerschaft erleiden etwa 25 % der Patientinnen mit Multipler Sklerose (MS) einen klinisch relevanten Schub. Fast alle schubmodifizierenden Medikamente sind in der Schwangerschaft kontraindiziert. Die Glukokortikosteroid(GKS)-Pulstherapie ist insbesondere im 1. Trimenon mit teilweise schwerwiegenden Risiken behaftet. Mit der Tryptophan-Immunadsorption (IA) liegt endlich eine risikoarme Option zur Behandlung des MS-Schubes in der Schwangerschaft vor.
Ziel
Erstmals wird der Einsatz der IA bei MS-/Neuromyelitis-optica(NMO)-Schüben in der Schwangerschaft und Stillzeit als Therapieoption anhand von Falldarstellungen beschrieben und bewertet.
Patienten und Methode
Neun Patientinnen wurden retrospektiv analysiert. Sieben Patientinnen erhielten während der Schwangerschaft, 2 während der Stillphase je 4 bis 6 IA-Behandlungen mit dem sterilen Tryptophan-Einmaladsorber. Zielkriterium war die Besserung der Schubsymptomatik.
Ergebnisse
Vier Patientinnen mit einem MS-, eine mit einem NMO-Schub in der Schwangerschaft wurden ohne vorherige GKS-Pulstherapie mit IA behandelt. Die MS-Patientinnen besserten sich auf der EDSS (Expanded Disability Status Scale) um mindestens einen Punkt, die NMO-Patientin verbesserte sich signifikant im Visus. Nach erfolglosem Steroidpuls verbesserte sich bei zwei schwangeren Patientinnen die Schubsymptomatik klinisch relevant nach IA. Zwei Patientinnen wurden während der Stillphase nach Nichtansprechen auf GKS-Pulstherapie mit IA behandelt. In beiden Fällen kam es zu einer Verbesserung der Schubsymptomatik. Die Behandlungen waren gut verträglich, ohne schwerwiegende Nebenwirkungen.
Schlussfolgerung
Die IA erwies sich als sicher, gut verträglich und effektiv in der Behandlung von Schüben der MS/NMO in der Schwangerschaft und Stillphase, z. T. auch ohne vorherige GKS-Pulstherapie. Die Ableitung einer verbindlichen Therapieempfehlung wird jedoch dadurch eingeschränkt, dass keine prospektiven Studiendaten vorliegen.
Summary
Background
Approximately 25 % of women with multiple sclerosis (MS) suffer clinically relevant relapses during pregnancy. Almost all disease-modifying drugs are contraindicated in pregnancy. High-dose glucocorticoids have some serious risks, especially within the first trimester. Tryptophan immunoadsorption (IA) provides a safe option to treat MS relapses during pregnancy.
Objectives
In this case series we describe for the first time the use of tryptophan IA for MS and neuromyelitis optica (NMO) relapses during pregnancy and breastfeeding.
Patients and methods
In this study a total of 9 patients were retrospectively analyzed of which 7 patients received IA treatment during pregnancy, 2 during breastfeeding and 4–6 tryptophan IA treatments were performed per patient with the single use tryptophan adsorber. Primary outcome was symptom improvement of the relapse.
Results
In this study four patients with MS and one with NMO relapse during pregnancy were treated with IA without preceding glucocorticoid pulse therapy. The MS patients showed improvement in the expanded disability status scale (EDSS) by at least one point, the NMO patient showed significant improvement in visual acuity and two pregnant patients with steroid-refractory relapses showed clinically relevant improvement after IA. Of the patients two suffered from steroid-refractory relapses during breastfeeding and relapse symptoms improved in both cases after treatment with IA. All treatments were well tolerated and no serious adverse events occurred.
Conclusion
Tryptophan IA was found to be safe, well-tolerated and effective in the treatment of MS and NMO relapses during pregnancy and breastfeeding, sometimes without preceding glucocorticoid pulse therapy. A binding recommendation is limited without prospective clinical studies.
Access options
Buy single article
Instant access to the full article PDF.
US$ 39.95
Tax calculation will be finalised during checkout.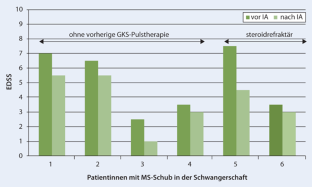 Abbreviations
EDSS:

Expanded Disability Status Scale

GKS:

Glukokortikosteroide

IA:

Tryptophan-Immunadsorption

INF-β:

Beta-Interferon

IQR:

Interquartilsabstand

IVIG:

intravenöse Immunglobulingabe

MS:

Multiple Sklerose

NMO:

Neuromyelitis optica

ON:

Optikusneuritis

RRMS:

relapsing-remitting MS

SSW:

Schwangerschaftswoche
Literatur
1.

Bontadi A, Ruffatti A, Marson P et al (2012) Plasma exchange and immunoadsorption effectively remove antiphospholipid antibodies in pregnant patients with antiphospholipid syndrome. J Clin Apher 27:200–204

2.

Bourre B, Marignier R, Zéphir H et al (2012) Neuromyelitis optica and pregnancy. Neurology 78:875–879

3.

Diener H-C, Weimar C (Hrsg) (2012) Leitlinien für Diagnostik und Therapie in der Neurologie der Deutschen Gesellschaft für Neurologie. Thieme, Stuttgart. DGN/KKNMS Leitlinie zur Diagnose und Therapie der MS – Online Version Stand 23.04.2014. http://www.dgn.org/leitlinien.html

4.

Fragoso YD, Adoni T, Bichuetti DB et al (2013) Neuromyelitis optica and pregnancy. J Neurol 260(10):2614–2619

5.

Hellwig K (2014) Pregnancy in multiple sclerosis. Eur J Neurol 72(Suppl 1):39–42

6.

Hellwig K, Haghikia A, Rockhoff M et al (2012) Multiple sclerosis and pregnancy: experience from a nationwide database in Germany. Ther Adv Neurol Disord 5(5):247–253

7.

Hellwig K, Haghikia A, Agne H et al (2009) Protective effect of breastfeeding in postpartum relapse rate of mothers with multiple sclerosis. Arch Neurol 66:1580–1581 (author reply: 1581)

8.

Hickstein H, Külz T, Claus R et al (2005) Autoimmune-associated congenital heart block: treatment of the mother with immunoadsorption. Ther Apher Dial 9(2):148–153

9.

Hoffman LA, Kümpfel T, Heer I, Hohlfeld R (2006) "Andere Umstände": Schwangerschaft und immunmodulatorische Therapie bei MS. Nervenarzt 77:663–670

10.

Heigl F, Hettich R, Arendt R et al (2013) Immunoadsorption in steroid-refractory multiple sclerosis: clinical experience in 60 patients. Atheroscler Suppl 14:167–173

11.

Klingel R, Heibges A, Fassbender C (2013) Neurologic diseases of the central nervous system with pathophysiologically relevant autoantibodies – perspectives for immunoadsorption. Atheroscler Suppl 14:161–165

12.

Kobayashi M, Nanri K, Taguchi T et al (2014) Immunoadsorption therapy for neuromyelitis optica spectrum disorders long after the acute phase. J Clin Apher. doi:10.1002/jca.21324 (Epub ahead of print)

13.

Köhler W, Bucka C, Klingel R (2011) A randomised and controlled clinical study comparing immunoadsorption and plasma exchange in myasthenic crisis. J Clin Apher 26:347–355

14.

Köhler W, Ehrlich S, Dohmen C et al (2014) Tryptophan Immunoadsorption for the treatment of autoimmune encephalitis. Eur J Neurol. doi:10.1111/ene.12389 (im Druck)

15.

Koziolek M, Tampe D, Bähr M et al (2012) Immunoadsorption therapy in patients with multiple sclerosis with steroid-refractory optical neuritis. J Neuroinflammation 9:80

16.

Koziolek M, Mühlhausen J, Friede T et al (2013) Therapeutic apheresis in pediatric patients with acute CNS inflammatory demyelinating disease. Blood Purif 36:92–97

17.

Mauch E, Zwanzger J, Hettich R et al (2011) Immunadsorption bei steroidrefraktärem Schub der Multiplen Sklerose. Nervenarzt 82:1590–1595

18.

Morgan SM, Zantek ND, Carpenter AF (2014) Therapeutic plasma exchange in neuromyelitis optica: a case series. J Clin Apher 29:171–177

19.

Nakamura Y, Yoshida K, Ito S et al (1999) Immunoadsorption plasmapheresis as a treatment for pregnancy complicated by systemic lupus erythematosus with positive antiphospholipid antibodies. Am J Reprod Immunol 41(5):307–311

20.

Park-Wyllie L, Mazzotta P, Pastuszak A et al (2000) Birth defects after maternal exposure to corticosteroids: prospective cohort study and meta-analysis of epidermiological studies. Teratology 62(6):385–392

21.

Petersen G, Wittmann R, Arndt V et al (2014) Epidemiologie der Multiplen Sklerose in Deutschland. Nervenarzt 85(8):990–998

22.

Schilling S, Linker R, König F et al (2006) Plasmaaustausch bei steroidresistenten Multiple Sklerose Schüben – Klinische Erfahrungen an 16 Patienten. Nervenarzt 77:430–438

23.

Schimrigk S, Adibi I, Eberl A et al (2012) Immunadsorption zur Eskalation der Schubtherapie bei MS. Aktuel Neurol 39:174–179

24.

Schröder A, Fischer M, Meyer C et al (2009) Plasmapherese in der Eskalationstherapie der Multiplen Sklerose: Verlaufsbeobachtung an 35 Patienten. Aktuel Neurol 36:105–110

25.

Schröder A, Yoon MS, Kleiter I et al (2012) Eskalierende Schubtherapie mittels Immunadsorption bei der Neuromyelitits optica. P671 Abstract CD 85. Kongress der Deutschen Gesellschaft für Neurologie ISSN 2192-9394

26.

Trebst C, Reising A, Kielstein J et al (2009) Plasma exchange therapy in steroid unresponsive relapses in patients with multiple sclerosis. Blood Purif 28:108–115

27.

Trebst C, Bronzlik P, Kielstein J et al (2012) Immunoadsorption therapy for steroid-unresponsive relapses in patients with multiple sclerosis. Blood Purif 33:1–6

28.

Trebst C, Jarius S, Berthele A et al (2013) Update on the diagnosis and treatment of neuromyelitis optica: recommendations of the neuromyelitis optica study group (NEMOS) J Neurol. doi:10.1007/s00415-013-7169-7

29.

Weinshenker BG, O'Brien PC, Petterson TM et al (1999) A randomized trial of plasma exchange in acute central nervous system inflammatory demyelinating disease. Ann Neurol 46:878–886

30.

Westermann L, Hügel R, Meier M et al (2012) Glucocorticosteroid-resistant pemphigoid gestations: successful treatment with adjuvant immunoadsorption. J Dermatol 39(2):168–171
Einhaltung ethischer Richtlinien
Interessenkonflikt. F. Hoffmann erhielt Forschungszuwendungen, Vortrags- und Beratungshonorare von folgenden Unternehmen: Allergan, Bayer, Biogen, Boehringer Ingelheim, CSL Behring, DIAMED Medizintechnik,, Genzyme, Grifols, Ipsen, Merck-Serono, Merz, Novartis, Octapharm, Pfizer, Teva, Talecris, UCB. F. Heigl erhielt Vortragshonorare von B Braun, Melsungen' Fresenius Medical Care, Bad Homburg und DIAMED Medizintechnik, Köln. A. Kraft erhielt Forschungszuwendungen, Vortragshonorare, Reiseunterstützungen, Beratungshonorare von folgenden pharmazeutischen Unternehmen: Allergan, Bayer, Boehringer Ingelheim, DIAMED Medizintechnik, Genzyme, Ipsen, Merz, Pfizer. L. Harms erhielt Vortragshonorare von Biogen Idec, Bayer, Novartis, Merck-Serono und DIAMED Medizintechnik. Er ist tätig im Beratungsausschuss für Biogen Idec, Novartis, Genzyme und TEVA und hat Unterstützung für Reisetätigkeiten von TEVA, Merck Serono und Biogen Idec erhalten. W. Köhler erhielt Vortragshonorare und Unterstützung für wissenschaftliche Projekte von Allergan, Bayer Vital, Biogen Idec, DIAMED Medizintechnik, Meda, Merck Serono, Novartis, Temmler, Teva. R. Klingel und C. Fassbender sind Mitarbeiter des Apherese Forschungsinstitutes, welches finanzielle Unterstützung für Forschungsprojekte von den Firmen ASAHI Kasei Medical, Tokyo und DIAMED Medizintechnik, Köln erhalten hat. S. Schimrigk erhielt Forschungszuwendungen, Vortrags- und Beratungshonorare von folgenden Unternehmen: Bayer vital, Biogen Idec, DIAMED Medizintechnik, Genzyme, Novartis, Pfizer, Teva-Aventis. Alle im vorliegenden Manuskript beschriebenen Untersuchungen am Menschen wurden mit Zustimmung der zuständigen Freiburger Ethik-Kommission International, im Einklang mit nationalem Recht sowie gemäß der Deklaration von Helsinki von 1975 (in der aktuellen, überarbeiteten Fassung) durchgeführt (feki Code: 014/1756). Von allen beteiligten Patienten liegt eine Einverständniserklärung vor.
About this article
Cite this article
Hoffmann, F., Kraft, A., Heigl, F. et al. Tryptophan-Immunadsorption bei Multipler Sklerose und Neuromyelitis optica. Nervenarzt 86, 179–186 (2015). https://doi.org/10.1007/s00115-014-4239-8
Schlüsselwörter
Multiple Sklerose

Neuromyelitis optica

Schwangerschaft

Schub

Immunadsorption
Keywords
Multiple sclerosis

Neuromyelitis optica

Pregnancy

Relapse

Immunoadsorption