Zusammenfassung
Der Morbus Pompe/Glykogenspeichererkrankung Typ 2 ist eine seltene Stoffwechselerkrankung, die die Lebenserwartung der Patienten deutlich reduziert. Die seit einiger Zeit zur Verfügung stehenden therapeutischen Möglichkeiten eröffnen nun jedoch Behandlungsoptionen für diese Patienten, sodass eine konsequente Diagnostik der Erkrankung zu fordern ist. Daher wurden eine internationale Literaturübersicht zu etablierten Konsensusreporten sowie publizierte Studiendaten zum Late-onset-Morbus-Pompe im Rahmen eines Delphi-Verfahrens zusammengefasst. Nach klinischer Verdachtsdiagnose hat sich als Screeningmethode der einfache und preiswerte Trockenbluttest mit Bestimmung der sauren α-Glucosidase-Aktivität bewährt. Alternativ kann aus Lymphozyten ebenfalls eine sichere Aktivitätsbestimmung durchgeführt werden. Die genetische Untersuchung des GAA-Gens sollte die Diagnose absichern. In Einzelfällen muss differenzialdiagnostisch weiterhin eine Muskelbiopsie mit Bestimmung der sauren α-Glucosidase-Aktivität und der Glykogenkonzentration durchgeführt werden. Die gesicherte Diagnose ermöglicht die interdisziplinäre symptomatische Behandlung der Krankheit mit ggf. einer Indikation zur Enzymersatztherapie.
Summary
As Pompe disease glycogen storage disease type 2 with a severely reduced life expectancy is now a treatable disorder, accurate diagnostic procedures and evidence-based indications for therapy are mandatory. We screened the literature for consensus reports and published trial data of late-onset Pompe disease. These data were summarized in a Delphi consensus method approach. The clinical suspicion of late-onset Pompe disease should be substantiated by the validated dry blood spot test measurement for acid α-glucosidase activity. Alternatively, enzyme activity analysis in lymphocytes is also feasible. Glucosidase α gene sequencing for verifying the diagnosis is recommended. A muscle biopsy including measurements of acid α-glucosidase activity and glycogen concentration is warranted for differential diagnosis in selected cases. The confirmed diagnosis should lead to a multidisciplinary treatment approach, possibly including enzyme replacement therapy.
Access options
Buy single article
Instant access to the full article PDF.
USD 39.95
Price excludes VAT (USA)
Tax calculation will be finalised during checkout.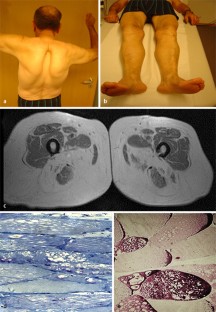 Literatur
Angelini C, Semplicini C, Ravaglia S et al (2012) Observational clinical study in juvenile-adult glycogenosis type 2 patients undergoing enzyme replacement therapy for up to 4 years. J Neurol 259:952–958

Barba-Romero MA, Barrot E, Bautista-Lorite J et al (2012) Clinical guidelines for late-onset Pompe disease. Rev Neurol 54:497–507

Bembi B, Cerini E, Danesino C et al (2008) Diagnosis of glycogenosis type II. Neurology 71:S4–S11

Bembi B, Pisa FE, Confalonieri M et al (2010) Long-term observational, non-randomized study of enzyme replacement therapy in late-onset glycogenosis type II. J Inherit Metab Dis 33:727–735

Cupler EJ, Berger KI, Leshner RT et al (2012) Consensus treatment recommendations for late-onset Pompe disease. Muscle Nerve 45:319–333

Disease; Guidelines for the Investigation and Management of Late Onset Acid Maltase Deficieny UK. http://www.specialisedservices.nhs.uk/library/23/Guidelines_for_Lat

Finder JD, Birnkrant D, Carl J et al (2004) Respiratory care of the patient with Duchenne muscular dystrophy: ATS consensus statement. Am J Respir Crit Care Med 170:456–465

Forsha D, Li JS, Smith PB et al (2011) Late-onset treatment study investigators: cardiovascular abnormalities in late-onset Pompe disease and response to enzyme replacement therapy. Genet Med 13:625–631

Hagemans ML, Winkel LP, Van Doorn PA et al (2005) Clinical manifestation and natural course of late-onset Pompe's disease in 54 Dutch patients. Brain 128:671–677

Hagemans ML, Laforêt P, Hop WJ et al (2007) Impact of late-onset Pompe disease on participation in daily life activities: evaluation of the Rotterdam Handicap Scale. Neuromuscul Disord 17:537–543

Llerena JC Jr, Horovitz DM, Marie SK et al (2009) The Brazilian consensus on the management of Pompe disease. J Pediatr 155:S47–S56

Mechtler TP, Stary S, Metz TF et al (2012) Neonatal screening for lysosomal storage disorders: feasibility and incidence from a nationwide study in Austria. Lancet 379:335–341

Mellies U, Ragette R, Schwake C et al (2001) Sleep-disordered breathing and respiratory failure in acid maltase deficiency. Neurology 57:1290–1295

Müller-Felber W, Horvath R, Gempel K et al (2007) Late onset Pompe disease: clinical and neurophysiological spectrum of 38 patients including long-term follow-up in 18 patients. Neuromuscul Disord 17:698–706

National guidelines on the diagnosis and treatment of Pompe disease in Belgium. http://www.boks.be/site/index.php/content/view/42/50/lang,nl/

Parenti G, Andria G (2011) Pompe disease: from new views on pathophysiology to innovative therapeutic strategies. Curr Pharm Biotechnol 12:902–915

Patel TT, Banugaria SG, Case LE et al (2012) The impact of antibodies in late-onset Pompe disease: a case series and literature review. Mol Genet Metab 106:301–309

Pellegrini N, Laforet P, Orlikowski D et al (2005) Respiratory insufficiency and limb muscle weakness in adults with Pompe's disease. Eur Respir J 26:1024–1031

Regnery C, Kornblum C, Hanisch F et al (2012) 36 months observational clinical study of 38 adult Pompe disease patients under alglucosidase alfa enzyme replacement therapy. J Inherit Metab Dis 35:837–845

Roberts M, Kishnani PS, Ploeg AT van der et al (2011) The prevalence and impact of scoliosis in Pompe disease: lessons learned from the Pompe Registry. Mol Genet Metab 104:574–582

Sacconi S, Bocquet JD, Chanalet S et al (2010) Abnormalities of cerebral arteries are frequent in patients with late-onset Pompe disease. J Neurol 257:1730–1733

Schoser B, Müller-Höcker J, Gempel K et al (2007) Glycogen storage disease type 2: clinico-pathological phenotype revisited. Neuropathol Appl Neurobiol 33:544–559

Schüller A, Wenninger S, Strigl-Pill N, Schoser B (2012) Toward deconstructing the phenotype of late-onset Pompe disease. Am J Med Genet C Semin Med Genet 160:80–88

Slonim AE, Bulone L, Goldberg T et al (2000) Modification of the natural history of adult-onset acid maltase deficiency by nutrition and exercise therapy. Muscle Nerve 35:70–77

Strothotte S, Strigl-Pill N, Grunert B et al (2010) Enzyme replacement therapy with alglucosidase alfa in 44 patients with late-onset glycogen storage disease type 2: 12-month results of an observational clinical trial. J Neurol 257:91–97

Toscano A, Schoser B (2013) Enzyme replacement therapy in late-onset Pompe disease: a systematic literature review. J Neurol 260:951–959

Ploeg AT van der, Clemens PR, Corzo D et al (2010) A randomized study of alglucosidase alfa in late-onset Pompe's disease. N Engl J Med 362:396–406

Capelle CI van, Beek NA van der, Hagemans ML et al (2010) Effect of enzyme therapy in juvenile patients with Pompe disease: a three-year open-label study. Neuromuscul Disord 20:775–782

Ploeg AT van der, Reuser AJ (2008) Pompe's disease. Lancet 372:1342–1345

Winkel LP, Hagemans ML, Doorn PA van et al (2005) The natural course of non-classic Pompe's disease; a review of 225 published cases. J Neurol 252:875–884
Einhaltung ethischer Richtlinien
Interessenkonflikt. PD Dr. Kornblum, Prof. Dr. Deschauer, Prof. Dr. Vorgerd, Dr. Schrank, Dr. Mengel, Dr. Lukacs, Prof. Dr. P. Young, Prof. Dr. Plöckinger, Prof. Dr. Schoser erhielten Referentenhonorare der Firma Genzyme, a Sanofi company, Deutschland und USA. Prof. Dr. Schoser ist Mitglied des Global Pompe advisory boards der Firma Genzyme, a Sanofi Company, USA und Mitglied des Pompe Advisory boards der Firma Biomarin LTD, USA. A. Schüller und D. Gläser: keine Angaben. Dieser Beitrag beinhaltet keine Studien an Menschen oder Tieren. Alle Patienten, die über Bildmaterial oder anderweitige Angaben innerhalb des Manuskripts zu identifizieren sind, haben hierzu ihre schriftliche Einwilligung gegeben. Im Falle von nicht mündigen Patienten liegt die Einwilligung eines Erziehungsberechtigen oder des gesetzlich bestellten Betreuers vor.
About this article
Cite this article
Schüller, A., Kornblum, C., Deschauer, M. et al. Diagnose und Therapie des Late-onset-Morbus-Pompe. Nervenarzt 84, 1467–1472 (2013). https://doi.org/10.1007/s00115-013-3947-9
Published:

Issue Date:

DOI: https://doi.org/10.1007/s00115-013-3947-9
Schlüsselwörter
Morbus Pompe

Glykogenspeichererkrankung Typ 2

Diagnostik

Therapie

Konsensus
Keywords
Pompe disease

Glycogen storage disease type 2

Diagnostics

Therapy

Consensus