Zusammenfassung
Es werden zwei Patienten mit einer myofibrillären Myopathie mit spätem Manifestationsalter aufgrund einer Ala147Thr-Mutation im ZASP-Gen vorgestellt. Das ZASP-Gen kodiert für ein Z-Scheiben-assoziiertes Protein. Der bisher bekannte Phänotyp dieser Mutation Ala147Thr ist durch eine distale Muskelschwäche gekennzeichnet, die immer auch von proximalen Paresen begleitet war. Die hier vorgestellten zwei Fälle zeigen einen rein distalen klinischen Phänotyp der Beine mit Erstmanifestation nach dem 60. Lebensjahr, ohne dass sich im Verlauf von 6 bzw. 19 Jahren eine proximale Muskelschwäche oder eine Beteiligung der Hand- und Unterarmmuskulatur entwickelte.
Summary
This article describes two patients with late onset myofibrillary myopathy due the ZASP mutation Ala147Thr. The Z-band alternatively spliced PDZ motif containing protein (ZASP) is a sarcomeric protein and interacts with α-actinin at the Z-disk. So far, myopathy due the ZASP mutation Ala147Thr was usually associated with distal and proximal involvement. The two patients with the ZASP mutation Ala147Thr described here showed only distal involvement of the legs without proximal weakness and involvement of the upper limb 6 and 19 years after onset of muscle weakness, respectively.
Access options
Buy single article
Instant access to the full article PDF.
USD 39.95
Price includes VAT (USA)
Tax calculation will be finalised during checkout.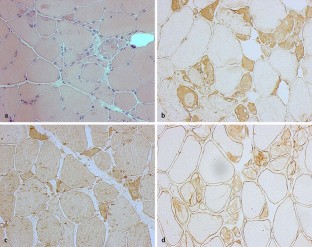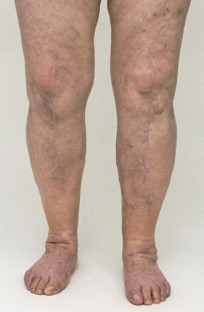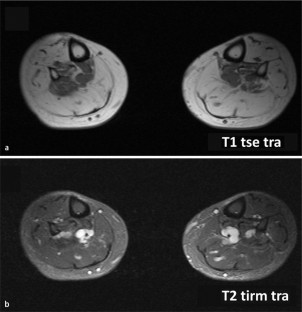 Literatur
1.

Au Y, Atkinson RA, Guerrini R et al (2004) Solution structure of ZASP-PDZ domain: implications for sarcomere ultrastructure and enigma family redundancy. Structure 12:611–622

2.

Griggs R, Vihola A, Hackman P et al (2007) Zaspopathy in a large classic late-onset distal myopathy family. Brain 130:1477–1484

3.

Markesbery WR, Griggs RC, Leach RP, Lapham LW (1974) Late onset hereditary distal myopathy. Neurology 24:127–134

4.

Selcen D, Ohno K, Engel AG (2004) Myofibrillar myopathy: clinical, Morphological and genetic studies in 63 patients. Brain 127:439–451

5.

Selcen D, Engel AG (2004) Mutations in myotilin cause myofibrillar myopathy. Neurology 62:1363–1371

6.

Selcen D, Engel AG (2005) Mutations in ZASP define a novel form of muscular dystrophy in humans. Ann Neurol 57:269–276

7.

Udd B, Griggs R (2001) Distal myopathies. Curr Opin Neurol 14:561–566

8.

Udd B (2007) Molecular biology of distal muscular dystrophies – sarcomeric proteins on top. Biochim Biophys Acta 1772:145–158

9.

Udd B (2012) Distal myopathies – new genetic entities expand diagnostic challenge. Neuromuscul Disord 22:5–12

10.

Olivé M, Odgerel Z, Martínez A et al (2011) Clinical and myopathological evaluation of early- and late-onset subtypes of myofibrillar myopathy. Neuromuscul Disord 21:533–542
Danksagung
Herrn Dr. med. Frank Hanisch danken wir für die histologischen Bilder.
Interessenkonflikt
Der korrespondierende Autor gibt für sich und seine Koautoren an, dass kein Interessenkonflikt besteht.
About this article
Cite this article
Kraya, T., Kress, W., Stoevesant, D. et al. Myofibrilläre Myopathie bei ZASP-Mutation Ala147Thr. Nervenarzt 84, 209–213 (2013). https://doi.org/10.1007/s00115-012-3689-0
Schlüsselwörter
Muskelerkrankungen

Distale Myopathie

Markesbery-Griggs

Myofibrilläre Myopathie

ZASP
Keywords
Muscle diseases

Late onset distal myopathy

Markesbery-Griggs

Myofibrillary myopathy

ZASP