Zusammenfassung
Hintergrund
Das im Jahr 1992 in Kraft getretene Betreuungsrecht löste das langjährige Entmündigungs-, Vormundschafts- und Gebrechlichkeitspflegschaftsrecht mit der Intention ab, das überkommene paternalistisch-restriktive Modell durch ein partnerschaftlich angelegtes Hilfesystem zu ersetzen.
Methoden
Es werden insgesamt 12 verschiedene Betreuungsparameter auf Bundesebene aggregiert im Sinne einer Vollerhebung untersucht (1992–2009). Die Hauptquelle für die Rohdaten sind Gesamtübersichten des Bundesjustizministeriums bzw. des Bundesamtes für Justiz. Die Zeitreihen werden mit Veränderungsraten versehen, graphisch dargestellt und mittels Regressionsanalysen auf signifikante Veränderungen untersucht.
Ergebnisse
Es steigen alle untersuchten Parameter weitgehend parallel. Die höchsten Anstiege sind für Erweiterung der Aufgabenkreise (+606%) und für Genehmigung von unterbringungsähnlichen Maßnahmen (+868%) zu verzeichnen. Mit Ausnahme der Unterbringungsraten liegen die mittleren Werte aller Variablen in den neuen Bundesländern höher als in den alten, hier aber mit einer höheren Streuung. Die Erstbetreuungsraten stiegen nur für die alten Bundesländer signifikant (T(9)=6,64; p=0,007), die Betreuungskosten lagen in den neuen nicht signifikant höher als in den alten.
Diskussion
Trotz der Veränderungen in die Richtung eines dynamischen Instrumentes im Dienste der Patienten zeigt die Praxis der Anwendung des neuen Betreuungsrechts eine stetige expansive Tendenz in der Anordnung von neuen Betreuungen. Da bislang keine Abflachung des Anstiegs der Betreuungsanordnungen in Sicht ist, erscheint den Autoren notwendig zu sein, die für die Umsetzung des Betreuungsrechts Verantwortlichen zu einer kritischen Reflexion ihrer alltäglichen Praxis aufzurufen.
Summary
Background
The Guardianship Law became effective in the year 1992 with the intention of replacing the paternalistic-restrictive model by a model based on the principles of participation and empowerment.
Methods
Data from the Federal Ministry of Justice were used to examine the development of 12 legal guardianship parameters over a period of 17 years (1992–2009) at the level of federal states. Due to the completely different practise in both parts of Germany before reunification, the development will be analysed separately for the old and the new federal states.
Results
All examined parameters indicate an increase of legal guardianship. The highest increases were found for enlargement of the task scope (+606%) and for approval of contention measures (+868%). With the exception of involuntary commitment rates, in the new federal states the mean values of all variables score higher than in the old federal states. Legal guardianship installation only increased for the old federal states significantly (T(9)=6.64; p=0.007); however, the guardianship expenses were higher, but not significantly, for the new federal states.
Discussion
In spite of the legal changes in the direction of a dynamic instrument in mental health care, the practise of the Legal Guardianship Law indicates a continuous increase of guardianship orders since 1992. It is necessary to recognise that a slowdown of the upward trend is not in sight. Therefore it is pertinent to call those persons in charge of regulating legal guardianship to consider their daily practise carefully. On the other hand it is a task of mental health services research to analyse the driving factors of the presented developments.
Access options
Buy single article
Instant access to the full article PDF.
USD 39.95
Price excludes VAT (USA)
Tax calculation will be finalised during checkout.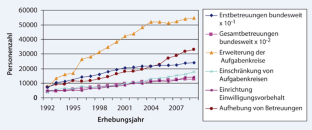 Literatur
Bandy RJ, Helft PR, Bandy RW, Torke AM (2010) Medical decision-making during the guardianship process for incapacitated, hospitalized adults: a descriptive cohort study. J Gen Intern Med 25(10):1003–1008

Blanke U, Wildt BT te, Emrich HM (2008) Rechtliche Betreuungen. Eine umfassende Beratung fehlt. Dtsch Arztebl 105(40):A2088–A2091

Budde L (2009) Betreuungsrecht. 9. Aufl. dtv, Beck-Texte, München

Bundesministerium für Justiz (2010) Justizstatistik, GÜ2, Referat RB 6 und III 3. www.bmj.de/emid; seit 2007 Bundesamt für Justiz (BfJ), Bonn, www.bundesjustizamt.de

Comas-Herrera A, Northey S, Wittenberg R et al (2010) Future costs of dementia-related long-term care: exploring future scenarios. Int Psychogeriatr (4):1–11

Crefeld W, Kunze H, Jagoda B, Aktion Psychisch Kranke (Hrsg) (1996) Das Betreuungswesen und seine Bedeutung für die gemeindepsychiatrische Versorgung. Rheinland-Verlag, Köln

Deinert H (2000) Unterbringung, unterbringungsähnliche Maßnahmen, Zwangsbehandlungen. Niedersächsisches Landesamt für Soziales, Jugend und Familie in Kooperation mit der Fachhochschule Münster, 2009 [Betreuertätigkeit und Freiheitsentziehung nach den PsychKGen. Bt Prax, S 191]

Deinert H (2009) Zusammenstellung, Auswertung und Gestaltung von Daten zu Verfahren nach dem Betreuungsgesetz. www wiki.btprax.de/Betreuungszahlen und jährliche Aufstellungen. Bt Prax, S 273

Deutscher Bundestag (1997, 2010) Drs. 13/7133 vom 05.03.1997; eine neue Bundestagsanfrage der Fraktion Bündnis 90/die Grünen vom 30.06.2010 (Drs. 17/2376) an die Bundesregierung ist noch nicht beantwortet

Gerhards W (2003) Nachbesserung des Betreuungsrechts. NRW-Justizministerium. Düsseldorfer Landtag 10.06.2003

Gesetz zur Reform des Rechts der Vormundschaft und Pflegschaft für Volljährige (Betreuungsgesetz –Btg) www.bundesrecht.juris.de/bgb/fgg

Gove D, Georges J (2001) Perspectives on legislation relating to the rights and protection of people with dementia in Europe. Aging Ment Health 5(4):316–321

Gravisk M, Greene E (2007) Guardianship determinations by judges, attorneys and guardians. Behav Sci Law 25(3):339–353

Haebler D v, Beuscher H, Fähndrich E et al (2007) Wie offen kann die Psychiatrie sein? Zwangseinweisungen in zwei innerstädtischen Berliner Bezirke. Dtsch Arztbl 104:C1048–C1052

Jürgens A, Kröger D, Marschner R, Winterstein P (1992) Das neue Betreuungsrecht – Eine systemische Gesamtdarstellung. 2. Aufl. C.H. Beck, München

Kallert TW (2008) Coercion in Psychiatry. Curr Opin Psychiatry 21(5):485–489

Lemke SP, Schaefer JA (2010) Recent changes in the prevalence of psychiatric disorders among VA nursing home residents. Psychiatr Serv 61(4):356–363

Melamed Y, Kimchi R, Barak Y (2000) Guardianship for the severely mentally ill. Med Law 19(2):321–326

Melamed Y, Doron I, Shnitt D (2007) Guardianship for people with mental disorders. Soc Sci Med 65(6):1118–1123

Müller P (2004) Zwangseinweisungen nehmen zu. Dtsch Arztbl 101:A2794–A2798

Müller P, Josipovic T (2003) Unfreiwillige Einweisungen nach Betreuungsrecht nehmen zu. Psychiat Prax 30:108–113

Probst M (2009) Betreuungs- und Unterbringungsverfahren. Für die gerichtliche, anwaltliche und behördliche Betreuungspraxis. Erich Schmidt, Berlin

Salize HJ, Spengler A, Dressing H (2007) Zwangseinweisungen psychisch Kranker – wie spezifisch sind die Unterschiede in den Bundesländern? Psychiat Prax 34 (Suppl 2):196–202

Spengler Dressing H, Koller M, Salize HJ (2005) Zwangseinweisungen – Bundesweite Basisdaten und Trends. Nervenarzt 76:363–370

Statistisches Bundesamt Wiesbaden – Bevölkerung. www.destatis.de

Statistische Ämter des Bundes und der Länder – Volkswirtschaftliche Gesamtrechnungen der Länder. www.vgrdl.de

Thiel A, Röttgers HR (2006) Zwangsbehandlung von psychisch kranken Menschen nach dem Betreuungsrecht. Psychiat Prax 33:194–202

Valdes-Stauber J, Putzhammer A, Kilian R (2011) Die Entwicklung von Betreuungs- und Unterbringungsmaßnahmen in einer bayerischen Versorgungsregion im Vergleich zum Bundes- und Landestrend für den Zeitraum 1999 bis 2009. Psychiat Prax 38:190–197

Valdes-Stauber J, Deinert H, Kilian R (2011) Deutsche Unterbringungsrechtliche Praxis auf Bundes- und Länderebene (1992–2009). Fortschr Neurol Psychiat (im Druck)
Interessenkonflikt
Der korrespondierende Autor gibt an, dass kein Interessenkonflikt besteht.
About this article
Cite this article
Valdes-Stauber, J., Deinert, H. & Kilian, R. Auswirkungen des Betreuungsgesetzes im wiedervereinigten Deutschland (1992–2009). Nervenarzt 83, 644–652 (2012). https://doi.org/10.1007/s00115-011-3327-2
Published:

Issue Date:

DOI: https://doi.org/10.1007/s00115-011-3327-2
Schlüsselwörter
Betreuung

Rechtliche Unterbringung

Betreuungsgesetz

Betreuungskosten

Psychiatrische Versorgung
Keywords
Guardianship

Involuntary commitment

Guardianship Law

Expenses for guardianship

Psychiatric care