Zusammenfassung
Hintergrund
Die Parkinson-Krankheit (PK) ist häufig durch Demenz und Depression gekennzeichnet, die den Krankheitsverlauf erschweren und das Risiko einer Pflegebedürftigkeit zusätzlich erhöhen können. Über die genauen Zusammenhänge zwischen PK und diesen Komplikationen liegen für Ambulanzpatienten jedoch bislang keine Zahlen vor.
Patienten und Methode
Bundesweit wurden 1449 Patienten mit PK von 315 niedergelassenen Fachärzten untersucht. Neben dem neurologischen Zustand und der Pflegebedürftigkeit wurden auch demenzielle Syndrome nach DSM-IV-Kritierien sowie Depressionen mit der Montgomery-Asberg Depression Rating Scale (MADRS) dokumentiert.
Ergebnisse
Insgesamt 18,3% der Patienten waren pflegebedürftig, hiervon hatten 51,9% und 43,2% die Pflegestufen I und II. Auch nach Kontrolle des PK-Schweregrads hatten Patienten mit Depression (OR=2,8, 95%-KI:1,8–4,3), Demenz (OR=2,7; 95%-KI:1,8–4,1) bzw. mit beiden Störungen (OR=3,9, 95%-KI:2,5–6,0) ein höheres Risiko für Pflegebedürftigkeit als Patienten ohne diese Störungen. Patienten ≥76 Jahre hatten ein 4fach höheres Risiko für eine Pflegestufe als Patienten ≤65 Jahre (OR=3,5, 95%-KI:2,3–5,5). Über die Altersgruppen hinweg nahm das Risiko, pflegebedürftig zu werden, bei depressiven Patienten am stärksten zu (von 11,9% auf 42,0%).
Schlussfolgerung
Das Risiko für eine Pflegebedürftigkeit ist bei Demenz und Depression stark erhöht. Die Daten legen insbesondere für die Depression als Einzelkomplikation eine vergleichbar hohe Krankheitslast nahe wie für die Demenz.
Summary
Background
Parkinson's disease (PD) is frequently accompanied by dementia or depression which can aggravate the clinical picture of the disease and increase the risk of care dependency (CD). Little is known about the associations between PD, these neuropsychiatric comorbidities and CD in outpatients.
Patients and methods
A nationwide sample of outpatients (n=1,449) was examined by office-based neurologists (n=315) comprising the documentation of the general, neurological status and the degree of CD. The dementia status was clinically rated according to the established DSM-IV criteria. Depression was screened with the Montgomery-Asberg Depression Rating Scale (MADRS).
Results
Overall, 18.3% of all patients were care dependent. Even after adjustment for PD severity, patients with depression (OR=2.8; 95% CI 1.8–4.3), dementia (OR=2.7; 95% CI 1.8–4.1) or both (OR=3.9; 95% CI 2.5–60,0) were at higher risk for CD than patients without dementia or depression. Patients aged ≥76 years were fourfold more likely to be care dependent than patients aged ≤65 years (OR=3.5; 95% CI 2.3–5.5). Across all age groups, patients with depression featured the highest increments (from 11.9 to 42.0%).
Conclusion
The risk for CD is substantially elevated in outpatients with PD when further neuropsychiatric symptoms are present. The data suggest that depression contributes equally to disability as does dementia.
Access options
Buy single article
Instant access to the full article PDF.
US$ 39.95
Tax calculation will be finalised during checkout.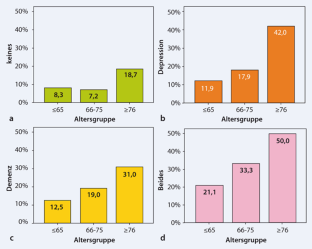 Literatur
1.

Aarsland D, Andersen K, Larsen JP et al (2003) Prevalence and characteristics of dementia in Parkinson's disease – an 8-year prospective study. Arch Neurol 60:387–392

2.

Aarsland D, Larsen JP, Lim NG et al (1999) Range of neuropsychiatric disturbances in patients with Parkinson's disease. J Neurol Neurosurg Psychiatry 67:492–496

3.

Aarsland D, Larsen JP, Tandberg E, Laake K (2000) Predictors of nursing home placement in Parkinson's disease: a population-based, prospective study. J Am Geriatr Soc 48:938–942

4.

Aarsland D, Zaccai J, Brayne C (2005) A systematic review of prevalence studies of dementia in Parkinson's disease. Mov Disord 20:1255–1263

5.

American Psychiatric Association (2000) Diagnostic and statistical manual of mental disorders – text revision. Am Psychiatr Assoc, Washington, DC

6.

Brand S, Dodel R, Hautzinger M et al (2007) Depression bei M. Parkinson. Nervenarzt 78:715–728

7.

Chaudhuri K, Healy D, Schapira A (2006) Non-motor symptoms of Parkinson's disease: diagnosis and management. Lancet Neurol 5:235–245

8.

Dodel R, Singer M, Köhne-Volland R et al (1998) The economic impact of Parkinson's disease – an estimation based on a 3-month prospective analysis. Pharmacoeconomics 14:299–312

9.

Ehret R, Balzer-Geldsetzer M, Reese JP et al (2009) Direct costs for Parkinson's treatment in private neurology practices in Berlin. Nervenarzt 80:452–458

10.

Fahn S (1987) Unified Parkinson's disease rating scale. In: Fahn S, Calne D (Hrsg) Recent developments in Parkinson's disease. MacMillan Healthcare Information, Florham Park, NJ, S 153–163

11.

Gräßel E, Donath C, Lauterberg J et al (2008) Demenzkranke und Pflegestufen: Wirken sich Krankheitssymptome auf die Einstufung aus? Gesundheitswesen 70:129–136

12.

Greiner W, Weijnen T, Nieuvenhuizen M et al (2003) A European EQ-5D VAS valuation set. In: Brooks R, Rabin R, Charro F de (Hrsg) The measurement and valuation of health status using EQ-5D – a European perspective. Kluwer, Dortrecht, S 103–142

13.

Hely MA, Reid WGJ, Adena MA et al (2008) The Sydney multicenter study of Parkinson's disease: the inevitability of dementia at 20 years. Mov Disord 23:837–844

14.

Hoehn M, Yahr M (1967) Parkinsonism: onset, progression and mortality. Neurology 17:427–442

15.

Holroyd S, Currie L, Wooten G (2005) Depression is associated with impairment of ADL, not motor function in Parkinson disease. Neurology 64:2134–2135

16.

Kulisevsky J, Pagonabarraga J, Pascual-Sedano B et al (2008) Prevalence and correlates of neuropsychiatric symptoms in Parkinson's disease without dementia. Mov Disord 23:1889–1896

17.

Leentjens A, Verhey F, Lousberg R et al (2000) The validity of the hamilton and montgomery-asberg depression rating scales as screening and diagnostic tools for depression in Parkinson's disease. Int J Geriatr Psychiatry 15:644–649

18.

Möller J, Körner Y, Dodel R et al (2005) Pharmacotherapy of Parkinson's disease in Germany. J Neurol 252:926–935

19.

Montgomery S, Asberg M (1979) A new depression scale, designed to be sensitive to change. Br J Psychiatry 134:382–389

20.

Müller T, Fritze J (2005) Therapie des Morbus Parkinson unter Kosten- und Qualitätsaspekten. Akt Neurol 32:584–588

21.

Poewe W, Luginger E (1999) Depression in Parkinson's disease: impediments to recognition and treatment options. Neurology 52:2–6

22.

Reijnders J, Ehrt U, Weber W et al (2008) A systematic review of prevalence studies of depression in Parkinson's disease. Mov Disord 23:183–189

23.

Riedel O, Heuser I, Klotsche J et al (2010) Occurrence risk and structure of depression in Parkinson disease with and without dementia: results from the GEPAD study. J Geriatr Psychiatry Neurol 23:27–34

24.

Riedel O, Klotsche J, Spottke A et al (2008) Cognitive impairment in 873 patients with idiopathic Parkinson's disease: results from the German study on epidemiology of Parkinson's disease with Dementia (GEPAD). J Neurol 255:255–264

25.

Riedel O, Klotsche J, Spottke A et al (2010) Frequency of dementia, depression and other neuropsychiatric symptoms in 1,449 outpatients with Parkinson's disease. J Neurol 257:1073–1082

26.

Robert-Koch-Insittut (2006) Gesundheit in Deutschland. Robert-Koch-Institut, Berlin

27.

Royall RM (1986) Model robust confidence intervals using maximum likelihood estimators. Int Stat Rev 54:221–226

28.

Wittchen HU, Jacobi F (2005) Size and burden of mental disorders in Europe – a critical review and appraisal of 27 studies. Eur Neuropsychopharmacol 15:357–376

29.

Zaudig M, Hiller W, Geiselmann B et al (1996) SIDAM – Strukturiertes Interview für die Diagnose einer Demenz vom Alzheimer Typ, der Multiinfarkt- (oder vaskulären) Demenz und Demenzen anderer Ätiologien nach DSM-III-R, DSM-IV und ICD-10. Hogrefe, Göttingen
Danksagung
Die GEPAD-Studie wurde mit einem unrestricted educational grant durch Novartis Pharma GmbH (Nürnberg) gefördert. Die GEPAD-Studiengruppe bedankt sich bei allen teilnehmenden Ärzten und Patienten für ihre Mitwirkung an dieser Studie. Unser Dank geht auch an Dipl.-Math. Jens Klotsche für seine Unterstützung bei den statistischen Auswertungen.
Interessenkonflikt
Der korrespondierende Autor weist auf folgende Beziehungen hin: Oliver Riedel, Hans-UIrich Wittchen, Isabella Heuser – keine; Richard Dodel – Honorare, travel grants und research grants von Pharmaunternehmen; G. Deuschl – Honorare: Medtronic, Lundbeck, TEVA; Grants: Deutsche Forschungsgemeinschaft, Bundesministerium für Bildung u. Forschung, Medtronic; Claudia Trenkwalder – Beratertätigkeit für Novartis Pharma GmbH; H. Förstl – Honorare für Beiträge zu Symposien und Advisory Boards (Eisai, Janssen-Cilag, Lundbeck, Merz, Novartis, Pfizer u. a.); Wolfgang Oertel – unrestricted educational grant für klinische Forschung (Novartis); Heinz Reichmann – Mitwirkung an Advisory Boards und Vorträgen und erhielt research grants von Cephalon, Pfizer, GSK, Boeringer/Ingelheim, Bayer Health Care, UCB Schwarz Pharma, TEVA/Lundbeck, Orion, Novartis, Hoffmann LaROche, Desitin, Valeant/Medalon.
About this article
Cite this article
Riedel, O., Dodel, R., Deuschl, G. et al. Demenz und Depression determinieren Pflegebedürftigkeit bei M. Parkinson. Nervenarzt 82, 1012–1019 (2011). https://doi.org/10.1007/s00115-010-3186-2
Schlüsselwörter
Morbus Parkinson

Demenz

Depression

Pflegebedürftigkeit

Nichtmotorische Symptome
Keywords
Parkinson's disease

Dementia

Depression

Nursing Care

Non-motor symptoms