Zusammenfassung
Die Elektrokrampftherapie (EKT) ist eine der effektivsten Behandlungsformen schwerer und persistierender psychiatrischer Erkrankungen. EKT wird bei einem breiten Spektrum psychiatrischer Erkrankungen eingesetzt, wobei allerdings die Anwendung bei sog. therapieresistenten depressiven Episoden dominiert. Andere psychische Krankheitsformen, bei denen EKT mit Erfolg angewendet wird, sind z. B. schwer therapierbare Manien oder auch akute psychotische Zustände. Grundsätzlich sollte EKT bei schweren Krankheitszuständen erwogen werden, wenn eine adäquate psychopharmakologische und psychotherapeutische Behandlungsstrategie erfolglos geblieben ist oder wenn unerwünschte Nebenwirkungen der Medikation nicht tolerabel sind. Wie andere medizinische Behandlungen auch, wird EKT nicht immer in gleicher Art und Weise angewendet. Kliniker und Forscher sind auch über die verschiedenen Aspekte der EKT nicht immer einer Meinung. Im vorliegenden Beitrag sollen die gegenwärtigen Standards für eine effektive EKT-Behandlung dargestellt und diskutiert werden.
Summary
Electroconvulsive therapy (ECT) is one of the most effective forms of treatment for severe and persistent psychiatric disorders. ECT is used for a broad spectrum of diseases; however, it has proven particularly helpful in the treatment of therapy-resistant depressive episodes. In addition it has also been successfully used in the treatment of other disorders, such as acute mania and acute psychotic states. Basically ECT should be considered in all cases of severe psychiatric disorder in which an adequate psychopharmacological and/or psychotherapeutic treatment strategy has failed or when the side-effects of medications have proven unbearable. As with other forms of psychiatric treatment ECT is not always used in the same manner and in different institutions in the same way and there are also differences in opinions between clinicians and researchers on various aspects of ECT. In this article the up-to-date standards for effective ECT treatment are outlined and discussed in the light of the current knowledge.
Access options
Buy single article
Instant access to the full article PDF.
USD 39.95
Price includes VAT (USA)
Tax calculation will be finalised during checkout.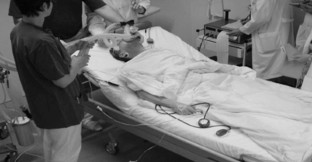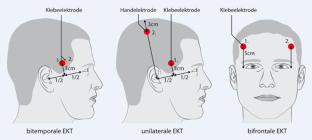 Literatur
1.

Fink M (2009) Electroconvulsive therapy: a guide for professionals and their patients. Oxford Univ, New York

2.

Folk JW, Kellner CH, Beale MD (2000) Anesthesia for electroconvulsive therapy: a review. J ECT 16:157–170

3.

Folkerts H (2000) Elektrokrampftherapie bei depressiven Erkrankungen. Ther Umsch 57:90–94

4.

Folkerts H, Regen F, Bajbouj M, Anghelscu I (2005) Pro und Contra Indikationsausweitung der Elektrokrampftherapie. Psychiatr Prax 32:378–380

5.

Geddes J (2003) Efficacy and safety of electroconvulsive therapy in depressive disorders: a systematic review and meta-analysis. The UK ECT Review Group. Lancet 361:799–808

6.

Geretsegger C, Nickel M, Judendorfer B (2007) Propofol and methohexital as anesthetic agents for ECT. J ECT 23(4):239–243

7.

Insel TR, Wang PS (2009) The STAR*D trial: revealing the need for better treatments. Psychiatr Serv 60:1466–1467

8.

Loo CK, Sainsbury K, Sheehan P, Lyndon B (2008) A comparison of RUL ultrabrief pulse (0.3 ms) ECT and standard RUL ECT. Int J Neuropsychopharmacol 11:883–890

9.

Sackeim HA, Prudic J, Nobler MS (2008) Effects of pulse width and electrode placement on the efficacy and cognitive effects of electroconvulsive therapy. Brain Stimulat 1:71–83

10.

Sienaert P, Vansteelandt K, Demyttenaere K, Peuskens J (2010) Randomized comparison of ultra-brief bifrontal and unilateral electroconvulsive therapy for major depression: clinical efficacy. J Affect Disord (Epub ahead of print)

11.

Sienaert P, Vansteelandt K, Demyttenaere K (2009) Absence of cognitive side-effects after ultrabrief electroconvulsive therapy. J ECT 24:105

12.

Swartz CM (2009) Electroconvulsive and neuromodulation therapies. Cambridge Univ, Cambridge New York Melbourne
Interessenskonflikt
Der korrespondierende Autor weist auf folgende Beziehungen hin: Der Autor veranstaltet jeweils jährlich in Wilhelmshaven einen Workshop "Praxis der EKT". Darüber hinaus ist er in der Vergangenheit als Referent zum Thema EKT an verschiedenen Orten eingeladen worden, z. T. mittels Sponsoring durch die Firma FBI (Taufkirchen).
About this article
Cite this article
Folkerts, H. Elektrokrampftherapie. Nervenarzt 82, 93–103 (2011). https://doi.org/10.1007/s00115-010-3130-5
Schlüsselwörter
Elektrokrampftherapie

Depression

Remission

Indikationen

Erhaltungstherapie
Keywords
Electroconvulsive therapy

Depression

Remission

Indications

Continuation therapy