Zusammenfassung
Neuromuskuläre Begleiterkrankungen eines Thymoms sind die Myasthenia gravis, die Polymyositis, die Dermatomyositis sowie die Neuromyotonie. Während 50% der Thymompatienten eine Myasthenia gravis entwickeln, ist die Polymyositis mit einer Häufigkeit von weniger als 5% bei Thymomen als paraneoplastische Erkrankung kaum bekannt.
Es wird ein Patient mit Thymom, Polymyositis und Myasthenia gravis vorgestellt. Bei gleichzeitigem Bestehen von Myositis und Myasthenia gravis vermischen sich die diagnostischen Kriterien (Serum-CK, EMG, Augenbeteiligung) beider Erkrankungen. Dies kann die Diagnose und damit auch die Therapie beider Erkrankungen erheblich erschweren.
Summary
Neuromuscular diseases accompanying thymoma include myasthenia gravis, polymyositis, dermatomyositis, and neuromyotonia. Usually 50% of patients with thymoma develop myasthenia gravis. However, only 5% show polymyositis as an accompanying paraneoplastic phenomenon. We report the case of a patient with thymoma showing myasthenia gravis as well as polymyositis. Due to the simultaneous occurrence of these paraneoplastic diseases, the criteria for exact diagnosis (serum creatine kinase, EMG, ocular involvement) overlap. This diagnostic dilemma can appreciably complicate the therapeutic approach.
This is a preview of subscription content,
to check access.
Access this article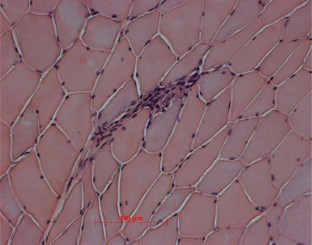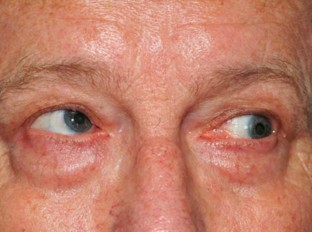 Literatur
Ago T, Nakamura M, Iwata I et al (1999) Dermatomyositis associated with invasive thymoma. Intern Med 38:155–159

Avni I, Sharabi Y, Sadeh M, Buchman AS (2006) Eosinophilia, myositis and myasthenia gravis associated with a thymoma. Muscle Nerve 34:242–245

Budde JM, Morris CD, Gal AA et al (2001) Predictors of outcome in thymectomy for myasthenia gravis. Ann Thorac Surg 72:197–202

Chen G, Marx A, Wen-Hu C et al (2002) New WHO histologic classification predicts prognosis of thymic epithelial tumors: A clinicopathologic study of 200 thymoma cases from China. Cancer 95:420–429

Evoli A, Minicuci GM, Vitaliani R et al (2007) Paraneoplastic diseases associated with thymoma. J Neurol 254:756–762

Evoli A, Minisci C, Di Schino C et al (2002) Thymoma in patients with MG: Characteristics and long-term outcome. Neurology 59:1844–1850

Fenichel GM (1966) Muscle lesions in myasthenia gravis. Ann N Y Acad Sci 135:60–67

Hengstman GJ, Drost G, Wagenaar M, van Engelen BG (2006) Persistent increased risk for thymoma in myasthenia gravis associated with myositis. Muscle Nerve 34:251–252

Herrmann DN, Blaivas M, Wald JJ, Feldman EL (2000) Granulomatous myositis, primary biliary cirrhosis, pancytopenia, and thymoma. Muscle Nerve 23:1133–1136

Inoue M, Kojima Y, Shinde A et al (2007) Concurrence of myasthenia gravis, polymyositis, thyroiditis and eosinophilia in a patient with type B1 thymoma. Rinsho Shinkeigaku 47:423–428

Katabami S, Sugiyama T, Kodama T et al (1995) Polymyositis associated with thymoma and the subsequent development of pure red cell aplasia. Intern Med 34:569–573

Marx A, Muller-Hermelink HK (1999) From basic immunobiology to the upcoming WHO-classification of tumors of the thymus. The second conference on biological and clinical aspects of thymic epithelial tumors and related recent developments. Pathol Res Pract 195:515–533

Milani M, Ostlie N, Wang W, Conti-Fine BM (2003) T cells and cytokines in the pathogenesis of acquired myasthenia gravis. Ann N Y Acad Sci 998:284–307

Muller-Hermelink HK, Marx A (2000) Thymoma. Curr Opin Oncol 12:426–433

Mygland A, Vincent A, Newsom-Davis J et al (2000) Autoantibodies in thymoma-associated myasthenia gravis with myositis or neuromyotonia. Arch Neurol 57:527–531

Okumura M, Shiono H, Minami M et al (2008) Clinical and pathological aspects of thymic epithelial tumors. Gen Thorac Cardiovasc Surg 56:10–16

Raschilas F, Mouthon L, Andre MH et al (1999) Concomitant polymyositis and myasthenia gravis reveal malignant thymoma. A case report and review of the literature. Ann Med Interne (Paris) 150:370–373

Rini BI, Gajewski TF (1999) Polymyositis with respiratory muscle weakness requiring mechanical ventilation in a patient with metastatic thymoma treated with octreotide. Ann Oncol 10:973–979

Saeki S, Fukusako T, Negoro K et al (1996) Polymyositis followed by myasthenia gravis. Nippon Ronen Igakkai Zasshi 33:532–534

Smit EF (2008) Thymic malignancies. Ann Oncol 19 [Suppl 7]:309–312

Souadjian JV, Enriquez P, Silverstein MN, Pepin JM (1974) The spectrum of diseases associated with thymoma. Coincidence or syndrome? Arch Intern Med 134:374–379

van de Warrenburg BP, Hengstman GJ, Vos PE et al (2002) Concomitant dermatomyositis and myasthenia gravis presenting with respiratory insufficiency. Muscle Nerve 25:293–296

Weiller PJ, Durand JM, Prince-Zucchelli MA et al (1984) Association of polymyositis, myasthenia, and thymoma. A case and review of the literature. Ann Med Interne (Paris) 135:299–304

Zamecnik J, Vesely D, Jakubicka B et al (2007) Muscle lymphocytic infiltrates in thymoma-associated myasthenia gravis are phenotypically different from those in polymyositis. Neuromuscul Disord 17:935–942
Interessenkonflikt
Der korrespondierende Autor gibt an, dass kein Interessenkonflikt besteht.
About this article
Cite this article
Jordan, B., Eger, K. & Zierz, S. Thymomassoziierte Polymyositis. Nervenarzt 80, 708–711 (2009). https://doi.org/10.1007/s00115-009-2689-1
Published:

Issue Date:

DOI: https://doi.org/10.1007/s00115-009-2689-1
Schlüsselwörter
Keywords