Zusammenfassung
Die progressive Muskelatrophie (PMA) ist eine degenerative Erkrankung des 2. motorischen Neurons. Die Krankheitsdynamik und die fatale Prognose entsprechen der amyotrophen Lateralsklerose (ALS). Neuropathologische und genetische Befunde unterstützen die Einordnung im Spektrum der ALS, obgleich keine klinischen Merkmale einer Störung des 1. motorischen Neurons nachweisbar sind. Die Diagnose der PMA stützt sich auf fortschreitende Extremitätenparesen und Atrophien mit einer hohen Progressionsrate. Prognosebestimmend ist die respiratorische Insuffizienz. Charakteristisch ist die fehlende oder späte Affektion bulbärer Funktionen. Postmortal sind intraneuronale Bunina-Körperchen und ubiquitinpositive Inklusionen nachweisbar, die als morphologische Merkmale der ALS etabliert sind. Die symptomatische Therapie und die Prinzipien der Palliativversorgung bestehen in Analogie zur typischen ALS.
Summary
Progressive muscle atrophy (PMA) is a degenerative disease of the lower motor neuron. The course of the illness and the fatal prognosis correspond to those of amyotrophic lateral sclerosis (ALS). Neuropathologic and genetic findings support categorizing PMA within the spectrum of ALS, even though no clinical sign of a disorder of the upper motor neuron is demonstrable. The diagnosis of PMA is based on advanced extremity pareses and atrophies with a high progression rate. Respiratory insufficience is determinative of the prognosis. Absent or late affection of bulbar functions is characteristic of the disease. Intraneuronal bunina bodies and ubiquitine-positive inclusions, which are established morphologic characteristics of ALS, are found post mortem. The treatment options of riluzol medication, respiratory therapy, and nutrition are analogous to those for typical ALS.
Access options
Buy single article
Instant access to the full article PDF.
US$ 39.95
Tax calculation will be finalised during checkout.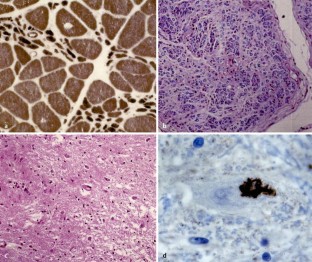 Literatur
1.

Andersen PM, Borasio GD, Dengler R et al. (2005) EFNS task force on management of amyotrophic lateral sclerosis: guidelines for diagnosing and clinical care of patients and relatives. Eur J Neurol 12: 921–938

2.

Andersen PM, Forsgren L, Binzer M et al. (1996) Autosomal recessive adult-onset amyotrophic lateral sclerosis associated with homozygosity for Asp90Ala CuZn-superoxide dismutase mutation. A clinical and genealogical study of 36 patients. Brain 119: 1153–1172

3.

Aran FA (1850) Recherches sur une maladie non encore décrite du système musculaire (atrophie musculaire progressive). Arch Gen Med 24: 5–35

4.

Borasio GD, Voltz R (1998) Discontinuation of mechanical ventilation in patients with amyotrophic lateral sclerosis. J Neurol 245: 717–722

5.

Brooks BR, Miller RG, Swash M, Munsat TL (2000) El Escorial revisited: revised criteria for the diagnosis of amyotrophic lateral sclerosis. Amyotroph Lateral Scler Other Motor Neuron Disord 1: 293–299

6.

Chio A, Brignolio F, Leone M et al. (1985) A survival analysis of 155 cases of progressive muscular atrophy. Acta Neurol Scand 72: 407–413

7.

Leigh PN, Whitwell H, Garofalo O et al. (1991) Ubiquitin-immunoreactive intraneuronal inclusions in amyotrophic lateral sclerosis: Morphology, distribution, and specificity. Brain 114: 775–788

8.

Neumann M, Sampathu DM, Kwong LK et al. (2006) Ubiquitinated TDP-43 in frontotemporal lobar degeneration and amyotrophic lateral sclerosis. Science 314: 130–133

9.

Van Den Berg-Vos RM, Van Den Berg LH, Visser J et al. (2003) The spectrum of lower motor neuron syndromes. J Neurol 250: 1279–1292

10.

Van Den Berg-Vos RM, Visser J, Franssen H et al. (2003) Sporadic lower motor neuron diseases with adult onset: classification of subtypes. Brain 126: 1036–1046
Interessenkonflikt
Es besteht kein Interessenkonflikt. Der korrespondierende Autor versichert, dass keine Verbindungen mit einer Firma, deren Produkt in dem Artikel genannt ist, oder einer Firma, die ein Konkurrenzprodukt vertreibt, bestehen. Die Präsentation des Themas ist unabhängig und die Darstellung der Inhalte produktneutral.
About this article
Cite this article
Meyer, T., Münch, C., van Landeghem, F. et al. Progressive Muskelatrophie. Nervenarzt 78, 1383–1388 (2007). https://doi.org/10.1007/s00115-007-2288-y
Schlüsselwörter
Progressive Muskelatrophie

Amyotrophe Lateralsklerose

Motoneuronenerkrankung

Unteres Motoneuron

Zweites Motoneuron
Keywords
Amyotrophic lateral sclerosis

Lower motor neuron

Motor neuron disease

Progressive muscle atrophy

Second motor neuron