Zusammenfassung
Hintergrund und Methode
In der allgemeinen Suizidforschung werden regionale und lokale Cluster hoher Suizidhäufigkeiten beschrieben. Im Rahmen einer umfassenden Strategie zur Suizidprävention im Gleisbereich wurde über einen 6-jährigen Beobachtungszeitraum (1997–2002) untersucht, ob sich im Gesamtstreckennetz (Länge 37.080 km) der Deutschen Bahn derartige Cluster finden lassen. Als Datenquelle diente die Betriebsunfallstatistik der Deutschen Bahn.
Ergebnisse
Im Untersuchungszeitraum wurden 5731 Suizidereignisse registriert (durchschnittlich 18 Suizide/Woche). Dabei zeigte sich ein Nord-Süd-Gefälle mit den höchsten Suizidraten in Bayern, Baden-Württemberg und Hessen. Während für die allgemeine Suizidinzidenz ein Ost-West-Gradient mit höheren Raten in den neuen Bundesländern beobachtet wurde (p<0,0001), zeigte sich im Bahnbereich ein gegenläufiger Gradient mit höheren Raten im ehemaligen Westdeutschland (p=0,004). Von den Suiziden traten 66% auf offener Strecke, 34% im Bahnhofsbereich auf. Es wurden 16 Orte hoher Suiziddichte mit 6–29 Ereignissen innerhalb eines Streckenkilometers identifiziert. Von diesen Orten lagen 75% in unmittelbarer Nähe psychiatrischer Kliniken.
Schlussfolgerungen
Erhöhte Aufmerksamkeit gegenüber Risikoorten mit Maßnahmen, den Zugang zum Gleis an diesen Stellen zu erschweren, sowie Warneinrichtungen gehören zum suizidpräventiven Maßnahmenbündel, die sich aus diesen Daten ergeben.
Summary
Background and method
Suicide research has identified regional and local clusters of increased suicide prevalence. As part of a comprehensive prevention strategy to fight railway suicides, we sought to identify such particular clusters on the German Railway net (total length 37,080 km) during a 6-year observation period (1997–2002). Data stem from the central registry of all person accidents on the German Railway net.
Results
During the observation period, a total of 5,731 suicides (in average 18 cases per week) were registered. Against expectation derived from distribution patterns in the general suicide research, we found a preponderance in the southern part compared to the northern part of Germany and a significant downward trend from west to east (p=0.004). Most suicides occurred on open track (66%) compared to suicides at railway platforms (34%). We identified 16 places of high risk with 6 to 29 suicides per railway km. Of these high risk places, 75% were in the proximity of psychiatric hospitals.
Conclusion
Increased awareness for regional and local suicide clusters, initiatives to reduce the accessibility and warning infra-red beams are among recommendations for suicide prevention derived from these data.
Access options
Buy single article
Instant access to the full article PDF.
US$ 39.95
Tax calculation will be finalised during checkout.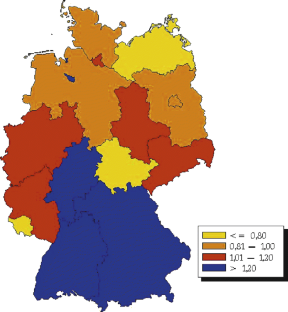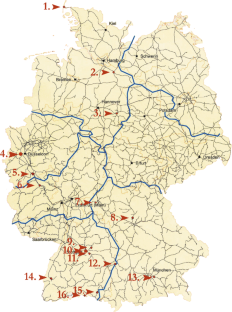 Literatur
1.

Abbott R, Young S, Grant G et al. (2003) Railway suicide—an investigation of individual and organisational consequences. A report of SOVRN (Suicides and Open Verdicts on the Railway Network) project. Doncaster, Doncaster and South Humber Healthcare NHS

2.

Appleby L (1992) Suicide in psychiatric patients: risk and prevention. Br J Psychiatry 161:749–758

3.

Armburster B (1986) Suizide während der stationären Behandlung. Nervenarzt 57:511–516

4.

Baumert J, Erazo N, Ladwig KH (submitted) Ten-year incidence and time trends of railway suicides in Germany from 1991 until 2000. submitted

5.

Bronisch T (1999) Der Suizid, 3. Aufl. Beck, München

6.

Chishti P, Stone DH, Corcoran P et al. (2003) Suicide mortality in the European Union. Eur J Public Health 13:108–114

7.

Clarke M (1994) Railway suicide in England and Wales, 1850–1949. Soc Sci Med 38:401–407

8.

Deisenhammer EA, Kemmler G, De Col C et al. (1997) Eisenbahnsuizide und -suizidversuche in Österreich von 1990–1994. Nervenarzt 68:67–73

9.

Deisenhammer EA, DeCol C, Honeder M et al. (2000) In-patient suicide in psychiatric hospitals. Acta Psychiatr Scand 102:290–294

10.

Emmerson B, Cantor C (1993) Train suicides in Brisbane, Australia, 1980–1986. Crisis 14:90–94

11.

Goldacre M, Seagroatt V, Keith H (1993) Suicide after discharge from psychiatric inpatient care. Lancet 342:283–286

12.

Henseler H (1974) Narzißtische Krisen. Zur Psychodynamik des Selbstmords. Rowohlt, Reinbek

13.

Houwelingen van CA, Beersma DG (2001) Seasonal changes in 24-h patterns of suicide rates: a study on train suicides in The Netherlands. J Affect Disord 66:215–223

14.

Høyer EH, Olesen AF, Mortensen PB (2004) Suicide risk in patients hospitalised because of an affective disorder: a follow-up study, 1973–1993. J Affect Disord 78:205–211

15.

Kerkhof A (2003) Railway suicide: who is responsible? Crisis 24:47

16.

Ladwig KH, Baumert J (2004) Patterns of suicidal behaviour in a metro subway system—a study of 306 cases injured by the Munich subway in 1980–1999. Eur J Pub Health (im Druck)

17.

Lester D (1998) Preventing suicide by restricting access to methods for suicide. Arch Suicide Res 4:7–24

18.

Levi F, La Vecchia C, Saraceno B (2003) Global suicide rates. Eur J Pub Health 13:97–98

19.

Luoma JB, Martin CE, Pearson JL (2002) Contact with mental health and primary care providers before suicide: a review of the evidence. Am J Psychiatry 159:909–16

20.

Lindekilde K, Wang AG (1985) Train suicide in the county of Fyn 1979–82. Acta Psychiatr Scand 72:150–154

21.

O'Donnell I, Farmer RDT (1994) Epidemiology of suicide on the London Underground. Soc Sci Med 38:409–418

22.

Pokorny AD (1983) Prediction of suicide in psychiatric patients. Report of a prospective study. Arch Gen Psychiatry 40:249–257

23.

Powell J, Geddes J, Deeks J et al. (2000) Suicide in psychiatric hospital in-patients. Br J Psychiatry 176:266–272

24.

Proulx F, Leage AD, Grunberg F (1997) One hundred in-patients suicides. Br J Psychiatry 171:247–250

25.

Roy A, Draper R (1995) Suicide among psychiatric hospital in-patients. Psychol Med 25:199–202

26.

Schmidtke A (1997) Perspective: suicide in Europe. Suicide Life Threat Behav 27:127–136

27.

Schmidtke A, Häfner H (1988) The Werther effect after television films: new evidence for an old hypothesis. Psychol Med 18:665–676

28.

Schmidtke A, Weinacker B (1994) Suizidalität in der Bundesrepublik und den einzelnen Bundesländern: Situation und Trends. Suizidprophylaxe 21:4–15

29.

Schmidtke A, Weinacker B, Stack B et al. (1999) The impact of the reunification of Germany on the suicide rate. Arch Suicide Res 5:233–239

30.

Schmidtke A (1994) Suicidal behaviour on railways in the FRG. Soc Sci Med 38:419–426

31.

Seiden RH (1978) Where are they now? A follow-up study of suicide attempters from the Golden Gate Bridge. Suicide Life Threat Behav 8:203–216

32.

Sharma V, Persad E, Kueneman K (1998) A closer look at inpatient suicide. J Affect Disord 47:123–129

33.

Statistisches Bundesamt Wiesbaden (2002) Statistisches Jahrbuch 2002 für die Bundesrepublik Deutschland. Metzler-Poeschel, Stuttgart

34.

Symonds RL (1994) Psychiatric and preventative aspects of rail fatalities. Soc Sci Med 38:431–435

35.

Veress L, Szabó T (1980) Die Besonderheiten der am Eisenbahnkörper verübten Selbstmo rde. Suizidprophylaxe 7:401–426

36.

WHO Weltgesundheitsorganisation (1993) Internationale Klassifikation psychischer Störungen ICD-10, Kapitel V (F), 2. korr. Aufl. Huber, Bern

37.

Ziegler W, Hegerl U (2002) Der Werther-Effekt. Nervenarzt 73:41–49
Danksagung
Wir danken F. Schröder, J. Bedau und H. Senzel (Deutsche Bahn AG) für ihre Initiative zum Forschungsprojekt, die Bereitstellung der Datenquelle und die freundliche Unterstützung bei inhaltlichen Fragen im Projektverlauf.
Additional information
Die Studie wurde durch einen Forschungsauftrag der Deutschen Bahn AG an Herrn Prof. Dr. Ladwig finanziell unterstützt.
About this article
Cite this article
Erazo, N., Baumert, J. & Ladwig, KH. Regionale und örtliche Verteilungsmuster von Bahnsuiziden . Nervenarzt 75, 1099–1106 (2004). https://doi.org/10.1007/s00115-004-1703-x
Schlüsselwörter
Epidemiologie

Eisenbahnsuizid

Suizidprävention

Regionale Verteilungsmuster

Suizide während stationär-psychiatrischer Behandlung
Keywords
Epidemiology

Railway suicide

Suicide prevention

Regional distribution pattern

Inpatient suicide