Abstract
In ant–plant defense mutualisms, plants known as myrmecophytes provide food and shelter to ant partners in exchange for defense against herbivores and pathogens. To ensure interaction pay-off, myrmecophytes must regulate their investment in ant-rewards depending on local conditions and herbivore pressure. We investigated how myrmecophyte investment in multiple ant-rewards relates to herbivory, ant defense, and ant occupancy over time. Specifically, we examined the plasticity of ant-rewards produced by swollen-thorn acacias (Vachellia collinsii) under different ant occupancy and herbivory conditions. We compared food rewards (number of extrafloral nectaries and pinnules as a proxy for food bodies) and housing rewards (domatia dimensions) of V. collinsii for three conditions: (1) occupied (defended by the obligate mutualist Pseudomyrmex spinicola) versus unoccupied trees, (2) occupied trees subject to an experimental herbivory manipulation versus control trees, and (3) trees occupied by different ant species varying in their level of defense (P. spinicola, P. simulans, Crematogaster crinosa). We found that food rewards were more likely to vary in time depending on ant occupancy and resident species. Conversely, housing rewards varied with the condition (occupancy or species of partner) and less through time. A one-time herbivory manipulation did not cause any changes to the ant-rewards produced. Our results reveal short-term plasticity in V. collinsii ant-rewards and demonstrate that myrmecophytes with constitutive rewards can adjust their investment in ant-rewards depending on the presence and identity of ant partners.
Access options
Buy single article
Instant access to the full article PDF.
US$ 39.95
Tax calculation will be finalised during checkout.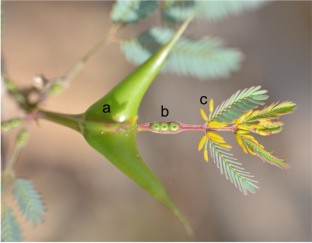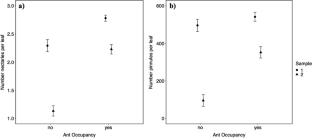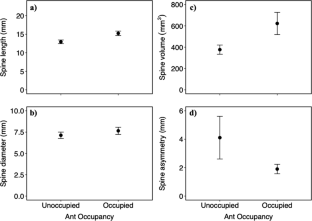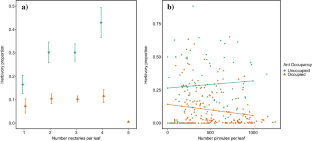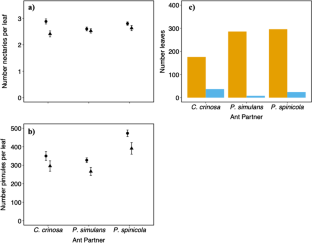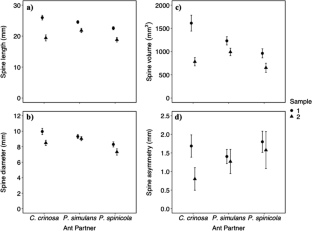 References
Aljbory Z, Chen MS (2018) Indirect plant defense against insect herbivores: a review. Insect Sci 25:2–23. https://doi.org/10.1111/1744-7917.12436

Alves-Silva E, Del-Claro K (2013) Effect of post-fire resprouting on leaf fluctuating asymmetry, extrafloral nectar quality, and ant–plant–herbivore interactions. Naturwissenschaften 100(6):525–532. https://doi.org/10.1007/s00114-013-1048-z

Alves-Silva E, Del-Claro K (2016) Herbivory causes increases in leaf spinescence and fluctuating asymmetry as a mechanism of delayed induced resistance in a tropical savanna tree. Plant Ecol Evol 149:73–80

Amador-Vargas S, Dyer J, Arnold N, Cavanaugh L, Sánchez-Brenes E (2020) Acacia trees with parasitic ants have fewer and less spacious spines than trees with mutualistic ants. Sci Nat 107:3. https://doi.org/10.1007/s00114-019-1647-4

Amador-Vargas S, Orribarra VS, Portugal-Loayza A, Fernández-Marín H (2021) Association patterns of acacia plants with three ant species and related organisms in a dry forest of Panama. Biotropica 53:560–566. https://doi.org/10.1111/btp.12899

Arimura GI (2021) Making sense of the way plants sense herbivores. Trends Plant Sci 26(3):288–298. https://doi.org/10.1016/j.tplants.2020.11.001

Barton KE (2016) Tougher and thornier: general patterns in the induction of physical defence traits. Funct Ecol 30:181–187. https://doi.org/10.1111/1365-2435.12495

Bates D, Mächler M, Bolker B, Walker S (2015) Fitting linear mixed- effects models using lme4. J Stat Softw 67:1–48. https://doi.org/10.18637/jss.v067.i01

Calixto ES, Lange D, Del-Claro K (2018) Protection mutualism: an overview of ant–plant interactions mediated by extrafloral nectaries. Oecologia Australis 22:410–425

Calixto ES, Lange D, Bronstein J, Torezan-Silingardi HM, Del-Claro K (2020) Optimal Defense Theory in an ant–plant mutualism: extrafloral nectar as an induced defence is maximized in the most valuable plant structures. J Ecol 00:1–12. https://doi.org/10.1111/1365-2745.13457

Chomicki G, Renner SS (2015) Phylogenetics and molecular clocks reveal the repeated evolution of ant-plants after the late Miocene in Africa and the early Miocene in Australasia and the Neotropics. New Phytol 207:411–424. https://doi.org/10.1111/nph.13271

Chomicki G, Ward PS, Renner SS (2015) Macroevolutionary assembly of ant/plant symbioses: Pseudomyrmex ants and their ant-housing plants in the Neotropics. Proc R Soc B Biol Sci 282:2015–2200

Díaz M, Pulido FJ, Møller AP (2004) Herbivore effects on developmental instability and fecundity of holm oaks. Oecologia 139(2):224–234. https://doi.org/10.1007/s00442-004-1491-9

Fonseca CR (1993) Nesting space limits colony size of the plant-ant Pseudomyrmex concolor. Oikos 67(3):473–482. https://doi.org/10.2307/3545359

Frederickson ME, Ravenscraft A, Miller GA, Hernandez LMA, Booth G, Pierce NE (2012) The direct and ecological costs of an ant–plant symbiosis. Am Nat 179:768–778

González-Teuber M, Heil M (2015) Comparative anatomy and physiology of myrmecophytes: ecological and evolutionary perspectives. Res Rep Biodivers Stud 4:21–32. https://doi.org/10.2147/RRBS.S60420

González-Teuber M, Bueno J, Heil M, Boland W (2012) Increased host investment in extrafloral nectar (EFN) improves the efficiency of a mutualistic defensive service. PLoS One 7:e46598. https://doi.org/10.1371/journal.pone.0046598

Heil M (2013) Let the best one stay: screening of ant defenders by Acacia host plants functions independently of partner choice or host sanctions. J Ecol 101:684–688. https://doi.org/10.1111/1365-2745.12060

Heil M, Fiala B, Linsenmair KE, Zotz G, Menke P, Maschwitz U (1997) Food body production in Macaranga triloba (Euphorbiaceae): a plant investment in anti-herbivore defence via symbiotic ant partners. J Ecol 85:847–861. https://doi.org/10.2307/2960606

Heil M, Koch T, Hilpert A, Fiala B, Boland W, Linsenmair K (2001a) Extrafloral nectar production of the ant-associated plant, Macaranga tanarius, is an induced, indirect, defensive response elicited by jasmonic acid. Proc Natl Acad Sci USA 98(3):1083–1088. https://doi.org/10.1073/pnas.031563398

Heil M, Fiala B, Baumann B, Linsenmair K (2001b) Temporal, spatial and biotic variations in extrafloral nectar secretion by Macaranga tanarius. Funct Ecol 14:749–757. https://doi.org/10.1046/j.1365-2435.2000.00480.x

Heil M, González-Teuber M, Clement LW, Kautz S, Verhaagh M, Bueno JCS (2009) Divergent investment strategies of Acacia myrmecophytes and the coexistence of mutualists and exploiters. Proc Natl Acad Sci 106:18091–18096

Huntzinger M, Karban R, Young T, Palmer T (2004) Relaxation of induced indirect defenses of acacias following removal of mammalian herbivores. Rep Ecol 85:609–614. https://doi.org/10.1890/03-3056

Janzen DH (1966) Coevolution of mutualism between ants and acacias in Central America. Evolution 20(3):249–275. https://doi.org/10.2307/2406628

Janzen DH (1967) Interaction of the Bull's Horn acacia (Acacia cornigera L.) with an ant inhabitant (Pseudomyrmex ferruginea F. Smith) in eastern Mexico. Univ Kansas Sci Bull 57:315–558

Janzen DH (1974) Swollen-thorn acacias of Central America. Smithson Contrib Bot 13:1–13. https://doi.org/10.5479/si.0081024X

Janzen DH (1975) Pseudomyrmex nigropilosa: a parasite of a mutualism. Science 188(4191):936–937. https://doi.org/10.1126/science.188.4191.936

Labandeira C (2007) The origin of herbivory on land: initial patterns of plant tissue consumption by arthropods. Insect Sci 14:259–275. https://doi.org/10.1111/j.1744-7917.2007.00141.x-i1

Letourneau DK (1990) Code of ant–plant mutualism broken by parasite. Science 248(4952):215–217. https://doi.org/10.1126/science.248.4952.215

Longino J (2003) The Crematogaster (Hymenoptera, Formicidae, Myrmicinae) of Costa Rica. Zootaxa 151(1):1–150. https://doi.org/10.11646/zootaxa.151.1.1

Mayer VE, Frederickson ME, McKey D, Blatrix R (2014) Current issues in the evolutionary ecology of ant–plant symbioses. New Phytol 202(3):749–764. https://doi.org/10.1111/nph.12690

Mondor E, Addicott J (2003) Conspicuous extra-floral nectaries are inducible in Vicia faba. Ecol Lett 6:495–497. https://doi.org/10.1046/j.1461-0248.2003.00457.x

Mondor EB, Tremblay MN, Messing RH (2006) Extrafloral nectary phenotypic plasticity is damage- and resource-dependent in Vicia faba. Biol Let 2(4):583–585. https://doi.org/10.1098/rsbl.2006.0527

Myers JH, Sarfraz RM (2017) Impacts of insect herbivores on plant populations. Annu Rev Entomol 62:207–230

Orivel J, Lambs L, Malé PJ, Leroy C, Grangier J, Otto T, Quilichini A, Dejean A (2011) Dynamics of the association between a long-lived understory myrmecophyte and its specific associated ants. Oecologia 165:369–376. https://doi.org/10.1007/s00442-010-1739-5

Palmer TM, Stanton ML, Young TP, Goheen JR, Pringle RM, Karban R (2008) Breakdown of an ant-plant mutualism follows the loss of large herbivores from an African savanna. Science 319(5860):192–195. https://doi.org/10.1126/science.1151579

Pringle EG, Akçay E, Raab TK, Dirzo R, Gordon DM (2013) Water stress strengthens mutualism among ants, trees, and scale insects. PLoS Biol 11(11):e1001705. https://doi.org/10.1371/journal.pbio.1001705

R Core Team (2016) R: A language and environment for statistical computing. R Foundation for Statistical Computing, Vienna, Austria. URL https://www.R-project.org/

Razo-Belman R, Molina-Torres J, Martínez O, Heil M (2018) Plant-ants use resistance-related plant odours to assess host quality before colony founding. J Ecol 106:379–390. https://doi.org/10.1111/1365-2745.12832

Rico-Gray V, Oliveira PS (2007) The Ecology and Evolution of Ant-Plant Interactions. University of Chicago Press

Risch S, Rickson F (1981) Mutualism in which ants must be present before plants produce food bodies. Nature 291:149–150. https://doi.org/10.1038/291149a0

Russell L (2020) emmeans: Estimated Marginal Means, aka Least-Squares Means. R package version 1.4.4.https://CRAN.R-project.org/package=emmeans

Stanton ML, Palmer TM (2011) The high cost of mutualism: effects of four species of East African ant symbionts on their myrmecophyte host tree. Ecology 92:1073–1082. https://doi.org/10.1890/10-1239.1

Ward PS (1993) Systematic studies on Pseudomyrmex acacia-ants (Hymenoptera: Formicidae: Pseudomyrmecinae). J Hymenopt Res 2:117–168. https://doi.org/10.5281/zenodo.10150

Wickham H (2016) ggplot2: elegant graphics for data analysis. Springer-Verlag, New York

Young TP, Okello BD (1998) Relaxation of an induced defense after exclusion of herbivores: spines on Acacia drepanolobium. Oecologia 115(4):508–513. https://doi.org/10.1007/s004420050548
Acknowledgements
This research was conducted with support from the Smithsonian Tropical Research Institute (STRI) Internship program to FG and MG. We thank the Ben Turner lab at STRI for use of the scale; Alfonso Carles for granting access to the Bosque Seco de Coronado Reserva Eugene Eisenmann, and the staff at Parque Natural Metropolitano. We also thank Mauricio Fernández, Frank Joyce and two anonymous reviewers for their feedback on an earlier version of this manuscript. This research was conducted under the MiAmbiente permit SE/AP-12-2019, from the Republic of Panama.
Ethics declarations
Conflicts of interests
The authors declare that they have no conflicts of interest.
Additional information
Publisher's note
Springer Nature remains neutral with regard to jurisdictional claims in published maps and institutional affiliations.
Communicated by: Sean O'Donnell
Supplementary Information
Below is the link to the electronic supplementary material.
About this article
Cite this article
Gijsman, F., González, Y., Guevara, M. et al. Short-term plasticity and variation in acacia ant-rewards under different conditions of ant occupancy and herbivory. Sci Nat 108, 31 (2021). https://doi.org/10.1007/s00114-021-01738-w
Received:

Revised:

Accepted:

Published:
Keywords
Ant–plant interaction

Swollen-thorn acacia

Myrmecophyte

Pseudomyrmex
Vachellia