Abstract
Artificial light at night (ALAN) exposes animals to a novel environmental stimulus, one that is generally thought to be maladaptive. ALAN-related health problems have received little attention in non-model species, and we generally know little about the nutritional-physiological impacts of ALAN, especially in young animals. Here, we use a novel application of the acid steatocrit method to experimentally assess changes in digestive efficiency of growing king quail (Excalfactoria chinensis) in response to ALAN. Two weeks after hatching, quail were split into two groups (n = 20–21 per group): overnight-light-treated vs. overnight-dark-treated. When the chicks were 3 weeks old, the experimental group was exposed to weak blue light (ca. 0.3 lux) throughout the entire night for 6 consecutive weeks, until all the chicks had achieved sexual maturation. Fecal samples for assessing digestive efficiency were collected every week. We found that digestive efficiency of quail was reduced by ALAN at two time points from weeks 4 to 9 after hatching (quail reach adulthood by week 9). The negative effect of ALAN on digestion coincided with the period of fastest skeletal growth, which suggests that ALAN may reduce digestive efficiency when energetic demands of growth are at their highest. Interestingly, growth rate was not influenced by ALAN. This suggests that either the negative physiological impacts of ALAN may be concealed when food is provided ad libitum, the observed changes in digestive efficiency were too small to affect growth or condition, or that ALAN-exposed birds had reduced energy expenditure. Our results illustrate that the health impacts of ALAN on wild animals should not be restricted to traditional markers like body mass or growth rate, but instead on a wide array of integrated physiological traits.
Access options
Buy single article
Instant access to the full article PDF.
US$ 39.95
Tax calculation will be finalised during checkout.
Subscribe to journal
Immediate online access to all issues from 2019. Subscription will auto renew annually.
US$ 79
Tax calculation will be finalised during checkout.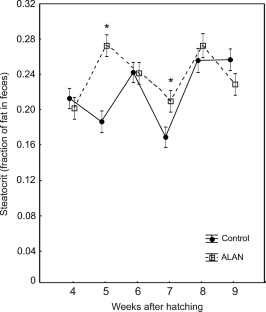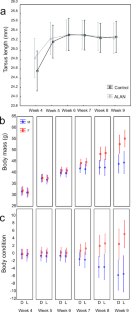 Data availability
Data for this article is available in supplementary materials.
References
Alaasam VJ, Duncan R, Casagrande S, Davies S, Sidher A, Seymoure B, Shen Y, Zhang Y, Ouyang JQ (2018) Light at night disrupts nocturnal rest and elevates glucocorticoids at cool color temperatures. J Exp Zool A 329:465–472. https://doi.org/10.1002/jez.2168

Apeldoorn EJ, Schrama JW, Mashaly MM, Parmentier HK (1999) Effect of melatonin and lighting schedule on energy metabolism in broiler chickens. Poultry Sci 78:223–229. https://doi.org/10.1093/ps/78.2.223

Baghbanzadeh A, Decuypere E (2008) Ascites syndrome in broilers: physiological and nutritional perspectives. Avian Pathol 37:117–126. https://doi.org/10.1080/03079450801902062

Cho Y-M, Ryu S-H, Lee BR, Kim KH, Lee E, Choi J (2015) Effects of artificial light at night on human health: a literature review of observational and experimental studies applied to exposure assessment. Chronobiol Int 32:1294–1310. https://doi.org/10.3109/07420528.2015.1073158

Dominoni DM (2015) The effects of light pollution on biological rhythms of birds: an integrated, mechanistic perspective. J Ornithol 156:409–418. https://doi.org/10.1007/s10336-015-1196-3

Dominoni DM, Goymann W, Helm B, Partecke J (2013) Urban-likenight illumination reduces melatonin release in European blackbirds (Turdus merula): implications of city life for biological time-keeping of songbirds. Front Zool 10:60. https://doi.org/10.1186/1742-9994-10-60

Dominoni DM, Borniger JC, Nelson RJ (2016) Light at night, clocks and health: from humans to wild organisms. Biol Lett 12:20160015. https://doi.org/10.1098/rsbl.2016.0015

Durrant J, Green MP, Jones TM (2019) Dim artificial light at night reduces the cellular immune response of the black field cricket, Teleogryllus commodus. Insect Sci 27:571–582. https://doi.org/10.1111/1744-7917.12665

Falchi F, Cinzano P, Duriscoe D, Kyba CCM, Elvidge CD, Baugh K, Furgoni R (2016) The new world atlas of artificial night sky brightness. Sci Adv 2:e1600377. https://doi.org/10.1126/sciadv.1600377

Fonken LK, Nelson RJ (2014) The effects of light at night on circadian clocks and metabolism. Endocr Rev 35:648–670. https://doi.org/10.1210/er.2013-1051

Fonken LK, Nelson RJ (2020) Effects of light exposure at night during development. Curr Opin Behav Sci 7:33–39. https://doi.org/10.1016/j.cobeha.2015.10.008

Fonken LK, Workman JL, Walton JC, Weil ZM, Morris JS, Haim A, Nelson RJ (2010) Light at night increases body mass by shifting the time of food intake. Proc Nat Acad Sci 107:18664–18669. https://doi.org/10.1073/pnas.1008734107

Gaston KJ, Bennie J, Davies TW, Hopkins J (2013) The ecological impacts of nighttime light pollution: a mechanistic appraisal. Biol Rev 88:912–927. https://doi.org/10.1111/brv.12036

Haraguchi S, Kamata M, Tokita T, Tashiro K, Sato M, Nozaki M et al (2019) Light-at-night exposure affects brain development through pineal allopregnanolone-dependent mechanisms. eLife 8:e45306

Ingram D, Hattens L, Mcpherson B (2000) Effects of light restriction on broiler performance and specific body structure measurements. Physiol Psychol 9:501–504. https://doi.org/10.1093/japr/9.4.501

Landry GP (2015) The care, breeding and genetics of the button quail, 3rd ed. Poule d'eau, Publishing Co., Franklin, Lousiana

Lessells CM, Boag PT (1987) Unrepeatable repeatabilities: a common mistake. The Auk 104:116–121. https://doi.org/10.2307/4087240

Madonia C, Hutton P, Giraudeau M, Sepp T (2017) Carotenoid coloration is related to fat digestion efficiency in a wild bird. Sci Nat 104:96. https://doi.org/10.1007/s00114-017-1516-y

Malek I, Haim A, Izhaki I (2020) Melatonin mends adverse temporal effects of bright light at night partially independent of its effect on stress responses in captive birds. Chronobiol Int 37:189–208. https://doi.org/10.1080/07420528.2019.1698590

Masís-Vargas A, Hicks D, Kalsbeek A, Mendoza J (2019) Blue light at night acutely impairs glucose tolerance and increases sugar intake in the diurnal rodent Arvicanthis ansorgei in a sex-dependent manner. Physiol Rep 7:e14257. https://doi.org/10.14814/phy2.14257

Meitern R, Lind MA, Karu U, Hõrak P (2016) Simple and non-invasive method for assessment of digestive efficiency: validation of fecal steatocrit in greenfinch coccidiosis model. Ecol Evol 6:8756–8763. https://doi.org/10.1002/ece3.2575

Mishra I, Knerr RM, Stewart AA, Payette WI, Richter MM, Ashley NT (2019) Light at night disrupts diel patterns of cytokine gene expression and endocrine profiles in zebra finch (Taeniopygia guttata). Sci Rep 9:15833. https://doi.org/10.1038/s41598-019-51791-9

Motilva V, Cabeza J, Alarcon de La Lastra C (2001) New issues about melatonin and its effects on the digestive system. Curr Pharm Design 7:909–931. https://doi.org/10.2174/1381612013397681

Olanrewaju HA, Miller WW, Maslin WR, Collier SD, Purswell JL, Branton SL (2015) Influence of photoperiod, light intensity and their interaction on health indices of modern broilers grown to heavy weights. Int J Poultry Sci 14:183–190. https://doi.org/10.3923/ijps.2015.183.190

Ouyang JQ, Davies S, Dominoni D (2018) Hormonally mediated effects of artificial light at night on behavior and fitness: linking endocrine mechanisms with function. J Exp Biol 221:jeb156893

Pearson JT, Tsudzuki M, Nakane Y, Akiyama R, Tazawa H (1998) Development of heart rate in the precocial king quail Coturnix chinensis. J Exp Biol 201:931–941

Phuapradit P, Narang A, Mendonca P, Harris DA, Baum JD (1981) The steatocrit: a simple method for estimating stool fat content in newborn infants. Arch Dis Child 56:725–727

Podkowa P, Surmacki A (2017) The importance of illumination in nest site choice and nest characteristics of cavity nesting birds. Sci Rep 7:1329. https://doi.org/10.1038/s41598-017-01430-y

Raap T, Casasole G, Costantini D, AbdElgawad H, Asard H, Pinxten R, Eens M (2016a) Artificial light at night affects body mass but not oxidative status in free-living nestling songbirds: an experimental study. Sci Rep 6:35626. https://doi.org/10.1038/srep35626

Raap T, Casasole G, Pinxten R, Eens M (2016b) Early life exposure to artificial light at night affects the physiological condition: an experimental study on the ecophysiology of free-living nestling songbirds. Environ Pollut 218:909–914. https://doi.org/10.1016/j.envpol.2016.08.024

Raap T, Pinxten R, Eens M (2018) Artificial light at night causes an unexpected increase in oxalate in developing male songbirds. Conserv Physiol 6:coy005. https://doi.org/10.1093/conphys/coy005

Rich C, Longcore T (2007) Ecological consequences of artificial night lighting. Island Press, Washington, DC

Rybnikova NA, Haim A, Portnov BA (2016) Does artificial light-at-night exposure contribute to the worldwide obesity pandemic? Int J Obesity 40:815–823. https://doi.org/10.1038/ijo.2015.255

Saini C, Hutton P, Gao S, Simpson RK, Giraudeau M, Sepp T, Webb E, McGraw KJ (2019) Exposure to artificial light at night increases innate immune activity during development in a precocial bird. Comp Biochem Phys A 233:84–88. https://doi.org/10.1016/j.cbpa.2019.04.002

Salmón P, Nilsson JF, Nord A, Bensch S, Isaksson C (2016) Urban environment shortens telomere length in nestling great tits, Parus major. Biol Lett 12:20160155. https://doi.org/10.1098/rsbl.2016.0155

Sanders D, Gaston KJ (2018) How ecological communities respond to artificial light at night. J Exp Zool A 329:394–400. https://doi.org/10.1002/jez.2157

Schulte-Hostedde AI, Zinner B, Millar JS, Hickling GJ (2005) Restitution of mass–size residuals: validating body condition indices. Ecology 86:155–163. https://doi.org/10.1890/04-0232

Schwean-Lardner K, Fancher BI, Gomis S, Van Kessel A, Classen HL (2013) Effect of day length on cause of mortality, leg health and ocular health in broilers. Poult Sci 92:1–11. https://doi.org/10.3382/ps.2011-01967

Svechkina A, Portnov BA, Trop T (2020) The impact of artificial light at night on human and ecosystem health: a systematic literature review. Landscape Ecol 35:1725–1742. https://doi.org/10.1007/s10980-020-01053-1

Ulgezen ZN, Käpylä T, Meerlo P, Spoelstra K, Visser ME, Dominoni DM (2019) The preference and costs of sleeping under light at night in forest and urban great tits. Proc R Soc B 28620190872:20190872. https://doi.org/10.1098/rspb.2019.0872

Welbers AAMH, van Dis NE, Kolvoort AM, Ouyang J, Visser ME, Spoelstra K, Dominoni DM (2017) Artificial light at night reduces daily energy expenditure in breeding great tits (Parus major). Front Ecol Evol doi 5. https://doi.org/10.3389/fevo.2017.00055

Yang YF, Jin SF, Zhong ZT, Yu YH, Yang B, Yuan HB, Pan JM (2015) Growth responses of broiler chickens to different periods of artificial light. J Animal Sci 93:767–775
Acknowledgments
We thank Devon Allred and Arizona State University Department of Animal Care and Technologies staff for help with bird maintenance.
Funding
This work was supported by the European Union's Horizon 2020 research and innovation program under the Marie Sklodowska-Curie grant agreement no. 701747 and the Estonian Research Council (IUT34-8, PSG458).
Ethics declarations
Conflict of interests
The authors declare that they have no conflict of interest.
Ethics approval
This study was carried out with the approval of Arizona State University's IACUC and complies with the National Institutes of Health guidelines for the care and use of laboratory animals.
Additional information
Publisher's note
Springer Nature remains neutral with regard to jurisdictional claims in published maps and institutional affiliations.
Communicated by: Matthias Waltert & Paula Roig Boixeda
Supplementary information
About this article
Cite this article
Sepp, T., Webb, E., Simpson, R.K. et al. Light at night reduces digestive efficiency of developing birds: an experiment with king quail. Sci Nat 108, 4 (2021). https://doi.org/10.1007/s00114-020-01715-9
Received:

Revised:

Accepted:

Published:
Keywords
Steatocrit

Light pollution

Development

Avian

Digestion

Excalfactoria chinensis