Abstract
Sexual size dimorphism (SSD), commonly observed in snakes, may arise from a different growth rate between the sexes. This indicates a sex-specific resource intake that is in fact observable in free-living snakes. It is not so well known whether the sexes can express differential feeding rates under conditions unconstrained by spatial accessibility, competition, etc. Here, I studied sex-specific variation in growth, its correlate—moulting frequency, and feeding rate in a captive group of sexually dimorphic banded water snakes (Nerodia fasciata) with access to food unconstrained by predation, competition or space. I showed that the sexes did indeed differ in relative mass growth in that females grew faster than males (p = 0.02), but such differences were not apparent in the moulting rate (p = 0.19). Such differential growth was mirrored in the sex-specific feeding rate, with females ingesting a larger number of meals than males (p = 0.004). Such variation in feeding rate may be governed by an individual's energy expenditure and can be interpreted as a behavioural tendency that contributes to SSD development, independently of other behavioural characteristics. Sex-specific resource demands may drive the differential effects of increasing resource scarcity on both sexes.
Access options
Buy single article
Instant access to the full article PDF.
US$ 39.95
Tax calculation will be finalised during checkout.
Subscribe to journal
Immediate online access to all issues from 2019. Subscription will auto renew annually.
US$ 79
Tax calculation will be finalised during checkout.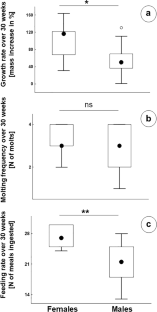 References
Abrams PA (1991) Life history and the relationship between food availability and foraging effort. Ecology 72:1242–1252. https://doi.org/10.2307/1941098

Adolph SC, Roughgarden J (1983) Foraging by passerine birds and Anolis lizards on St. Eustatius (Neth. Antilles): implications for interclass competition, and predation. Oecologia 56:313–317. https://doi.org/10.1007/BF00379705

Angilletta MJ, Steury TD, Sears MW (2004) Temperature, growth rate, and body size in ectotherms: fitting pieces of a life-history puzzle. Integr Comp Biol 44:498–509. https://doi.org/10.1093/icb/44.6.498

Autumn K, De Nardo DF (1995) Behavioral thermoregulation increases growth rate in a nocturnal lizard. J Herpetol 29:157–162. https://doi.org/10.2307/1564552

Biro PA, Stamps JA (2008) Are animal personality traits linked to life-history productivity? Trends Ecol Evol 23:361–368. https://doi.org/10.1016/j.tree.2008.04.003

Blanckenhorn WU (2005) Behavioral causes and consequences of sexual size dimorphism. Ethology 111:977–1016. https://doi.org/10.1111/j.1439-0310.2005.01147.x

Blouin-Demers G, Prior KA, Weatherhead PJ (2002) Comparative demography of black rat snakes (Elaphe obsoleta) in Ontario and Maryland. J Zool 256(1):1–10. https://doi.org/10.1017/S0952836902000018

Brodie ED III, Brodie ED Jr (1990) Tetrodotoxin resistance in garter snakes: an evolutionary response of predators to dangerous prey. Evolution 44(3):651–659. https://doi.org/10.1111/j.1558-5646.1990.tb05945.x

Brown GP, Madsen TR, Shine R (2017) Resource availability and sexual size dimorphism: differential effects of prey abundance on the growth rates of tropical snakes. Funct Ecol 31(8):1592–1599

Bulté G, Blouin-Demers G (2009) Does sexual bimaturation affect the cost of growth and the operational sex ratio in an extremely size-dimorphic reptile? Ecoscience 16:175–182. https://doi.org/10.2980/16-2-3243

Burbrink FT, Futterman I (2019) Female-biased gape and body-size dimorphism in the New World watersnakes (tribe: Thamnophiini) oppose predictions from Rensch's rule. Ecol Evol 9(17):9624–9633. https://doi.org/10.1002/ece3.5492

Bury S, Zając B (2020) The loss of sexual size dimorphism in urban populations of a widespread reptile, the European grass snake Natrix natrix. Current Zoology 66(2):217–218. https://doi.org/10.1093/cz/zoz034

Bury S, Cichoń M, Bauchinger U, Sadowska ET (2018) High oxidative stress despite low energy metabolism and vice versa: insights through temperature acclimation in an ectotherm. J Therm Biol 78:36–41. https://doi.org/10.1016/j.jtherbio.2018.08.003

Cássia Lamonica R, Abrahão-Charles H, de Castro Loguercio MF, Rocha-Barbosa (2007) Growth, shedding and food intake in captive Eunectes murinus (Linnaeus, 1758) (Serpentes: Boidae). Int J Morphol 25(1):103–108

Cliburn JW (1976) Observations of ecdysis in the black pine snake, Pituophis melanoleucus lodingi (Reptilia, Serpentes, Colubridae). J Herpetol 10:299–301. https://doi.org/10.2307/1563066

Cox RM, Skelly SL, John-Alder HB (2003) A comparative test of adaptive hypotheses for sexual size dimorphism in lizards. Evolution 57:1653–1669. https://doi.org/10.1111/j.0014-3820.2003.tb00371.x

Cox RM, Butler MA, John-Alder HB (2007) The evolution of sexual size dimorphism in reptiles. In: Székely T, Lislevand T, Figuerola J, Fairbairn D, Blanckenhorn W (eds) Sex, size and gender roles: evolutionary studies of sexual size dimorphism. Oxford University Press, New York, pp 38–49. https://doi.org/10.1093/acprof:oso/9780199208784.003.0005

Cox RM, Barrett MM, John-Alder HB (2008) Effects of food restriction on growth, energy allocation, and sexual size dimorphism in Yarrow's spiny lizard, Sceloporus jarrovii. Can J Zool 86(4):268–276. https://doi.org/10.1139/Z08-002

Cox RM, Cox CL, McGlothlin JW, Card DC, Andrew AL, Castoe TA (2017) Hormonally mediated increases in sex-biased gene expression accompany the breakdown of between-sex genetic correlations in a sexually dimorphic lizard. Am Nat 189:315–332. https://doi.org/10.1086/690105

Dmi'el R (1967) Studies on reproduction, growth, and feeding in the snake Spalerosophis cliffordi (Colubridae). Copeia 1967:332–346

Eertmans A, Victoir A, Vansant G, Van den Bergh O (2005) Food-related personality traits, food choice motives and food intake: mediator and moderator relationships. Food Qual Prefer 16:714–726. https://doi.org/10.1016/j.foodqual.2005.04.007

Fry B, Arnold C (1982) Rapid 13 C/12 C turnover during growth of brown shrimp (Penaeus aztecus). Oecologia 54(2):200–204

Gifford ME, Clay TA, Careau V (2014) Individual (co) variation in standard metabolic rate, feeding rate, and exploratory behavior in wild-caught semiaquatic salamanders. Physiol Biochem Zool 87:384–396. https://doi.org/10.1086/675974

Gregory PT, Prelypchan CJ (1994) Analysis of variance of first-year growth in captive garter snakes (Thamnophis elegans) by family and sex. J Zool 232(2):313–322

Huey RB, Kingsolver JG (2019) Climate warming, resource availability, and the metabolic meltdown of ectotherms. Am Nat 194(6):E140–E150. https://doi.org/10.1086/705679

Iraeta P, Monasterio C, Salvador A, Díaz JA (2006) Mediterranean hatchling lizards grow faster at higher altitude: a reciprocal transplant experiment. Funct Ecol 20(5):865–872. https://doi.org/10.1111/j.1365-2435.2006.01162.x

John-Alder HB, Cox RM, Taylor EN (2007) Proximate developmental mediators of sexual dimorphism in size: case studies from squamate reptiles. Integr Comp Biol 47:258–271. https://doi.org/10.1093/icb/icm010

Kozłowski J (1992) Optimal allocation of resources to growth and reproduction: implications for age and size at maturity. Trends Ecol Evol 7:15–19. https://doi.org/10.1016/0169-5347(92)90192-E

Lagarde F, Bonnet X, Henen BT, Corbin J, Nagy KA, Naulleau G (2001) Sexual size dimorphism in steppe tortoises (Testudo horsfieldii): growth, maturity, and individual variation. Can J Zool 79:1433–1441. https://doi.org/10.1139/cjz-79-8-1433

Lillywhite HB, Sheehy CM III (2016) Synchrony of ecdysis in snakes. Herpetol Conserv Biol 11(2):286–292

Lourdais O, Guillon M, DeNardo D, Blouin-Demers G (2013) Cold climate specialisation: adaptive covariation between metabolic rate and thermoregulation in pregnant vipers. Physiol Behav 119:149–155. https://doi.org/10.1016/j.physbeh.2013.05.041

Lyman-Henley LP, Burghardt GM (1995) Diet, litter, and sex effects on chemical prey preference, growth, and site selection in two sympatric species of Thamnophis. Herpetol Monogr 9:140–160

Maderson PFA (1985) Some developmental problems of the reptilian integument. In: Gans C, Billett F, Maderson PFA (eds) Biology of the Reptilia, vol 14B. John Wiley & Sons, New York, pp 525–598

Madsen T (1983) Growth rates, maturation and sexual size dimorphism in a population of grass snakes, Natrix natrix, in southern Sweden. Oikos 40:277–282. https://doi.org/10.2307/3544592

Madsen T, Shine R (1993a) Costs of reproduction in a population of European adders. Oecologia 94(4):488–495. https://doi.org/10.1007/BF00566963

Madsen T, Shine R (1993b) Phenotypic plasticity in body sizes and sexual size dimorphism in European grass snakes. Evolution 47(1):321–325. https://doi.org/10.1111/j.1558-5646.1993.tb01222.x

Madsen T, Shine R (2002) Short and chubby or long and slim? Food intake, growth and body condition in free-ranging pythons. Austral Ecol 27:672–680. https://doi.org/10.1046/j.1442-9993.2002.01228.x

Maillet Z, Halliday WD, Blouin-Demers G (2015) Exploratory and defensive behaviours change with sex and body size in eastern garter snakes (Thamnophis sirtalis). J Ethol 33(1):47–54. https://doi.org/10.1007/s10164-014-0416-2

Michelangeli M, Chapple DG, Wong BB (2016) Are behavioural syndromes sex specific? Personality in a widespread lizard species. Behav Ecol Sociobiol 70(11):1911–1919. https://doi.org/10.1007/s00265-016-2197-9

Mushinsky HR, Hebrard JJ, Walley MG (1980) The role of temperature on the behavioral and ecological associations of sympatric water snakes. Copeia 4:744–754. https://doi.org/10.2307/1444453

Nagy KA (1987) Field metabolic rate and food requirement scaling in mammals and birds. Ecol Monogr 57:111–128. https://doi.org/10.2307/1942620

Pollock NB, Feigin S, Drazenovic M, John-Alder HB (2017) Sex hormones and the development of sexual size dimorphism: 5α-dihydrotestosterone inhibits growth in a female-larger lizard (Sceloporus undulatus). J Exp Biol 220:4068–4077. https://doi.org/10.1242/jeb.166553

Rivas JA, Munoz MC, Burghardt GM, Thorbjarnarson JB (2007) Sexual size dimorphism and the mating system of the green anaconda (Eunectes murinus). In: Henderson RW, Powell R (ed) Biology of the Boas and Pythons. Eagle Mountain, Utah: Eagle Mountain Publishing, LC, pp: 312–325

Schudder RM, Burghardt GM (1985) The role of feeding regimens in the growth of neonate broad-banded water snakes, Nerodia fasciata confluens, and possible effects on reproduction. Dev Psychobiol 18:203–214

Schuett GW, Hardy DL, Earley RL, Greene HW (2005) Does prey size induce head skeleton phenotypic plasticity during early ontogeny in the snake Boa constrictor? J Zool 267(4):363–369. https://doi.org/10.1017/S0952836905007624

Sears MW (2005) Resting metabolic expenditure as a potential source of variation in growth rates of the sagebrush lizard. Comp Biochem Physiol A 140:171–177. https://doi.org/10.1016/j.cbpb.2004.12.003

Semlitsch RD, Gibbons JW (1982) Body size dimorphism and sexual selection in two species of water snakes. Copeia 4:974–976. https://doi.org/10.2307/1444113

Shine R (1978) Sexual size dimorphism and male combat in snakes. Oecologia 33:269–277. https://doi.org/10.1007/BF00348113

Shine R (1994) Sexual size dimorphism in snakes revisited. Copeia 2:326–346. https://doi.org/10.2307/1446982

Shine R, Harlow PS, Keogh JS (1998) The influence of sex and body size on food habits of a giant tropical snake, Python reticulatus. Funct Ecol 12:248–258. https://doi.org/10.1046/j.1365-2435.1998.00179.x

Stamps JA (1977) The relationship between resource competition, risk, and aggression in a tropical territorial lizard. Ecology 58:349–358. https://doi.org/10.2307/1935609

Stuginski DR, Mendes GF, Sant'Anna SS, Rubio DT, Vieira SEM, Oitaven LPC, Grego KF (2017) Sexual differences in growth rates of juveniles from a litter ofBothrops fonsecai: the role of feeding conversion in a female-biased SSD species. South Am J Herpetol 12(3):193–199

Swartwout MC, Vogrinc P, Baecher JA, Kross C, Willson JD (2020) Prey size and feeding rate do not influence trophic morphology of juvenile water snakes (Nerodia sipedon). Herpetologica 76(1):53–60. https://doi.org/10.1655/Herpetologica-D-18-00007

Taylor EN, Denardo DF (2005) Sexual size dimorphism and growth plasticity in snakes: an experiment on the western diamond-backed rattlesnake (Crotalus atrox). J Exp Zool A 303(7):598–607. https://doi.org/10.1002/jez.a.189

Tomović LM, Crnobrnja-Isailović JM, Ajtić RD, Aleksić ID, Djordjević SZ (2010) When do meadow vipers (Vipera ursinii) become sexually dimorphic?–ontogenetic patterns of sexual size dimorphisms. J Zool Syst Evol Res 48(3):279–282. https://doi.org/10.1111/j.1439-0469.2009.00556.x

Troncoso-Palacios J, Labra A (2012) Is the exploratory behavior of Liolaemus nitidus modulated by sex? Acta Herp 7(1):69–80. https://doi.org/10.13128/Acta_Herpetol-10481

Ward-Fear G, Brown GP, Pearson DJ, West A, Rollins LA, Shine R (2018) The ecological and life history correlates of boldness in free-ranging lizards. Ecosphere 9(3):e02125. https://doi.org/10.1002/ecs2.2125

Webb JK, Brook BW, Shine R (2003) Does foraging mode influence life history traits? A comparative study of growth, maturation and survival of two species of sympatric snakes from South-Eastern Australia. Austral Ecol 28(6):601–610. https://doi.org/10.1111/j.1442-9993.2003.tb00282.x

Werner EE, Anholt BR (1993) Ecological consequences of the trade-off between growth and mortality rates mediated by foraging activity. Am Nat 142:242–272. https://doi.org/10.1086/285537

Werner YL, Shapira T (2011) A brief review of morphological variation in Natrix tessellata in Israel: between sides, among individuals, between sexes, and among regions. Turk J Zool 35(4):451–466. https://doi.org/10.3906/zoo-1002-54
Acknowledgements
I would like to thank Oliver Hawlitschek and one anonymous reviewer for their valuable comments on the manuscript. I also thank Peter Senn for providing linguistic corrections to the manuscript.
Funding
The study was supported by a grant from National Science Centre in Poland (grant No. UMO-2016/21/N/NZ8/00959 and UMO-2019/32/T/NZ8/00410) and Jagiellonian University (DS/BW UJ INoS 757).
Ethics declarations
The study was performed in accordance with the relevant legal requirements in Poland.
Conflict of interest
The author declares that he has no conflict of interest.
Additional information
Publisher's note
Springer Nature remains neutral with regard to jurisdictional claims in published maps and institutional affiliations.
Communicated by: Oliver Hawlitschek
Supplementary information
About this article
Cite this article
Bury, S. Sex-specific growth is mirrored in feeding rate but not moulting frequency in a sexually dimorphic snake. Sci Nat 108, 6 (2021). https://doi.org/10.1007/s00114-020-01712-y
Received:

Revised:

Accepted:

Published:
Keywords
Sexual dimorphism

Growth

Food intake

Reptile

Feeding rate

Moulting