Abstract
Eusociality in its various degrees represents an animal social system characterised by cooperative brood care, differentiation into castes and generational overlap. The fossil record indicates that eusociality is likely to have originated in hymenopterans and blattodeans during the Cretaceous. In this study, we present findings from surveys in Peruvian (Villa Carmen) and Ecuadorian (Rio Bigal, El Reventador) cloud forests revealing the first extant cockroach species living in complex, structured groups (n = 90–200 individuals, ˃ 20 adults). We observed and described behaviours that suggest the existence of cooperative care, nest guarding, nest chamber preparation within hardwood Casearia sp. (Salicaceae) and bamboo (Bambusoideae), multiple overlapping generations ('different stages of' instars), colony translocation, possibly a sole reproductive female (1.25 times larger white 'queen', but no potential 'king' observed), and morphologically diversified immature stages. In order to define the lineage where this type of sociality originated and occurs, the forms of Melyroidea magnifica Shelford, 1912, M. ecuadoriana sp. n., M. mimetica Shelford, 1912 and an undescribed species from Peru are also described in a separate section of this study. Blattoid morphological characteristics such as typical styli suggest categorisation within distinct Oulopterygidae (Rehn, 1951), outside Corydiidae Saussure 1864. Transitional advanced sociality or semisociality in related Aclavoidea socialis gen. et sp. n. is documented in a rotting stump (n = 80 individuals, few adults). Close phylogenetic relation between the genera, conserved morphology of numerous characters and their diverse feeding strategies generally lacking specialisation suggests a rather recent origin of a social way of life in this group. Eusociality in invertebrates and vertebrates can thus originate in various phylogenetical and ecological trajectories including predation, parasitism, care for herbs and the new one, documented through diet shift from detritivory to fungivory and algaevory. Interdisciplinary approaches reveal the low degree of knowledge of rainforest ecosystems, with fundamental groups remaining still systematically and also behaviourally undescribed.
Access options
Buy single article
Instant access to the full article PDF.
USD 39.95
Price includes VAT (USA)
Tax calculation will be finalised during checkout.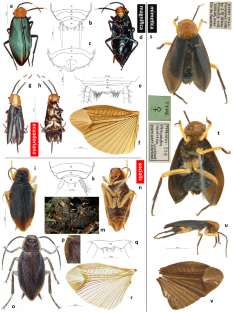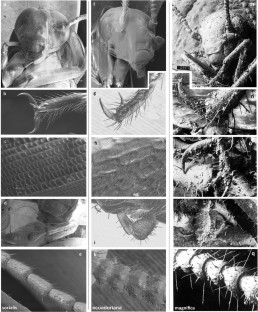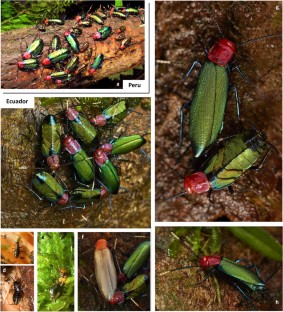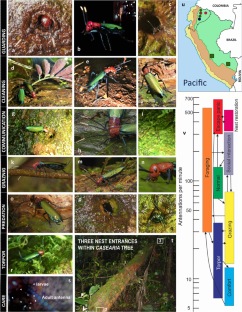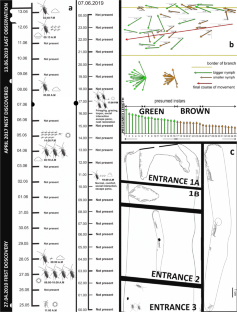 References
Abe T (1987) Evolution of life types in termites. In: Kawano S, Connell JH, Hidaka T (eds) Evolution and coadaptation in biotic communities. University of Tokyo Press, Tokyo, pp 125–148

Aoki S (1977) Colophina clematis (Homoptera, Pemphigidae), an aphid species with "soldiers". Kontyú 45:276–282

Bartz SH (1979) Evolution of eusociality in termites. Proc Natl Acad Sci U S A 76:5764–5768. https://doi.org/10.1073/pnas.76.11.5764

Batra SWT (1966) Nests and social behavior of halictine bees of India (Hymenoptera: Halictidae). Indian J Entomol 28:375–393

Beccaloni GW (2014) Cockroach species file online. Version 5.0/5.0. World Wide Web electronic publication http://Cockroach.SpeciesFile.org Accessed 25 June 2019

Bonfils J (1975) Blattopera (Orthopteroidea) récoltés en Guyane Française par la mission du Muséum national d'Histoire naturelle. Ann Soc Entomol Fr 11:29–63

Brues CT, Melander AL, Carpenter FM (1954) Classification of insects. Keys to the living and extinct families of insects, and to the living families of other terrestrial arthropods. Bull Mus Comp Zool 108:1–917

Brunner von Wattenwyl K (1865) Nouveau Système des Blattaires. G. Braumüller, Vienne

Comstock JH, Needham JG (1898) The wings of insects. Am Nat 33:117–126

Crespi BJ (1992) Eusociality in Australian gall thrips. Nature 359:724–726. https://doi.org/10.1038/359724a0

Ewald PW (1987) Transmission modes and evolution of the parasitism-mutualism continuum. Ann N Y Acad Sci 503:295–306. https://doi.org/10.1111/j.1749-6632.1987.tb40616.x

Froggatt WW (1897) Australian termitidae. Part II. Proc Linnean Soc NSW 21:510–552

Giron D, Ross KG, Strand MR (2007) Presence of soldier larvae determines the outcome of competition in a polyembryonic wasp. J Evol Biol 20:165–172. https://doi.org/10.1111/j.1420-9101.2006.01212.x

Gurney AB (1948) The taxonomy and distribution of the Grylloblattidae (Orthoptera). Proc Ent Soc Wash 50:86–102

Hebard M (1921) South American Blattidae from the Muséum National d'Histoire Naturelle, Paris, France. Proc Acad Natl Sci Phila 73:193–304

Hebard M (1926) The Blattidae of French Guiana. Proc Acad Natl Sci Phila 78:135–244

Hines HM, Hunt JH, O'Connor TK, Gillespie JJ, Cameron SA (2007) Multigene phylogeny reveals eusociality evolved twice in vespid wasps. Proc Natl Acad Sci U S A 104:3295–3299. https://doi.org/10.1073/pnas.0610140104

Inward D, Beccaloni G, Eggleton P (2007) Death of an order: a comprehensive molecular phylogenetic study confirms that termites are eusocial cockroaches. Biol Lett 3:331–335. https://doi.org/10.1098/rsbl.2007.0102

Ivanova-Kasas OM (1972) Polyembryony in insects. In: Counce SJ, Waddington CH (eds) Developmental systems: insects, vol 1. Academic, New York, pp 153–186

Kent DS, Simpson JA (1992) Eusociality in the beetle Austroplatypus incompertus (Coleoptera: Curculionidae ). Naturwissenschaften 79:86–87. https://doi.org/10.1007/BF01131810

Latreille PA (1810) Considérations générales sur l'ordre naturel des animaux composant les classes des crustacès, des arachnides, et des insectes, avec un tableau méthodique de leurs genres, disposés en familles. Chez. F. Schoell, Paris

Michener CD (1969) Comparative social behavior of bees. Annu Rev Entomol 14:299–342. https://doi.org/10.1146/annurev.en.14.010169.001503

Mullins DE, Keil CB (1980) Paternal investment of urates in cockroaches. Nature 283:567–569

Nalepa CA (1991) Ancestral transfer of symbionts between cockroaches and termites: an unlikely scenario. Proc R Soc Lond B 246:185–189. https://doi.org/10.1098/rspb.1991.0143

Nalepa CA, Lenz M (2000) The ootheca of Mastotermes darwiniensis Froggatt (Isoptera: Mastotermitidae): homology with cockroach oothecae. Proc Biol Sci 267:1809–1813. https://doi.org/10.1098/rspb.2000.1214

Nojima S, Sakuma M, Nishida R, Kuwahara Y (1999) A glandular gift in the German cockroach, Blattella germanica (L.) (Dictyoptera: Blattellidae): the courtship feeding of a female on secretions from male tergal glands. J Insect Behav 12:627–640. https://doi.org/10.1023/A:1020975619618

Pellens R, Grandcolas P (2008) Catalogue of Blattaria (Insecta) from Brazil. Zootaxa 1709:1–109

Princis K (1960) Zur systematik der Blattarien. EOS Rev Esp Entomol 36:427–449

Princis K (1965) Blattariae: Subordo Blaberoidea: fam.: Oxyhaloidae, Panesthiidae, Cryptocercidae, Chorisoneuridae, Oulopterigidae, Diplopteridae, Anaplectidae, Archiblattidae, Nothoblattidae. In: Beier M (ed) Orthopterorum catalogus pars 7. Dr. W. Junk, 's-Gravenhage, pp 283–400

Queller DC, Strassmann JE (2002) The many selves of social insects. Science 296:311–313. https://doi.org/10.1126/science.1070671

Rehn JWH (1951) Classification of the Blattaria as indicated by their wings (Orthoptera). Mem Am Entomol Soc 14:1–134

Roth LM (1991) The cockroach genera Sigmella Hebard and Scalida Hebard (Dictyoptera: Blattaria: Blattellidae). Entomol Scand 22:1–30

Roth LM (1994) The beetle-mimicking cockroach genera Prosoplecta and Areolaria, with a description of Tomeisneria furthi gen. n., sp. n. (Blattellidae: Pseudophyllodromiinae). Entomol Scand 25:419–426

Roth LM (2003) Systematics and phylogeny of cockroaches (Dictyoptera: Blattaria). Orient Insects 37:1–186. https://doi.org/10.1080/00305316.2003.10417344

Roth LM, Willis ER (1952) A study of cockroach behavior. Am Midl Nat 47:66–129

Saussure H (1864) Memoires de la Société de physique et d'histoire naturelle de Genève. Société de physique et d'histoire naturelle de Genève 18:230

Schal C, Bell WJ (1982) Ecological correlates of paternal investment of urates in a tropical cockroach. Science 218:170–173. https://doi.org/10.1126/science.218.4568.170

Scudder SH (1862) Materials for a monograph of the North American Orthoptera. Bost J Nat Hist 7:409–480. https://doi.org/10.5962/bhl.title.20701

Sendi H, Azar D (2017) New aposematic and presumably repellent bark cockroach from Lebanese amber. Cretac Res 72:13–17. https://doi.org/10.1016/j.cretres.2016.11.013

Shelford RWC (1912) Mimicry amongst the Blattidae; with a revision of the genus Prosoplecta Sauss., and the description of a new genus. Proc Zool Soc London 82:358–376. https://doi.org/10.1111/j.1469-7998.1912.tb07022.x

Šmídová L (2020) Cryptic bark cockroach (Blattinae: Bubosa poinari gen. et sp. nov.) from mid-Cretaceous amber of northern Myanmar. Cretac Res 109:104383. https://doi.org/10.1016/j.cretres.2020.104383

Šmídová L, Lei X (2017) The earliest amber-recorded type cockroach family was aposematic (Blattaria: Blattidae). Cretac Res 72:189–199. https://doi.org/10.1016/j.cretres.2017.01.008

Troyer K (1984) Microbes, herbivory and the evolution of social behavior. J Theor Biol 106:157–169. https://doi.org/10.1016/0022-5193(84)90016-X

Vršanský P (2010) Cockroach as the earliest eusocial animal. Acta Geol Sin 84:793–808. https://doi.org/10.1111/j.1755-6724.2010.00261.x

Vršanský P, Aristov D (2014) Termites (Isoptera) from the Jurassic/Cretaceous boundary: evidence for the longevity of their earliest genera. Eur J Entomol 111:137–141. https://doi.org/10.14411/eje.2014.014

Vršanský P, Oružinský R, Aristov D, Wei DD, Vidlička Ľ, Ren D (2017) Temporary deleterious mass mutations relate to originations of cockroach families. Biologia 72:886–912. https://doi.org/10.1515/biolog-2017-0096

Vršanský P, Bechly G, Zhang Q, Jarzembowski EA, Mlynský T, Šmídová L, Barna P, Kúdela M, Aristov D, Bigalk S, Krogmann L, Li L, Zhang Q, Zhang H, Ellenberger S, Müller P, Gröhn C, Xia F, Ueda K, Vďačný P, Valaška D, Vršanská L, Wang B (2018) Batesian insect-insect mimicry-related explosive radiation of ancient alienopterid cockroaches. Biologia 73:987–1006. https://doi.org/10.2478/s11756-018-0117-3

Vršanský P, Koubová I, Vršanská L, Hinkelman J, Kúdela M, Kúdelová T, Liang J-H, Xia F, Lei XJ, Ren XY, Vidlička Ĺ, Bao T, Ellenberger S, Šmídová L, Barclay M (2019a) Early wood-boring 'mole roach' reveals eusociality "missing ring". AMBA Projekty 9:1–28

Vršanský P, Sendi H, Aristov D, Bechly G, Müller P, Ellenberger S, Azar D, Ueda K, Barna P, Garcia T (2019b) Ancient roaches further exemplify 'no land return' in aquatic insects. Gondwana Res 68:22–33. https://doi.org/10.1016/j.gr.2018.10.020

Vršanský P, Šmídová L, Sendi H, Barna P, Müller P, Ellenberger S, Wu H, Ren X, Lei X, Azar D, Šurka J, Su T, Deng W, Shen X, Jun L, Bao T, Bechly G (2019c) Parasitic cockroaches indicate complex states of earliest proved ants. Biologia 74:65–89. https://doi.org/10.2478/s11756-018-0146-y

Watson JAL, Metcalf EC, Sewell JJ (1977) A re-examination of the development of castes in Mastotermes darwiniensis Froggatt (Isoptera). Aust J Zool 25:25–42. https://doi.org/10.1071/ZO9770025

Wilson EO (1971) The insect societies. Harvard University Press, Cambridge
Acknowledgements
Finnegan Marsh, David Furth, Floyd Shockley and Julia Snyder are acknowledged for organizing award stay of P.V. in National Museum of Natural History, Washington, D.C., U.S.A., and for providing collection data from Ecuador and Peru. Oxford Scientific Collection (OUMNH Oxford) data were kindly provided by Katherine Child and Amoret Spooner. Professor David A. Neill (Universidad Estatal Amazónica, Puyo) is acknowledged for tree determination; Professor Pavol Prokop (IZ SAS) for behavioural consultations. Professor Donald L.J. Quicke is acknowledged for providing support during the stay of P.V. in BMNH London.
Funding
This work was supported by the Slovak Research and Development Agency contracts No. APVV-0436-12; UNESCO-Amba/ MVTS supporting grant of Presidium of the Slovak Academy of Sciences (VEGA 2/0042/18, VEGA 2/0139/17) and The Systematic Association (Oxford).
Ethics declarations
Conflict of interest
Multiple affiliations of P.V. are within one research body (Slovak Academy of Sciences); secondary affiliation of J.H. is in unpaid position. All the other authors declare that they have no conflict of interest.
Ethical approval
This is an observational study. The Research Ethics Committee of Bioscience center of Slovak Academy of Sciences has confirmed that no ethical approval is required. Systematical material originated from old collections.
Additional information
Publisher's note
Springer Nature remains neutral with regard to jurisdictional claims in published maps and institutional affiliations.
Communicated by: Dany Azar
About this article
Cite this article
Hinkelman, J., Vršanský, P., Garcia, T. et al. Neotropical Melyroidea group cockroaches reveal various degrees of (eu)sociality. Sci Nat 107, 39 (2020). https://doi.org/10.1007/s00114-020-01694-x
Received:

Revised:

Accepted:

Published:
Keywords
Eusocial

New species

New genus

UNESCO BR

Mountain rainforest