Abstract
The main chemical composition of Sonoran propolis (SP), as well as its antiproliferative activity on cancer cells through apoptosis induction, has been reported. The chemical constitution of SP remained qualitatively similar throughout the year, whereas the antiproliferative effect on cancer cells exhibited significant differences amongst seasonal samples. The main goal of this study was to provide phytochemical and pharmacological evidence for the botanical source of SP and its antiproliferative constituents. A chemical comparative analysis of SP and plant resins of species found in the surrounding areas of the beehives was carried out by HPLC-UV-DAD, as well as by 1H NMR experiments. The antiproliferative activity on cancerous (M12.C3.F6, HeLa, A549, PC-3) and normal cell lines (L-929; ARPE-19) was assessed through MTT assays. Here, the main polyphenolic profile of SP resulted to be qualitatively similar to Populus fremontii resins (PFR). However, the antiproliferative activity of PFR on cancer cells did not consistently match that exhibited by SP throughout the year. Additionally, SP induced morphological modifications on treated cells characterised by elongation, similar to those induced by colchicine, and different to those observed with PFR treatment. These results suggest that P. fremontii is the main botanical source of SP along the year. Nevertheless, the antiproliferative constituents of SP that induce that characteristic morphological elongation on treated cells are not obtained from PFR. Moreover, the presence of kaempferol-3-methyl-ether in SP could point Ambrosia ambrosioides as a secondary plant source. In conclusion, SP is a bioactive poplar-type propolis from semi-arid zones, in which chemical compounds derived from other semi-arid plant sources than poplar contribute to its antiproliferative activity.
This is a preview of subscription content, log in to check access.
Access options
Buy single article
Instant access to the full article PDF.
US$ 39.95
Tax calculation will be finalised during checkout.
Subscribe to journal
Immediate online access to all issues from 2019. Subscription will auto renew annually.
US$ 99
Tax calculation will be finalised during checkout.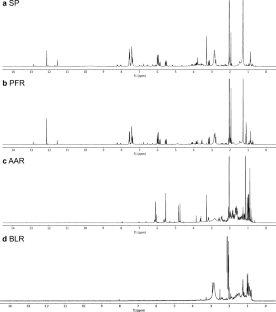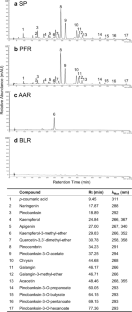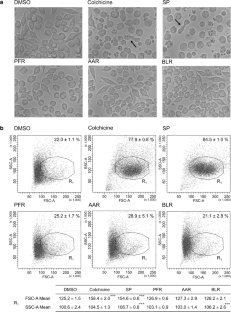 Abbreviations
SP:

Sonoran propolis

PFR:

Populus fremontii resins

AAR:

Ambrosia ambrosioides resins

BLR:

Bursera laxiflora resins

CAPE:

Caffeic acid phenethyl ester

5-FU:

5-Fluorouracil
References
Alday E, Valencia D, Carreño AL, Picerno P, Piccinelli AL, Rastrelli L, Robles-Zepeda R, Hernandez J, Velazquez C (2015) Apoptotic induction by pinobanksin and some of its ester derivatives from Sonoran propolis in a B-cell lymphoma cell line. Chem Biol Interact 242:35–44. https://doi.org/10.1016/j.cbi.2015.09.013

Bankova V (2005) Recent trends and important developments in propolis research. Evidence-based Complement Altern Med 2:29–32. https://doi.org/10.1093/ecam/neh059

Bankova V, Bertelli D, Borba R, Conti BJ, da Silva Cunha IB, Danert C, Eberlin MN, I Falcão S, Isla MI, Moreno MIN, Papotti G, Popova M, Santiago KB, Salas A, Sawaya ACHF, Schwab NV, Sforcin JM, Simone-Finstrom M, Spivak M, Trusheva B, Vilas-Boas M, Wilson M, Zampini C (2016) Standard methods for Apis mellifera propolis research. J Apic Res 8839:1–49. https://doi.org/10.1080/00218839.2016.1222661

Bankova V, Boudourova-Krasteva G, Sforcin JM, Frete X, Kujumgiev A, Maimoni-Rodella R, Popov S (1999) Phytochemical evidence for the plant origin of Brazilian propolis from Sao Paulo state. Z Naturforsch C 54:401–405. https://doi.org/10.1515/znc-1999-5-616

Bertelli D, Papotti G, Bortolotti L, Marcazzan GL, Plessi M (2012) 1H-NMR simultaneous identification of health-relevant compounds in propolis extracts. Phytochem Anal 23:260–266. https://doi.org/10.1002/pca.1352

Bueno-Silva B, Marsola A, Ikegaki M, Alencar SM, Rosalen PL (2017) The effect of seasons on Brazilian red propolis and its botanical source: chemical composition and antibacterial activity. Nat Prod Res 31:1318–1324. https://doi.org/10.1080/14786419.2016.1239088

Burdock GA (1998) Review of the biological properties and toxicity of bee propolis (propolis). Food Chem Toxicol 36:347–363. https://doi.org/10.1016/S0278-6915(97)00145-2

Catchpole O, Mitchell K, Bloor S, Davis P, Suddes A (2015) Antiproliferative activity of New Zealand propolis and phenolic compounds vs human colorectal adenocarcinoma cells. Fitoterapia 106:167–174. https://doi.org/10.1016/j.fitote.2015.09.004

Conti BJ, Santiago KB, Búfalo MC, Herrera YF, Alday E, Velazquez C, Hernandez J, Sforcin JM (2015) Modulatory effects of propolis samples from Latin America (Brazil, Cuba and Mexico) on cytokine production by human monocytes. J Pharm Pharmacol 67:1431–1438. https://doi.org/10.1111/jphp.12431

Falcão SI, Tomás A, Vale N, Gomes P, Freire C, Vilas-Boas M (2013a) Phenolic quantification and botanical origin of Portuguese propolis. Ind Crop Prod 49:805–812. https://doi.org/10.1016/j.indcrop.2013.07.021

Falcão SI, Vale N, Gomes P, Domingues MRM, Freire C, Cardoso SM, Vilas-Boas M (2013b) Phenolic profiling of Portuguese propolis by LC-MS spectrometry: uncommon propolis rich in flavonoid glycosides. Phytochem Anal 24:309–318. https://doi.org/10.1002/pca.2412

Ghisalberti EL (1979) Propolis: a review. Bee World 60:59–84. https://doi.org/10.1080/0005772X.1979.11097738

Gigant B, Cormier A, Dorléans A et al (2009) Microtubule-destabilizing agents: structural and mechanistic insights from the interaction of colchicine and vinblastine with tubulin. In: Topics in current chemistry, pp 259–278

Grunberger D, Banerjee R, Eisinger K, Oltz EM, Efros L, Caldwell M, Estevez V, Nakanishi K (1988) Preferential cytotoxicity on tumor cells by caffeic acid phenethyl ester isolated from propolis. Experientia 44:230–232. https://doi.org/10.1007/BF01941717

Hernandez J, Goycoolea FM, Quintero J, Acosta A, Castañeda M, Dominguez Z, Robles R, Vazquez-Moreno L, Velazquez E, Astiazaran H, Lugo E, Velazquez C (2007) Sonoran propolis: chemical composition and antiproliferative activity on cancer cell lines. Planta Med 73:1469–1474. https://doi.org/10.1055/s-2007-990244

Inui S, Hosoya T, Kumazaw S (2014) Hawaiian propolis: comparative analysis and botanical origin. Nat Prod Commun 9:165–166

Kumazawa S, Hamasaka T, Nakayama T (2004) Antioxidant activity of propolis of various geographic origins. Food Chem 84:329–339. https://doi.org/10.1016/S0308-8146(03)00216-4

Kumazawa S, Nakamura J, Murase M, Miyagawa M, Ahn MR, Fukumoto S (2008) Plant origin of Okinawan propolis: honeybee behavior observation and phytochemical analysis. Naturwissenschaften 95:781–786. https://doi.org/10.1007/s00114-008-0383-y

Lotti C, Fernandez MC, Piccinelli AL et al (2010) Chemical constituents of red Mexican propolis. J Agric Food Chem 58:2209–2213. https://doi.org/10.1021/jf100070w

Mosmann T (1983) Rapid colorimetric assay for cellular growth and survival: application to proliferation and cytotoxicity assays. J Immunol Methods 65:55–63. https://doi.org/10.1016/0022-1759(83)90303-4

Nina N, Quispe C, Jiménez-Aspee F, Theoduloz C, Feresín G, Lima B, Leiva E, Schmeda-Hirschmann G (2015) Antibacterial activity, antioxidant effect and chemical composition of propolis from the Región del Maule, central Chile. Molecules 20:18144–18167. https://doi.org/10.3390/molecules201018144

Nina N, Quispe C, Jiménez-Aspee F, Theoduloz C, Giménez A, Schmeda-Hirschmann G (2016) Chemical profiling and antioxidant activity of Bolivian propolis. J Sci Food Agric 96:2142–2153. https://doi.org/10.1002/jsfa.7330

NORMA Oficial Mexicana NOM-003-SAG/GAN-2017, Propóleos, producción y especificaciones para su procesamiento. Diario Oficial de la Federación. Secretaría de Agricultura, Ganadería, Desarrollo Rural, Pesca y Alimentación. Ciudad de México, 2017. http://dof.gob.mx/nota_to_doc.php?codnota=5500103. Accessed 6 Oct 2017

Oliveira LPG, Conte FL, Cardoso E de O et al (2016) Immunomodulatory/inflammatory effects of geopropolis produced by Melipona fasciculata Smith in combination with doxorubicin on THP-1 cells. J Pharm Pharmacol 68:1551–1558. https://doi.org/10.1111/jphp.12649

Piccinelli AL, Fernandez MC, Cuesta-Rubio O et al (2005) Isoflavonoids isolated from cuban propolis. J Agric Food Chem 53:9010–9016. https://doi.org/10.1021/jf0518756

Piccinelli AL, Mencherini T, Celano R, Mouhoubi Z, Tamendjari A, Aquino RP, Rastrelli L (2013) Chemical composition and antioxidant activity of Algerian propolis. J Agric Food Chem 61:5080–5088. https://doi.org/10.1021/jf400779w

Picerno P, Mencherini T, Sansone F, del Gaudio P, Granata I, Porta A, Aquino RP (2011) Screening of a polar extract of Paeonia rockii: composition and antioxidant and antifungal activities. J Ethnopharmacol 138:705–712. https://doi.org/10.1016/j.jep.2011.09.056

Sawicka D, Car H, Borawska MH, Nikliński J (2012) The anticancer activity of propolis. Folia Histochem Cytobiol 50:25–37. https://doi.org/10.5603/FHC.2012.0004

Sforcin J (2016) Biological properties and therapeutic applications of propolis. Phyther Res 30:894–905. https://doi.org/10.1002/ptr.5605

Sforcin JM, Bankova V (2011) Propolis: is there a potential for the development of new drugs? J Ethnopharmacol 133:253–260. https://doi.org/10.1016/j.jep.2010.10.032

Sforcin JM, Fernandes Júnior A, Lopes CAM et al (2001) Seasonal effect of brazilian propolis on Candida albicans and Candida tropicalis. J Venom Anim Toxins 7:139–144. https://doi.org/10.1590/S0104-79302001000100009

Sforcin JM, Fernandes A, Lopes CAM et al (2000) Seasonal effect on Brazilian propolis antibacterial activity. J Ethnopharmacol 73:243–249. https://doi.org/10.1016/S0378-8741(00)00320-2

Shreve F, Wiggins IL (1964) Vegetation and flora of the Sonoran Desert, vol I. Original E. Stanford University Press, Stanford

Simone-Finstrom M, Borba RS, Wilson M, Spivak M (2017) Propolis counteracts some threats to honey bee health. Insects 8. https://doi.org/10.3390/insects8020046

Simone-Finstrom M, Spivak M (2010) Propolis and bee health: the natural history and significance of resin use by honey bees. Apidologie 41:295–311. https://doi.org/10.1051/apido/2010016

Solorzano ER, Bortolini C, Bogialli S, di Gangi IM, Favaro G, Maldonado L, Pastore P (2017) Use of a LC-DAD-QTOF system for the characterization of the phenolic profile of the argentinean plant Zuccagnia punctata and of the related propolis: new biomarkers. J Funct Foods 33:425–435. https://doi.org/10.1016/j.jff.2017.04.003

Valencia D, Alday E, Robles-Zepeda R, Garibay-Escobar A, Galvez-Ruiz JC, Salas-Reyes M, Jiménez-Estrada M, Velazquez-Contreras E, Hernandez J, Velazquez C (2012) Seasonal effect on chemical composition and biological activities of Sonoran propolis. Food Chem 131:645–651. https://doi.org/10.1016/j.foodchem.2011.08.086

Velazquez C, Navarro M, Acosta A, Angulo A, Dominguez Z, Robles R, Robles-Zepeda R, Lugo E, Goycoolea FM, Velazquez EF, Astiazaran H, Hernandez J (2007) Antibacterial and free-radical scavenging activities of Sonoran propolis. J Appl Microbiol 103:1747–1756. https://doi.org/10.1111/j.1365-2672.2007.03409.x

Wilson MB, Pawlus AD, Brinkman D, Gardner G, Hegeman AD, Spivak M, Cohen JD (2017) 3-Acyl dihydroflavonols from poplar resins collected by honey bees are active against the bee pathogens Paenibacillus larvae and Ascosphaera apis. Phytochemistry 138:83–92. https://doi.org/10.1016/j.phytochem.2017.02.020

Wollenweber E, Buchmann SL (1997) Feral honey bees in the Sonoran Desert: propolis sources other than poplars (Populus spp.). Z Naturforsch C 52:530–535
Acknowledgements
We would thank José Jesús Sánchez-Escalante (Curator of the University of Sonora Herbarium), Lucila Rascon and Judith Valdez for their participation and technical support in the development of this study, as well as the professional beekeeper Gilberto Valenzuela for his long-standing collaboration. Efrain Alday acknowledges CONACYT (Mexico) for a scholarship granted.
Ethics declarations
Conflict of interest
The authors declare that they have no conflict of interest.
Additional information
Publisher's note
Springer Nature remains neutral with regard to jurisdictional claims in published maps and institutional affiliations.
Communicated by: Lars Koerner
About this article
Cite this article
Alday, E., Valencia, D., Garibay-Escobar, A. et al. Plant origin authentication of Sonoran Desert propolis: an antiproliferative propolis from a semi-arid region. Sci Nat 106, 25 (2019). https://doi.org/10.1007/s00114-019-1620-2
Received:

Revised:

Accepted:

Published:
Keywords
Sonoran Desert propolis

Polyphenolic profile

Populus fremontii S. Watson
Ambrosia ambrosioides (Cav.) Payne

Antiproliferative activity