Abstract
Ant-gardens (AGs) are considered one of the most complex mutualist systems between ants and plants, since interactions involving dispersal, protection, and nutrition occur simultaneously in them; however, little is known about the effects of the transformation of ecosystems on their diversity and interactions. In five environments with different land use within an anthropic landscape in southeastern Mexico, we investigated the diversity and composition of epiphytes and host trees of AGs built by Azteca gnava. A total of 10,871 individuals of 26 epiphytic species, associating with 859 AGs located in 161 host trees, were recorded. The diversity and composition of epiphytes tended to be different between environments; however, Aechmea tillandsioides and Codonanthe uleana were the most important species and considered true AG epiphytes, because they were the most frequent, abundant, and occurred exclusively in AGs. Other important species were the orchids Epidendrum flexuosum, Coryanthes picturata, and Epidendrum pachyrachis, and should also be considered true AG epiphytes, because they occurred almost exclusively in the AGs. The AG abundance in agroforestry plantations was similar or even greater than in riparian vegetation (natural habitat). The AGs were registered in 37 host species but were more frequent in Mangifera indica and Citrus sinensis. We conclude that true epiphytes of A. gnava AGs persist in different environments and host trees, and even these AGs could proliferate in agroforestry plantations of anthropic landscapes.
Access options
Buy single article
Instant access to the full article PDF.
US$ 39.95
Tax calculation will be finalised during checkout.
Subscribe to journal
Immediate online access to all issues from 2019. Subscription will auto renew annually.
US$ 79
Tax calculation will be finalised during checkout.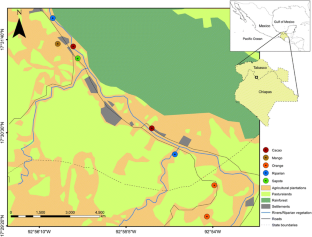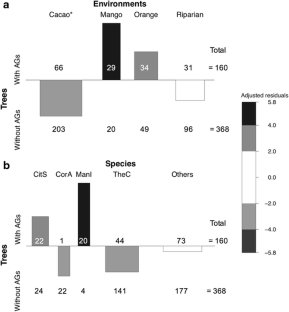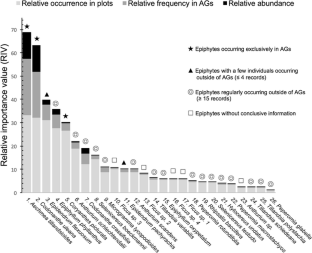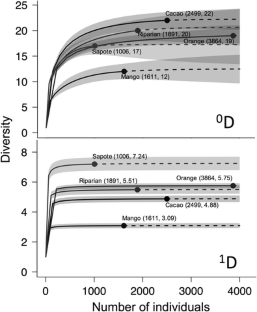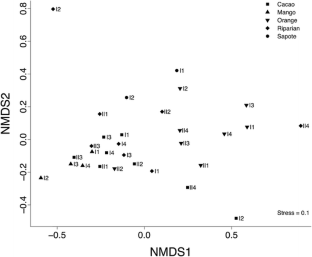 References
Bascompte J, Jordano P (2007) Plant-animal mutualistic networks: the architecture of biodiversity. Annu Rev Ecol Evol S 38:567–593. doi:10.1146/annurev.ecolsys.38.091206.095818

Blüthgen N, Verhaagh M, Goitía W, Jaffé K, Morawetz W, Barthlott W (2000) How plants shape the ant community in the Amazonian rainforest canopy: the key role of extrafloral nectaries and homopteran honeydew. Oecologia 125:229–240. doi:10.1007/s004420000449

Callaway RM, Reinhart KO, Moore GW, Moore DJ, Pennings SC (2002) Epiphyte host preferences and host traits: mechanisms for species-specific interactions. Oecologia 132:221–230. doi:10.2307/4223331

Catling PM (1995) Evidence for partitioning of Belezean ant nest substrate by a characteristic flora. Biotropica 27:535–537

Catling PM (1997) Influence of aerial Azteca nests on the epiphyte community of some Belizean orange orchards. Biotropica 29:237–242

Chao A, Jost L (2012) Coverage-based rarefaction and extrapolation: standardizing samples by completeness rather than size. Ecology 93:2533–2547. doi:10.1890/11-1952.1

Chao A, Gotelli NJ, Hsieh TC, Sander EL, Ma KH, Colwell RK, Ellison AM (2014) Rarefaction and extrapolation with hill numbers: a framework for sampling and estimation in species diversity studies. Ecol Monogr 84:45–67. doi:10.1890/13-0133.1

Clarke KR (1993) Non-parametric multivariate analyses of changes in community structure. Aust J Ecol 18:117–143. doi:10.1111/j.1442-9993.1993.tb00438.x

Clarke KR, Gorley RN (2015) PRIMER v7: User Manual/Tutorial. PRIMER-E, Plymouth

Core Team R (2015) R: a language and environment for statistical computing. R Foundation for Statistical Computing, Vienna, Austria http://www.R-project.org. Accessed April 2015

Davidson DW (1988) Ecological studies of neotropical ant gardens. Ecology 69:1138–1152. doi:10.2307/1941268

De Beenhouwer M, Aerts R, Honnay O (2013) A global meta-analysis of the biodiversity and ecosystem service benefits of coffee and cacao agroforestry. Agric Ecosyst Environ 175:1–7. doi:10.1016/j.agee.2013.05.003

Dejean A, Corbara B, Snelling RR, Belin M (1997) Les jardins de fourmis de Guyane française: relations entre arbres-supports, épiphytes et fourmis. Acta Bot Gallica 144:333–345. doi:10.1080/12538078.1997.10515378

Dejean A, Corbara B, Orivel J, Snelling RR, Delabie JHC, Belin-Depoux M (2000) The importance of ant gardens in the pioneer vegetal formations of French Guiana (hymenoptera: Formicidae). Sociobiology 35:425–440

Dejean A, Corbara B, Orivel J, Leponce M (2007) Rainforest canopy ants: the implications of territoriality and predatory behavior. Funct Ecosyst Commun 1:105–120

Delabie JHC (1990) The ant problems of cocoa farms in Brazil. In: Vandermeer RK, Jaffé K, Cedeno A (eds) Applied myrmecology: a world perspective. Westview Press, Colorado, pp. 555–569

Denis D, Orivel J, Hora RR, Chameron S, Fresneau D (2006) First record of polydomy in a monogynous ponerine ant: a means to allow emigration between Pachycondyla goeldii nests. J Insect Behav 19:279–291. doi:10.1007/s10905-006-9024-5

Díaz-Padilla G, Ruiz-Corral JA, Medina-García G, Cano-García MA, Serrano-Altamirano V (2006) Estadísticas climáticas básicas del estado de Tabasco (Período 1961–2003). INIFAP-CIRGOC, Veracruz

Floren A, Wetzel W, Staab M (2014) The contribution of canopy species to overall ant diversity (hymenoptera: Formicidae) in temperate and tropical ecosystems. Myrmecol News 19:65–74

Flores-Palacios A, García-Franco JG (2001) Sampling methods for vascular epiphytes: their effectiveness in recording species richness and frequency. Selbyana 22:181–191

Giraudoux P (2015) pgirmess: data analysis in ecology. R package version 1.6.2. http://CRAN.R-project.org/package=pgirmess. Accessed April 2015

Gradstein SR, Nadkarni NM, Kromer T, Holz I, Nöske N (2003) A protocol for rapid and representative sampling of vascular and non-vascular epiphyte diversity of tropical rain forests. Selbyana 24:105–111

Haberman SJ (1973) The analysis of residuals in cross-classified tables. Biometrics 29:205–220

Haddad NM, Brudvig LA, Clobert J et al (2015) Habitat fragmentation and its lasting impact on Earth's ecosystems. Sci Adv 1. doi:10.1126/sciadv.1500052

Hágsater E, Soto-Arenas MÁ, Salazar GA, Jiménez-Machorro R, López-Rosas M, Dressler R (2005) Las orquídeas de México. Instituto Chinoín, Ciudad de México

Holtum JM, Winter K (2005) Carbon isotope composition of canopy leaves in a tropical forest in Panama throughout a seasonal cycle. Trees 19:545–551. doi:10.1007/s00468-005-0413-8

Hsieh TC, Ma KH, Chao A (2013) iNEXT online: interpolation and extrapolation Version 1.0. http://chao.stat.nthu.edu.tw/blog/software-download. Accessed July 2015

Johansson D (1974) Ecology of vascular epiphytes in West African rain forest. Acta Phytogeogr Suec 59:1–136

Jost L (2006) Entropy and diversity. Oikos 113:363–375. doi:10.1111/j.2006.0030-1299.14714.x

Kaufmann E, Maschwitz U (2006) Ant-gardens of tropical Asian rainforests. Naturwissenschaften 93:216–227. doi:10.1007/s00114-005-0081-y

Kaufmann E, Weissflog A, Hashim R, Maschwitz U (2001) Ant-gardens on the giant bamboo Gigantochloa scortechinii (Poaceae) in West-Malaysia. Insect Soc 48:125–133. doi:10.1007/pl00001754

Kleinfeldt SE (1978) Ant-gardens: the interaction of Codonanthe crassifolia (Gesneriaceae) and Crematogaster longispina (Formicidae). Ecology 59:449–456. doi:10.2307/1936574

Kreft H, Köster N, Küper W, Nieder J, Barthlott W (2004) Diversity and biogeography of vascular epiphytes in Western Amazonia, Yasuní, Ecuador. J Biogeogr 31:1463–1476. doi:10.1111/j.1365-2699.2004.01083.x

Krömer T, Kessler M, Gradstein SR, Acebey A (2005) Diversity patterns of vascular epiphytes along an elevational gradient in the Andes. J Biogeogr 32:1799–1809. doi:10.1111/j.1365-2699.2005.01318.x

Kruskal JB (1964) Nonmetric multidimensional scaling: a numerical method. Psychometrika 29:115–129. doi:10.1007/bf02289694

Laurance WF, Sayer J, Cassman KG (2014) Agricultural expansion and its impacts on tropical nature. Trends Ecol Evol 29:107–116. doi:10.1016/j.tree.2013.12.001

Longino JT (1986) Ants provide substrate for epiphytes. Selbyana 9:100–103

Longino JT (2007) A taxonomic review of the genus Azteca (Hymenoptera: Formicidae) in Costa Rica and a global revision of the aurita group. Zootaxa 1491:1–63

Madison M (1979) Additional observations on ant-gardens in Amazonas. Selbyana 5:107–115

Marini-Filho OJ (1999) Distribution, composition, and dispersal of ant gardens and tending ants in three kinds of central Amazonian habitats. Trop Zool 12:289–296

Martínez-Meléndez N, Pérez-Farrera MA, Flores-Palacios A (2008) Estratificación vertical y preferencia de hospedero de las epífitas vasculares de un bosque nublado de Chiapas, México. Rev Biol Trop 56:2069–2086

Mayer VE, Frederickson ME, McKey D, Blatrix R (2014) Current issues in the evolutionary ecology of ant-plant symbioses. New Phytol 202:749–764. doi:10.1111/nph.12690

Meyer D, Zeileis A, Hornik K (2015) vcd: visualizing categorical data. R package version 1:4–2 http://CRAN.R-project.org/package=vcd. Accessed April 2015

Morales-Linares J (2012) Diversidad y conservación de orquídeas en plantaciones de cacao del sureste de México. Dissertation, Instituto de Ecología, A.C.

Mougi A, Kondoh M (2012) Diversity of interaction types and ecological community stability. Science 337:349–351. doi:10.1126/science.1220529

Mueller-Dombois D, Ellenberg H (1974) Aims and methods of vegetation ecology. John Wiley & Sons, New York

Nieder J, Engwald S, Klawun M, Barthlott W (2000) Spatial distribution of vascular epiphytes (including Hemiepiphytes) in a lowland amazonian rain forest (Surumoni rane plot) of southern Venezuela. Biotropica 32:385–396. doi:10.1111/j.1744-7429.2000.tb00485.x

Nieder J, Prosperí J, Michaloud G (2001) Epiphytes and their contribution to canopy diversity. Plant Ecol 153:51–63. doi:10.1023/a:1017517119305

Offenberg J (2015) Review: ants as tools in sustainable agriculture. J Appl Ecol 52:1197–1205. doi:10.1111/1365-2664.12496

Oksanen J et al (2015) Vegan: community ecology package. R package version 2:3 http://CRAN.R-project.org/package=vegan. Accessed April 2015

Orivel J, Dejean A (1999) Selection of epiphyte seeds by ant-garden ants. Ecoscience 6:51–55

Orivel J, Leroy C (2011) The diversity and ecology of ant gardens (Hymenoptera: Formicidae; Spermatophyta: Angiospermae). Myrmecol News 14:73–85

Paolucci LN, Solar RRC, Leal LC (2016) Proximity shapes similarity in epiphytic composition of Neotropical ant gardens. J Trop Ecol 32:325–329. doi:10.1017/S0266467416000298

Rico-Gray V, Oliveira PS (2007) The ecology and evolution of ant-plant interactions. University of Chicago Press, Chicago

Salazar-Conde E, Zavala-Cruz J, Castillo-Acosta O, Cámara-Artigas R (2004) Evaluación espacial y temporal de la vegetación de la Sierra Madrigal, Tabasco, México (1973–2003). Inv Geo Bol Inst Geo UNAM 54:7–23

Sanford WW (1968) Distribution of epiphytic orchids in semi-deciduous tropical forest in southern Nigeria. J Ecol 56:697–705

Schmit-Neuerburg V, Blüthgen N (2007) Ant-garden epiphytes are protected against drought in a Venezuelan lowland rain forest. Ecotropica 13:93–100

Vandermeer J, Perfecto I, Philpott S (2010) Ecological complexity and pest control in organic coffee production: uncovering an autonomous ecosystem service. Bioscience 60:527–537. doi:10.1525/bio.2010.60.7.8

Vantaux A, Dejean A, Dor A, Orivel J (2007) Parasitism versus mutualism in the ant-garden parabiosis between Camponotus femoratus and Crematogaster levior. Insect Soc 54:95–99. doi:10.1007/s00040-007-0914-0

Vásquez-Bolaños M (2015) Taxonomía de Formicidae (Hymenoptera) para México. Métodos en Ecología y Sistemática 10:1–53

Wolda H (1981) Similarity indices, sample size and diversity. Oecologia 50:296–302. doi:10.1007/BF00344966

Woods CL, Cardelús CL, DeWalt SJ (2015) Microhabitat associations of vascular epiphytes in a wet tropical forest canopy. J Ecol 103:421–430. doi:10.1111/1365-2745.12357

Youngsteadt E, Baca JA, Osborne J, Schal C (2009) Species-specific seed dispersal in an obligate ant-plant mutualism. PLoS One 4:e4335. doi:10.1371/journal.pone.0004335

Yu DW (1994) The structural role of epiphytes in ant gardens. Biotropica 26:222–226

Zar JH (2010) Biostatistical analysis, 5th edn. Prentice Hall, Upper Saddle River, NJ
Acknowledgements
Thanks to Thomas Castellanos Gómez and Darvelio Alvarado Gómez for the assistance in the field, and to Luis Quiróz Robledo, Gibrán Pérez, and Dora L. Martínez Tlapa for their support in the identification and assembly of the ants. We also thank to Michelle Ramos Robles and Rosario Landgrave Ramírez for their support to elaborate Fig. 1, and to Miguel Á. García Martínez for his comments on the analysis of similarity of species. María E. Sánchez Salazar contributed with the English translation of the manuscript. The first author was supported by a CONACYT fellowship (No. 250340) and INECOL (20030-10144). We also appreciate the suggestions made to the manuscript by four anonymous reviewers.
Additional information
Communicated by: Alain Dejean
Electronic supplementary materials
About this article
Cite this article
Morales-Linares, J., García-Franco, J.G., Flores-Palacios, A. et al. Vascular epiphytes and host trees of ant-gardens in an anthropic landscape in southeastern Mexico. Sci Nat 103, 96 (2016). https://doi.org/10.1007/s00114-016-1421-9
Received:

Revised:

Accepted:

Published:
Keywords
Agroforestry plantations

Chiapas, diversity

Riparian vegetation

Species composition

Tabasco