Abstract
The matamata (Chelus fimbriatus) is a highly aquatic chelid turtle known exclusively from northern South America. Due to its extremely modified morphology, it is well circumscribed among living taxa, but that is not the case of the two extinct species ascribed to the taxon, Chelus colombianus and Chelus lewisi. These were originally described for the Miocene of Colombia and Venezuela, respectively, and are known mostly from post-cranial material. Few traits have been considered diagnostic for these fossil taxa, and their shared geographic and temporal distributions raise doubts about their distinctiveness. Here, we describe new turtle remains from the early Miocene Castillo Formation, at Cerro la Cruz, northwestern Venezuela, assigning them to C. colombianus. We also review the taxonomy and diagnostic features of the fossil species of Chelus, comparing them with the variation recognized within C. fimbriatus. All alleged differences between the fossil Chelus species were found in our sample of the extant species, and may represent intraspecific variation of a single fossil species. Further, we reviewed the fossil record of Chelus spp. and proposed a paleobiogeographic hypothesis to explain its present geographic range.
This is a preview of subscription content, log in to check access.
Access options
Buy single article
Instant access to the full article PDF.
US$ 39.95
Price includes VAT for USA
Subscribe to journal
Immediate online access to all issues from 2019. Subscription will auto renew annually.
US$ 99
This is the net price. Taxes to be calculated in checkout.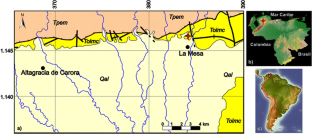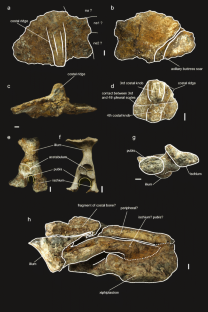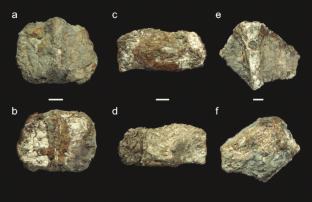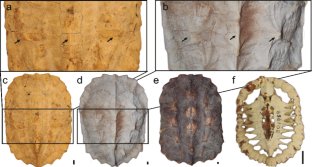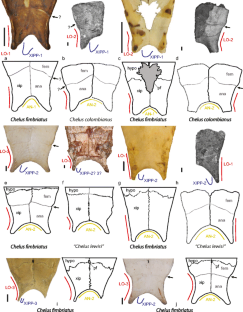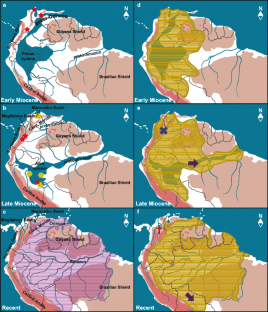 References
Aguilera OA (2004) Tesoros paleontológicos de Venezuela: Urumaco, patrimonio natural de la humanidad. Universidad Nacional Experimental Francisco de Miranda. Santa Ana de Coro, Venezuela

Batsch AJGC (1788) Versuch einer Anleitung, zur Kenntniß und Geschichte der Thiere und Mineralien. Akademische Buchhandlung, Jena

Bermúdez MA, van der Beek P, Bernet M (2011) Asynchronous Miocene–Pliocene exhumation of the central Venezuelan Andes. Geology 39(2):139–142. doi:10.1130/G31582.1

Bocquentin VJ (1988) On the turtle Chelus lewisi (Testudinata, Pleurodira). J Herpetol 22:343–344

Bocquentin VJ, Rodrigues dos Santos JC (1989) Ocorrência de Chelus colombiana (Chelonii, Chelidae) no Mioceno superior do Estado do Acre, Brasil. In: Anais do XI Congresso Brasileiro de Paleontologia, Curitiba, Sociedade Brasileira de Paleontologia ed., Curitiba, 9/1989, pp 439–446.

Bocquentin J, Guilherme E, Negri FR (2001) Two species of the genus Chelus (Pleurodira, Chelidae) in the late Miocene-Pliocene of Southwestern Amazon. Geociências 6(6):50–55

Cadena EA, Jaramillo CA (2015a) Early to middle Miocene turtles from the northernmost tip of South America: giant testudinids, chelids, and podocnemidids from the Castilletes Formation, Colombia. Ameghiniana 52(2):188–203

Cadena EA, Jaramillo CA (2015b) The first fossil skull of Chelus (Pleurodira: Chelidae, Matamata turtle) from the early Miocene of Colombia. Palaeontol Electron 18.2(32A):1–10

Cadena EA, Jaramillo C, Paramo M (2008) New material of Chelus colombiana (Testudines; Pleurodira) from the Lower Miocene of Colombia. J Vertebr Paleontol 28:1206–1212

Campos DA (1977) Tartarugas fósseis do Brasil. Dissertation, Universidade Federal do Rio de Janeiro.

Cope ED (1864) On the limits and relations of the Raniformes. Proc Acad Natl Sci Phila 16:181–183

Díaz de Gamero ML, Linares OJ (1989) Estratigrafía y paleontología de la Formación Urumaco, del Mioceno tardío de Falcón noroccidental. In: VII Congreso Geologico de Venezuela (Memorias) 1, p 419–439

de la Fuente MS, Lapparent de Broin F, Manera de Bianco T (2001) The oldest and first nearly complete skeleton of a chelid, of the Hydromedusa sub-group (Chelidae, Pleurodira), from the Upper Cretaceous of Patagonia. Bull Soc Geol Fr 172:105–112

Díaz de Gamero ML (1996) The changing course of the Orinoco River during the Neogene, a review. Palaeogeogr Palaeocl 123:385–402

Duméril AMC (1806) Zoologie analytique, ou méthode naturelle de classification des animaux, rendue plus facile a l'aide de tableux synoptiques. Allais, Paris

Gaffney ES (1990) The comparative osteology of the Triassic turtle Proganochelys. Bull Am Mus Nat Hist 194:1–263

Garbin RC (2014) Revisão taxonômica da tartaruga de água doce neotropical Chelus fimbriatus (Schneider, 1783) (Testudines; Chelidae), a Matamatá. Dissertation, Museu Nacional, Universidade do Rio de Janeiro

Gray E (1825) A synopsis of the genera of reptiles and amphibia, with a description of some new species. Ann Philos 10:193–217

Handy AJW, Jones DS, Moreno F, Zapata V, Jaramillo C (2015) Neogene molluscs, shallow-marine paleoenvironments and chronostratigraphy of the Guajira Peninsula, Colombia. Swiss J Paleontol 134:45–75

Hoorn C, Wesselingh FP, ter Steege H, Bermudez MA, Mora A, Sevink J, Sanmartín I, Sánchez–Meseguer A, Anderson CL, Figueiredo JP, Jaramillo C, Riff D, Negri FR, Hooghiemstra H, Lundberg J, Stadler T, Särkinen T, Antonelli A (2010) Amazonia through time: Andean uplift, climate change, landscape evolution, and biodiversity. Science 330:927–931

Huene FF (1944) Ein Anomodontier-Fund am oberen Amazonas. N Jb Geol Paläont (Monatsh) 10:260–265

ICZN (International Commission on Zoological Nomenclature) (1999) International code of zoological nomenclature, 4th edn. International Trust for Zoological Nomenclature, London

Johnson K, Sánchez-Villagra M, Aguilera OA (2009) The Oligocene-Miocene transition on coral reefs in the Falcón Basin (NW Venezuela). Palaios 24(1):59–69

Lapparent de Broin F, Bocquentin J, Negri FR (1993) Gigantic turtles (Pleurodira, Podocnemididae) from the late Miocene-early Pliocene of South Western Amazon. Bull de l'Institut français d'études andines 22(2):657–670

Linares OJ (2004) Bioestratigrafía de la fauna de mamíferos de las formaciones Socorro, Urumaco y Codore (Mioceno Medio–Plioceno Temprano), de la región de Urumaco, Falcón, Venezuela. Paleobiología Neotropical 1:1–26

Martínez G, Valleta G (2008) Petrografia de las facies gruesas de la Formación Matatere y otras unidades del centro-occidente de Venezuela. Geos, Universidad Central de Venezuela 40 (201):65–66

Moreno JF, Hendy AJW, Quiroz L, Hoyos N, Jones DS, Zapata V (2015) Revised stratigraphy of Neogene strata in the Cocinetas Basin, La Guajira, Colombia. Swiss J Palaeontol 134:1–39

Oliveira GR, Romano PSR (2007) Histórico dos achados de tartarugas fósseis do Brasil. Arq Mus Nac 65(1):113–133

Patterson B (1936) Caiman latirostris from the Pleistocene of Argentine, and a summary of South American Cenozoic Crocodilia. Herpetologica 1:43–54

Paula-Couto C (1960) Uma preguiça terrícola da região do Alto Amazonas, Colômbia. Bol do Mus Nac (Nova Série, Geol) 31:1–9

Price IL (1956) Sobre a suposta presença de um anomodonte triássico no alto rio Amazonas. Notas Preliminares e Estud 93:1–10

Pritchard PCH (2008) Chelus fimbriata (Schneider 1783) matamata turtle. In Conservation biology of freshwater turtles and tortoises: a compilation project of the IUCN/SSC Tortoise and Freshwater Turtle Specialist Group. In: Rhodin AGJ, Pritchard PCH, van Dijk PP, Saumure RA, Buhlmann KA, Iverson JB (ed) Chelonian Res Monogr 5:1–10

Pritchard PCH, Trebbau P (1984) The turtles of Venezuela. Society for the Study of Amphibians and Reptiles

Rincón AD, Solórzano A, Benammi M, Vignaud P, McDonald HG (2014) Chronology and geology of an Early Miocene mammalian assemblage in North of South America, from Cerro La Cruz (Castillo Formation), Lara State, Venezuela: implications in the "changing course of Orinoco River" hypothesis. Andean Geol 41:507–528

Rodrigues JB (1892) Les reptiles fossiles de la vallé de l'Amazone. Vellosia 2:41–56

Rueda-Almonacid JV, Carr JL, Mittermeier RA, Rodriguez-Mahecha JV, Mast RB, Vogt RC, Rhodin AGJ, de la Ossa-Velásquez J, Rueda JN, Mittermeier CG (2007) Las tortugas y los crocodilianos de los países andinos del trópico. Editorial Panamericana, Formas e Impresos, Serie de guías tropicales de campo No. 6, Conservación Internacional. Bogotá, Colombia

Sánchez–Villagra MR, Aguilera OA (2006) Neogene vertebrates from Urumaco, Falcón State, Venezuela: diversity and significance. J Syst Palaeontol 4:213–220

Sánchez-Villagra MR, Linares OJ, Paolillo A (1995) Consideraciones sobre la sistematica de las tortugas del genero Chelus (Pleurodira: Chelidae) y nuevas evidencias fosiles del Mioceno de Colombia y Venezuela. Ameghiniana 32(2):159–167

Sanchez-Villagra MR, Pritchard PC, Paolillo A, Linares OJ (1995) Geographic variation in the matamata turtle, Chelus fimbriatus, with observations on its shell morphology and morphometry. Chelonian Conserv Biol 1:293–300

Smith CJ, Collins LS, Jaramillo C, Quiroz LI (2010) Marine paleoenvironments of Miocene–Pliocene formations of North-Central Falcón State, Venezuela. J Foraminifer Res 40(3):266–282

Solórzano A, Rincón AD (2016) The earliest record (early Miocene) of a bony-toothed bird from South America and a re-examination of Venezuelan Pelagornithids. J Vertebr Paleontol 35(6):e995188

Strauch A (1862) Chelonologische studien, mit besonderer beziehung auf die Schildkrötensammlung der kaiserlichen Akademie der Wissenschaften zu St. Petersburg. Mem Acad Impériale des Sci de St-Pétersbourg 5(7):1–196

Wesselingh FP, Macsotay O (2006) Pachydon hettneri (Anderson, 1928) as indicator for Caribbean–Amazonian lowland connections during the Early–Middle Miocene. J S Am Earth Sci 21:49–53

Wheeler CB (1960) Estratigrafía del Oligoceno y Mioceno inferior de Falcón occidental y nororiental. Memorias. In: III Congreso Geológico Venezolano 1:407–465

Williams E (1952) A new fossil tortoise from Mona Island, West Indies, and a tentative arrangement of the tortoises of the world. Bull Am Mus Nat Hist 99(9):541–560

Wood RC (1976) Two new species of Chelus (Testudines: Pleurodira) from the Late Tertiary of northern South America. Breviora 435:1–26

Zug GR (1977) The matamata (Testudines: Chelidae) is Chelus not Chelys! Herpetologica 1977:53–54
Acknowledgments
The authors gratefully acknowledge Evangelos Vlachos for the discussions about nomenclature, the editor-in-chief of The Science of Nature Sven Thatje, and the reviewers (W.G. Joyce, M. Rabi, and two anonymous) for their insightful comments on the first version of the manuscript. This research was supported by Fundação de Amparo à Pesquisa do Estado de São Paulo (FAPESP) scholarships to GSF (2012/11604-1; 2014/25379-5) and research funding to MCL (2014/03825-3) and by Venezuelan Ministry of University Education, Science, and Technology (MEUCT) research funding IVIC-1096 and PEII2012-456 to ADR and AS.
Additional information
Communicated by: Sven Thatje
About this article
Cite this article
Ferreira, G.S., Rincón, A.D., Solórzano, A. et al. Review of the fossil matamata turtles: earliest well-dated record and hypotheses on the origin of their present geographical distribution. Sci Nat 103, 28 (2016). https://doi.org/10.1007/s00114-016-1355-2
Received:

Revised:

Accepted:

Published:
Keywords
Chelus

Chelidae

Miocene

Venezuela

Biogeography