Abstract
A unique specimen of the fossil harvestman Halitherses grimaldii Giribet and Dunlop, 2005 (Arachnida: Opiliones) from the Cretaceous (ca. 99 Ma) Burmese amber of Myanmar reveals a fully extended penis. This is the first record of a male copulatory organ of this nature preserved in amber and is of special importance due to the age of the deposit. The penis has a slender, distally flattened truncus, a spatulate heart-shaped glans and a short distal stylus, twisted at the tip. In living harvestmen, the penis yields crucial characters for their systematics. Male genital morphology in H. grimaldii appears to be unique among the wider Dyspnoi clade to which this fossil belongs. The large eyes in the fossil differ markedly from other members of the subfamily Ortholasmatinae to which H. grimaldii was originally referred. Based on recent data, it has been argued that large eyes may be plesiomorphic for Palpatores (i.e. the suborders Eupnoi and Dyspnoi), potentially rendering this character plesiomorphic for the fossil too. Thus, the unique structure of the penis seen here, and the probable lack of diaphanous teeth, present in all other extant non-acropsopilionid Dyspnoi, suggest that H. grimaldii represents a new, extinct family of large-eyed dyspnoid harvestmen, Halithersidae fam. nov.; a higher taxon in amber diagnosed here on both somatic and genital characters.
Access options
Buy single article
Instant access to the full article PDF.
USD 39.95
Price excludes VAT (USA)
Tax calculation will be finalised during checkout.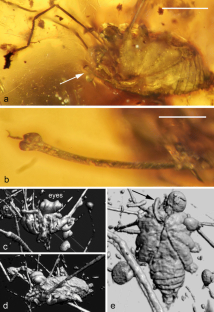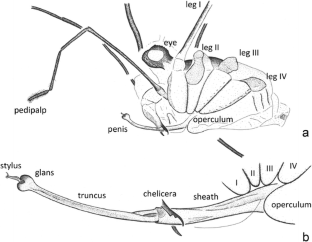 References
Dunlop JA, Mammitzsch L (2010) A new genus and species of harvestman from Baltic amber. Palaeodiversity 3:23–32

Dunlop JA, Bartel C, Mitov PG (2012) An enigmatic spiny harvestman from Baltic amber. Foss Rec 15:91–101

Dunlop JA, Anderson LI, Kerp H, Hass H (2003) Preserved organs of Devonian harvestmen. Nature 425:916

Dunlop JA, Anderson LI, Kerp H, Hass H (2004) A harvestman (Arachnida: Opiliones) from the Early Devonian Rhynie cherts, Aberdeenshire, Scotland. Trans R Soc Edinburgh, Earth Sci 94:341–354

Garwood RJ, Dunlop JA, Giribet G, Sutton MD (2011) Anatomically modern Carboniferous harvestmen demonstrate early cladogenesis and stasis in Opiliones. Nat Comm 2:444

Garwood RJ, Sharma PP, Dunlop JA, Giribet G (2014) A new stem-group Palaeozoic harvestman revealed through integration of phylogenetics and development. Curr Biol 24:1–7

Giribet G, Dunlop JA (2005) First identifiable Mesozoic harvestman (Opiliones: Dyspnoi) from Cretaceous Burmese amber. Proc R Soc B 272:1007–1013

Giribet G, Tourinho AL, Shih C, Ren D (2012) An exquisitely preserved harvestman (Arthropoda, Arachnida, Opiliones) from the Middle Jurassic of China. Org Div Evol 12:51–56

Groh S, Giribet G (2015) Polyphyly of Caddoidea, reinstatement of the family Acropsopilionidae in Dyspnoi, and a revised classification system of Palpatores (Arachnida, Opiliones). Cladistics 31:277–290

Gruber J (2007) Taxonomy: Dyspnoi. In: Pinto da Rocha R, Machado G, Giribet G (eds) Harvestmen. The biology of Opiliones. Harvard University Press, Cambridge, pp 131–159

Karaman I (2005) Evidence of spermatophores in Cyphophthalmi (Arachnida, Opiliones). Rev suisse Zool 112:3–11

Kury AB (2013) Order Opiliones Sundevall, 1833. Zootaxa 3703:27–33

Macías-Ordóñez R, Machado G, Pérez-González A, Shultz JW (2010) Genitalic evolution in Opiliones. In: Leonard J, Córdoba-Aguilar A (eds) The evolution of primary sexual characters in animals. Oxford University Press, Oxford, pp 285–306

Martens J (1976) Genitalmorphologie, System und Phylogenie der Weberknechte (Arachnida, Opiliones). Entomol German 3:51–68

Martens J (1983) Europäische Arten der Gattung Sabacon Simon 1879 (Arachnida: Opiliones: Sabaconidae). Senckenbergiana Biol 63:265–296

Martens J (1986) Die Grossgliederung der Opiliones und die Evolution der Ordnung (Arachnida). Actas X Congr Int Arachnol, Jaca 1:289–310

Perreau M, Tafforeau P (2011) Virtual dissection using phase-contrast X-ray synchrotron microtomography: reducing the gap between fossils and extant species. Syst Ent 36:573–580

Ross A, Mellish C, York P, Crighton B (2010) Burmese amber. In: Penney D (ed) Biodiversity of fossil in amber from the major world deposits. Siri Scientific Press, Manchester, pp 208–235

Schönhofer AL (2013) A taxonomic catalogue of the Dyspnoi Hansen and Sørensen, 1904 (Arachnida: Opiliones). Zootaxa 3679:1–68

Schönhofer AL, Martens J (2012) The enigmatic Alpine opilionid Saccarella schilleri gen. n., sp. n. (Arachnida: Nemastomatidae)—isolated systematic placement inferred from comparative genital morphology. Org Div Evol 12:409–419

Schwendinger PJ, Gruber J (1992) A new Dendrolasma (Opiliones, Nemastomatidae) from Thailand. Bull Br arachnol Soc 9:57–60

Sharma PP, Giribet G (2014) A revised dated phylogeny of the arachnid order Opiliones. Front Genet 5:255

Shear WA (2010) New species and records of ortholasmatine harvestmen from México, Honduras, and the western United States (Opiliones, Nemastomatidae, Ortholasmatinae). ZooKeys 52:9–45

Shi G, Grimaldi DA, Harlow GE, Wang J, Wang J, Yang M, Lei W, Li Q, Li X (2012) Age constraint on Burmese amber based on U–Pb dating of zircons. Cret Res 37:155–163
Acknowledgements
We thank Jörg Wunderlich (Hirschberg) for making material from his collection available and Jenn Lenihan (Harvard) for producing the micro-CT images. Five anonymous reviewers provided constructive criticism.
Additional information
Communicated by: Sven Thatje
About this article
Cite this article
Dunlop, J.A., Selden, P.A. & Giribet, G. Penis morphology in a Burmese amber harvestman. Sci Nat 103, 11 (2016). https://doi.org/10.1007/s00114-016-1337-4
Received:

Revised:

Accepted:

Published:

DOI: https://doi.org/10.1007/s00114-016-1337-4
Keywords
Arachnida

Opiliones

Male genitalia

Systematics

Amber

Myanmar