Abstract
We identified the winter plant species consumed by red panda in the Dhorpatan Hunting Reserve of eastern Nepal and compared this to the early-summer diet which was determined previously by Panthi et al. (2012). In addition, we estimated the proximate nutritional content of the leaves identified in red panda diet for both seasons, and we used nutritional geometry to explore macronutrient balance of leaves from the two different sampling periods. We identified six different plants in winter scats, which were the same as found in the previously determined early-summer diet. Arundinaria spp. bamboos were the main species found (82.1 % relative frequency), followed by Acer spp. (6.3 %), Betula utilis (4.6 %), Quercus semicarpifolia (3.7 %), Berberis spp. (1.3 %), and lichens (1.0 %), leaving 2.0 % unidentified. Geometric analysis suggested that the macronutrient balance of seasonal diets were similar in nutrient balance to the most frequently consumed Arundinaria spp. Differences in macronutrient balance may indicate seasonal nutrient preferences, such as increased carbohydrate intake in winter for thermogenesis, and increased protein and lipid intake in early summer to support reproduction and lactation; however, these differences may also indicate differences in resource availability. Habitat conserved for red panda in the region should include sufficient Arundinaria spp. as well as lesser consumed plants which may serve as complimentary foods.
Access options
Buy single article
Instant access to the full article PDF.
US$ 39.95
Tax calculation will be finalised during checkout.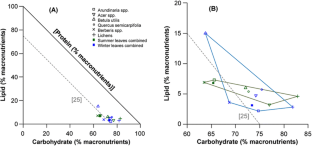 References
AOAC International (2012) Official methods of analysis of AOAC International, 19th edn

Aryal A, Brunton D, Ji W, Yadav H, Adhikari B, Raubenheimer D (2012) Diet and habitat use of hispid hare Caprolagus hispidus in Shuklaphanta Wildlife Reserve Nepal. Mamm Study 37(2):147–154

Aryal A, Brunton D, Ji W, Rothman J, Coogan SCP, Adhikari B, Su J, Raubenheimer D (2015) Habitat, diet, macronutrient, and fiber balance of Himalayan marmot (Marmota himalayana) in the Central Himalaya, Nepal. J Mammal 96:308–316

Chakraborty T (1999) Himalayan heritage: the endangered red panda in Himalayan Paryavaran. J Environ Prot Soc 6:129–132

Choudhury A (2001) An overview of the status and conservation of the red panda Ailurus fulgens in India, with reference to its global status. Oryx 35:250–259

Coogan SCP, Raubenheimer D, Stenhouse GB, Nielsen SE (2014) Macronutrient optimization and seasonal diet mixing in a large omnivore, the grizzly bear: a geometric analysis. PLoS One 9(5), e97968. doi:10.1371/journal.pone.0097968

DNPWC (2011) Protected area of Nepal. Department of National Park and Wildlife Conservation (DNPWC)/Ministry of Forest and Soil Conservation, Kathmandu. Nepal. 52+ pp. (Nepali version). Available at http://www.dnpwc.gov.np/publications/pustika. Accessed 20 Jan 2012

Holechek JL, Gross BD (1982) Training needed for quantifying simulated diets from fragmented range plants. J Range Manage 35:644–647

Irwnin MT, Raharison J-L, Raubenheimer D, Chapman CA, Rothman JM (2015) The nutritional geometry of resource scarcity: effects of lean seasons and habitat disturbance on nutrient intakes and balancing in wild sifakas. PLoS One 10(6):e0128046. doi:10.1371/journal.pone.0128046

Johnson KG, Schaller GB, Hu J (1988) Comparative behavior of red and giant panda in the Wolong Reserve China. J Mammal 69:552–564

Nakagawa S, Cuthill IC (2007) Effect size, confidence interval and statistical significance: a practical guide for biologists. Biol Rev 82:591–605

Nie Y, Zhang Z, Raubenheimer D, Elser JJ, Wei W, Wei F (2014) Obligate herbivory in an ancestrally carnivorous lineage: the giant panda and bamboo from the perspective of nutritional geometry. Funct Ecol. doi:10.1111/1365-2435.12302

Nijboer, Dierenfeld (2011) Red Panda nutrition: how to feed a vegetarian carnivore. Elsevier Inc. 257–270. doi:10.1016/B978-1-4377-7813-7.00014-8

Panthi S, Aryal A, Lord J, Adhikari B, Raubenheimer D (2012) Summer diet and distribution of Red Panda (Ailurus fulgens fulgens) in Dhopatan Hunting Reserve, Nepal. Zool Stud 51:701–709

Raubenheimer D (2011) Toward a quantitative nutritional ecology: the right-angled mixture triangle. Ecol Monogr 81:407–427

Raubenheimer D, Machovsky-Capuska GE, Chapman CA, Rothman JM (2014) Geometry of nutrition in field studies: an illustration using wild primates. Oecologia 177:223–234

Roberts MS, Gittleman JL (1984) Ailurus fulgens. Mamm Species 222:1–8

Rothman JM (2015) Nutritional geometry provides new insights into the interaction between food quality and demography in endangered wildlife. Funct Ecol 29:3–4

Sharma HP, Belant JL (2009) Distribution and observation of red panda (Ailurus fulgens fulgens) in Dhorpatan Hunting Reserve, Nepal. Small Carniv Conserv 40:33–35

Simpson SJ, Raubenheimer D (2012) The nature of nutrition: a unifying framework from animal adaptation to human obesity. Princeton University Press, Princeton
Acknowledgments
We would like to thank the Department of National Park and Wildlife Conservation-DHR and all DHR staff for their support in conducting this study. Rufford Small Grants Foundation kindly provided funding to support fieldwork. We would also like to thank Associate Professor Raj Kumar Koirala (the Institute of Forestry, Tribhuvan University, Pokhara, Nepal) and Nepal Environmental Scientific Society for their support in providing laboratory facilities for the diet and nutrient analysis respectively. We thank to Bikash Adhikari, Krishna Acharya (Ministry of Forests and Soil Conservation Nepal) and Gandiv Kafle (Institute of Forestry, Hetauda, Nepal) for their support.
Additional information
Communicated by: Sven Thatje
About this article
Cite this article
Panthi, S., Coogan, S.C.P., Aryal, A. et al. Diet and nutrient balance of red panda in Nepal. Sci Nat 102, 54 (2015). https://doi.org/10.1007/s00114-015-1307-2
Received:

Revised:

Accepted:

Published:
Keywords
Ailuridae

Bamboo

Foraging

Nutritional geometry

Right-angled mixture triangle analysis