Abstract
Monarch butterflies (Danaus plexippus) frequently consume milkweed in and near agroecosystems and consequently may be exposed to pesticides like neonicotinoids. We conducted a dose response study to determine lethal and sublethal doses of clothianidin using a 36-h exposure scenario. We then quantified clothianidin levels found in milkweed leaves adjacent to maize fields. Toxicity assays revealed LC10, LC50, and LC90 values of 7.72, 15.63, and 30.70 ppb, respectively. Sublethal effects (larval size) were observed at 1 ppb. Contaminated milkweed plants had an average of 1.14 ± 0.10 ppb clothianidin, with a maximum of 4 ppb in a single plant. This research suggests that clothianidin could function as a stressor to monarch populations.
Access options
Buy single article
Instant access to the full article PDF.
USD 39.95
Price excludes VAT (USA)
Tax calculation will be finalised during checkout.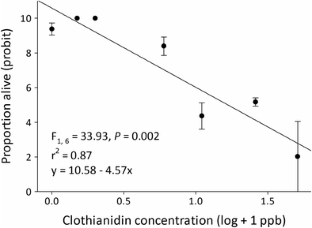 References
Altizer SM, Oberhauser KS, Brower LP (2000) Association between host migration and the prevalence of a protozoan parasite in natural populations of adult monarch butterflies. Ecol Entomol 25:125–139

Brower LP, Zubieta RR, Ramirez MI, Slayback DA, Taylor OR, Williams EH (2012) Decline of monarch butterflies overwintering in Mexico: is the migratory phenomenon at risk? Insect Conserv Diver 5:95–100

Dively GP, Rose R, Sears MK, Hellmich RL, Stanley-Horn DE, Calvin DD, Russo JM, Anderson PL (2004) Effects on monarch butterfly larvae (Lepidoptera: Danaidae) after continuous exposure to Cry1Ab-expressing corn during anthesis. Environ Entomol 33:1116–1125

Goulson D (2013) An overview of the environmental risks posed by neonicotinoid insecticides. J Appl Ecol 50:977–987

Hellmich RL, Siegfried BD, Sears MK, Stanley-Horn DE, Daniels MJ, Mattila HR, Lewis LC (2001) Monarch larvae sensitivity to Bacillus thuringiensis-purified proteins and pollen. Proc Natl Acad Sci U S A 98:11925–11930

Johnston CA (2014) Agricultural expansion: land use shell game in the U.S. Northern Plains. Landsc Ecol 29:81–95

Kingsolver JG, Huey RB (2008) Size, temperature, and fitness: three rules. Evol Ecol Res 10:251–268

Krupke CH, Hunt GJ, Eitzer BD, Andino J, Given K (2012) Multiple routes of pesticide exposure for honey bees living near agricultural fields. PLoS One 7:e29268

Lyons JI, Pierce AA, Barribeau SM, Sternberg ED, Mongue AJ, De Roode JC (2012) Lack of genetic differentiation between monarch butterflies with divergent migration destinations. Mol Ecol 21:3433–3444

Nauen R, Ebbinghaus-Kintscher U, Salgado VL, Kaussmann M (2003) Thiamethoxam is a neonicotinoid precursor converted to clothianidin in insects and plants. Pestic Biochem Phys 76:55–69

Oberhauser KS, Prysby MD, Mattila HR, Stanley-Horn DE, Sears MK, Dively GP, Olson E, Pleasants JM, Lam WF, Hellmich RL (2001) Temporal and spatial overlap between monarch larvae and corn pollen. Proc Natl Acad Sci U S A 98:11913–11918

Pleasants JM, Oberhauser KS (2012) Milkweed loss in agricultural fields because of herbicide use: effect on the monarch butterfly population. Insect Conserv Diver 6:135–144

Schmuck R, Schoning R, Stork A, Schramel O (2001) Risk posed to honeybees (Apis mellifera L, Hymenoptera) by an imidacloprid seed dressing of sunflowers. Pest Manag Sci 32:1096–1100

Tomizawa M, Casida JE (2005) Neonicotinoid insecticide toxicology: mechanisms of selective action. Annu Rev Pharmacol 45:247–268

Wright CK, Wimberly MC (2013) Recent land use change in the Western Corn Belt threatens grasslands and wetlands. Proc Natl Acad Sci U S A 110:4134

Zipkin EF, Ries L, Reeves R, Regetz J, Oberhauser KS (2012) Tracking climate impacts on the migratory monarch butterfly. Glo Ch Biol 18:3039–3049
Acknowledgments
The authors wish to thank Janet Fergen and Greta Schen for help in laboratory assay preparation, Mike Bredeson and Dr. Chrissy Mogren for ELISA optimization, and Claire Bestul, Marissa Layman, and Cassandra Lewandowski for monarch collection. Stefan Jaronski, Ian Kaplan, Mark Longfellow, John Tooker, Mace Vaughan, and Don Weber improved earlier drafts of this manuscript. Mention of trade names or commercial products in this publication is solely for the purpose of providing specific information and does not imply recommendation or endorsement by the U.S. Department of Agriculture.
Additional information
Communicated by: Sven Thatje
About this article
Cite this article
Pecenka, J.R., Lundgren, J.G. Non-target effects of clothianidin on monarch butterflies. Sci Nat 102, 19 (2015). https://doi.org/10.1007/s00114-015-1270-y
Received:

Revised:

Accepted:

Published:

DOI: https://doi.org/10.1007/s00114-015-1270-y
Keywords
Asclepias
Danaus plexippus

Neonicotinoid

Non-target

Seed treatment