Abstract
The evolutionary history of chameleons has been predominantly studied through phylogenetic approaches as the fossil register of chameleons is limited and fragmented. The poor state of preservation of these fossils has moreover led to the origin of numerous nomen dubia, and the identification of many chameleon fossils remains uncertain. We here examine chameleon fossil fragments from the Early Pliocene Varswater formation, exposed at the locality of Langebaanweg "E" Quarry along the southwestern coast of South Africa. Our aim was to explore whether these fossil fragments could be assigned to extant genera. To do so, we used geometric morphometric approaches based on microtomographic imaging of extant chameleons as well as the fossil fragments themselves. Our study suggests that the fossils from this deposit most likely represent at least two different forms that may belong to different genera. Most fragments are phenotypically dissimilar from the South African endemic genus Bradypodion and are more similar to other chameleon genera such as Trioceros or Kinyongia. However, close phenetic similarities between some of the fragments and the Seychelles endemic Archaius or the Madagascan genus Furcifer suggest that some of these fragments may not contain enough genus-specific information to allow correct identification. Other fragments such as the parietal fragments appear to contain more genus-specific information, however. Although our data suggest that the fossil diversity of chameleons in South Africa was potentially greater than it is today, this remains to be verified based on other and more complete fragments.
Access options
Buy single article
Instant access to the full article PDF.
USD 39.95
Price excludes VAT (USA)
Tax calculation will be finalised during checkout.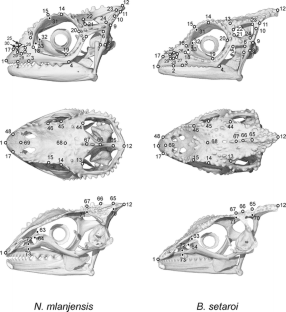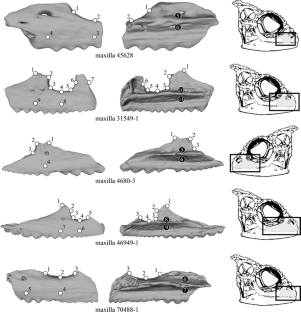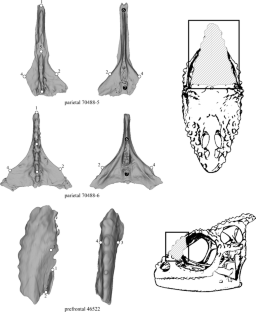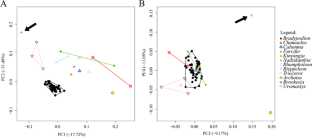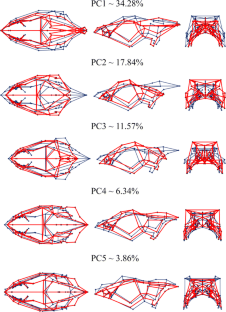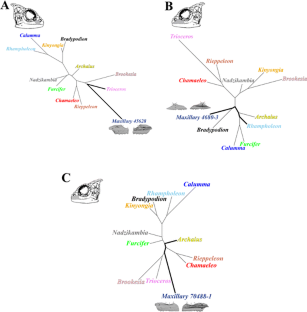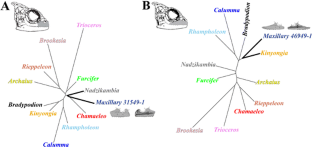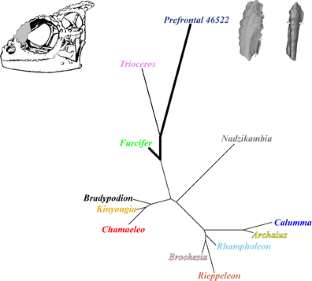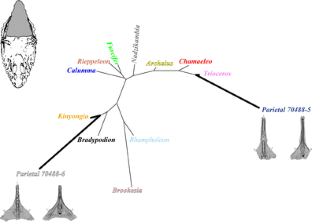 References
Bastir M, Böhme M, Sanchiz B (2014) Middle Miocene remains of Alytes (Anura, Alytidae) as an example of the unrecognized value of fossil fragments for evolutionary morphology studies. J Vertebr Paleontol 34:69–79

Baylac M (2013) Rmoprh: a geometric and multivariate morphometrics library. Available from the author: baylac@mnhn.fr

Baylac M, Friess M (2005) Fourier descriptors, Procrustes superimposition, and data dimensionality: an example of cranial shape analysis in modern human population. Modern morphometrics in physical anthropology. Kluwer Academic Plenum Publishers, New York

Böhme M (2003) The Miocene climatic optimum: evidence from ectothermic vertebrates of Central Europe. Palaeogeogr Palaeoclimatol Palaeoecol 195:389–401

Böhme M (2010) Ectothermic vertebrates (Actinopterygii, Allocaudata, Urodela, Anura, Crocodylia, Squamata) from the Miocene of Sandelzhausen (Germany, Bavaria) and their implications for environment reconstruction and paleoclimate. Paläontol Z 84:3–41

Bolet A, Evans SE (2013) Fossil history of chameleons. In: Tolley KA, Herrel A (eds) The biology of chameleons. University of California Press, Berkeley, pp 175–192

Bookstein FL (1991) Morphometric tools for landmark data: geometry and biology. Cambridge University Press, Cambridge

Čerňanský A (2010) A revision of chamaeleonids from the lower Miocene of the Czech Republic with description of a new species of Chamaeleo (Squamata, Chamaeleonidae). Geobios 43:605–613

Čerňanský A (2011) A revision of the Chamaeleo pfeili Schleich (Squamata; Chamaeleonidae) with description of a new material of chamaeleonids from the Miocene deposits of southern Germany. Bull Geosci 86:275–282

Cornette R, Herrel A, Stoetzel E, Moulin S, Hutterer R, Denys C, Baylac M (2015) Specific information levels in relation to fragmentation patterns of shrew mandibles: do fragments tell the same story? J Archaeol Sci 53:323–330

Dray S, Dufour AB, Chessel D (2007) The ade4 package-II: two-table and K-table methods. R News 7(2):47–52

Estes R, De Queiroz K, Guathier J (1988) Phylogenetic relationships within Squamata. In: Estes R, Pregill G (eds) Phylogenetic relationships of the lizard families: essays commemorating Charles L. Camp. Stanford University Press, Stanford, pp 99–118

Glaw F, Hawlitschek O, Ruthensteiner B (2013) A new genus name for an ancient Malagasy chameleon clade and a PDF-embedded 3D model of its skeleton. Salamandra 49:237–238

Hendey QB (1970a) A review of the geology and palaeontology of the Plio/Pleistocene deposits at Langebaanweg, Cape Province. Ann South Afr Mus 56:75–117

Hendey QB (1970b) The age of the fossiliferous deposits at Langebaanweg, Cape Province. Ann South Afr Mus 56:119–131

Hendey QB (1981) Geological succession at Langebaanweg, Cape Province, and global events of the late Tertiary. South Afr J Sci 77:33–38

Hendey QB (1982) Langebaanweg. A record of past life. South African Museum, Cape Town

Hendey QB (1984) Southern African late Tertiary vertebrates. In: Klein RG (ed) Southern African prehistory and palaeoenvironments. AA Balkema, Rotterdam, pp 81–106

Hillenius D (1978) Notes on chameleons. IV: A new chameleon from the Miocene of Fort Ternan, Kenya (Chamaeleonidae, Reptilia). Beaufortia 28:37–55

Klaver CJJ (1981) Lung morphology in the Chamaeleonidae (Sauria) and its bearing upon phylogeny, systematics and zoogeography. Z Zool Syst Evol 19:36–58

Klaver CJJ, Böhme W (1986) Phylogeny and classification of the Chamaeleonidae (Sauria) with special reference to hemipenis morphology. Bonn Zool Monogr 22:1–64

Leakey LSB (1965) Olduvai Gorge 1951–1961. 1. A preliminary report on the geology and fauna. Cambridge University Press, Cambridge

Matthews T, Stynder D (2011) An analysis of two Myosorex species (Soricidae) from the Early Pliocene site of Langebaanweg (West Coast Fossil Park, South Africa) using the geometric morphometrics, linear measurements and non-metrics characters. Geobios 44:87–99

Monteiro LR (1999) Multivariate regression models and geometric morphometrics: the search for causal factors in the analysis of shape. Syst Biol 48:192–199

Moody S, Roček Z (1980) Chamaeleo caroliquarti (Chamaeleonidae, Sauria) a new species from the Lower Miocene of central Europe. Věstnik Ústředniho Ustavu Geologického 55:85–92

Needham AE (1950) The form-transformation of the abdomen of the female pea-crab, Pinnotheres pisum Leach. Proc R Soc Lond Ser B 137:115–136

Pyron RA, Burbink FT, Wiens JJ (2013) A phylogeny and revised classification of Squamata, including 4161 species of lizards and snakes. BMC Evol Biol 13:93

R Development Core Team (2013) R: a language and environment for statistical computing. R Foundation for Statistical Computing, Vienna, Austria. ISBN 3-900051-07-0

Rieppel O, Walker A, Odhiambo I (1992) A preliminary report on fossil chamaeleonine (Reptilia: Chamaeleoninae). J Zool 243:351–380

Roberts DL (2006) Lithostratigraphy of the Varswater Formation. South Afr Comm Stratigr-Lithostratigraphic Ser 9:27–31

Roberts DL, Matthews T, Herries AIR, Boulter C, Scott L, Dondo C, Mtembi P, Browning C, Smith RMH, Haarhoff P, Batema MD (2011) Regional and global context of the Late Cenozoic Langebaanweg (LBW) palaeontological site: West Coast of South Africa. Earth Sci Rev 106:191–214

Rohlf FJ, Slice DE (1990) Extensions of the procrustes method for the optimal superimposition of landmarks. Syst Zool 39:40–59

Rossouw L, Stynder DD, Haarhof P (2009) Evidence for opal phytolith preservation in the Langebaanweg 'E' Quarry Varswater Formation and its potential for palaeohabitat reconstruction. South Afr J Sci 105:223–227

Schleich HH (1983) Die mittlemioän Fossil-Lagerstätte Sandelhausen 13. Chamaeleo bavaricus sp. Nov., ein neuer Nachweis aus dem Jungtertiär Süddeutschlands. Mitteilungen der Beyerischen Staatssammlung für. Paläontol Hist Geol 23:77–81

Schleich HH (1984) Neue Reptilienfunde aus dem Tertiär Deutschlands 2. Chamaeleo pfeili sp. Nov., Von der untermiozänen Fossilfundstelle Rauscheröd/Niederbayern (Reptilia, Sauria Chamaeleonidae). Mitt Bayer Staatssamml Paläontol Hist Geol 24:97–103

Schleich HH (1994) Neue Reptilienfunde aus dem Tertiär DeutschlandS 15. Neue funde fossiler Chamäleonen aus dem Neogen Süddeutschlands. Courrier Forschungsinstitut Senckenb 173:175–195

Talavera R, Sanchíz F (1983) Restos pliocénicos de Camaleón común, Chamaeleo chamaeleon (L.) de Málaga. Bol Real Soc Esp Hist Nat (Geolo) 81:81–84

Tilbury CR, Tolley KA, Branch WR (2006) A review of the systematics of the genus Bradypodion (Sauria: Chamaeleonidae), with the description of two new genera. Zootaxa 1363:23–38

Tolley KA, Chase BM, Forest F (2008) Speciation and radiations track climate transitions since the Miocene climatic optimum: a case study of southern African chameleons. J Biogeogr 35:1402–1414

Tolley KA, Townsend M, Vences M (2013) Large-scale phylogeny of chameleons suggests African origins and Eocene diversification. Proc R Soc B 280:20130184

Townsend TM, Tolley KA, Glaw F, Böhme W, Vences M (2010) Eastward from Africa: palaeocurrent-mediated chameleon dispersal to the Seychelles islands. Biol Lett 7:225–228

Townsend TM, Mulcahy DG, Noonan BP, Sites JW Jr, Kuczynski CA, Wiens JJ, Reeder TW (2011) Phylogeny of iguanian lizards inferred from 29 nuclear loci, and comparison of concatenated and species-tree approaches for an ancient, rapid radiation. Mol Phylogenet Evol 61:363–380

Venables WN, Ripley BD (2002) 'Modern applied statistics with R', fourth edition. Springer ISBN 0-387-95457-0

Vidal N, Hedges BS (2009) The molecular evolutionary of lizard snakes, and amphisbaenians. C R Biol 332:129–139

Warheit KI (1992) The role of morphometrics and cladistics in the taxonomy of fossils: a paleornithological example. Syst Biol 41:345–369

Wiley DF, Amenta N, Alcantra DA, Ghosh D, Kil YJ, Delson E, Harcourt-Smith W, F. J. Rohlf, St. John K, Hamann B (2005) Evolutionary morphing. Proceedings of IEEE Visualization 2005.

Zachos J, Pagani M, Sloan L, Thomas E, Billups K (2001) Trends, rhythms, and aberrations in global climate 65 Ma to present. Science 292:686–693

Zelditch ML, Swiderski DL, Sheets HD (2012) Geometric morphometrics for biologists, second edition: a primer. Elsevier, San Diego
Acknowledgments
We would like to thank Graham Avery, Kerwin van Willingh, and Romala Govender from the Iziko South African Museum for logistical assistance with regard to allowing access to and analyses of their microfossil collection from Langebaanweg. We would also like to thank Andrej Čerňanský and two anonymous reviewers for constructive and helpful comments on a prior version of our manuscript. Several museums provided comparative specimens: Port Elizabeth Museum-Bayworld (W. Conradie), the Muséum National d'Histoire Naturelle (Ivan Ineich), the Royal Museum for Central Africa (D. Meirte), and the Museum of Comparative Zoology at Harvard (J. Rosado). μCT scans of fossils and extant specimens were performed at the ESRF Grenoble, the IPHE at the Université de Poitiers, the Laboratoire Navier at the Ecole des Ponts-ParisTech (France), and the Central Analytical Facilities from Stellenbosch University. We thank Antoine Du Plessis, Nicolas Lenoir, Paul Tafforeau, and Peter Cloetens for help with scanning. We also acknowledge the UMS CNRS/MNHN2700, "Outils et méthodes de la systématique intégrative" for access to the morphometrics platform and the CEMIM platform for access to their facilities. This study was supported by a European Synchrotron Radiation Facility Project through allocation of beam time. μCT scanning at Navier was supported by grants from the Région Ile-de-France.
Additional information
Communicated by: Sven Thatje
Electronic supplementary material
Below is the link to the electronic supplementary material.
About this article
Cite this article
Dollion, A.Y., Cornette, R., Tolley, K.A. et al. Morphometric analysis of chameleon fossil fragments from the Early Pliocene of South Africa: a new piece of the chamaeleonid history. Sci Nat 102, 2 (2015). https://doi.org/10.1007/s00114-014-1254-3
Received:

Revised:

Accepted:

Published:

DOI: https://doi.org/10.1007/s00114-014-1254-3
Keywords
Chamaeleonidae

Early Pliocene

Geometric morphometrics

Varswater formation

Langebaanweg