Abstract
The coelacanth Latimeria is the only extant representative of the Actinistia, a group of sarcopterygian fishes that originated in the Devonian. Moreover, it is the only extant vertebrate in which the neurocranium is divided into an anterior and a posterior portion that articulate by means of an intracranial joint. This joint is thought to be highly mobile, allowing an elevation of the anterior portion of the skull during prey capture. Here we provide a new description of the skull and jaw-closing system in Latimeria chalumnae in order to better understand its skull mechanics during prey capture. Based on a dissection and the CT scanning of an adult coelacanth, we provide a detailed description of the musculature and ligaments of the jaw system. We show that the m. adductor mandibulae is more complex than previously reported. We demonstrate that the basicranial muscle inserts more anteriorly than has been described previously, which has implications for its function. Moreover, the anterior insertion of the basicranial muscle does not correspond to the posterior tip of the tooth plate covering the parasphenoid, questioning previous inferences made on fossil coelacanths and other sarcopterygian fishes. Strong ligaments connect the anterior and the posterior portions of the skull at the level of the intracranial joint, as well as the notochord and the catazygals. These observations suggest that the intracranial joint is likely to be less mobile than previously thought and that its role during feeding merits to be reexamined.
This is a preview of subscription content,
to check access.
Access this article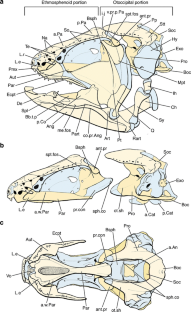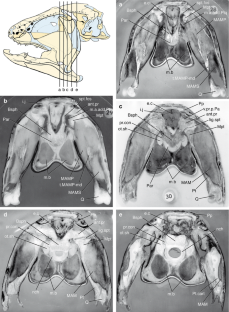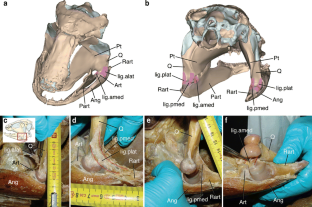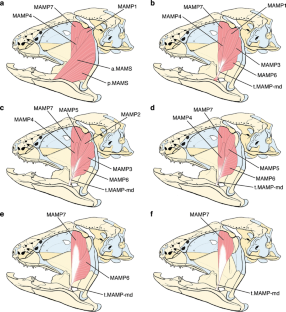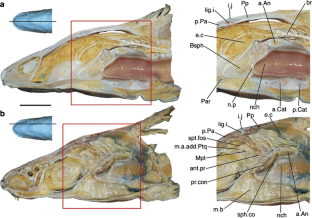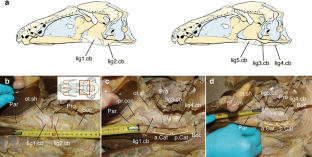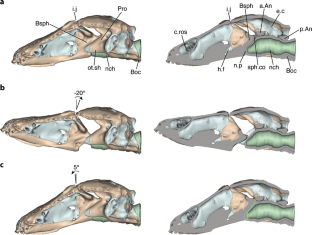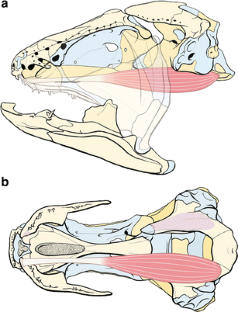 References
Ahlberg PE, Clack JA, Luksevics E (1996) Rapid braincase evolution between Panderichthys and the earliest tetrapods. Nature 381:61–64

Alexander RM (1973) Jaw mechanisms of the coelacanth Latimeria. Copeia 1973:156–158

Bemis WE, Northcutt RG (1991) Innervation of the basicranial muscle of Latimeria chalumnae. Environ Biol Fish 32:147–158

Bjerring HC (1978) The 'intracranial joint' versus the 'ventral otic fissure'. Acta Zool 53:203–214

Bout RG, Zweers GA (2001) The role of cranial kinesis in birds. Comp Biochem Physiol A Mol Integr Physiol 131(1):197–205

Brazeau MD (2009) The braincase and jaws of a Devonian 'acanthodian' and modern gnathostome origins. Nature 457:305–308

Cloutier R (1996) The primitive actinistian Miguashaia bureaui Schultze (Sarcopterygii). In: Schultze H-P, Cloutier R (eds) Devonian fishes and plants of Miguasha, Québec, Canada. Verlag Dr. Friedrich Pfeil, München, pp 227–247

Cracraft J (1968) Functional morphology and adaptative significance of cranial kinesis in Latimeria chalumnae (Coelacanthini). Am Zool 8:354

Davis SP, Finarelli JA, Coates MI (2012) Acanthodes and shark-like conditions in the last common ancestor of modern gnathostomes. Nature 486:247–250

Dutel H, Maisey JG, Schwimmer DR, Janvier P, Herbin M, Clément G (2012) The giant Cretaceous coelacanth (Actinistia, Sarcopterygii) Megalocoelacanthus dobiei Schwimmer, Stewart & Williams, 1994, and its bearing on Latimerioidei interrelationships. PLoS One 7(11):e49911

Forey PL (1991) Latimeria chalumnae and its pedigree. Environ Biol Fish 32:75–97

Forey PL (1998) History of the coelacanth fishes. Chapman and Hall, London

Friedman M (2007) Styloichthys as the oldest coelacanth: implications for early osteichthyan interrelationships. J Syst Palaeontol 5:289–343

Friedman M, Brazeau MD (2010) A reappraisal of the origin and basal radiation of the Osteichthyes. J Vertebr Paleontol 30:36–56

Gardiner BG (1984) The relationships of the palaeoniscid fishes, a review based on new specimens of Mimia and Moythomasia from the Upper Devonian of Western Australia. Bull Br Mus Nat Hist Geol 37:173–428

Gardiner BG, Bartram WH (1977) The homologies of ventral cranial fissure in osteichthyans. In: Andrews SM, Miles RS, Walker AD (eds) Problems in vertebrate evolution. Academic, London, pp 227–245

Herrel A, De Vree F, Delheusy V, Gans C (1999) Cranial kinesis in gekkonid lizards. J Exp Biol 202:3687–3698

Herrel A, Aerts P, De Vree F (2000) Cranial kinesis in geckoes: functional implications. J Exp Biol 203:1415–1423

Holliday CM, Witmer LM (2008) Cranial kinesis in dinosaurs: intracranial joints, protractor muscles, and their significance for cranial evolution and function in diapsids. J Vertebr Paleontol 28:1073–1088

Jaekel O (1927) Der Kopf der Wirbeltiere. Ergebnisse der Anatomie und Entwicklungsgeschichte 27:815–897

Janvier P (1996) Early vertebrates. Clarendon, Oxford

Jarvik E (1942) On the structure of the snout of crossopterygians and lower gnathostomes in general. Zoologiska Bidrag frân Uppsala 21:235–675

Jarvik E (1980) Basic structure and evolution of vertebrates, vol 1. Academic, London

Jessen HL (1980) Lower Devonian Porolepiformes from the Canadian Arctic with special reference to Powichthys thorsteinssoni Jessen. Palaeontogr A 167:180–214

Johnston P (2011) Cross-sectional imaging in comparative vertebrate morphology - the intracranial joint of the Coelacanth Latimeria chalumnae. In: Saba L (ed) Computed tomography - special applications. InTech, Rijeka, pp 259–274

Lauder GV Jr (1980) The role of the hyoid apparatus in the feeding mechanism of the coelacanth Latimeria chalumnae. Copeia 1980:1–9

Loeb GE, Gans C (1986) Electromyography for experimentalists. University of Chicago Press, Chicago

Long JA, Barwick RE, Campbell KSW (1997) Osteology and functional morphology of the osteolepiform fish Gogonasus andrewsae Long, 1985, from the Upper Devonian Gogo Formation, Western Australia. Rec West Aust Mus Suppl 53:1–89

Lu J, Zhu M (2010) An onychodont fish (Osteichthyes, Sarcopterygii) from the Early Devonian of China, and the evolution of the Onychodontiformes. Proc R Soc B Biol Sci 277:293–299

Maisey JG (1986) Coelacanths from the Lower Cretaceous of Brazil. Am Mus Novit 2866:1–30

Maisey JG (2001) Primitive chondrichthyan braincase from the Middle Devonian of Bolivia. In: Ahlberg PE (eds) Major events in early vertebrates evolution. Taylor & Francis, London, pp 263–288

Meekangvan P, Barhorst AA, Burton TD, Chatterjee S, Schovanec L (2006) Nonlinear dynamical model and response of avian cranial kinesis. J Theor Biol 240:32–47

Mendez J, Keys A (1960) Density and composition of mammalian muscle. Metabolism 9:184–188

Metzger KA (2002) Cranial kinesis in lepiodosaurs: skulls in motion. In: Aerts P, D'Aout K, Herrel A, Van Damme R (eds) Topics in functional and ecological vertebrate morphology. Shaker, Maastricht, pp 205–236

Miles RS (1973a) Articulated acanthodian fishes from the Old Red Sandstone of England, with a review of the structure and evolution of the acanthodian shoulder-girdle. Bull Br Mus Nat Hist Geol 24:113–213

Miles RS (1973b) Relationships of acanthodians. In: Greenwood PH, Miles RS, Patterson C (eds) Interrelationships of fishes. Academic, London

Millot J, Anthony J (1958) Anatomie de Latimeria chalumnae. I. Squelette et muscles. Centre National de la Recherche Scientifique, Paris

Millot J, Anthony J (1965) Anatomie de Latimeria chalumnae. II. Système Nerveux et Organes des Sens. Centre National de la Recherche Scientifique, Paris

Millot J, Anthony J, Robineau D (1978) Anatomie de Latimeria chalumnae. III. Appareil digestif, appareil respiratoire, appareil urogénital, glandes endocrines, appareil circulatoire, téguments, écailles, conclusions générales. Centre National de la Recherche Scientifique, Paris

Northcutt RG, Bemis W (1993) Cranial nerves of the coelacanth, Latimeria chalumnae [Osteichthyes: Sarcopterygii: Actinistia], and comparisons with other craniata. Brain Behav Evol 42:1–76

Nulens R, Scott L, Herbin M (2011) An updated inventory of all known specimens of the coelacanth Latimeria spp. Smithiana Publ Aquat Biodivers 3(Spec. Pub):1–52

Pierce SE, Clack JA, Hutchinson JR (2012) Three-dimensional limb joint mobility in the early tetrapod Ichthyostega. Nature 486:523–526

Robineau D (1973) Signification fonctionnelle de l'articulation intra-cranienne chez Latimeria chalumnae (poisson crossoptérygien cœlacanthidé). C R Acad Sc Paris Série D 277:1341–1343

Robineau D, Anthony J (1973) Biomécanique du crâne de Latimeria chalumnae (Poisson crossoptérygien coelacanthidé). C R Acad Sc Paris Série D 276:1305–1308

Schwenk K (2000) Feeding in lepidosaurs. In: Schwenk K (ed) Feeding: form, function and evolution in vertebrates. Academic, New York, pp 175–291

Smith KK, Hylander WL (1985) Strain gauge measurement of mesokinetic movement in the lizard Varanus exanthematicus. J Exp Biol 114:53–70

Stensiö EA (1937) On the Devonian coelacanthids of Germany with special reference to the dermal skeleton. Kungliga Svenska Vetenskappsakademiens Handlingar 3:1–56

Thomson KS (1966) Intracranial mobility in the coelacanth. Science 153:999–1000

Thomson KS (1967) Mechanisms of intracranial kinesis in fossil rhipidistian fishes (Crossopterygii) and their relatives. Zool J Linnean Soc 46:223–253

Thomson KS (1970) Intracranial movement in the coelacanth Latimeria chalumnae Smith (Osteichthyes, Crossopterygii). Postilla 149:1–12

Thomson KS (1973) New observations on the coelacanth fish Latimeria chalumnae. Copeia 1973:813–814

Zhu M, Yu X (2002) A primitive fish close to the common ancestor of tetrapods and lungfish. Nature 418:767–769
Acknowledgments
Florent Goussard (UMR 7207 CNRS-MNHN-UPMC, MNHN, Paris, France) and Miguel Garcia Sanz (UMS 2700 MNHN-CNRS, MNHN, Paris, France) are thanked for their expertise in imaging the coelacanth at the CT scan facility AST-RX, Plate-forme d'accès scientifique à la tomographie à rayons X du MNHN, as well as for their help in processing the raw CT scan data. Elizabeth R. Dumont (University of Massachusetts Amherst, Amherst, MA, USA) is thanked for inviting one of us (HD) to work in her lab on the coelacanth CT scan data, and Dan Pulaski (University of Massachusetts Amherst, Amherst, MA, USA) is thanked for his help and advises on using Studio Geomagic. Damien Germain (UMR 7207 CNRS-MNHN-UPMC, MNHN, Paris, France) is thanked for his help in using the software MIMICS. Philippe Janvier (UMR 7207 CNRS-MNHN-UPMC, MNHN, Paris, France) is thanked for his useful comments during the preparation of this manuscript. We thank Céline Bens and Tarik Afoukati of the Collections de Pièces anatomiques en Fluides of the MNHN, Paris, France. The visit of HD at the University of Massachusetts Amherst was supported by the Society for Integrative and Comparative Biology Fellowship for Graduate Student Travel. This work is a contribution to the ANR TERRES Programme (ANR-2010-BLAN-607-03).
Additional information
Communicated by: Sven Thatje
About this article
Cite this article
Dutel, H., Herrel, A., Clément, G. et al. A reevaluation of the anatomy of the jaw-closing system in the extant coelacanth Latimeria chalumnae . Naturwissenschaften 100, 1007–1022 (2013). https://doi.org/10.1007/s00114-013-1104-8
Received:

Revised:

Accepted:

Published:

Issue Date:

DOI: https://doi.org/10.1007/s00114-013-1104-8
Keywords