Abstract
The aim of this study was to develop an objective method to determine the incidence of pleiomorphisms and its influence on the distribution of sperm morphometric subpopulations in ejaculates of howling monkeys (Alouatta caraya) by using a combination of computerized analysis system (ASMA) and principal component analysis (PCA) methods. Ejaculates were collected by electroejaculation methods on a regular basis from five individuals maintained under identical captive environmental, nutritional, and management conditions. Each sperm head was measured for dimensional parameters (Area [A, (square micrometers)], Perimeter [P, (micrometers)], Length [L, (micrometers)], and Width [W, (micrometers)]) and shape-derived parameters (Ellipticity [(L/W)], Elongation [(L − W)/(L + W)], and Rugosity [(4лA/P 2)]). PCA revealed two principal components explaining more than the 96 % of the variance. Clustering methods and discriminant analyzes were performed and seven separate subpopulations were identified. There were differences (P < 0.001) in the distribution of the seven subpopulations as well as in the incidence of abnormal pleiomorphisms (58.6 %, 49.8 %, 35.1 %, 66.4 %, and 55.1 %, P < 0.05) among the five donors tested. Our results indicated that differences among individuals related to the incidence of pleiomorphisms, and sperm subpopulational structure was not related to the captivity conditions or the sperm collection method, since all individuals were studied under identical conditions. In conclusion, the combination of ASMA and PCA is a useful clinical diagnostic resource for detecting deficiencies in sperm morphology and sperm subpopulations in A. caraya ejaculates that could be used in ex situ conservation programs of threatened species in Alouatta genus or even other endangered neotropical primate species.
Access options
Buy single article
Instant access to the full article PDF.
US$ 39.95
Tax calculation will be finalised during checkout.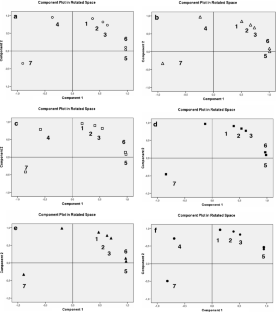 References
Aguiar LM, Pie MR, Passos FC (2008) Wild mixed groups of howler species (Alouatta caraya and Alouatta clamitans) and new evidence for their hybridization. Primates 49:149–152

Aguilar-Cucurachi MA, Dias PA, Rangel-Negrín A, Chavira R, Boeck L, Canales-Espinosa D (2010) Preliminary evidence of accumulation of stress during translocation in mantled howlers. Am J Primatol 72:805–810

Arroyo-Rodríguez V, Dias PA (2010) Effects of habitat fragmentation and disturbance on howler monkeys: a review. Am J Primatol 72:1–16

Baumgarten A, Williamson GB (2007) The distributions of howling monkeys (Alouatta pigra and A. palliata) in southeastern Mexico and Central America. Primates 48:310–315

Chemes HE, Alvarez Sedo C (2012) Tales of the tail and sperm head aches: changing concepts on the prognostic significance of sperm pathologies affecting the head, neck and tail. Asian J Androl 14:14–23

Corley-Smith GE, Brandhorst BP (1999) Preservation of endangered species and populations: a role for genome banking, somatic cell cloning, and androgenesis? Mol Reprod Dev 53:363–367

Cortés-Ortiz L, Duda TF Jr, Canales-Espinosa D, García-Orduña F, Rodríguez-Luna E, Bermingham E (2007) Hybridization in large-bodied New World primates. Genetics 176:2421–2425

Cristóbal-Azkarate J, Arroyo-Rodríguez V (2007) Diet and activity pattern of howler monkeys (Alouatta palliata) in Los Tuxtlas, Mexico: effects of habitat fragmentation and implications for conservation. Am J Primatol 69:1013–1029

Dadoune JP (1988) Ultrastructural abnormalities of human spermatozoa. Hum Reprod 3:311–318

de Souza JA, Schunemann HE, Müller J, da Silva MA, Bicca-Marques JC (2010) Hybridization between Alouatta caraya and Alouatta guariba clamitans in captivity. Primates 51:227–230

Dunn JC, Cristóbal-Azkarate J, Veà JJ (2009) Differences in diet and activity pattern between two groups of Alouatta palliata associated with the availability of big trees and fruit of top food taxa. Am J Primatol 71:654–662

Ehmcke J, Schlatt S (2008) Animal models for fertility preservation in the male. Reproduction 136:717–723

Forman L, Kleiman DG, Bush RM, Dietz JM, Ballou JD, Phillips LG, Coimbra-Filho AF, O'Brien SJ (1986) Genetic variation within and among lion tamarins. Am J Phys Anthropol 71:1–11

Gabriel Sánchez-Partida L, Maginnis G, Dominko T, Martinovich C, McVay B, Fanton J, Schatten G (2000) Live rhesus offspring by artificial insemination using fresh sperm and cryopreserved sperm. Biol Reprod 63:1092–1097

Gupta G, Bajpai M, Setty BS (1997) Seasonal variations in Sertoli and germ cell marker enzymes in testis of rhesus and bonnet monkeys. Indian J Exp Biol 35:541–543

Martí JI, Aparicio IM, García-Herreros M (2011) Sperm morphometric subpopulations are differentially distributed in rams with different maturity age in cryopreserved ejaculates. Theriogenology 76:97–109

Martí JI, Aparicio IM, Leal CL, García-Herreros M (2012) Seasonal dynamics of sperm morphometric subpopulations and its association with sperm quality parameters in ram ejaculates. Theriogenology 78:528–541

Moreland RB, Richardson ME, Lamberski N, Long JA (2001) Characterizing the reproductive physiology of the male southern black howler monkey, Alouatta caraya. J Androl 22:395–403

Nürnberg P, Berard JD, Bercovitch F, Epplen JT, Schmidtke J, Krawczak M (1993) Oligonucleotide fingerprinting of free-ranging and captive rhesus macaques from Cayo Santiago: paternity assignment and comparison of heterozygosity. EXS 67:445–51

Olatunbosun OA, Zhu L (2012) The role of sperm banking in fertility preservation. Clin Exp Obstet Gynecol 39:283–287

Oliveira CG, Gaiotto FA, Costa MA, Martinez RA (2011) Molecular genetic analysis of the yellow-breasted capuchin monkey: recommendations for ex situ conservation. Genet Mol Res 10:1471–1478

Ostermeier GC, Sargeant GA, Yandell TBS, Parrish JJ (2001) Measurement of bovine sperm nuclear shape using Fourier harmonic amplitudes. J Androl 22:584–594

Pena FJ, Saravia F, Garcia-Herreros M, Núñez-martínez I, Tapia JA, Johannisson A, Wallgren M, Rodriguez-Martinez H (2005) Identification of sperm morphometric subpopulations in two different portions of the boar ejaculate and its relation to postthaw quality. J Androl 26:716–723

Pope CE, Zhang YZ, Dresser BL (1991) A simple staining method for evaluating acrosomal status of cat spermatozoa. J Zoo Wildl Med 22:87–95

Pope CE, Dresser BL, Chin NW, Liu JH, Loskutoff NM, Behnke EJ, Brown C, McRae MA, Sinoway CE, Campbell MK, Cameron KN, Owens OM, Johnson CA, Evans RR, Cedars MI (1997) Birth of a western lowland gorilla (Gorilla gorilla gorilla) following in vitro fertilization and embryo transfer. Am J Primatol 41:247–260

Roudebush WE, Mathur RS (1998) Presence of platelet-activating factor in squirrel monkey (Saimiri boliviensis) spermatozoa: seasonal differences. Am J Primatol 45:301–305

Savage A, Guillen R, Lamilla I, Soto L (2010) Developing an effective community conservation program for cotton-top tamarins (Saguinus oedipus) in Colombia. Am J Primatol 72:379–390

Shukan ET, Boe CY, Hasenfus AV, Pieper BA, Snowdon CT (2012) Normal hematologic and serum biochemical values of cotton-top tamarins (Saguinus oedipus). J Am Assoc Lab Anim Sci 51:150–154

Silver SC, Ostro LE, Yeager CP, Horwich R (1998) Feeding ecology of the black howler monkey (Alouatta pigra) in northern Belize. Am J Primatol 45:263–279

Tokunaga Y, Imai S, Torii R, Maeda T (1999) Cytoplasmic liberation of protein gene product 9.5 during the seasonal regulation of spermatogenesis in the monkey (Macaca fuscata). Endocrinology 140:1875–1883

Valle RR, Guimarães MA, Muniz JA, Barnabe RC, Vale WG (2004) Collection and evaluation of semen from captive howler monkeys (Alouatta caraya). Theriogenology 62:131–138

Valle RR, Nayudu PL, Leal CL, García-Herreros M (2012) Sperm head morphometry in ejaculates of adult marmosets (Callithrix jacchus): a model for studying sperm subpopulations and among-donor variations. Theriogenology 78:1152–1165

Valle RR, Arakaki PR, Carvalho FM, Muniz JA, Leal CL, García-Herreros M (2013) Identification of sperm head subpopulations with defined pleiomorphic characteristics in ejaculates of captive Goeldi's monkeys (Callimico goeldii). Anim Reprod Sci 137:93–102

Veras MM, Marques Kdo V, Miglino MA, Caldini EG (2009) Observations on the female internal reproductive organs of the brown howler monkey (Alouatta guariba clamitans). Am J Primatol 71:145–152

Wickings EJ, Nieschlag E (1980) Seasonality in endocrine and exocrine testicular function of the adult rhesus monkey (Macaca mulatta) maintained in a controlled laboratory environment. Int J Androl 3:87–104

Wildt D, Pukazhenthi B, Brown J, Monfort S, Howard J, Roth T (1995) Spermatology for understanding, managing and conserving rare species. Reprod Fertil Dev 7:811–824

World Health Organization. WHO (1999) Laboratory manual for the examination of human semen and sperm–cervical mucus interaction. Cambridge University Press, Cambridge

Zaldívar ME, Rocha O, Glander KE, Aguilar G, Huertas AS, Sánchez R, Wong G (2004) Distribution, ecology, life history, genetic variation, and risk of extinction of nonhuman primates from Costa Rica. Rev Biol Trop 52:679–693

Zamboni L, Conaway CH, Van Pelt L (1974) Seasonal changes in production of semen in free-ranging rhesus monkey. Biol Reprod 11:251–267

Zunino GE, Kowalewski MM, Oklander LI, González V (2007) Habitat fragmentation and population size of the black and gold howler monkey (Alouatta caraya) in a semideciduous forest in Northern Argentina. Am J Primatol 69:966–975
Acknowledgments
The authors thank Agustín Sánchez-Domínguez for excellent technical assistance. Dr. García-Herreros was funded by Spanish Government (MAE, 2010-IA). This research complies with the legal and ethical requirements as indicated in "Materials and methods" section.
Conflict of interest statement
None of the authors of this paper has a financial or personal relationship with other people or organizations that could inappropriately influence or bias the content of the paper.
Ethics statement
All procedures were performed in accordance to the Brazilian Animal Protection Law (SISBIO 30086–1) and approved by the Ethical Research Comitee of the São Paulo State University (Protocol Number 019174/09 CEP/FCAV/UNESP). The research adhered to the American Society of Primatologists Principles for the Ethical Treatment of Nonhuman Primates.
Additional information
Communicated by: Sven Thatje
Electronic supplementary material
Below is the link to the electronic supplementary material.
About this article
Cite this article
Valle, R.R., Carvalho, F.M., Muniz, J.A.P.C. et al. Differential distribution of sperm subpopulations and incidence of pleiomorphisms in ejaculates of captive howling monkeys (Alouatta caraya). Naturwissenschaften 100, 923–933 (2013). https://doi.org/10.1007/s00114-013-1092-8
Received:

Revised:

Accepted:

Published:

Issue Date:
Keywords
Sperm morphometry

Principal component analysis

Sperm subpopulations

Sperm pleiomorphisms

Captive management

Alouatta caraya